This delicious savory oatmeal is full of Mediterranean flavours and nutrients that your body will appreciate in the morning.
My savory oatmeal is:
Plant-based
Gluten-free
Nut-free
Peanut-free
Low-fat
Whole food
vegan Candida diet friendly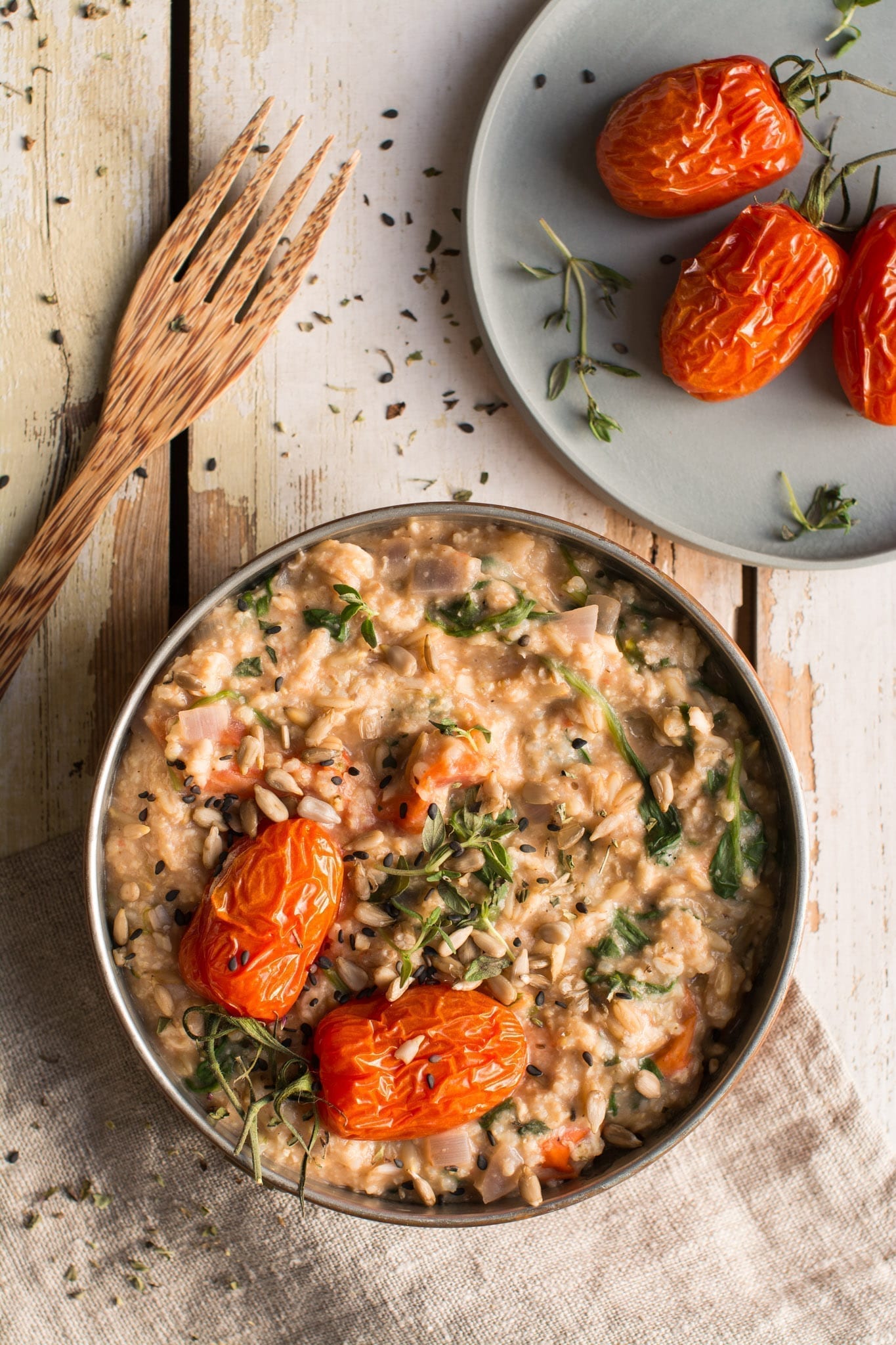 To be honest, I didn't know anything about savory oats until I tried them myself. And I must admit, those savory oatmeal bowls are so satiating and filling, much more so than their sweeter counterparts. I especially recommend giving savory oatmeal a try if you're struggling with blood sugar spikes after a meal. For more information, read my post on Low Glycemic Diet.
I suggest you check out all the porridge guides I've created:
The Ingredients of My Savory Oatmeal
As a base, I chose three grains for this savory oatmeal – whole oat groats, millet and rolled oats. By all means, you don't need to go as crazy, but use only oats or other grains of choice.
There must be onions and garlic when we talk about Mediterranean dishes. So, I add both crushing the garlic into ready porridge not to lose the benefits of allicin.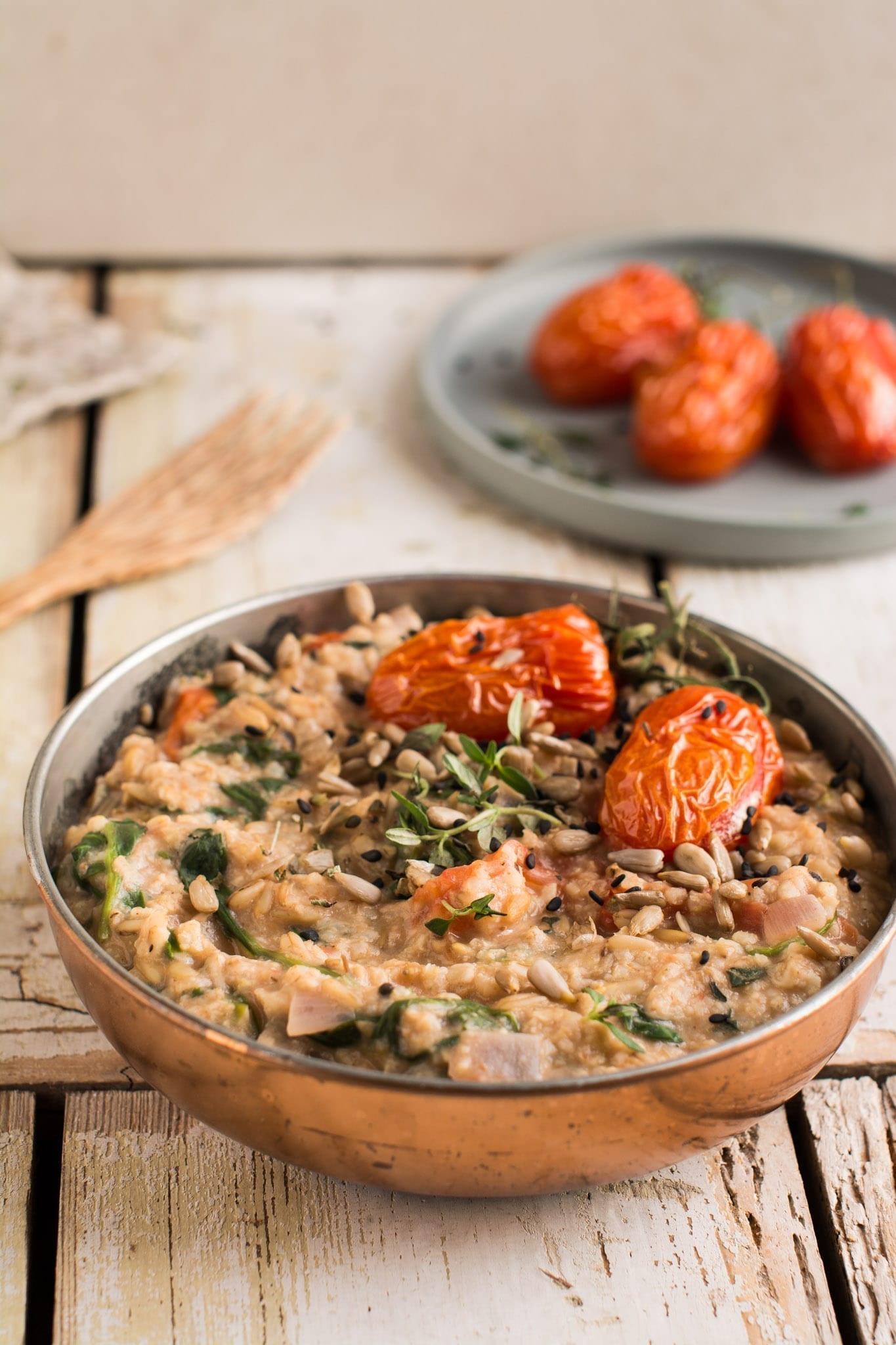 In my opinion, a savory oatmeal needs to have something green in it. So, I went for baby spinach, but you could opt for kale as well. However, remember to steam the latter a few minutes longer.
Tomatoes are in almost every Mediterranean dish giving them the distinctive flavour. I decided to add them in two different forms – oven baked and boiled into paste. Don't worry though, you absolutely don't need to prepare the paste yourself, but get an additive-free store-bought jar of tomato paste. For the oven baked tomatoes, you can use either cherry, roma or grape tomatoes.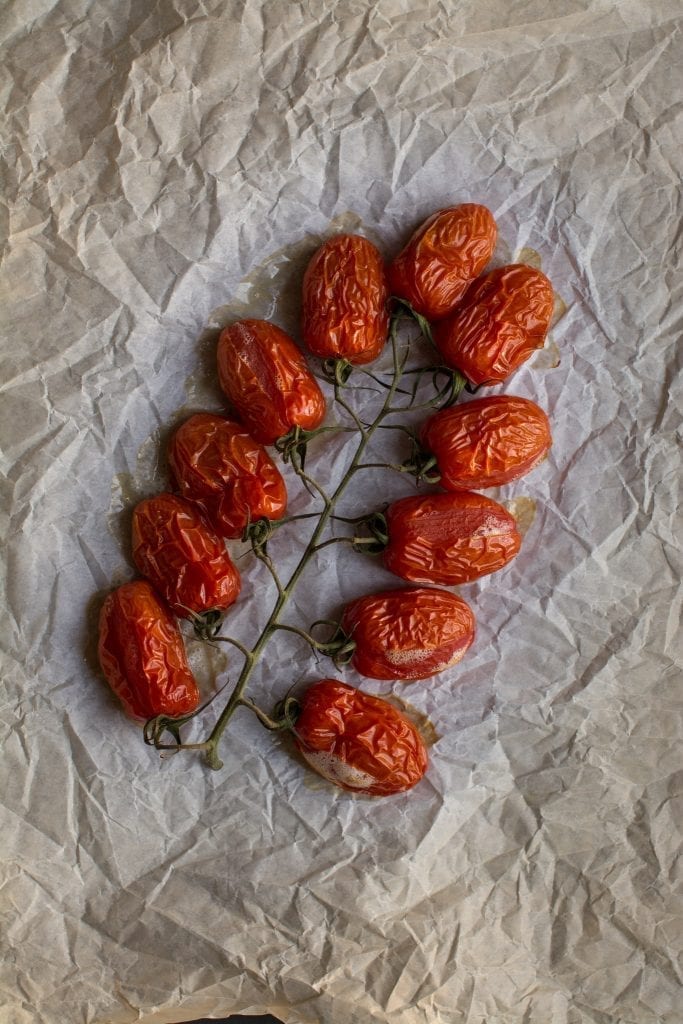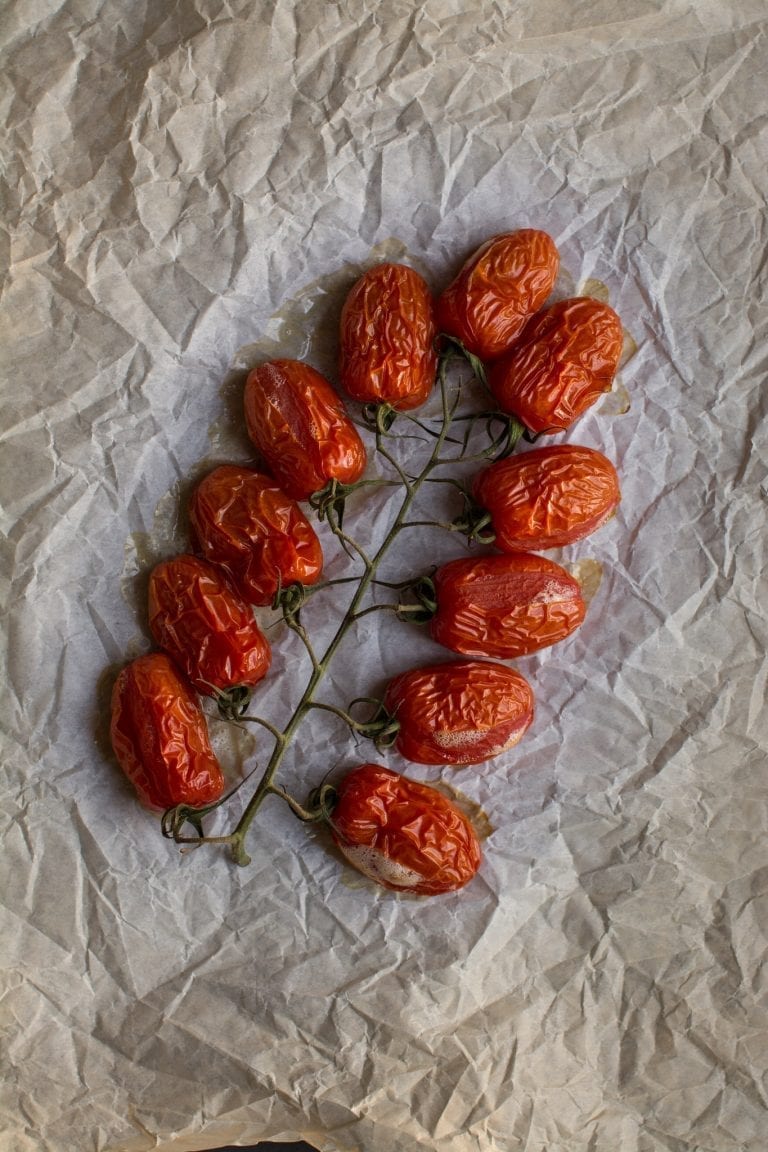 As it's still a porridge bowl, I also add a tablespoon of ground flaxseeds for the daily omega 3's and all the other beneficial phytonutrients in those awesome seeds.
And last but not least, you absolutely don't need to garnish you savory oatmeal, but should you wish to do so, top it with some of those beautiful oven baked tomatoes, fresh thyme, sesame seeds and sunflower seeds.
And if you're into savory porridges check out also my Indian Spiced Curry Porridge and Japanese Breakfast Porridge Bowl.
Finally, do let me know when you make this recipe or in case you have any questions or comments about the porridge. Feel free to comment below!
Print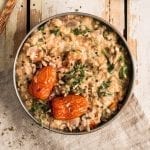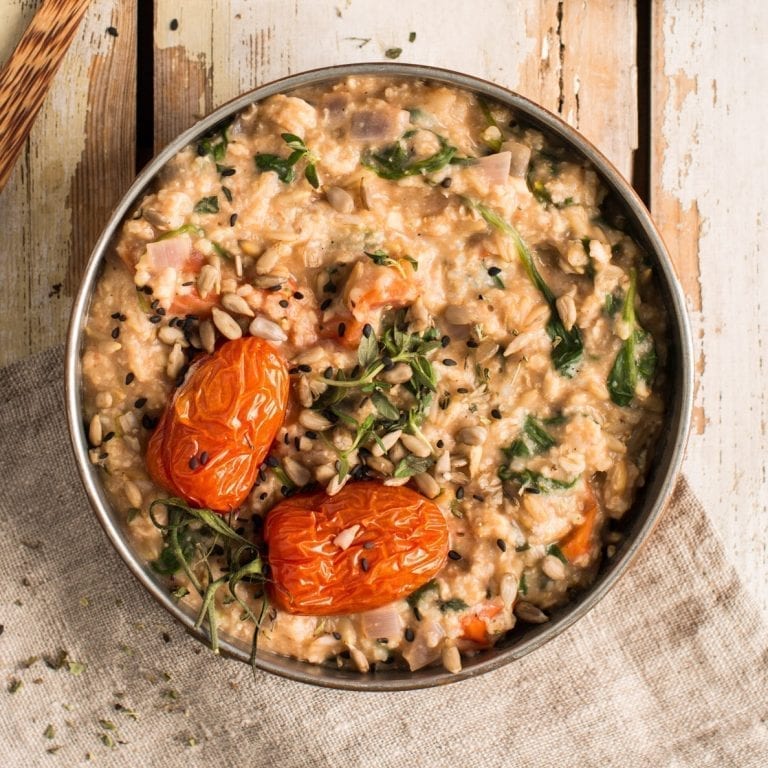 Mediterranean Savory Oatmeal with Millet
---
Description
This delicious savory oatmeal is full of Mediterranean flavours and nutrients that your body will appreciate in the morning. 
Soaking time: overnight
---
15g

(

0.5oz

,

1 tbsp

.) whole oat groats 

½

of a small onion, diced 

15g

(

0.5oz

,

1 tbsp

. +

½ tsp

.) millet berries, soak 

15g

(

0.5oz

, 3 tbsps.) rolled oats 

2 cups

(

60g

,

2.1oz

) baby spinach 

1

small garlic clove, crushed

½ tbsp

chopped fresh thyme

1 tbsp

of tomato paste

1 tbsp

ground flaxseeds
A dash of black pepper
A dash (0.4g, 0.01oz) of Himalayan salt (if necessary)

4

cherry, grape or roma tomatoes, oven-baked
Water for desired consistency
To garnish (optional):
Fresh thyme
Sunflower seeds
---
Instructions
Start by soaking oat groats and millet in separate bowls overnight. Rinse and drain.
In the morning, when you start to make the porridge, put rolled oats into a small bowl and add just enough warm water to cover them. Set aside.
Next, bake the tomatoes in oven at 200°C (390°F) for about 20 minutes until the tomatoes are blistered and beginning to burst. 
While the tomatoes are in oven, in a small saucepan, simmer soaked oat groats and chopped onion for 3 minutes. Then, throw in millet and add water to almost level with the ingredients. Cover with lid and bring to boil. Simmer for 5 minutes. 
Next, add rinsed baby spinach on top of the other ingredients and cover with lid. Simmer for 1 minute and then turn off the heat.
Now it's time to stir in crushed garlic, chopped fresh thyme, soaked rolled oats, tomato paste and a pinch of salt and pepper.
Finally go in a few oven baked tomatoes. Crush them and mix into porridge. And add hot water if the porridge is too dry.
Garnish with a few more oven baked tomatoes, some fresh thyme, sunflower seeds and sesame seeds.
Notes
You absolutely don't need to use three different grains! Instead, go for 30 grams (1.1oz) of either steel cut oats, millet, buckwheat, quinoa, sorghum, barley, or even amaranth + 15 grams (0.5oz) of rolled oats. Or use 45 grams (1.59oz) of a single grain of choice.
The glycemic load of this serving is almost 23. So, if you struggle with blood sugar fluctuations or simply follow low glycemic diet, take 5 grams (0.2oz) off of oat groats and millet, i.e. use 10 grams (0.35oz) each, resulting in 18 GL points per serving.
You can use steel cut oats instead of oat groats. If you do that, add them together with millet and onions and simmer for 5 minutes.
However, I wouldn't recommend using only oat groats as the result might be too chewy depending on the quality of the groats. 
Instead of spinach, you could also use kale. However, steam it for 3 minutes.
You are free to add more tomatoes if you like to!
If you're in love with cheesy flavour, stir in a tablespoon of nutritional yeast.
For even more Mediterranean flavours, add half a tablespoon of dried oregano to your savory oatmeal.
Make sure to grind your own flaxseeds from whole using spice/coffee grinder and store in a sealed jar in fridge.
Prep Time:

25 minutes

Category:

Breakfast

Method:

Stove
Nutrition
Serving Size:

The whole recipe

Calories:

293

Sodium:

209.8mg

Fat:

6.4g

Carbohydrates:

38.9g

Fiber:

11.7g

Protein:

12.1g
Keywords: porridge, oatmeal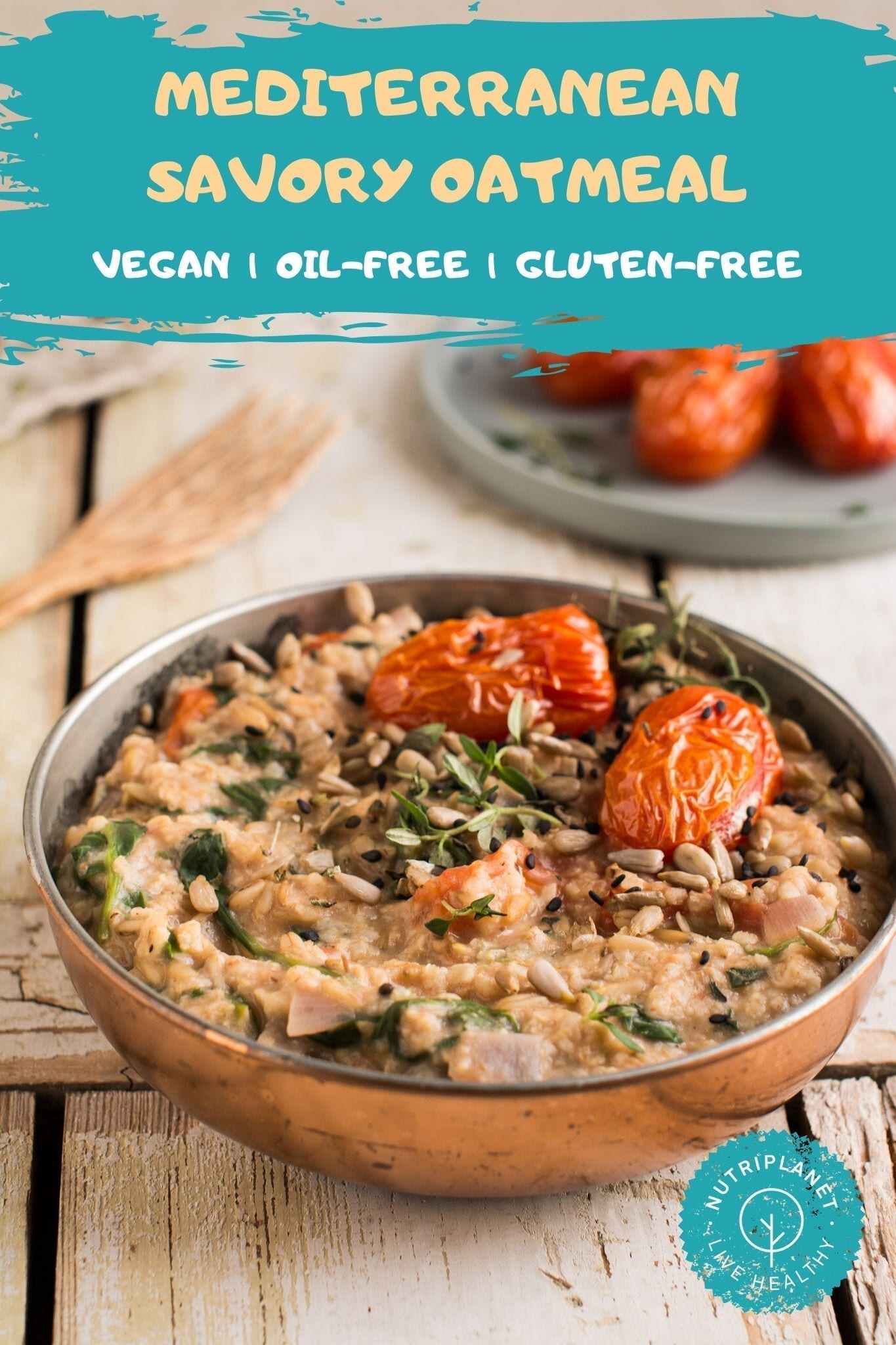 Disclaimer: this post contains affiliate links. As an Amazon Associate, I earn from qualifying purchases. For every purchase made from the links in this post, you'll be able to support my work. So, you can look after your health, and contribute to my mission at the same time. Thank you!