Try this vegan version of Japanese breakfast rice porridge with some healthy tweaks. It's like eating sushi for breakfast, but in the form of comforting porridge bowl.
My Japanese breakfast bowl is:
Plant-based
Gluten-free
Nut-free
Peanut-free
Whole food
Candida diet friendly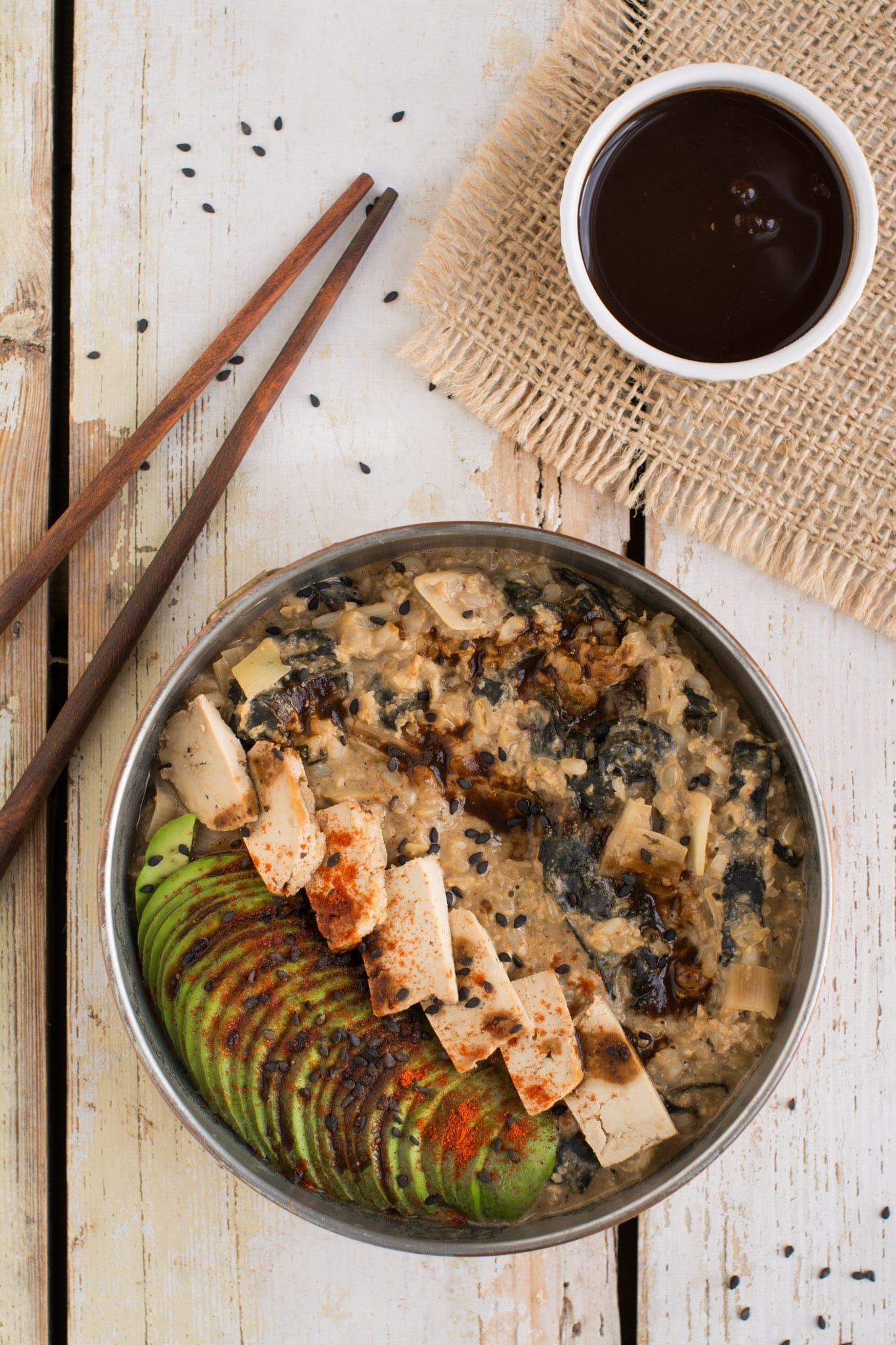 I suggest you check out all the guides I've created for healthy porridge bowls:
What's a Typical Japanese Breakfast Like?
In Japanese cuisine it is a norm since the dawn of time to have savoury breakfast. This custom must be one of the secrets to Japanese longevity, I guess. For those who stick to the old ways at least.
That being said, traditionally Japanese breakfast consists of steamed white rice, miso soup, a source of protein such as grilled fish, natto or tempeh (both are fermented soy products), or tofu, and various side dishes that are mainly made of pickled vegetables and/or seaweed.
Japanese people also enjoy savoury rice porridge (okayu) for breakfast. For that, leftover steamed rice often comes handy. It is simply made of white rice and water (either cooked fresh or using leftovers) and garnished with scallions, salted salmon, pickled plum (umeboshi), parsley, and shredded nori (kizami nori).
In fact, a bowl of rice is one of the most important parts of Japanese style everyday meals. Particularly for that reason, Japanese households usually have a rice cooker to make their lives a bit easier in terms of cooking.
To be honest, I created this Japanese style porridge bowl before I even researched their traditional breakfast. That being said, I was so proud to discover that using common sense and my own personal preferences, I accidentally came up with a tweaked version of traditional Japanese breakfast porridge.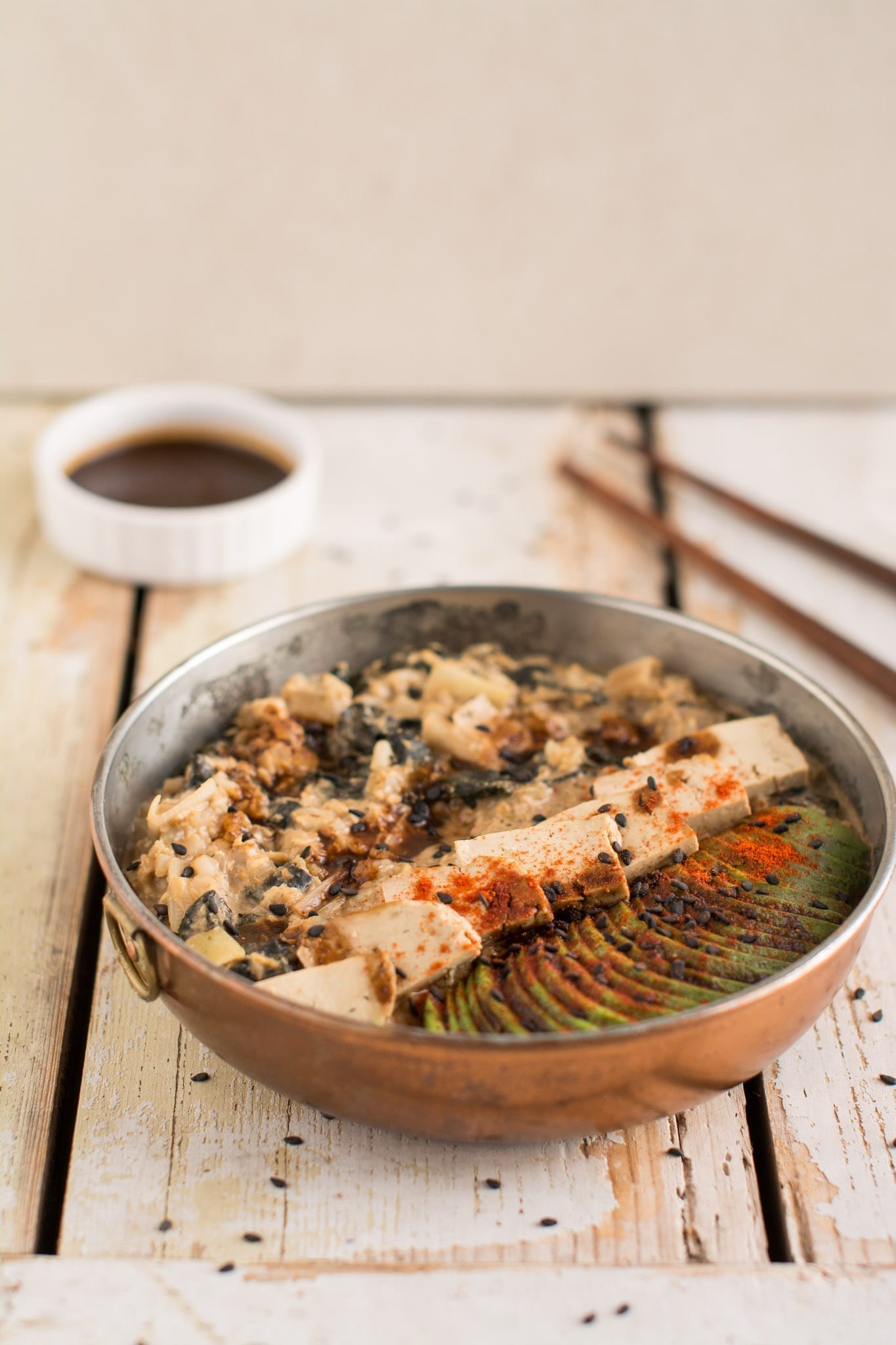 The Ingredients in My Japanese Breakfast Porridge Bowl
As already mentioned above, my version of traditional Japanese breakfast comes with some healthy tweaks like all my creations 🙂
As a base, I chose two grains – round brown rice and rolled oats. Brown rice beats white rice nutritionally and is also more satiating. Furthermore, I decided to add rolled oats for extra creaminess and familiarity.
Instead of scallions I use leek, because it simply is more readily available in winter. By all means, you can also go for scallions.
Next ingredient is nori sheet that I shred into strips and mix into cooked porridge. I use the whole sheet for one portion.
For umami and some saltiness, I decided to use miso paste instead of soy sauce. As I've mentioned in my earlier posts, miso paste is the healthiest source of sodium. It's because according to studies the benefits of fermented soy in miso paste overweigh the adverse effects of sodium in salt. If you're interested to learn more about miso, read Dr. Michael Greger's book How Not to Die.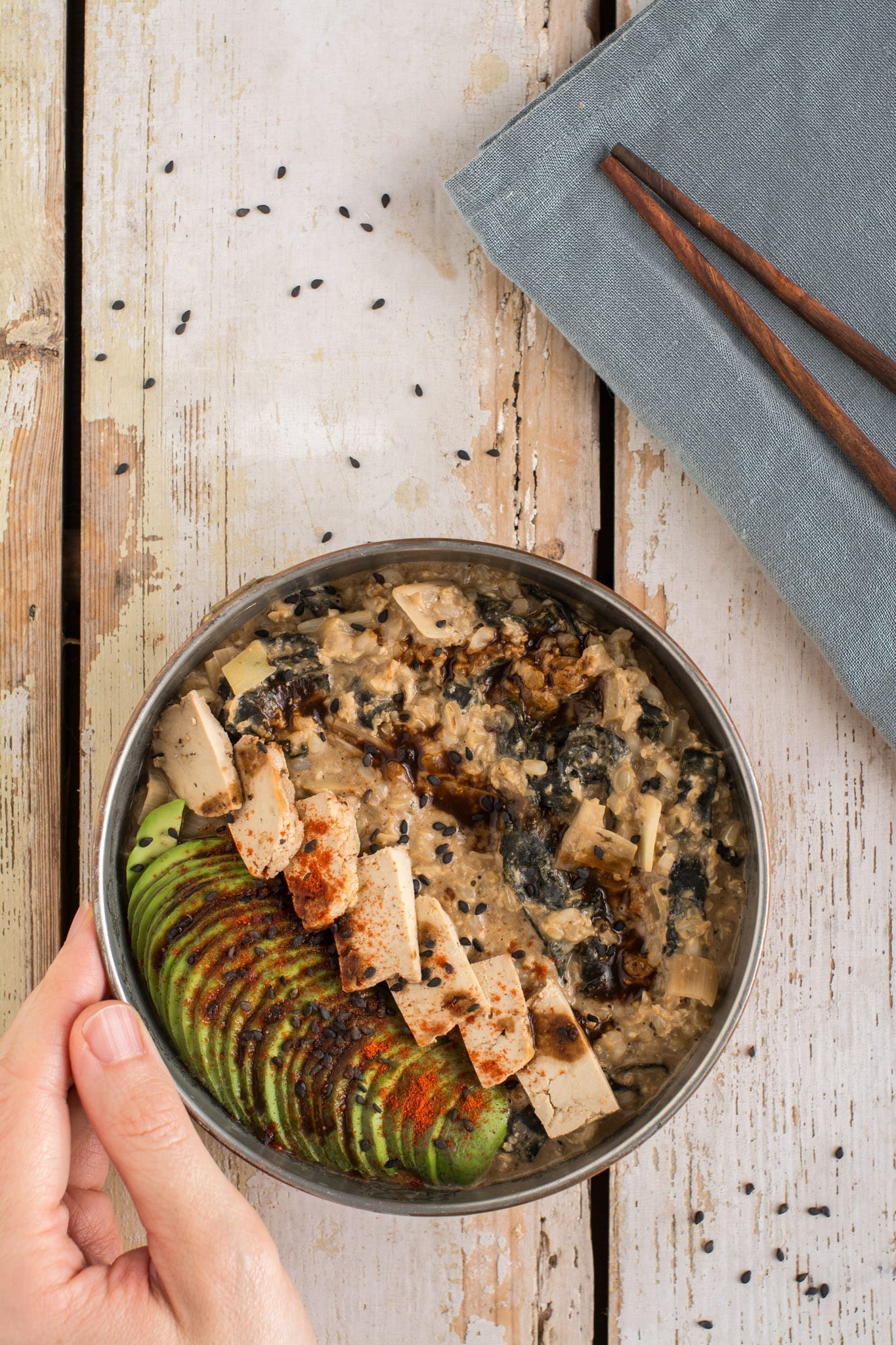 Since this is a vegan version of Japanese breakfast, I also added a tablespoon of nutritional yeast, which of course is totally optional.
For healthy fats, I garnish the porridge with avocado slices and for extra protein I add some marinated tofu pieces. And last but not least, let's add some colour with paprika powder and black sesame seeds.
And if you're into savoury porridges check out also my Indian Spiced Curry Porridge and Mediterranean Savoury Oatmeal with Millet.
Finally, do let me know when you make this recipe or in case you have any questions or comments about this Japanese breakfast porridge. Feel free to comment below!
Print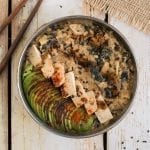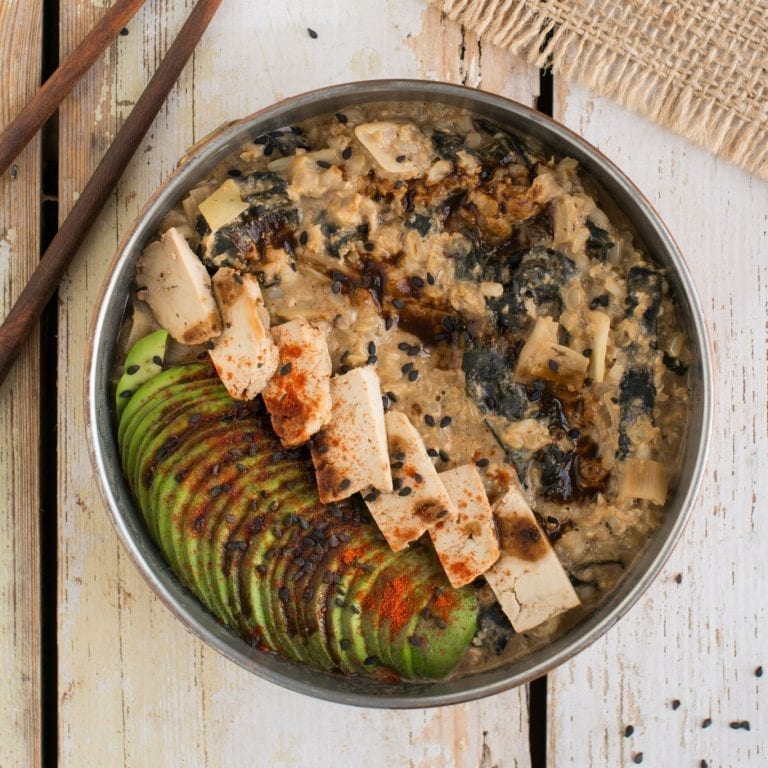 Japanese Breakfast Porridge Bowl [Vegan]
---
Description
Vegan version of Japanese breakfast rice porridge with some healthy tweaks. It's like eating sushi for breakfast, but in the form of comforting porridge bowl.
Soaking time: overnight
---
20g

(

0.7oz

) round brown rice (dry)

20g

(

0.7oz

) rolled oats

½ cup

(about

25g

,

0.9oz

) chopped leek 

1

nori sheet, shredded

1 tsp

miso paste

1 tbsp

nutritional yeast

¼

of a small avocado (about

20g

,

0.7oz

)

20g

(

0.7oz

) of firm or hard tofu
Water for desired consistency
To garnish:
---
Instructions
Start by soaking brown rice overnight. Rinse and drain.
In the morning, when you start to make the porridge, put rolled oats into a small bowl and add just enough warm water to cover them. Set aside. Shred the nori sheets – you can either tear it with your hands or cut with scissors.
Next, in a small saucepan, simmer soaked rice and chopped leek in water (enough to cover all ingredients) until the rice is tender, about 10 minutes. Turn off the heat. Then, mix in soaked rolled oats and add boiled water of necessary.
Then, mix miso paste with some water and mix it into the porridge along with shredded nori sheet and nutritional yeast. Again, add more water if necessary. 
Finally, garnish with some more miso and water mixture, avocado slices, tofu pieces, paprika powder and sesame seeds.
Notes
The glycemic load of this serving is a tiny bit over 20 points. So, if you struggle with blood sugar fluctuations or simply follow low glycemic diet, take 5 grams (0.2oz) off of rolled oats, i.e. use 15 grams (0.5oz), resulting in 18.5 GL points per serving.
If you're used to adding ground flaxseeds into your morning porridge, you're free to mix them into your Japanese breakfast porridge as well!
When buying marinated tofu, make sure there are no unwanted additives.
Prep Time:

10 minutes

Cook Time:

10 minues

Category:

Breakfast

Method:

Stove
Nutrition
Serving Size:

The whole recipe

Calories:

290

Sodium:

279.1mg

Fat:

9.4g

Carbohydrates:

32.9g

Fiber:

6.7g

Protein:

13.9g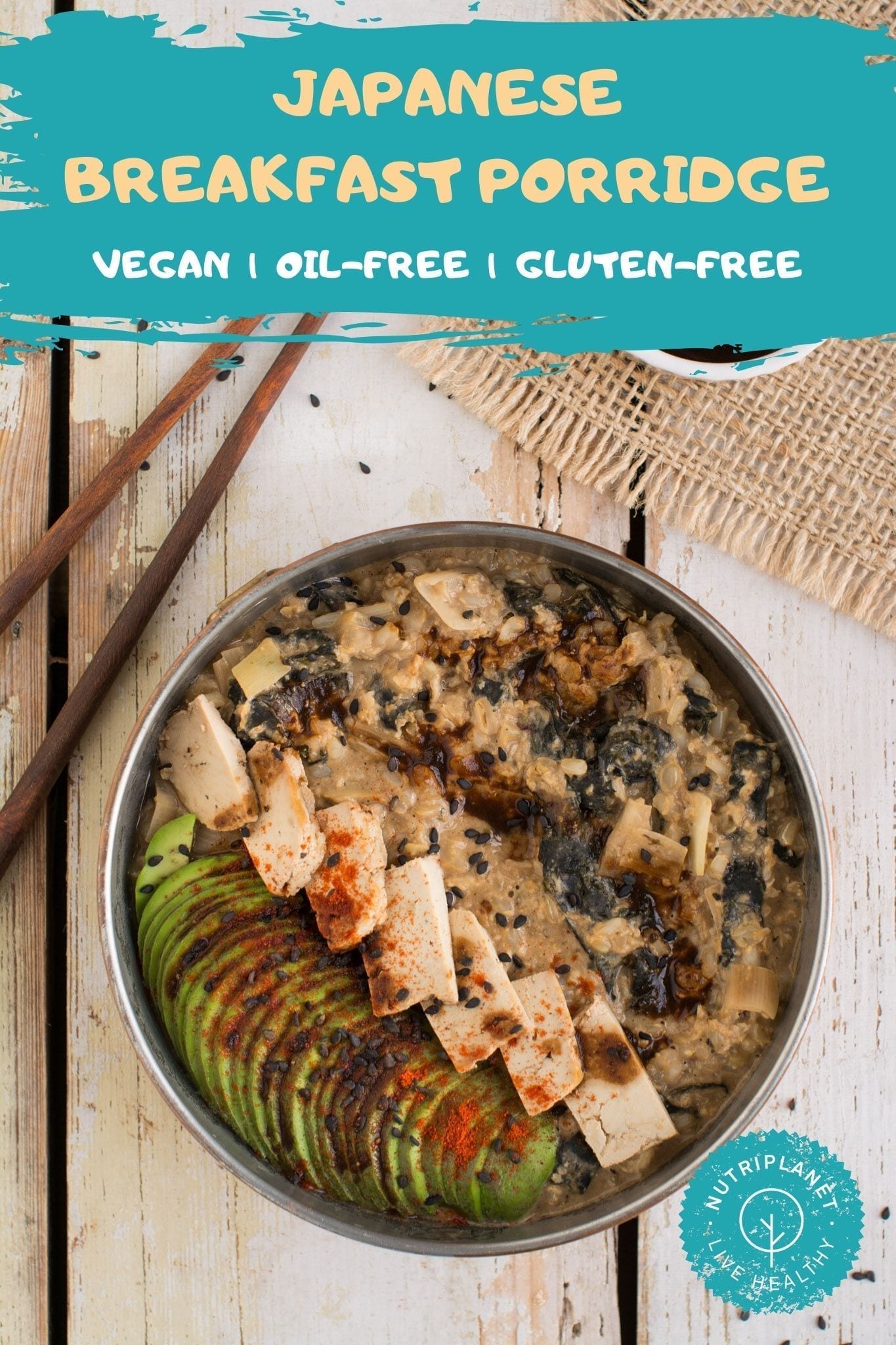 Disclaimer: this post contains affiliate links. As an Amazon Associate, I earn from qualifying purchases. For every purchase made from the links in this post, you'll be able to support my work. So, you can look after your health, and contribute to my mission at the same time. Thank you!