This multigrain Indian spiced savoury curry porridge is full of fibre and nutrients your body needs to start off the day right.
My savoury porridge is:
Plant-based
Gluten-free
Nut-free
Peanut-free
Relatively low in fat
Whole food
Candida diet friendly
I suggest you check out all the porridge guides I've created, because it'll help you prepare truly healthy breakfast porridge: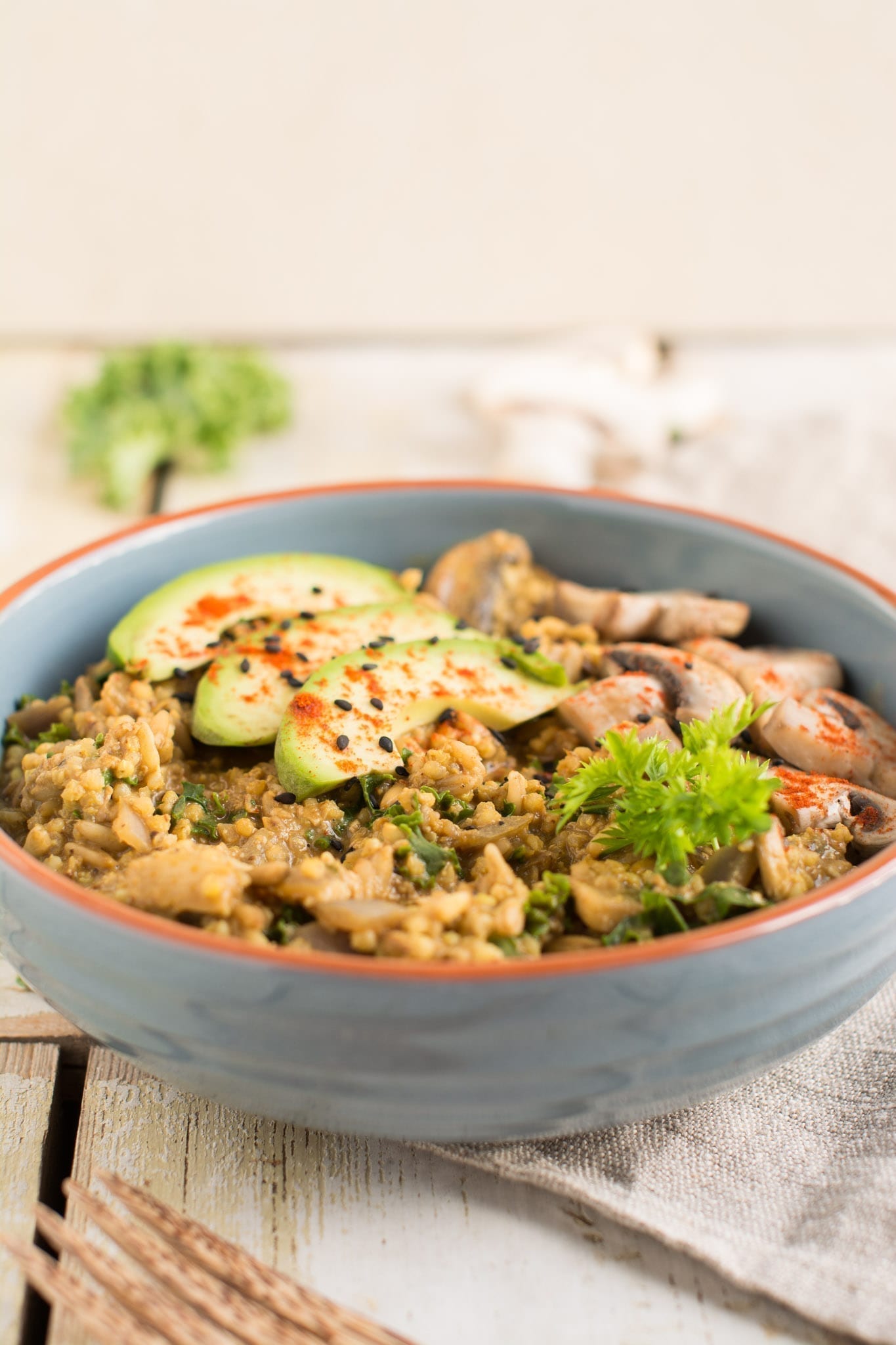 The Ingredients in My Savoury Curry Porridge
Firstly, I chose three grains for this savoury porridge – whole oat groats, millet and rolled oats. This is just me, always mixing stuff and boosting nutritional value. By all means, you can opt for one to two grains if three seems too much! Furthermore, even lentils would work great in the recipe. Simply soak them overnight and use as you'd use grains.
Needless to say, you can't do without onions and garlic when it comes to savoury dishes. So, I add both preferring red onions over yellow as they come with greater nutritional value. As much as I possibly can I avoid cooking garlic, as it destroys the valuable allicin in it. Instead, I crush fresh garlic and stir it into dishes after they're done.
Now, let's move onto the curry side of this porridge. Needless to say, there's turmeric with its bright yellow colour and all the benefits of curcumin; with a little bit of black pepper to enhance the absorption of the latter. In addition, nothing can compete with my dry roasted Indian spice mix when it comes to flavours and tastes! By all means, feel free to use store bought curry powder or paste if dry roasting individual spices seems too much to you.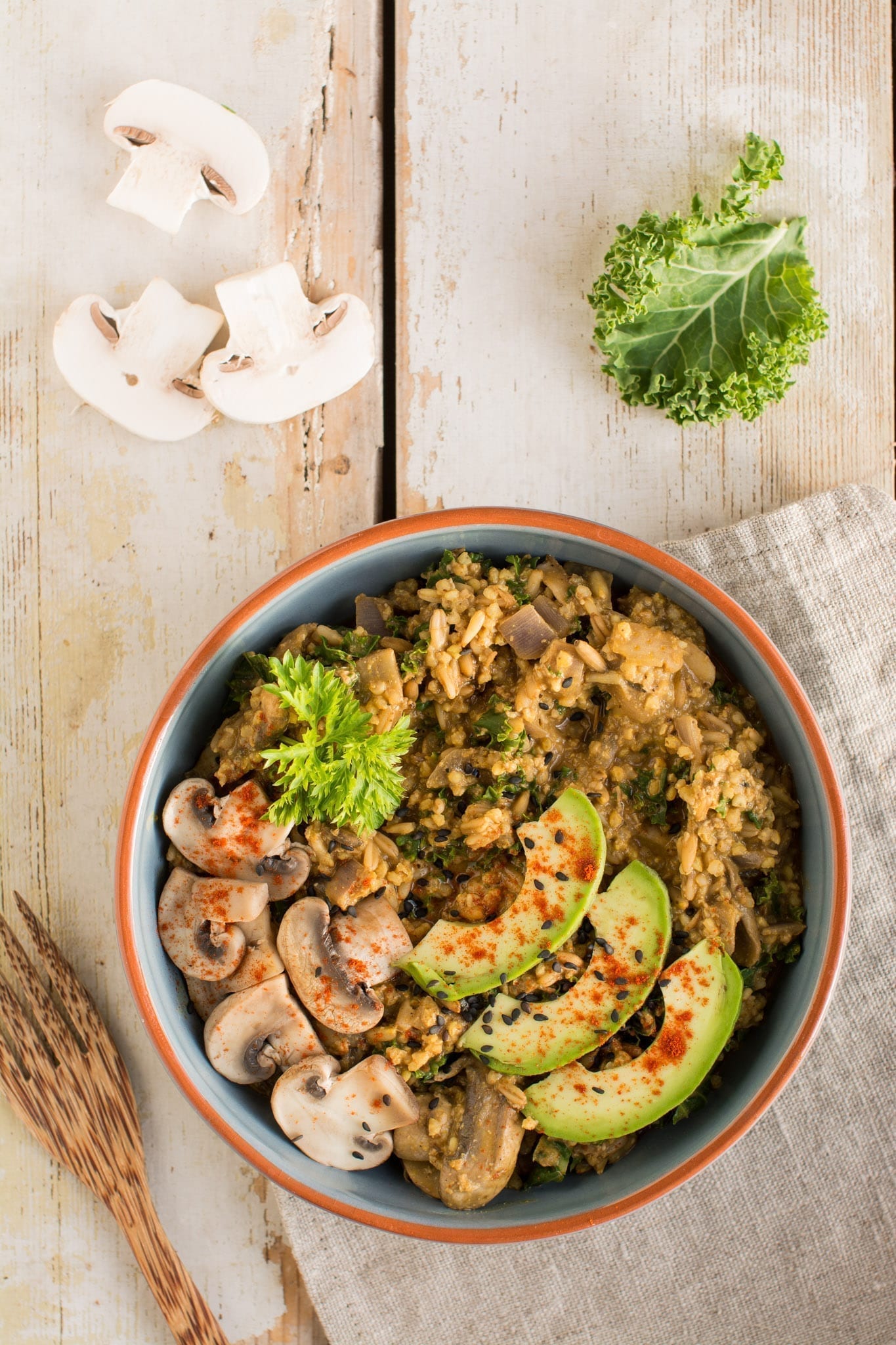 A proper curry porridge absolutely needs to have some green in it. So, here comes the kale! However, any leafy greens would work well here – spinach, chard, collard greens or even pak choi.
Finally, mushrooms always give an extra boost to almost any savoury dish. Did you know that button mushrooms are baby Portobello mushrooms? I certainly didn't 🙂
Toppings
I decided to leave some of the mushrooms to top the porridge, because it's nice, isn't it!
In my opinion, fresh parsley or coriander simply can't be missing when it comes to anything named curry. So, I added some.
Next, I topped my curry porridge with a few avocado slices for extra creaminess and a boost of healthy monounsaturated fats.
And last, but not least I sprinkled on some smoked paprika and black sesame seeds for some extra colour.
Don't forget to check out other savory porridges:
Mediterranean Savory Oatmeal
Japanese Breakfast Porridge Bowl
Finally, do let me know when you make this recipe or in case you have any questions or comments about the porridge. Feel free to comment below!
Print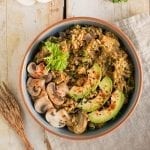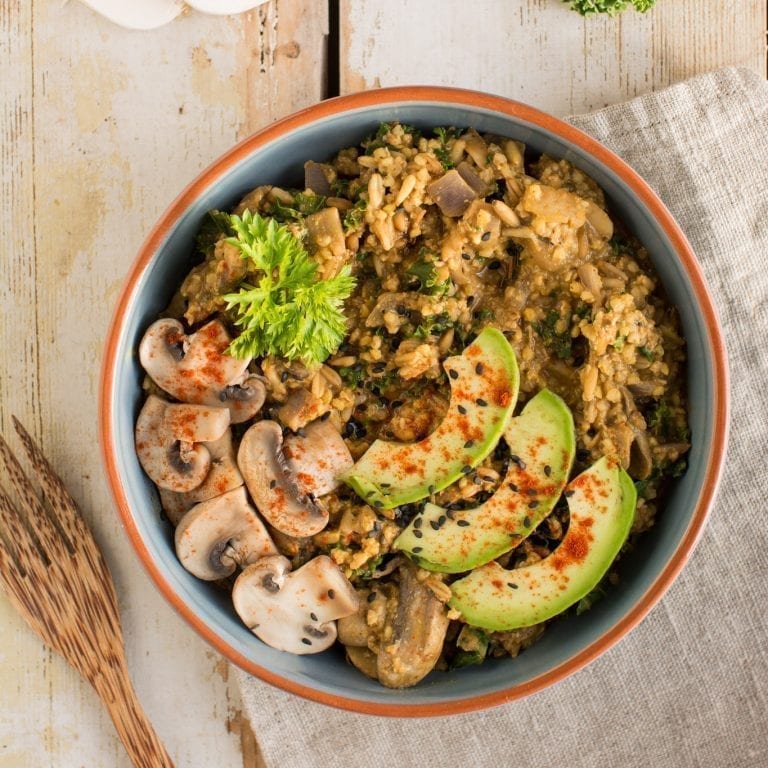 Indian Spiced Multigrain Curry Porridge
---
Description
This multigrain Indian flavoured savoury curry porridge is full of fibre and nutrients your body needs to start off the day right. 
Soaking time: overnight
---
15g

(

0.5oz

,

1 tbsp

.) whole oat groats 

½

of a small onion, diced 

15g

(

0.5oz

,

1 tbsp

. +

½ tsp

.) millet berries, soak 

15g

(

0.5oz

, 3 tbsps.) rolled oats 

1 cup

(

21g

,

0.7oz

) chopped kale 

1

small garlic clove, crushed

¼ tsp

. turmeric
A dash of black pepper

½ tsp

. Indian spice mix

1 tsp

. (

5g

,

0.2oz

) miso paste

½ cup

(

35g

,

1.2oz

) sliced button mushrooms 

1 tbsp

. nutritional yeast (optional)

3

avocado slices (

30g

,

1.1oz

)
Water for desired consistency
To garnish (optional):
Fresh coriander or parsley
---
Instructions
Start by soaking oat groats and millet in separate bowls overnight. Rinse and drain.
When you start to make the porridge, put rolled oats into a small bowl and add just enough warm water to cover them. Set aside.
Next, sauté mushrooms: slice them and transfer into a small saucepan. Cover with lid and turn on the heat. Don't add any water! Let them "fry" until water starts to separate from the mushrooms. Give them a stir every now and then to prevent burning. Don't worry, the water will come out eventually! It may even take up to 5 minutes. Let the mushrooms sizzle in their own juices for a minute and then turn off the heat and remove the lid. Set aside.
Now, add soaked oat groats into a small saucepan or pot and drown them into water – add about ¾ cup. Throw in chopped onion as well. Cover with lid, bring to boil and simmer at low for 3 minutes.
Next, add soaked millet and give it a stir. Add water to almost level with the ingredients, cover with lid and bring to boil. Simmer for a few minutes before you add chopped kale. Don't' mix the kale in! Instead, simply cover with lid and simmer for 3 minutes, until the kale becomes bright green. 
Then, turn off the heat and stir in crushed garlic, turmeric and crushed Indian spice mix.
Next, add miso paste mixed with some water to make it pourable.
Now it's time to pour in soaked rolled oats to make the porridge creamy. Mix everything well. And add hot water if the porridge is too dry.
Then, mix in the sautéed mushrooms leaving some for garnish. 
Finally stir in nutritional yeast for cheesy flavour and a dash of black pepper to enhance curcumin absorption.
Garnish with mushrooms, avocado slices, fresh lemon juice, paprika powder, fresh coriander or parsley and sesame seeds.
Notes
The glycemic load of this serving is almost 23. So, if you struggle with blood sugar fluctuations or simply follow low glycemic diet, take 5 grams (0.2oz) off of oat groats and millet, i.e. use 10 grams (0.35oz) each, resulting in 18 GL points per serving.
If you use steel cut oats instead of oat groats, add them together with millet and onions and simmer for 5 minutes.
By all means, you don't have to use three different grains! Instead, go for 30 grams (1.1oz) of either steel cut oats, millet, buckwheat, quinoa, sorghum, barley, whole grain rice, or even amaranth + 15 grams (0.5oz) of rolled oats. Or use 45 grams (1.59oz) of a single grain.
However, I don't recommend using only oat groats as it might get too chewy depending on the quality of the groats. 
Instead of kale, you can also use baby spinach. Remember that spinach only needs one minute of heat. Also, if you use older spinach, boil it in a separate saucepan or pot, discard the cooking water and mix the drained and cooked spinach into your ready porridge. The same goes for chard, should you want to use chard instead of kale. Learn more and read How to Cook Veggies to Retain Nutrients.
Prep Time:

15 minutes

Category:

Breakfast

Method:

Stove
Nutrition
Serving Size:

The whole recipe

Calories:

299

Sodium:

272mg

Fat:

8.7g

Carbohydrates:

34g

Fiber:

10.3g

Protein:

13g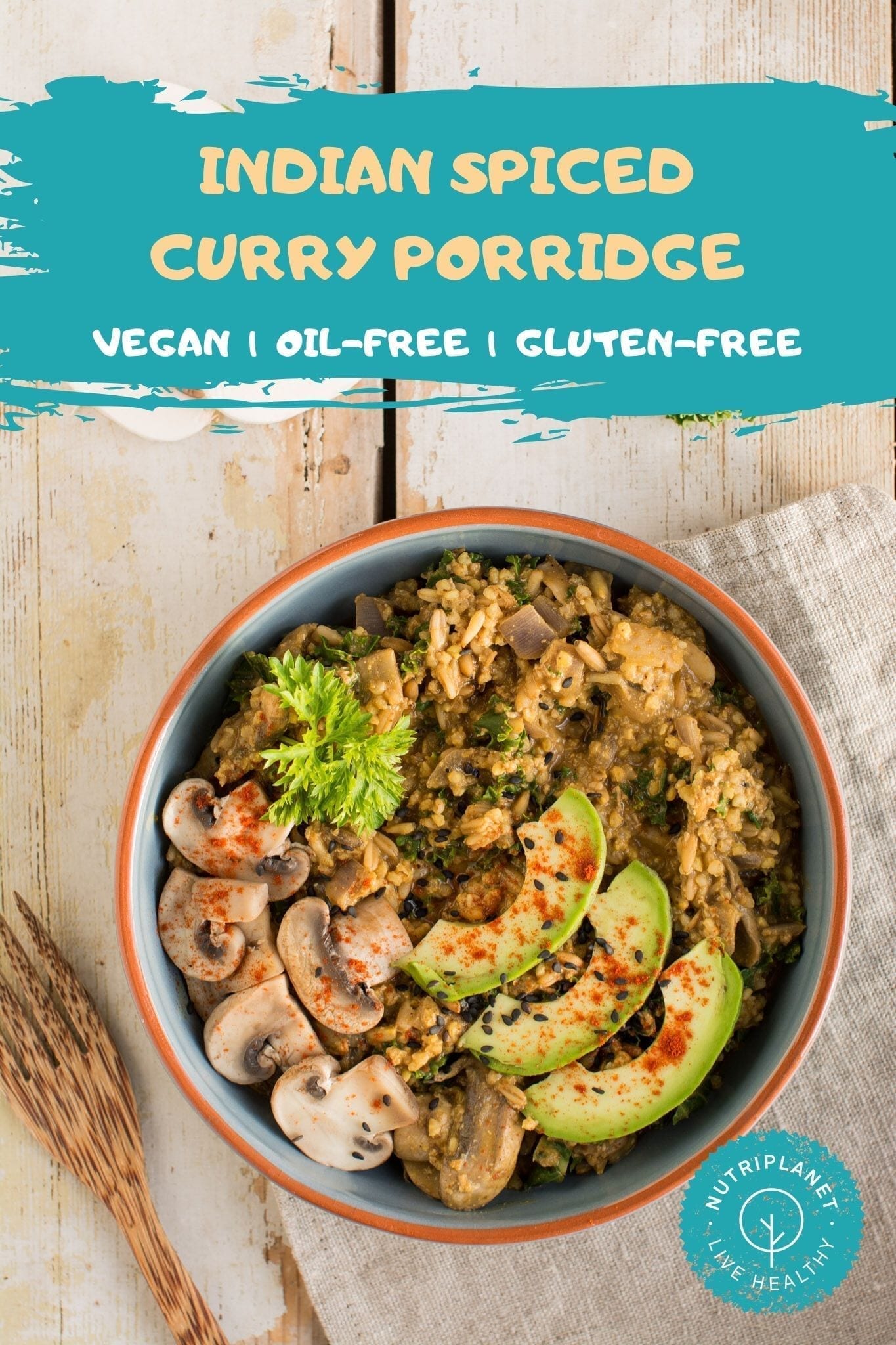 Disclaimer: this post contains affiliate links. As an Amazon Associate, I earn from qualifying purchases. For every purchase made from the links in this post, you'll be able to support my work. So, you can look after your health, and contribute to my mission at the same time. Thank you!