Vegan red cabbage coleslaw makes an excellent side dish packed with vitamins with an extra boost of friendly bacteria from miso paste.
My red cabbage coleslaw is:
Plant-based
Oil-free
Low-fat
Gluten-free
Nut-free
Peanut-free
Dairy-free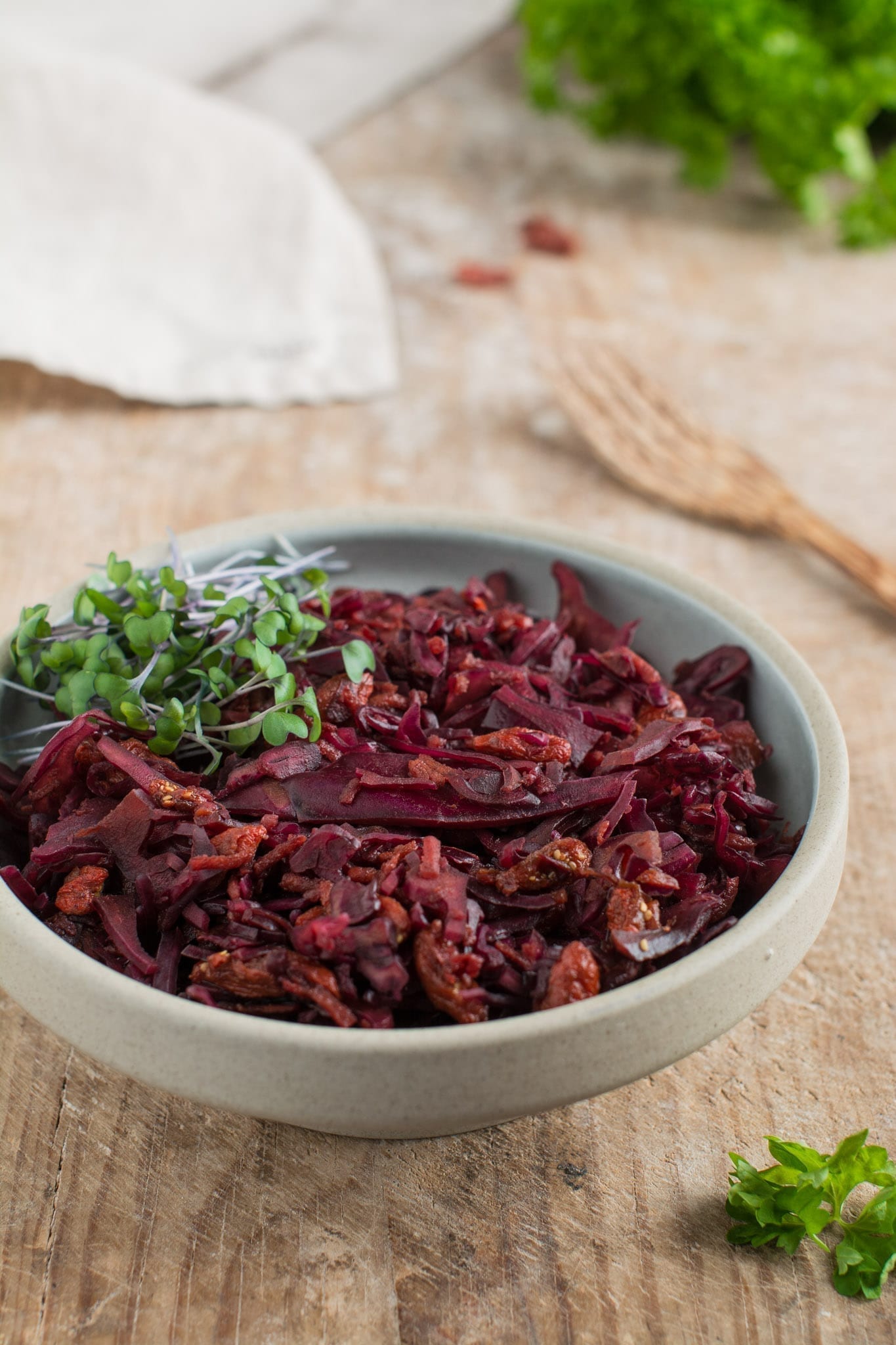 I'm not really sure what kept me from making coleslaw for so long. That being said, I'm truly happy I finally did as it's the best thing ever:
Super easy to make.
Packed with nutrients.
Perfect for batch cooking.
Easy to grab from fridge for a quick meal.
Watch how I make this coleslaw in the below video:
The Red Cabbage Coleslaw Mix
Let's start with red cabbage. The reason I went for red cabbage instead of green is purely scientific and nutritional. Namely, red cabbage is the antioxidant king of the plant world as it may contain 8 times more antioxidants than green cabbage. According to a USDA database of common foods red cabbage gets the gold medal for most antioxidants per pound.
Carrots simply add more colour to our vegan coleslaw.
Next up are goji berries. Again, gojis have the third-highest antioxidant capacity of any common dried fruit. That is five times more than raisins and second only to dried pomegranate seeds. In addition, goji berries have the highest concentrations of melatonin, which is crucial for good night's sleep. Furthermore, a specific antioxidant pigment, zeaxanthin, found in goji berries protects against macular degeneration, a leading cause of vision loss. Good news is you can substitute goji berries for raisins in any recipes. Also, don't buy a small and over-priced package from a first organic supermarket that you come by, but search online for better deals or try out Asian supermarkets where goji berries are sold as Lycium berries. They taste extremely good in my morning oatmeal!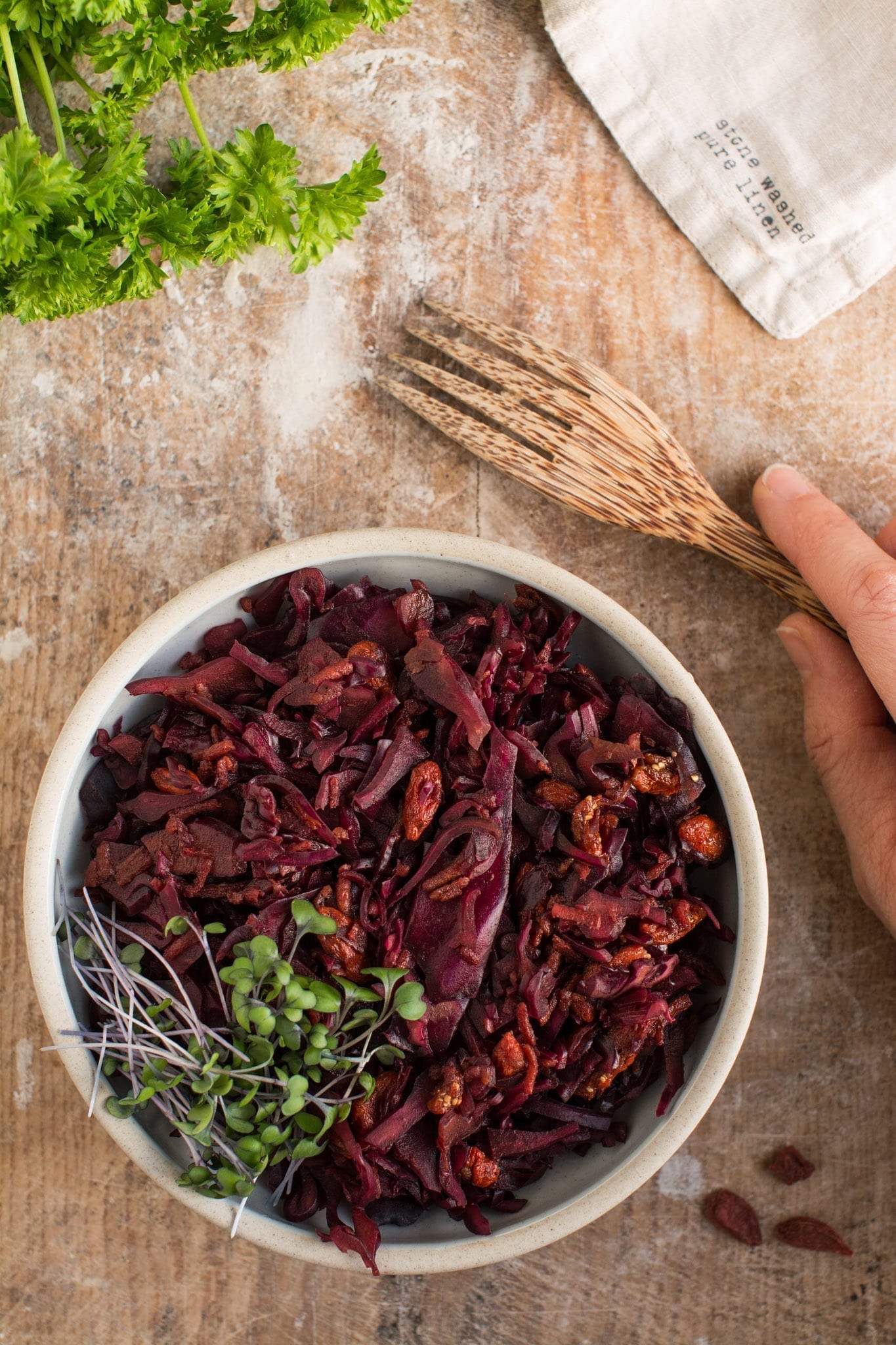 The Coleslaw Dressing Ingredients
I love naturally fermented foods for their tangy taste and friendly bacteria content. For that reason, I went for miso paste as the main ingredient in my coleslaw dressing. Should you be interested in reading more about miso paste, especially why the sodium content in miso won't harm you, go to Miso Roasted Vegetables.
Finally, you need to have the divine combination of sweet and sour. That's where lemon juice and a sweetener come to play. As far as the sweetener is concerned, you can opt for date sugar or coconut sugar or even maple syrup. Choose low glycemic sweetener, in case you're on Candida cleanse diet or have trouble with blood sugar fluctuations, i.e. xylitol or erythritol. Read more on low glycemic sweeteners from Low-Carb Vegan Breakfast Porridge Guide.
Also, apple cider vinegar is a great substitute for lemon juice should you not have any lemons at home.
I wouldn't recommend using a store bought dressing or vegan mayonnaise as those are usually packed with unwanted additives such as sugar, oils and preservatives. Of course, if you find a reputable brand that doesn't use any additives, then go for it. Still, using miso paste, lemon juice and date sugar is as healthy as you can go given than the benefits of fermented soy outweigh the negative impacts of sodium from all that salt.
Go and check out Dr. Greger's How Not to Die for more awesome facts about whole plant foods!
Preparing Red Cabbage Coleslaw
The preparation couldn't be any easier! You simply grate red cabbage and carrots in a food processor or using a hand grater and transfer the shredded veggies into a big mixing bowl.
Next, you can either add the coleslaw dressing ingredients straight into the bowl and start massaging or premix the dressing in a small bowl or cup.
I strongly recommend using gloves for the job as red cabbage stains really bad. I use single-use latex gloves that I actually reuse until they break. Finally, it's down to storing your coleslaw in an airtight container in fridge. As the tastes soak in while the salad sets, you'll find it even better on the next day.
Finally, do let me know when you make this recipe or in case you have any questions or comments about the porridge. Feel free to comment below!
Print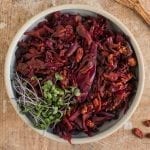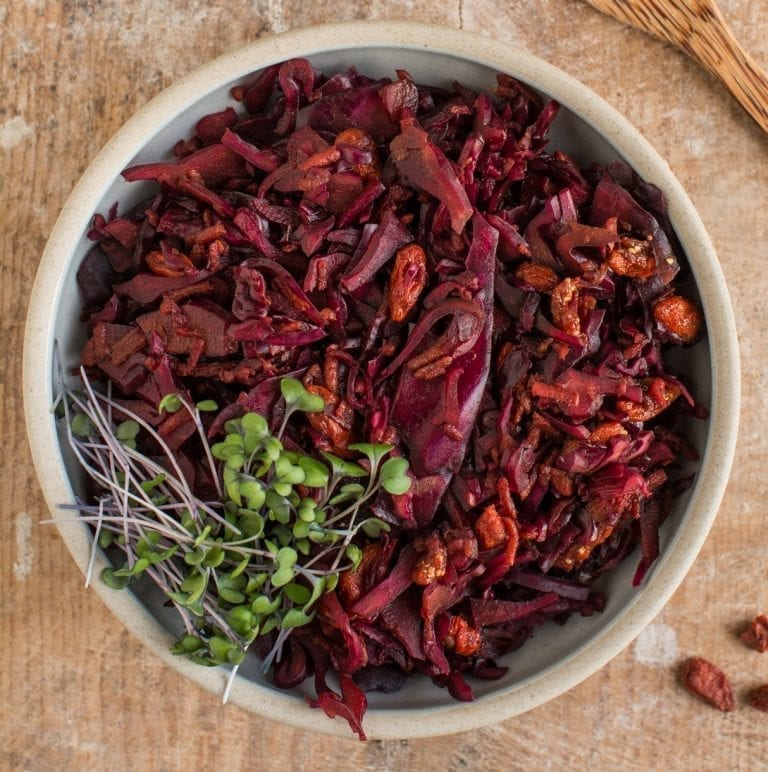 Vegan Red Cabbage Coleslaw [Oil-Free]
---
Author:

Nele Liivlaid

Total Time:

15 minutes

Yield:

5

servings

1

x
Description
Vegan red cabbage coleslaw makes an excellent side dish packed with vitamins with an extra boost of friendly bacteria from miso paste.
---
½

a medium head of red cabbage (approx. 13cm, 5" diameter)

1

big carrot

6

tbsps. (34g, 1.2oz) of goji berries

1 tbsp

(

17g

,

0.6oz

) of miso paste
Juice from

half a

lemon

1 tbsp

. date sugar 
---
Instructions
Start by grating the cabbage and carrot. Use food processor or manual grater.
In a large mixing bowl, massage the shredded carrots and red cabbage with all the remaining ingredients. It's better to use gloves as red cabbage stains a lot. Keep on going until you release the juices from cabbage. Store in a sealed container or jar in fridge. It'll keep for 3-4 days.
You might also mix the coleslaw dressing ingredients separately in a small bowl before pouring it onto grated cabbage and carrots.
Notes
By all means, you can use regular green cabbage instead of red cabbage.
Apple cider vinegar can be used instead of lemon juice. Add about a tablespoon. Lime juice is another option should you prefer limes.
If you don't have goji berries, throw in raisins instead. 
By all means, use other sweeteners of choice, such as coconut sugar or nectar or even maple syrup.
Should you be on Candida cleanse phase, substitute date sugar with xylitol or erythritol.
Nutrition
Serving Size:

1/5 of recipe

Calories:

73

Sodium:

181mg

Fat:

0.5g

Carbohydrates:

13g

Fiber:

3g

Protein:

3g
Keywords: coleslaw, red cabbage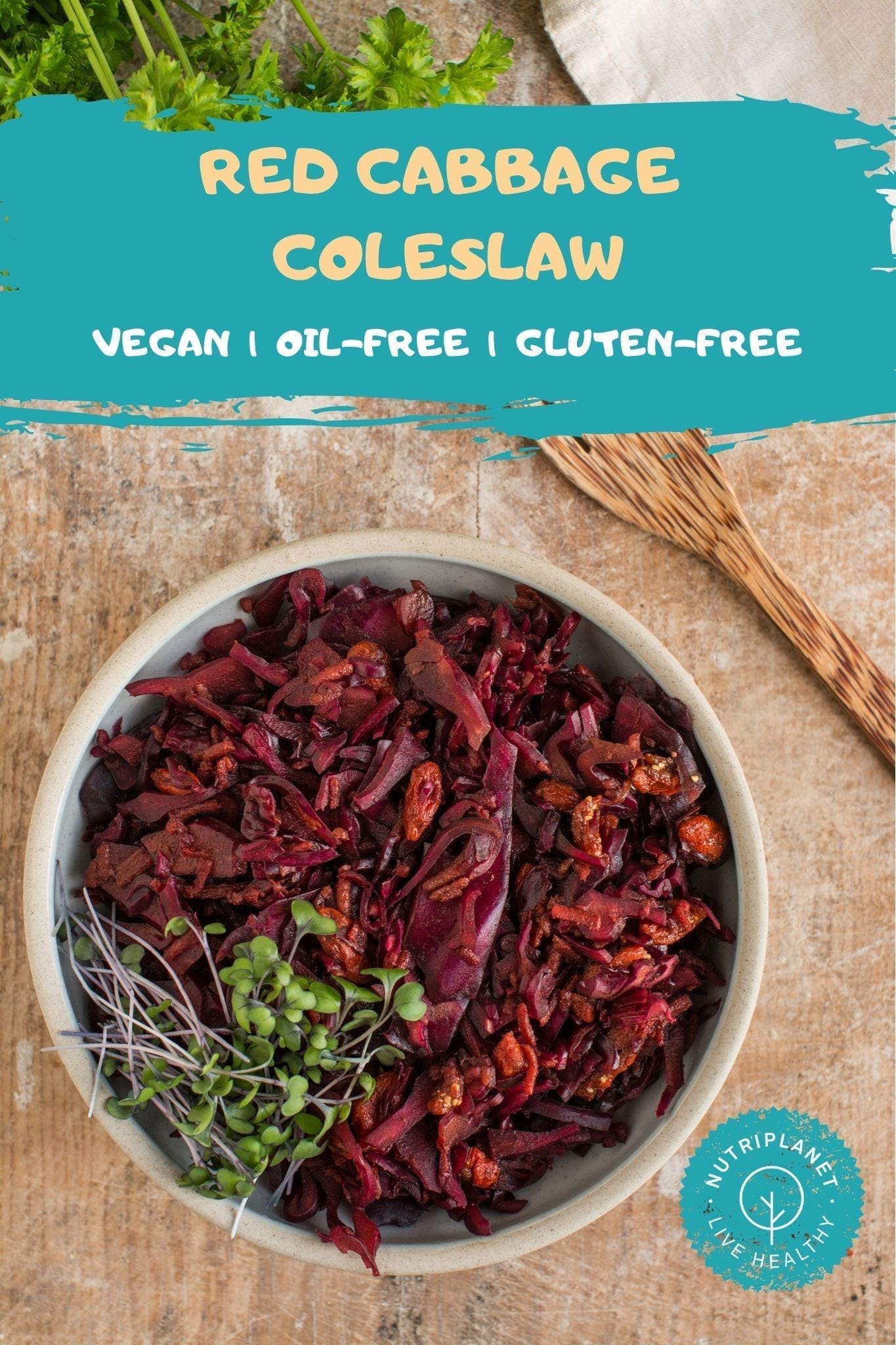 Disclaimer: this post contains affiliate links. As an Amazon Associate, I earn from qualifying purchases. For every purchase made from the links in this post, you'll be able to support my work. So, you can look after your health, and contribute to my mission at the same time. Thank you!