Super healthy oil-free miso roasted vegetables that make an excellent side dish to any festive gathering or brighten up your weekday meal.
I originally created this recipe for my vegan Christmas dinner video, but roasted vegetables taste good every day regardless of the occasion. In fact, it's one of those simple side dishes that so perfectly compliment your vegan meals.
By the way, I've tuned the recipe to better, i.e. added a bit of lemon juice, sweetener and fresh herbs. So, don't be surprised if you don't see those ingredients in the video.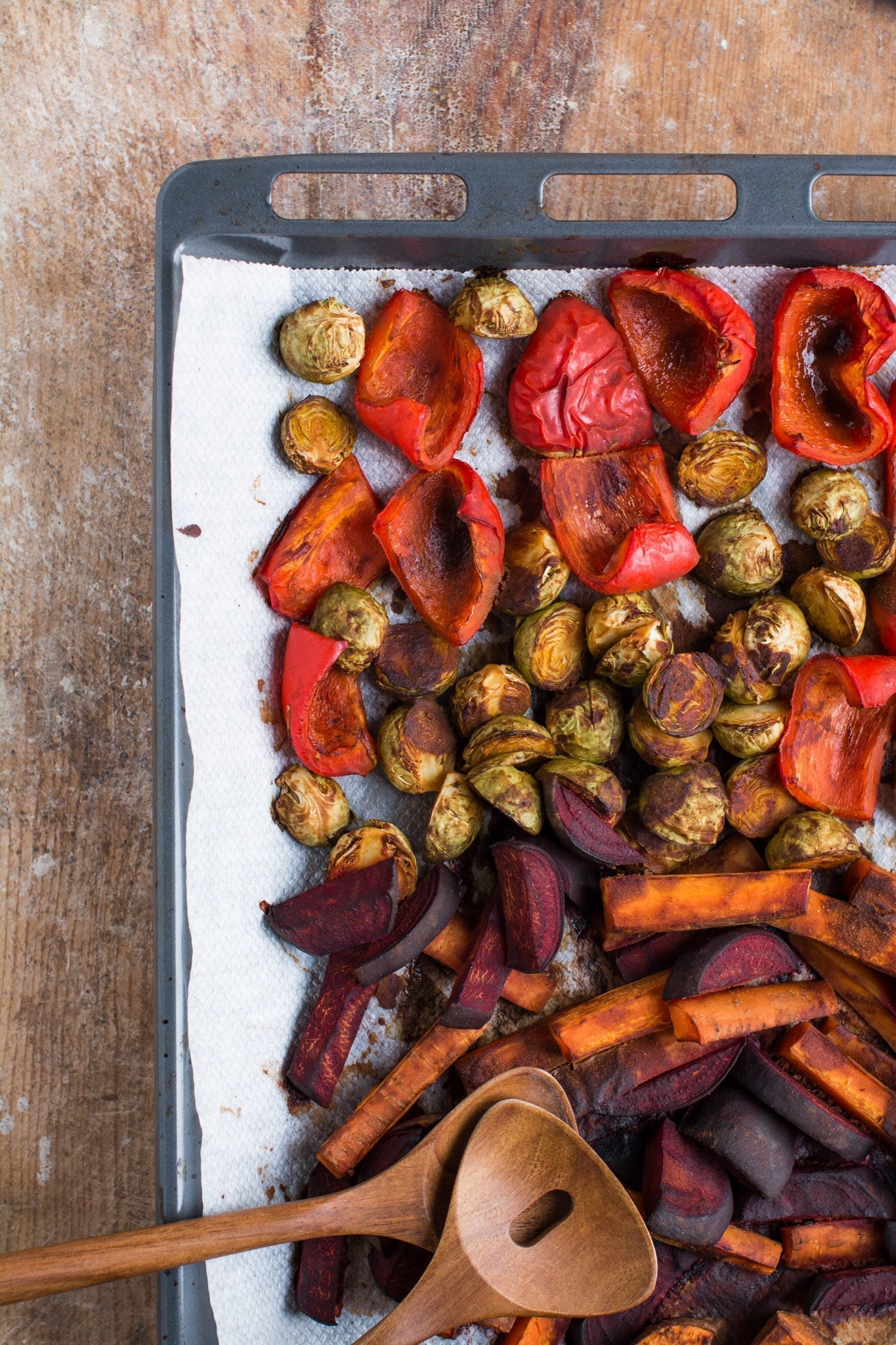 My miso roasted vegetables are:
Plant-based
Gluten-free
Candida diet friendly
Gut friendly,
Oil-free,
Refined sugar free
Miso Roasted Vegetables
Why miso roasted? It's because miso seems to be the healthiest way to add salt to your food. Read more under paragraph What is Miso Paste.
The Ingredients
As you might guess most of the umami as well as the deep dark colour of this recipe comes from miso paste.
Next, garlic adds the so needed tanginess to my marinade. It's up to you how tangy you want your veggies. So, feel free to add more or less garlic powder. In my opinion, fresh organic garlic gives the best result, especially if you're after tangier outcome.
Nutritional yeast is such a versitile ingredient with its divine cheesy taste and flavour.
Paprika powder comes in for the smoky taste. However, it's totally optional, in case you prefer cleaner tastes.
Fresh herbs, rosemary and thyme, are simply dotting the i's and crossing the t's giving so much depth of flavour to this miso marinade.
And finally, let's add the divine combination of sweet and sour, i.e. lemon juice and sweetener. As far as the latter in concerned, I'd suggest going for the least refined options such as date sugar or coconut sugar. For those on Candida diet choose between xylitol, stevia or erythritol.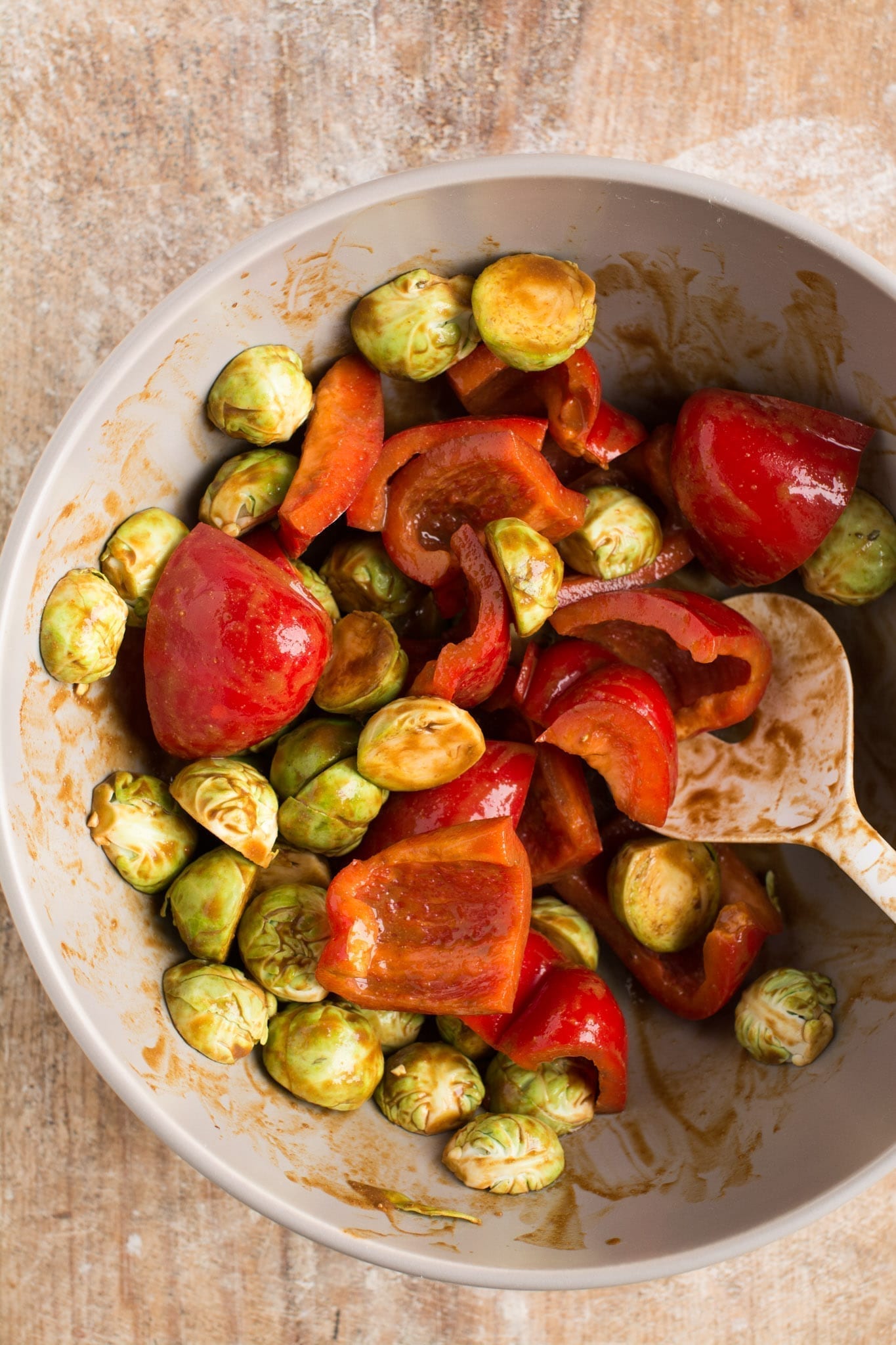 What is Miso Paste?
In short, miso is a traditional Japanese seasoning produced by fermenting soybeans with salt and aspergillus oryzae (also known as kōji, a fungus that ferments the soybeans), and sometimes rice, barley, seaweed or other ingredients.
Even though miso is high in sodium, it doesn't seem to have harmful side effects. The reason is that the carcinogenic and high blood pressure promoting effects of the salt may be counteracted by the beneficial effects of soy. Read more from Dr. Michael Greger's How Not to Die.
Miso Varieties
Miso varies in colour from a pale brown similar to peanut butter, to a deep brownish-red. The darker the colour, the longer the fermentation process and the stronger the taste will be. Most miso can be separated into three categories:
White miso is made from soybeans and a high percentage of rice which are fermented to create a light, slightly sweet taste. The smooth flavour of white miso makes it a popular choice in Japan, perfect for soups, dressings and marinades for fish.
Red miso is made from soybeans, barley and other grains with a long fermentation process to create a mature taste, rich in umami flavours. The intense, salty flavour of red miso makes it a great choice for hearty soups and marinades.
Awase miso is generally a mix of both white and red miso which makes it a versatile ingredient, suitable for all types of Japanese cooking.
You can use any miso variety in this recipe but be aware that the colour of your marinade depends on which one you choose.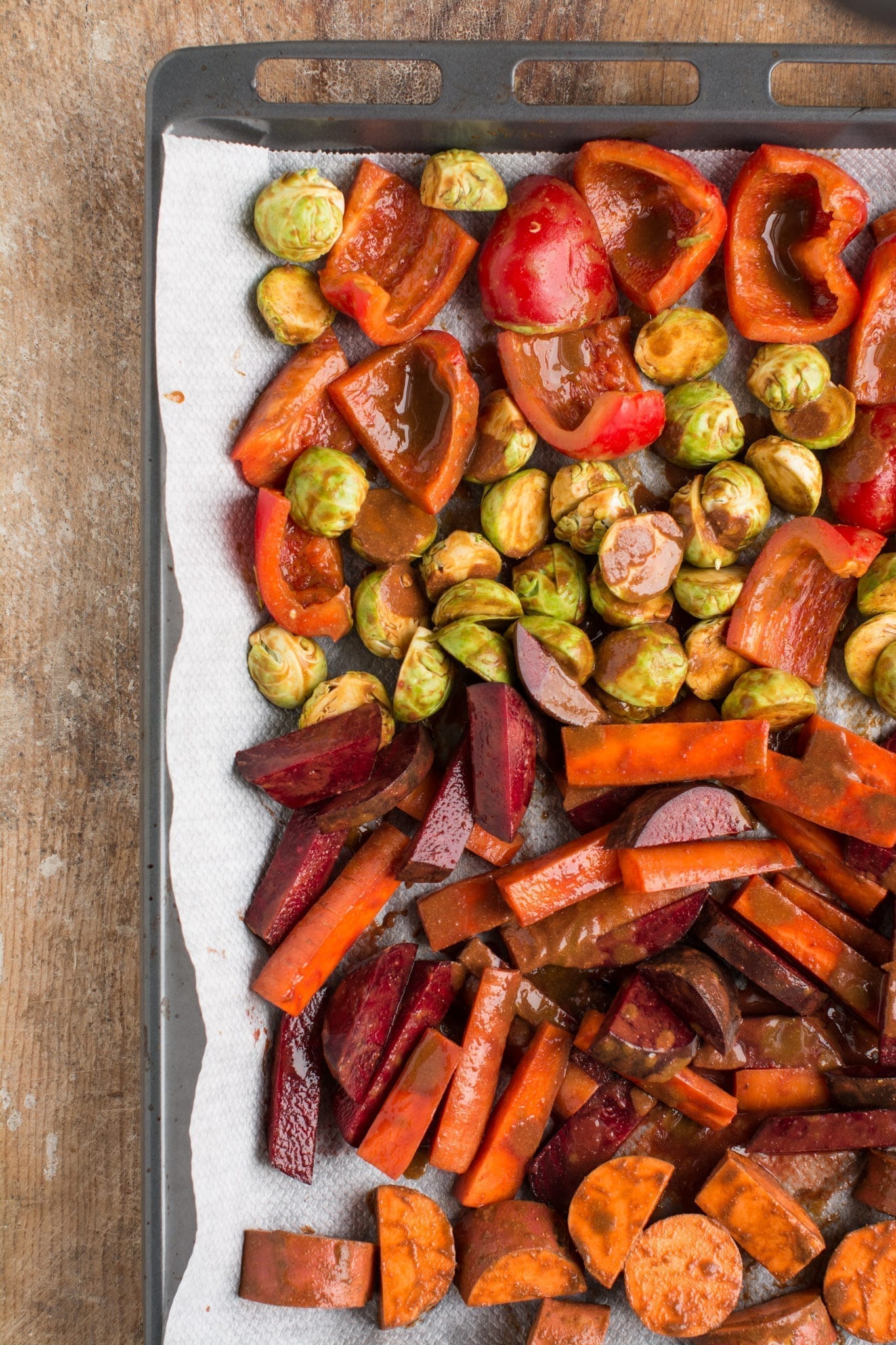 If you ask me, I say roasted root vegetables are a must on Christmas dinner table. However, I roast the veggies all year long as they're so easy to batch cook, taste good and make your life so much easier.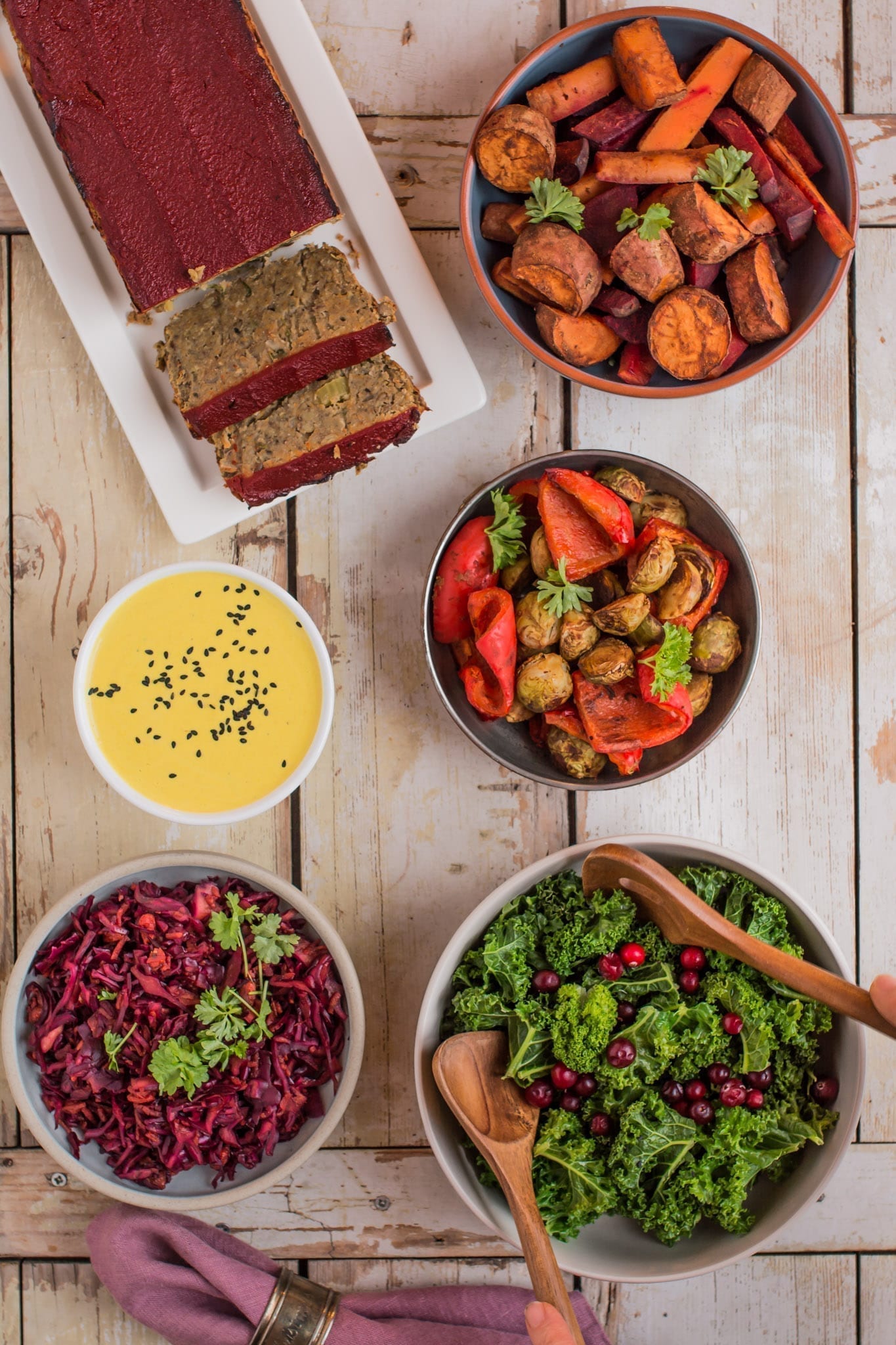 Finally, do let me know when you make this recipe or in case you have any questions or comments. Feel free to comment below!
Print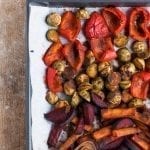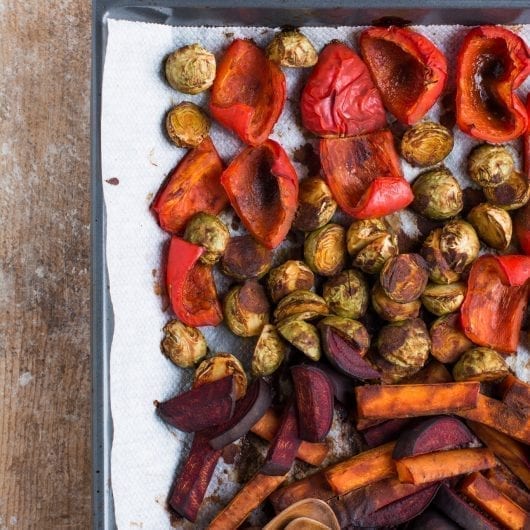 Miso Roasted Vegetables [Oil-Free]
---
Author:

Nele Liivlaid

Total Time:

50 minutes

Yield:

5

–

6

servings

1

x
Description
Super healthy oil-free miso roasted vegetables that make an excellent side dish to any festive gathering or brighten up your weekday meal. 
---
Ingredients: for miso marinade
Ingredients: for vegetables
---
Instructions
Start by blending all the marinade ingredients until smooth. Chop the fresh herbs before to ease blending. Transfer to a jar and keep in fridge.
Then, prepare the vegetables. First, cut out the seedy parts of bell peppers. If you have larger peppers, cut them into quarters and then halve those quarters as well. Clean the Brussels sprouts and cut them in half. Cut the beetroot and carrot into thinner sticks or smaller cubes to allow all the vegetables to cook within the same timeframe. The sweet potato sticks or cubes can be bigger than those of beetroot and carrot.
In a bigger bowl, mix the bell peppers and Brussels sprouts with about 4 tablespoons of miso marinade and pour them onto baking sheet lined with parchment paper. Next take beetroot and carrot and repeat the process – drizzle with marinade, mix well and transfer onto baking sheet together with bell peppers and Brussels sprouts. Finally, stir the sweet potatoes separately and add a dash of ginger powder and cinnamon that go extremely well with sweet potatoes.
When everyone's all cozied up on the baking sheet, drizzle some more miso marinade on top and bake at 190

°

C (374

°

F) for 35-40 minutes.
Notes
You could also use fresh garlic instead of garlic powder. Simply blend a fresh garlic clove along with the other ingredients. Then, have a taste and add more if you're after tangier result.
Feel free to use any other nut or seed butter instead of tahini, e.g. peanut butter or sunflower seed butter.
Other vegetables to oven roast include parsnips, regular potatoes, fennel, turnip, cauliflower, cabbage.
Should you be in Candida diet feel free to replace date and coconut sugar with xytlitol (1:1), liquid stevia (6 drops) or erythritol (3/4 tablespoon). 
Nutritional info for the miso marinade recipe: 230 kcal, 20g carbohydrates, 10g fats, 12g protein, 6g fibre, and 1509mg sodium.
The below nutritional data with veggies is correct, if you use up 60% (3/5) of the marinade to coat the vegetables.
Prep Time:

15 minutes

Cook Time:

35 minutes

Method:

Oven
Nutrition
Serving Size:

1/5 of veggies + 12% of marinade

Calories:

108

Sodium:

239mg

Fat:

17g

Carbohydrates:

15.3g

Fiber:

4.5g

Protein:

4.5g
Keywords: miso, oven roasted
Disclaimer: this post contains affiliate links. As an Amazon Associate, I earn from qualifying purchases. For every purchase made from the links in this post, you'll be able to support my work. So, you can look after your health, and contribute to my mission at the same time. Thank you!