This vegan lentil oatmeal is a perfect low glycemic breakfast porridge recipe that will keep your blood sugar stable.
Go to post Low Carb Vegan Breakfast Porridge Recipes to learn the principals of cooking a balanced and delicious low glycemic porridge.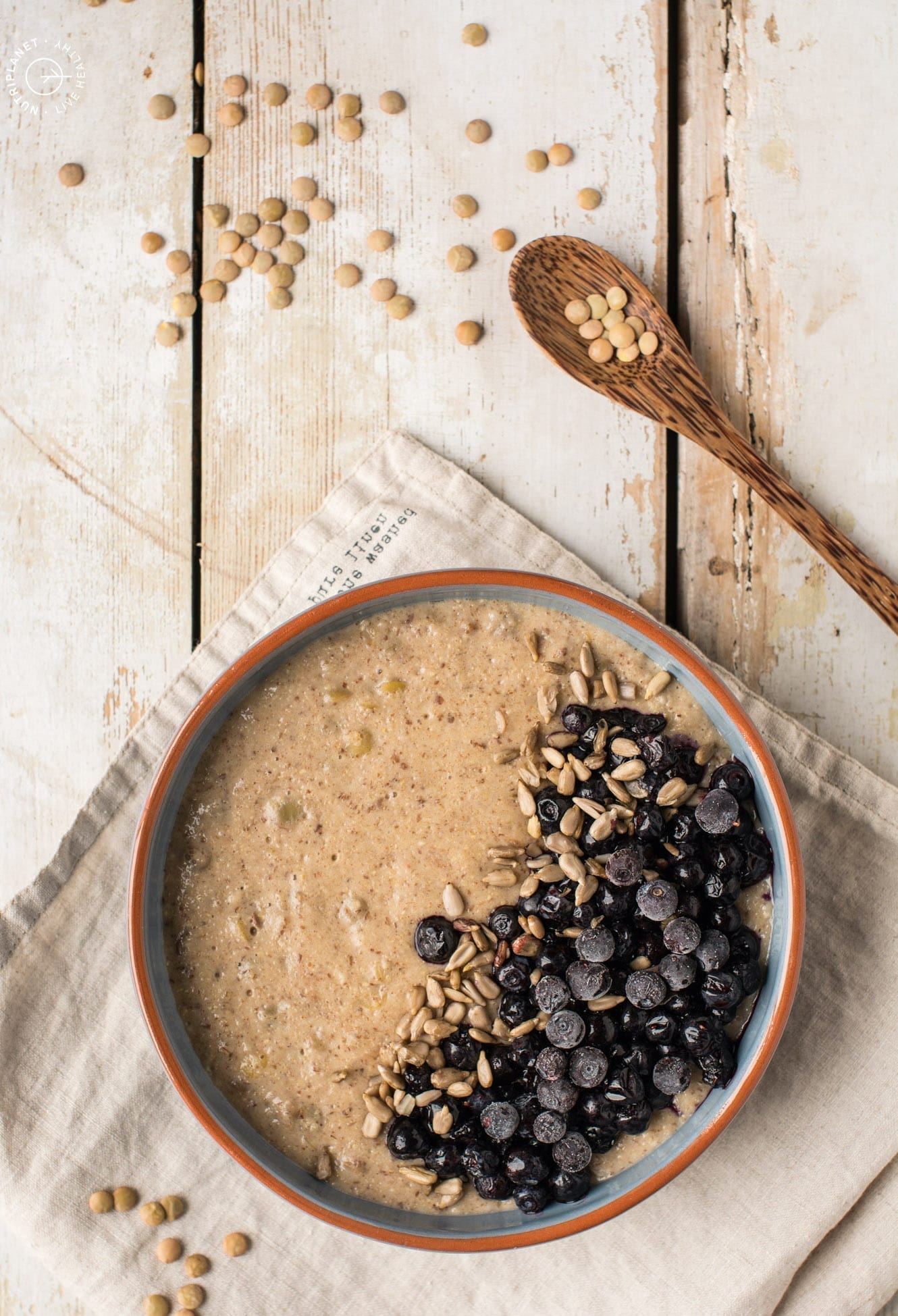 The Story
I discovered lentils as an excellent breakfast porridge ingredient soon after I started vegan Candida diet back in 2016. I'm not afraid to come up with crazy unconventional recipes that many people would find a bit scary or unheard of. After all, it's exciting to try well known foods in a different way. Like using lentils in a brownie! Check out my Lentil Brownies.
It's so crucial for me to have low glycemic breakfast to keep my blood sugar stable throughout the day. Hence, if I had a breakfast that would spike my blood sugar levels, it'd be a guarantee that it went haywire for the rest of the day as well.
So, I was looking for low glycemic ingredients to give bulk and volume to my breakfast porridge. As it turns out, oat bran and unhulled lentils are the highest in fibre amongst grains and legumes, and therefore have the lowest glycemic load.
To give you an idea, rolled oats have 39 GL points per 100 grams of dry weight, whereas unhulled lentils and oat bran only have 16 GL points. Now, sprout the lentils and you go down to 10 GL points.
Now, by combining those two you get the lowest glycemic load porridge one can make with grains and legumes. And all that with a decent serving size! I'd say it's a win-win!
This lentil oatmeal is one of my favourite low carb porridges as it:
has a perfect texture
is satiating
has got volume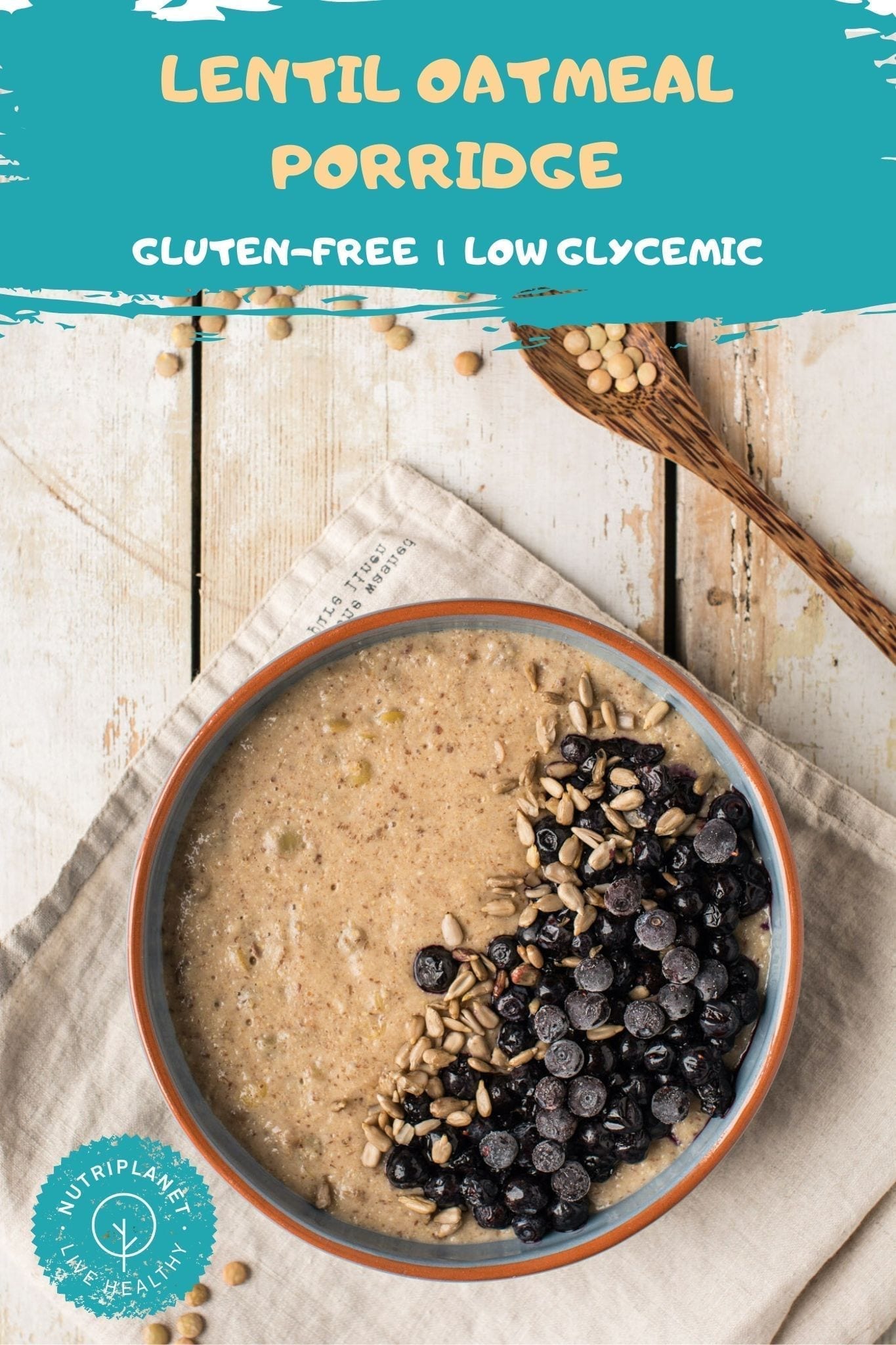 More Low Glycemic Breakfast Ideas:
Cauliflower Oatmeal
Low Carb Chocolaty Overnight Oats
Vegan Omelette with Sprouted Chickpeas
Creamy Oat Bran Porridge with Silken Tofu
Sweet Mung Bean Breakfast Porridge
Spiced Oat Bran Porridge with Carrot and Zucchini
You may of course tweak this lentil oatmeal recipe to your liking by ditching, adding or swopping ingredients. However, if your aim is to have low glycemic porridge:
Don't add any high GL sweeteners, e.g. maple syrup, coconut nectar, coconut sugar, date sugar, raw cane sugar etc. Find out which are suitable low glycemic sweeteners from blog post Low Carb Vegan Breakfast Porridge Guide.
Stay away from dried fruit (dates, figs, raisins, apricots etc.) and sweet fresh fruits (banana, mango, persimmon).
I love this cauliflower oatmeal recipe so much because it's:
Plant-based
Dairy-free
Low glycemic
Candida diet friendly
Gluten-free
Low-fat
Finally, do let me know when you make this recipe or in case you have any questions or comments about the porridge. Feel free to comment below!
Print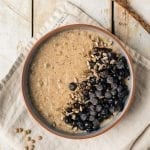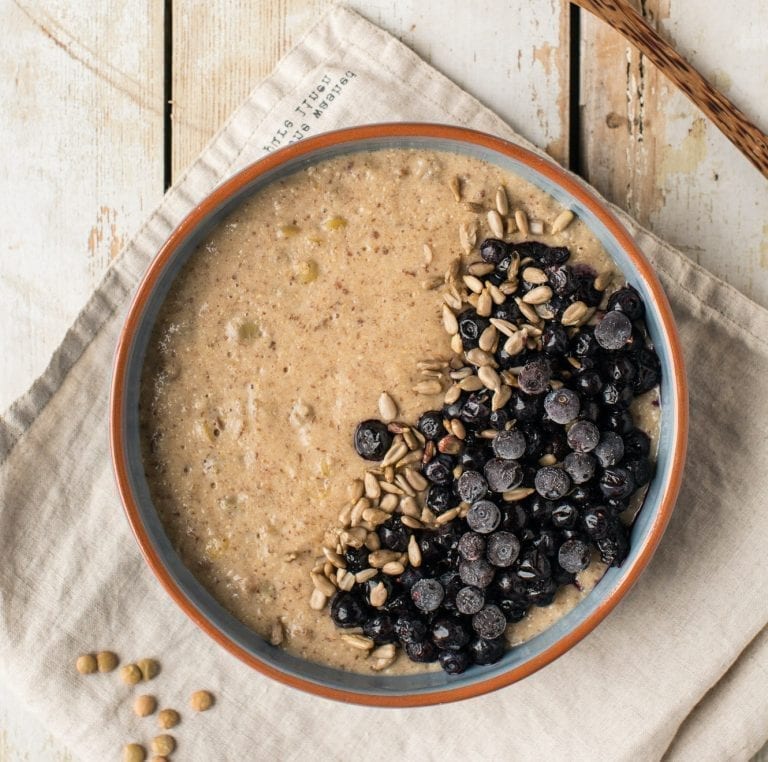 Lentil Oatmeal [Vegan, Gluten-Free]
---
Description
This vegan lentil oatmeal is a perfect low glycemic breakfast porridge recipe that will keep your blood sugar stable.
P.S. Add soaking time, 6-8 hours.
---
---
Instructions
Start by soaking the lentils for 6-7 hours (or overnight). Rinse and drain.
Next, cook soaked lentils and oat bran (uncovered) in water and soymilk until the lentils are tender, about 8 minutes. Stir whenever the oat bran starts to clump up or sticks to the bottom. Add more liquid if necessary.
When the porridge is cooked, mix in the spices, mesquite, salt, and flaxseeds. Again, add more liquid if the porridge is too thick.
Finally, garnish with wild blueberries and sunflower seeds.
Notes
This portion has 16 GL points.
See more tips under recipe card.
Prep Time:

5 minutes

Cook Time:

8 minutes

Method:

Stovetop
Nutrition
Serving Size:

1 serving

Calories:

352

Sodium:

56.8mg

Fat:

10g

Carbohydrates:

36g

Fiber:

22.4g

Protein:

21g
Extra tips on my lentil oatmeal recipe:
You can use yellow, green, brown or puy lentils. Black lentils would make your porridge kind of black 🙂 However, should you not care about the colour, go ahead and use them!
Feel free to use any unsweetened plant milk instead of soymilk.
Always grind your own flaxseeds and store them in a sealed container or jar in fridge. Use coffee/spice grinder.
Ground chia seeds would also work very well in this recipe. However, chia seeds absorb more liquid, so you'd need to add more water or plant milk.
Any nuts or seeds can be used instead of sunflower seeds. If you prefer nut and seed butters, opt for additive free varieties, e.g. peanut butter, almond butter, cashew butter, sunflower seed butter, tahini etc.
Mesquite flour can be substituted with monk fruit powder or yakon powder.
If you don't have wild blueberries, top your porridge with other low glycemic berries like cranberries, lingonberries, blackberries, raspberries, or strawberries.
Finally, any seeds or chopped nuts would be suitable instead of sunflower seeds, e.g. pumpkin seeds, hemp seeds, walnuts, almonds, hazelnuts, pine nuts etc.
Disclaimer: this post contains affiliate links. As an Amazon Associate, I earn from qualifying purchases. For every purchase made from the links in this post, you'll be able to support my work. So, you can look after your health, and contribute to my mission at the same time. Thank you!