Perfect low glycemic chocolate overnight oats recipe that is super simple and quick to prepare, requiring only a bowl and a spoon.
My chocolate overnight oats are:
Vegan
Gluten-free (if you use gluten-free oats)
Sugar-free
Candida diet friendly
Nut-free and peanut-free
Soy-free (don't use soymilk)
Different oats you can use in this recipe:
Old-fashioned rolled oats
Quick oats or jumbo oats
Choose the type of oats according to the desired end result. If you're after mushier outcome, go for quick oats or rolled oats. On the other hand, should you like to have a crunchier texture, opt for steel cut oats.
Since this overnight oats' recipe is part of Low Carb Vegan Breakfast Porridge Guide, it's worth mentioning that steel cut oats have the lowest glycemic load. The reason is that rolled oats and jumbo oats have already been treated with steam, hence being more processed.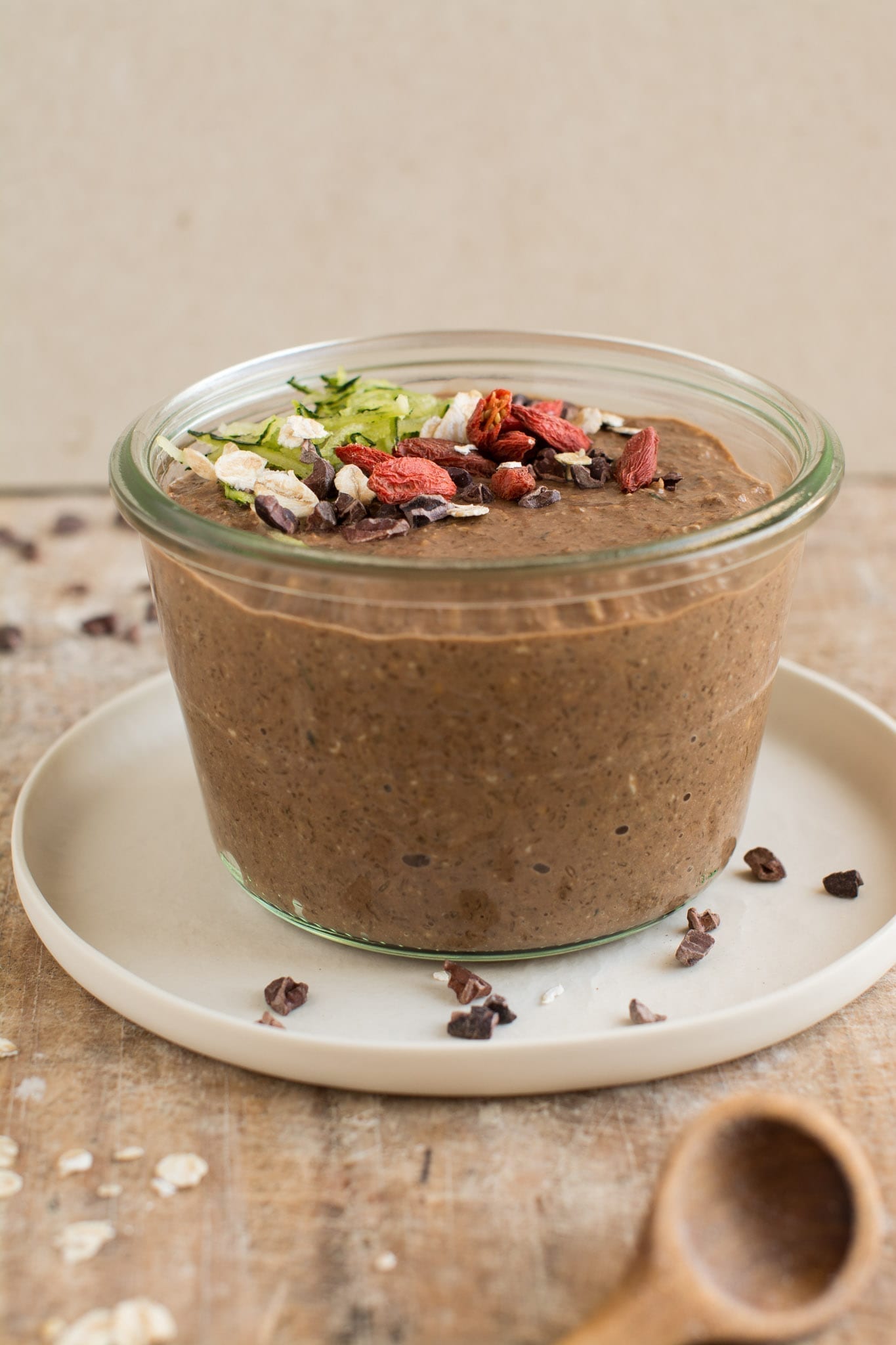 How to Make Low Glycemic Overnight Oats
Did you know that oats by themselves have quite high glycemic load? To be more precise, 39 GL points per 100 grams of dry weight, whereas unhulled lentils and oat bran only have 16 GL points.
Read more on Low Glycemic Diet:
what is low GL diet,
the difference between GI and GL,
the limitations associated with low GL diet.
Given that it's recommended not to exceed 20 GL points per one meal, it'd be quite tricky to have a decent portion of porridge if you're someone who struggles with keeping your blood sugar stable.
Even just ½ cup of rolled oats (40g, 1.4oz) would equal 15.6 points. Add all the fruits and other toppings and you easily go above the suggested line. However, people very often make their porridge with a whole cup of oats in addition to all the add-ins and toppings, which would be almost double of the suggested GL points.
The good news is, there are tricks to still have oats, but keep your bowl low glycemic. In fact, this is what I've been constantly hacking since I went on Candida diet back in 2016.
My hacks for making low glycemic overnight oats.
Be smart with quantities.

Keep the amount of oats around 20-25 grams (0.7-0.9oz).

Use low glycemic bulk ingredients to increase volume.

For example, oat bran, unhulled lentils, seed and nut protein powders, chia seeds, flaxseeds, psyllium husks, superfood powders, vegetables like carrot, cauliflower and zucchini.

Top the oats with low glycemic fruits and berries.

For example, wild blueberries, strawberries, green apples, kiwis, pears, plums.

Finally, opt for low glycemic sweeteners.

Mesquite, carob, monk fruit, yakon, stevia, xylitol, and erythritol.
Read more in Low Carb Vegan Breakfast Porridge Guide.
Why I love overnight oats:
Perfect for meal prep – make ahead 3-4 ready to eat portions for those busy mornings when you don't have a minute to spare.
Healthy breakfast – made of wholesome low glycemic ingredients that contribute to balanced blood sugar.
Simple and quick – no cooking needed, simply mix the ingredients together, refrigerate overnight, and grab to go the next morning.
You may of course tweak this overnight oats' recipe to your liking by ditching, adding or swopping ingredients. However, if your aim is to have low glycemic porridge:
Don't add any high GL sweeteners, e.g. maple syrup, coconut nectar, coconut sugar, date sugar, raw cane sugar etc. Find out which are suitable low glycemic sweeteners from blog post Low Carb Vegan Breakfast Porridge Recipes.
Stay away from dried fruit (dates, figs, raisins, apricots etc.) and sweet fresh fruits (banana, mango, persimmon).
By all means, don't increase the amount of oats.
More Low Glycemic Breakfast Ideas:
Cauliflower Oatmeal
Lentil Oatmeal
Vegan Omelette with Sprouted Chickpeas
Creamy Oat Bran Porridge with Silken Tofu
Sweet Mung Bean Breakfast Porridge
Spiced Oat Bran Porridge with Carrot and Zucchini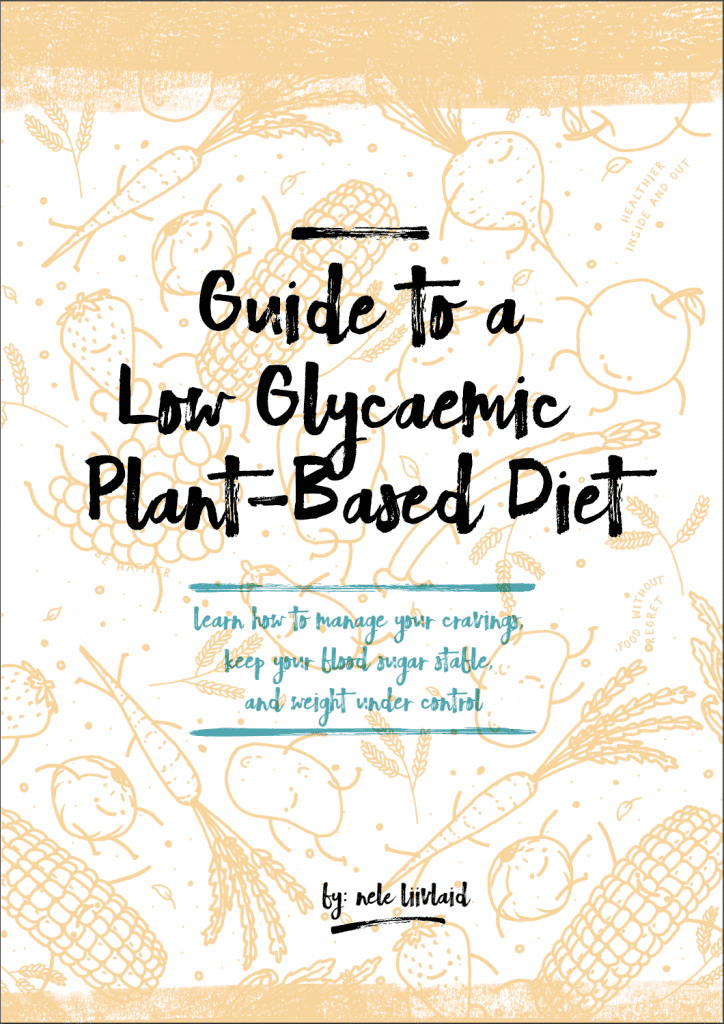 Print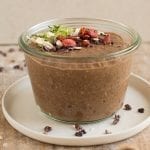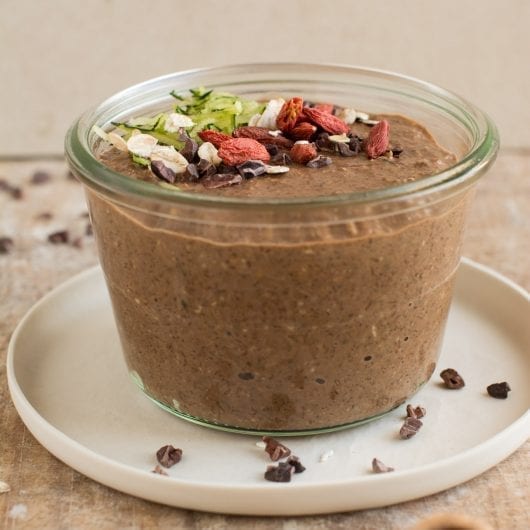 Chocolate Overnight Oats [Vegan, Low-Carb]
---
Description
Perfect low glycemic chocolate overnight oats recipe that is super simple and quick to prepare, requiring only a bowl and a spoon.
P.S. Add the overnight soaking time!
---
---
Instructions
In a medium jar or bowl, mix together all the dry ingredients, i.e. rolled oats, ground chia seeds, coconut flour, carob powder, cacao powder, and psyllium husks.
Now, start adding oat milk and soymilk gradually to avoid any lumps. Don't forget that it'll thicken up a bit as the oats, chia seeds and psyllium absorb liquid.
Finally, stir in grated zucchini and transfer into a sealed container or mason jar, and refrigerate overnight. Enjoy!
Notes
This portion has 20 glycemic load points.
Feel free to add a pinch of Himalayan salt if necessary. However, add salt in the morning as it inhibits liquid absorption.
Unless you use steel cut oats, you don't necessarily have to soak your oats overnight. Instead, a few hours or even half an hour would do the job, i.e. as soon as you feel the consistency is enjoyable, go ahead and grab a bite!
See substitution and serving tips below the recipe card.
Prep Time:

5 minutes

Category:

Breakfast
Nutrition
Serving Size:

The whole recipe

Calories:

324

Sodium:

133mg

Fat:

10.7g

Carbohydrates:

30.8g

Fiber:

16.8g

Protein:

12.8g
Substitution tips on my chocolaty overnight oats:
Feel free to use any preferred combination of plant milks, e.g. almond milk, oat milk, soymilk, rice milk etc. Remember that oat, rice and cashew milk have higher glycemic load.
If you don't have psyllium husks, you may also use more ground chia seeds instead. Remember that the latter absorbs less liquid, so you might need to add less plant milk. Alternatively add more than a tablespoon of extra ground chia seeds.
Whole chia seeds could also be used but remember that they'd absorb less liquid than ground seeds. Also, your mixture would be thinner in the beginning as ground seeds swell up much quicker.
Carob powder or flour can be substituted with mesquite flour or yakon powder.
Should you be allergic to cacao or avoid it for other reasons, substitute carob for it.
Also, coconut flour can be substituted, e.g. with any nut protein powder like almond, peanut or cashew. Again, the before mentioned powders don't have the absorption capacity of coconut flour, so add less liquid if necessary.
More tips:
Always grind your own chia seeds and store them in a sealed container or jar in fridge. Use spice/coffee grinder.
If you feel that the oats could use some more sweetness, add a little bit of liquid stevia or other low glycemic sweetener.
If you don't need to watch those fats, go ahead and top your overnight oats with seed or nut butters, i.e. additive free almond butter, peanut butter, tahini, sunflower seed butter etc.
If you must have some berries on top of your overnight oats, go with some goji berries, wild blueberries, raspberries and/or blackberries.
Finally, plain soy Greek yogurt would make an excellent topping. Furthermore, you could mix some into the oats as well.
Disclaimer: this post contains affiliate links. As an Amazon Associate, I earn from qualifying purchases. For every purchase made from the links in this post, you'll be able to support my work. So, you can look after your health, and contribute to my mission at the same time. Thank you!
You're welcome to PIN the below image!