Here's a quick and easy black bean mushroom burger recipe that requires 15 minutes of your time (+ baking time), a food processor and oven. These vegan black bean burgers combine the delightful flavours of mushrooms and fresh herbs leaving a heavenly scent floating in your kitchen.
Now, if your kids are asking for veggie burgers, then this is a great recipe for batch cooking as well – make enough to last for a week and store in freezer for easy lunches and dinners.
Furthermore, one thing that I especially like about this black bean mushroom burger recipe is the simplicity of it. To be more precise, there's no preparation needed other than rinsing and draining the beans and soaking/draining the mushrooms. You only need to throw all the ingredients into food processor and let it do the job. Moreover, there's no standing beside the stove, frying and flipping the burgers over. Instead, you can pick up anything that you left off while the patties are baking in the oven.
I love those vegan black bean burgers because they are:
Easy and quick to prepare
Full of flavours
Perfect for batch cooking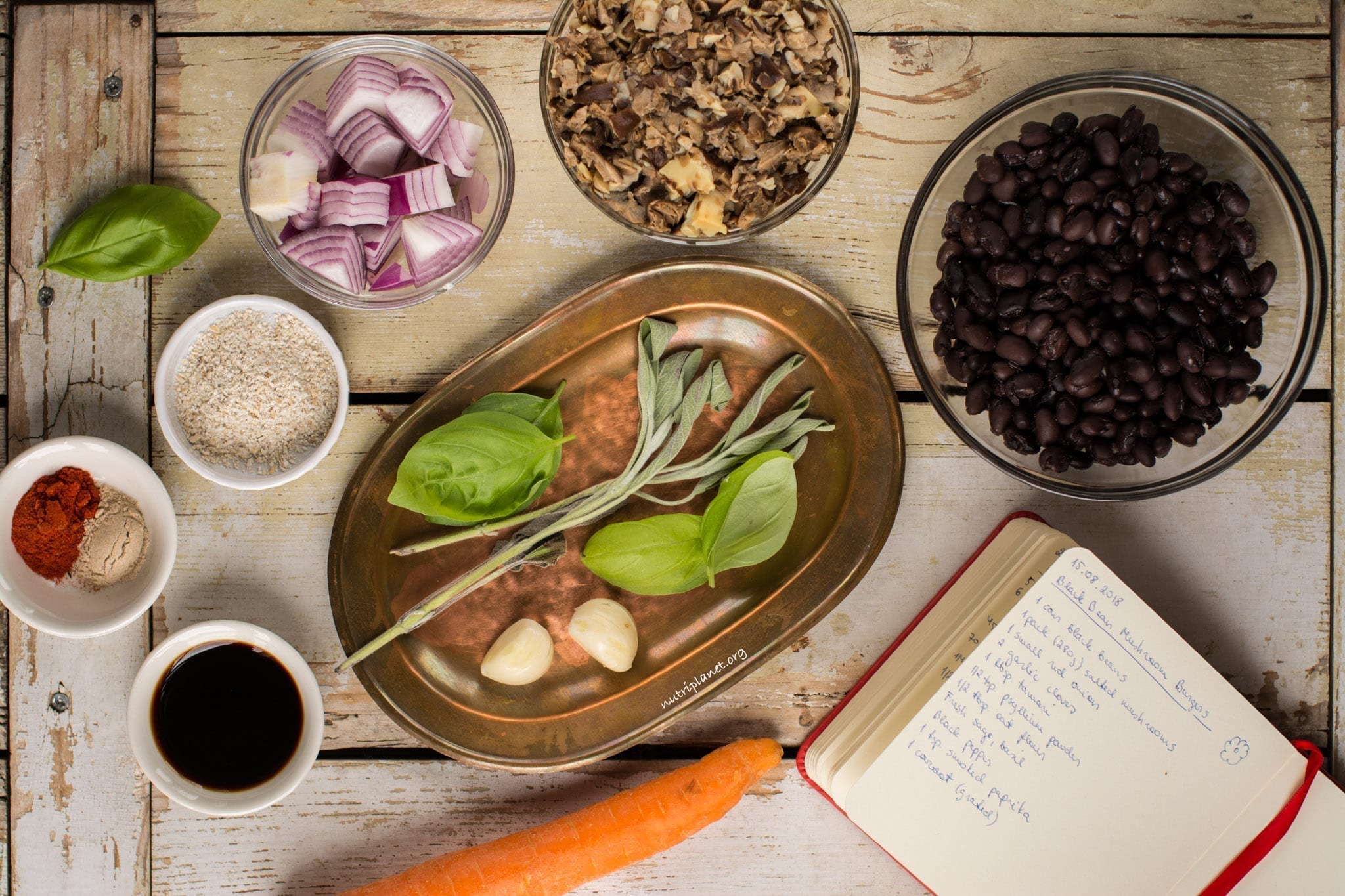 Furthermore, if you have dietary restrictions, you'd be interested to know that my black bean mushroom burger recipe is:
Gluten-free
Oil-free
Low-fat
Nut-free
Peanut-free
Soy-free
Can be made grain-free (see tips)
Candida diet friendly
Low glycemic and therefore contributing to stable blood sugar
Other veggie burger recipes for you to try out: Chickpea-Quinoa Patties, Beet Patties, Portobello Burger with Black Bean-Beet Patties, Chickpea-Summer Squash Burger.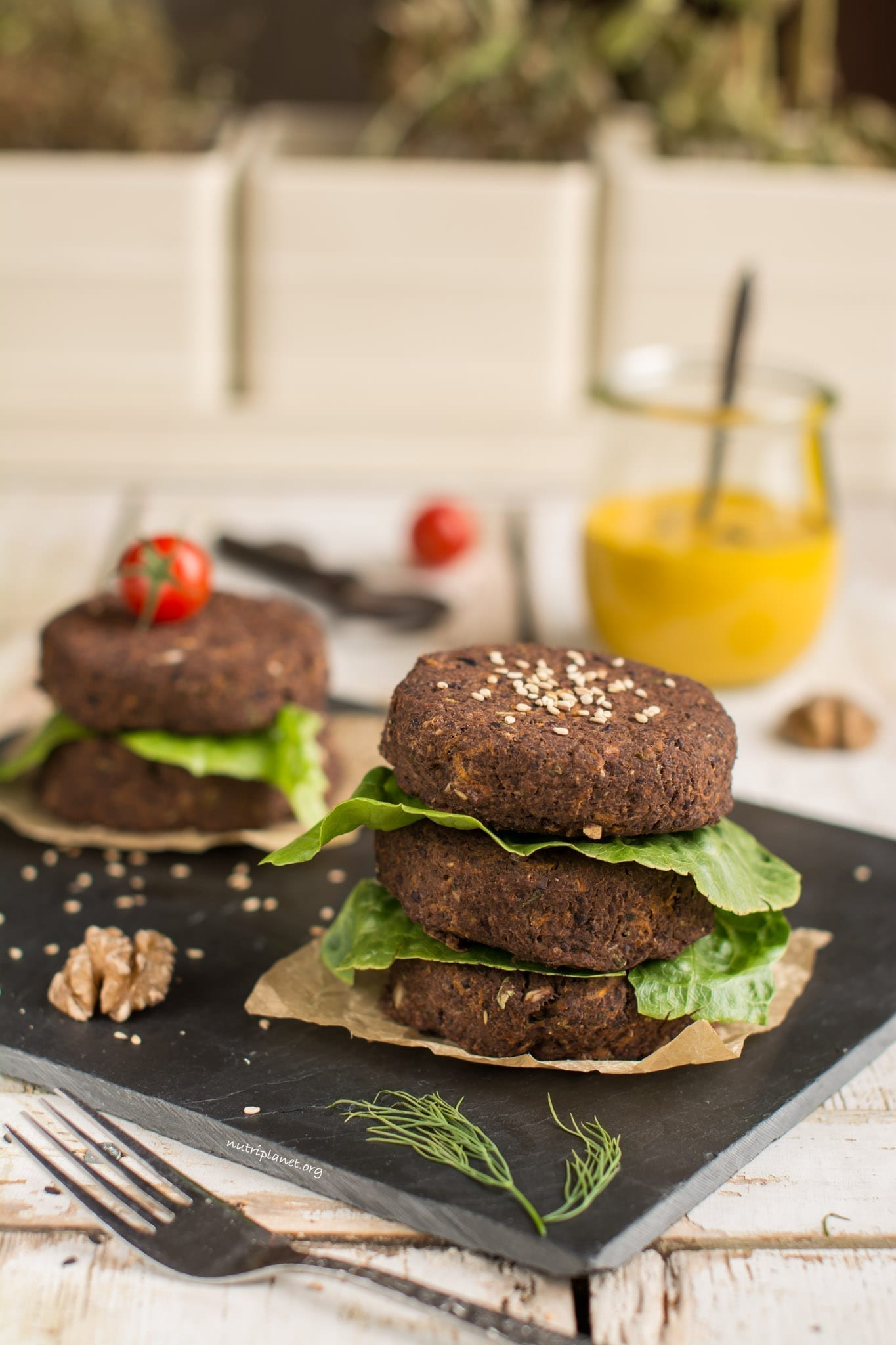 Combine my black bean mushroom burger with:
Big green salad bowl (for example lettuce, bell pepper, radish, arugula, steamed leafy greens, Brussels sprouts, green beans, and some good fats, e.g. avocado, olives, nuts and seeds)
Sweet potato fries
Hot sauce (for example my Tomato Sauce)
Slices of Fermented Buckwheat Bread
I'd love to hear what you think of these black bean patties! Just leave a comment below or tag me in social media.
Vegan Black Bean Burgers with Mushrooms
Ingredients:6 vegan burgers (patties)
1 can unsalted black beans, drained and rinsed
1 packet (about 280g, 9.9oz) of salted wild mushrooms
1 small red onion, coarsely chopped
2 garlic cloves
1 tbsp. tamari or soy sauce
1 tsp. smoked paprika powder (optional)
1 tsp. psyllium husk powder
½ tbsp. oat flour
½ tbsp. of chopped sage and leaves of one basil stem
Black pepper to taste
1 finely grated carrot
Directions
First, rinse the salted mushrooms and soak in fresh water to remove excess salt. Once soaked, it's important to drain as much water out of them as you can. Then, rinse and drain the black beans as well.
Next, coarsely chop the onion and garlic and process all ingredients (except the carrot) in food processor until homogeneous batter forms. You may need to scrape sides in between.
Lastly, mix finely grated carrot into the burger batter. Taste and add additional Himalayan salt and pepper if necessary.
Now, using your hands, form 6 round patties (burgers) and place them onto baking sheet lined with parchment paper.
Bake the patties at 190°C (375°F) for 30 minutes. Let cool a bit before removing from baking sheet.
Nutritional info per burger: 77.7 kcal, 10.1g carbohydrates (76.6% of kcal), 0.55g fats (6.33% of kcal), 5.56g protein (28.6% of kcal), 5.04g fibre, and 5.5 GL points.
Tips on my vegan black bean burgers:
If you're lazy or in a hurry or just don't have fresh onion and garlic, go ahead and use onion powder (about 1 tablespoon) and garlic powder (1 teaspoon) instead. However, you'll end up with a bit less of batter (by a margin of the onion to be precise).
I have good news for those without food processor – you can still make this recipe! Take a large bowl (flat bottom) and use potato masher to mash the beans. Then, chop onion, garlic and fresh herbs really fine and mix all ingredients with mashed beans. Use your hands to get a really smooth batter.
In case you can't find salted mushrooms anywhere, here's what you do! Slice up about 400 grams (14oz) of mushrooms and cook them in a pan to let the water seep out. If you keep the heat low, the mushrooms will just simmer in their liquid. Heat skillet over medium high or high heat to get rid of all that liquid. If the mushrooms will start with stick to the pan, but you see there's more liquid in them, add a tablespoon (or two) of broth or water. Remember, you'll need to add more tamari or salt to the recipe when you use fresh mushrooms.
Add a few tablespoons of nutritional yeast to the batter for cheesy flavour. However, not recommended for those  with severe Candida overgrowth.
Oat flour can be substituted with any other flour of your liking, i.e. buckwheat flour, rice flour, chickpea flour, millet flour, corn flour, spelt flour etc.
Should you not be able to get your hands on psyllium powder, use about 1½ tablespoon more of oat flour.
For a grain-free version, leave out oat flour and use an additional ½ teaspoon of psyllium powder.
Disclaimer: this post contains affiliate links.