It just so happened that I had a big bunch of organic tomatoes that needed to be consumed or dealt with quickly. I decided to go for a hot sauce or ketchup, which is easy to store and use for dishes such as lasagne, pasta, casserole, curry etc.
You do not really taste or feel the absence of oil – I really do not understand why the oil is used so much everywhere! It sometimes seems like oil was the one essential ingredient you couldn't do without, when, in fact it's not.
I baked an absolutely delicious plant-based oven dish with summer squash, eggplant, potatoes and vegan Parmesan with this spicy oil-free tomato sauce.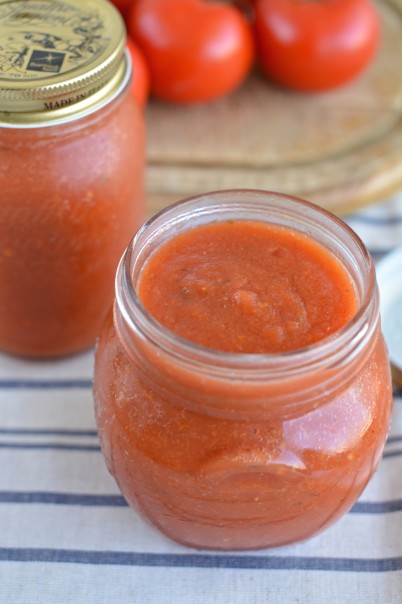 Spicy Oil-Free Tomato Sauce
Ingredients
1.5 kilos tomatoes, chopped
1 big onion, chopped
2-cm piece of ginger, pealed and chopped
3 garlic cloves
2 tsps oregano
2 tsps diced rosemary leaves
Pinch of chilly flakes
Sea salt
2 cups water
2 basil stalks with leaves
5 tbsps rice vinegar (or apple cider vinegar or just wine vinegar)
2 tbsps agave syrup
Directions
Place onion, ginger, garlic, oregano, rosemary and chilli flakes in a pot. Add a few tablespoons of water and sauté for 5 minutes adding 1 tablespoon of water at a time to prevent sticking.
Throw in the tomatoes and 2 cups (480ml) of water. Stir well. Let simmer on low heat without lid for 45 minutes stirring occasionally.
Turn off the heat and add basil leaves and chopped stalks and blend until smooth using an immerse blender. Finally, add sea salt to taste, rice vinegar and agave syrup, mix well and let simmer for another 10 minutes.
Tip:
If you plan to use it in 3-4 days, cool the sauce and transfer to jars, bottles or other containers and put in fridge. However, should you want to conserve the sauce for longer, pour it (while still hot) into sterilized bottles or jars. Sterilize the jars in oven – place the jars face down on oven rack and heat them (100 C, 212 F) for 15-20 minutes. Cover tightly with clean lids and let cool at room temperature.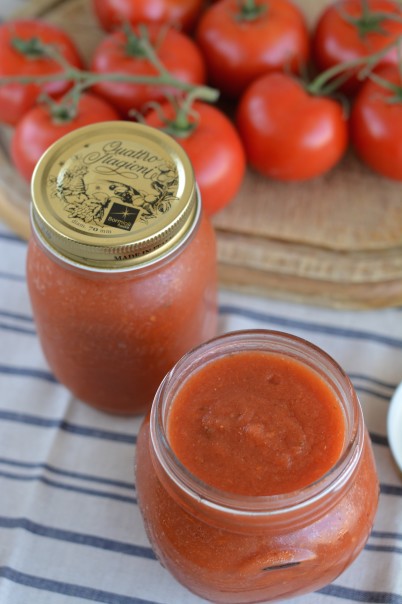 Enjoy!