I have seen so many gorgeous vegan Portobello burger pictures all over social media, but only now did I decide to try creating one myself. Believe it or not, but it was easier than I initially thought. After all, I already had black bean-beet patty recipe that I knew would be perfect with the burger. So, it was just the matter of roasting the Portobello mushrooms and coming up with a tasty sauce for my vegan burger.
Check out a short tutorial video further down!
Now, for a burger, I prefer a sauce that's not too runny. Otherwise it'd be uncomfortable to eat. As a result, I found thick hummus to be a wise choice. Since I wanted my vegan Portobello burger to be as colourful as possible and I already had brown as well as red represented, I went for yellow chickpea hummus with turmeric and cumin.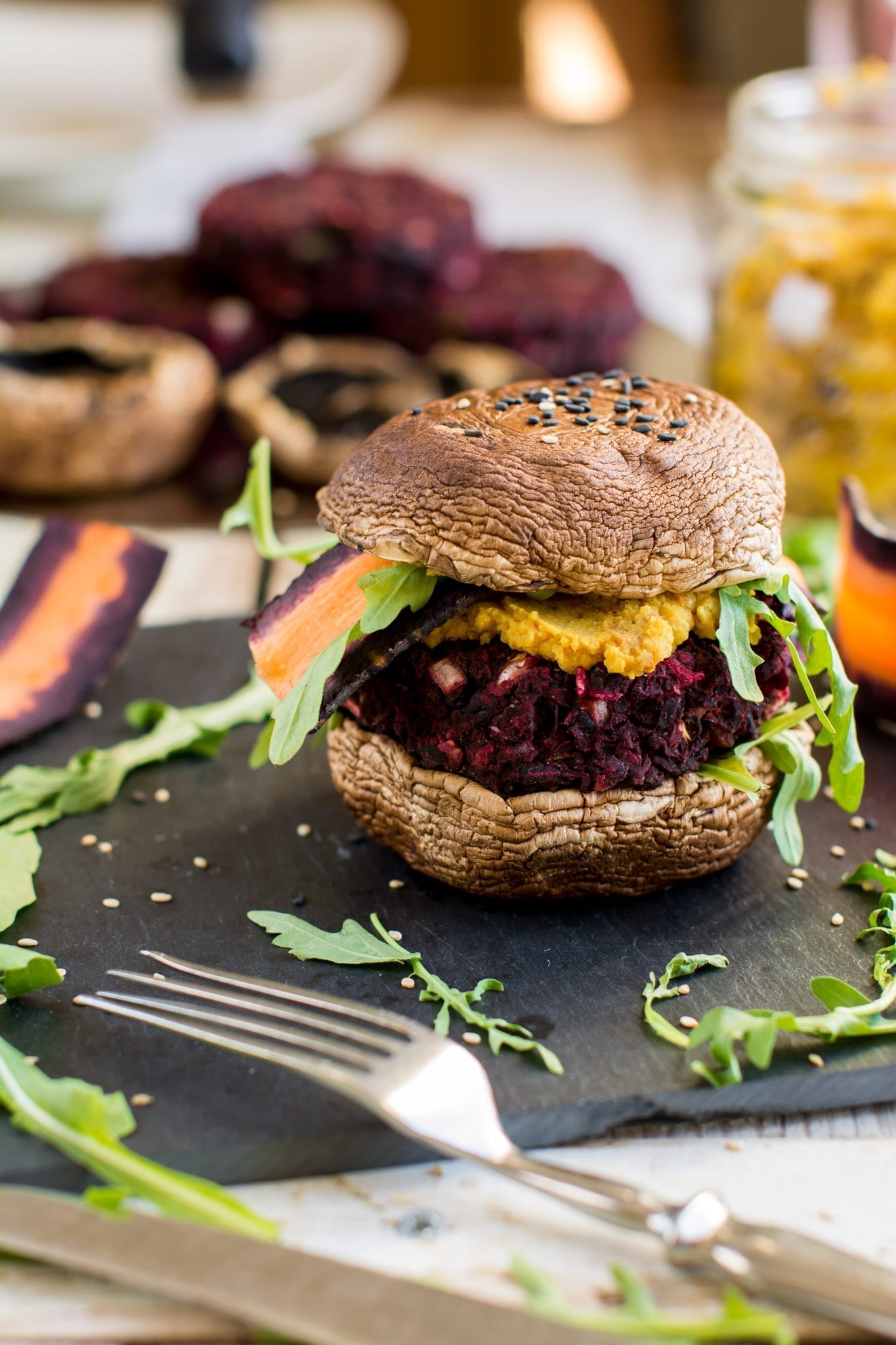 However, don't stop there as you can use any hummus you like, e.g. Chickpea Hummus with Potatoes and Bell Pepper, Black Bean-Veggie Hummus, Beet-Red Bean Hummus.
Needless to say, the same goes for patties. For example, you could try Chickpea-Quinoa Patties or Chickpea-Summer Squash Patties.
Since I am still following Candida diet, I made my vegan Portobello Burger Candida diet friendly. Furthermore, my burger is also whole food plant-based, gluten-free, sugar-free and oil-free.
Vegan Portobello Burger Recipe
Ingredients:6 Black Bean-Beet Patties
1 can unsalted black beans, rinsed and drained
1 medium onion, chopped
1 tsp. garlic powder
½ tsp. cumin seeds, crushed
Handful of fresh coriander, chopped
1 tbsp. raw buckwheat flour
1 tbsp. tapioca flour
1 tbsp. gluten-free jumbo oats
400g (14oz) grated beet
Himalayan salt and black pepper to taste
Directions
Mash rinsed and drained black beans in a bigger bowl.
Drain grated beets from excess liquid (drink it or use as salad dressing).
Add chopped onion, garlic powder, crushed cumin seeds, beets, coriander, flours, and oats to the bowl of black beans and mix well until homogeneous batter forms. It's best achieved by using your hands.
Season with Himalayan salt and black pepper.
Form 6 patties and place them on a baking sheet lined with parchment paper.
Bake at 175°C (350°F) for 30 minutes flipping them halfway through.
Chickpea Hummus Recipe
Ingredients
1 can unsalted chickpeas, washed and rinsed
2 tbsps. lemon juice
Himalayan salt to taste
½ tsp. garlic powder
1 tsp. (10g, 0.4oz) unsalted tahini or ground sesame seeds
½ tsp cumin seeds, crushed (optional)
1 tsp. turmeric
Some water (enough for desired consistency)
Directions
Blend with an immerse blender or in food processor until smooth.
Store in a sealed container in the fridge for up to 3 days.
How to Roast Portobello Mushrooms
Directions
Preheat oven to 220°C (425°F).
Place the mushrooms, gill side up on baking sheet lined with parchment paper and brush the gills as well as caps of mushrooms with some soy sauce.
Bake for 20 minutes flipping the caps halfway through.
Compiling Vegan Portobello Burger
Directions
Cut the stems off of Portobello mushrooms – just eat them right then and there or add to meals.
Spread some hummus into the gill-side of the cap.
Add something green, i.e. spinach, arugula, chicory, or lettuce.
Next, add one black bean-beet patty.
After that it's hummus's turn again.
Place a thin slice of carrot over the layer of hummus and finish off with some more greens.
Finally, spread some hummus into another mushroom cap and place it gill-side down on top of your vegan Portobello burger. Voilá!