The year has gone by so fast and it is Easter again! However, it's been two years since I last created a vegan raw Easter cheesecake Pascha. My first Pascha was Vegan Cheesecake Pascha with Goji Berries, which was followed by Plant-Based Chocolaty Cheesecake Pascha. They both are beyond amazing to try out, unless you're on Candida diet as those recipes contain lots of dried fruit.
Seeing that I'm on vegan Candida diet since last August, I felt motivated enough to come up with a new raw Easter Cheesecake recipe to meet the requirements of my current diet. I'm especially happy about this vegan Candida diet friendly recipe as it's also suitable for those undergoing the Candida cleanse. Well, almost at least! 🙂 You'd just need to ditch the chocolate or use carob alternative instead.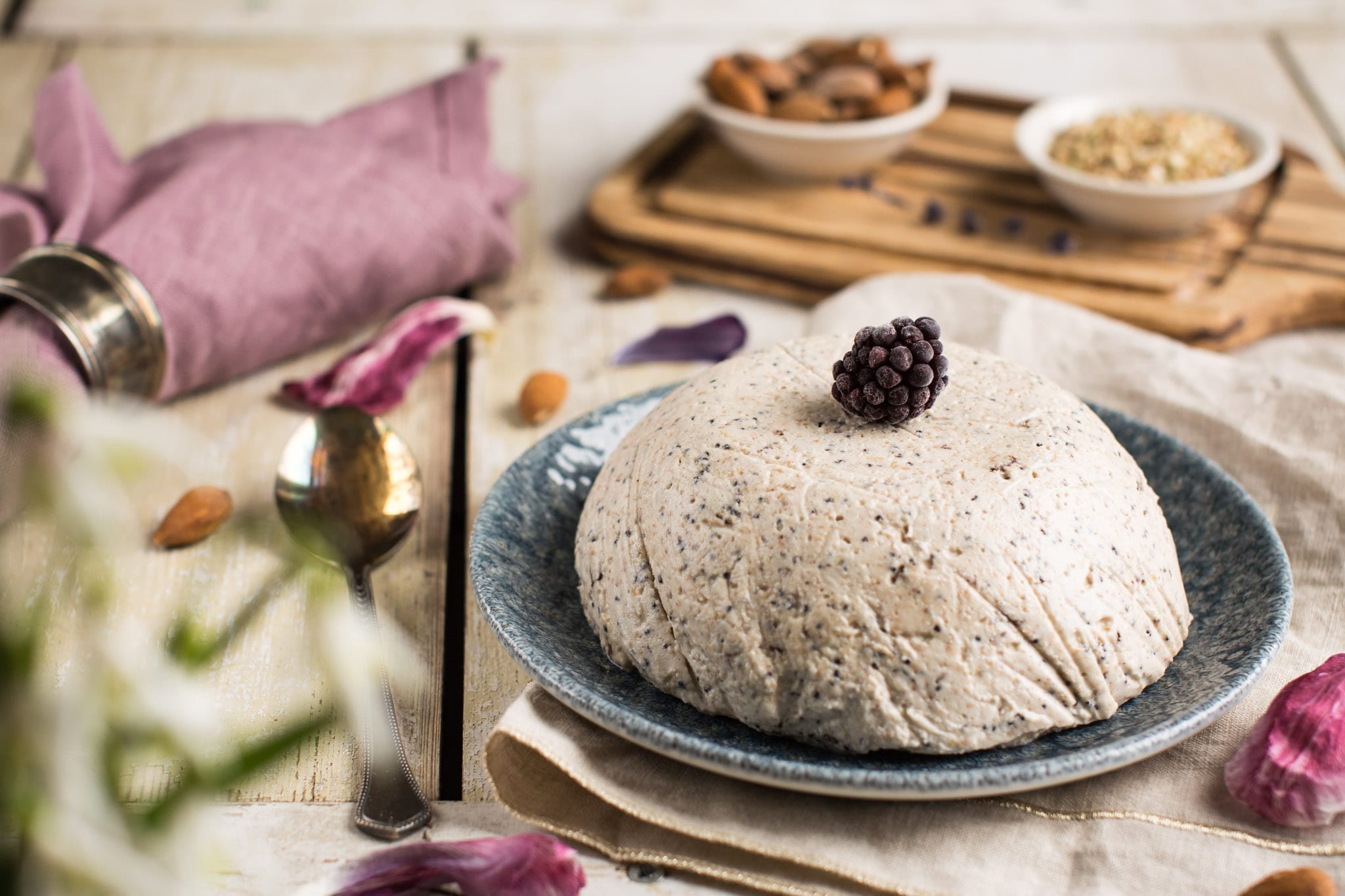 To be honest, it was actually quite easy to create a vegan Candida diet friendly version of my raw Easter cheesecake. Firstly, I substituted cashews with almonds. Although I have to admit that almonds require a lot more work than cashews – you need to peel them after soaking to maintain the white colour of cheesecake. On the other hand, should you not care about the colour, you might also leave the skins on and blend the whole almonds into the cheesecake batter.
Secondly, I left out the dried fruit and instead added a bit of xylitol – for my taste buds just one tablespoon was enough. However, should you still adjust your palate to less sugar, feel free to add more. The dark chocolate I use is sweetened with xylitol as well. However, should you not be able to find xylitol-sweetened chocolate, use unsweetened (usually 100% chocolate) instead and add a bit more xylitol to the batter.
Then, to give my raw Easter cheesecake the perfect crunch I added a tablespoon of poppy seeds. To top it all off, I gave it a final touch by pouring some healthy chocolate sauce onto the already delicious raw dessert.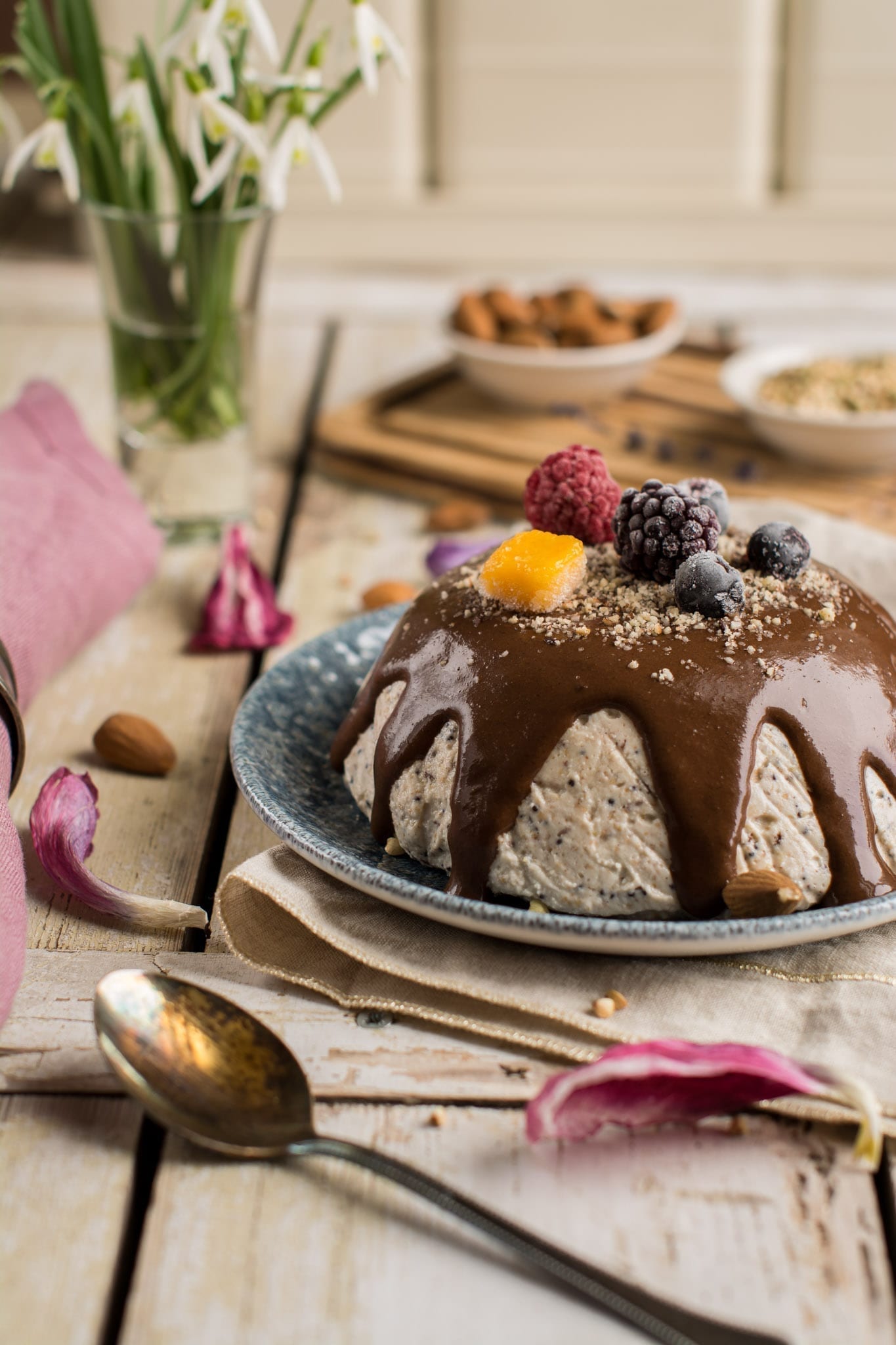 Now, there's something you should bear in mind when eating my raw Easter cheesecake – although my recipe is vegan and oil-free, it is not by a long way low fat! After all, almost 55% of its calories come from fat. However, it's fine to have a small piece (⅛ of the cake) every now and then following a low fat dinner, but I wouldn't recommend making it a habit, especially if you're trying to lose weight or have a heart condition. Instead, try making a nut-free version for daily enjoyment.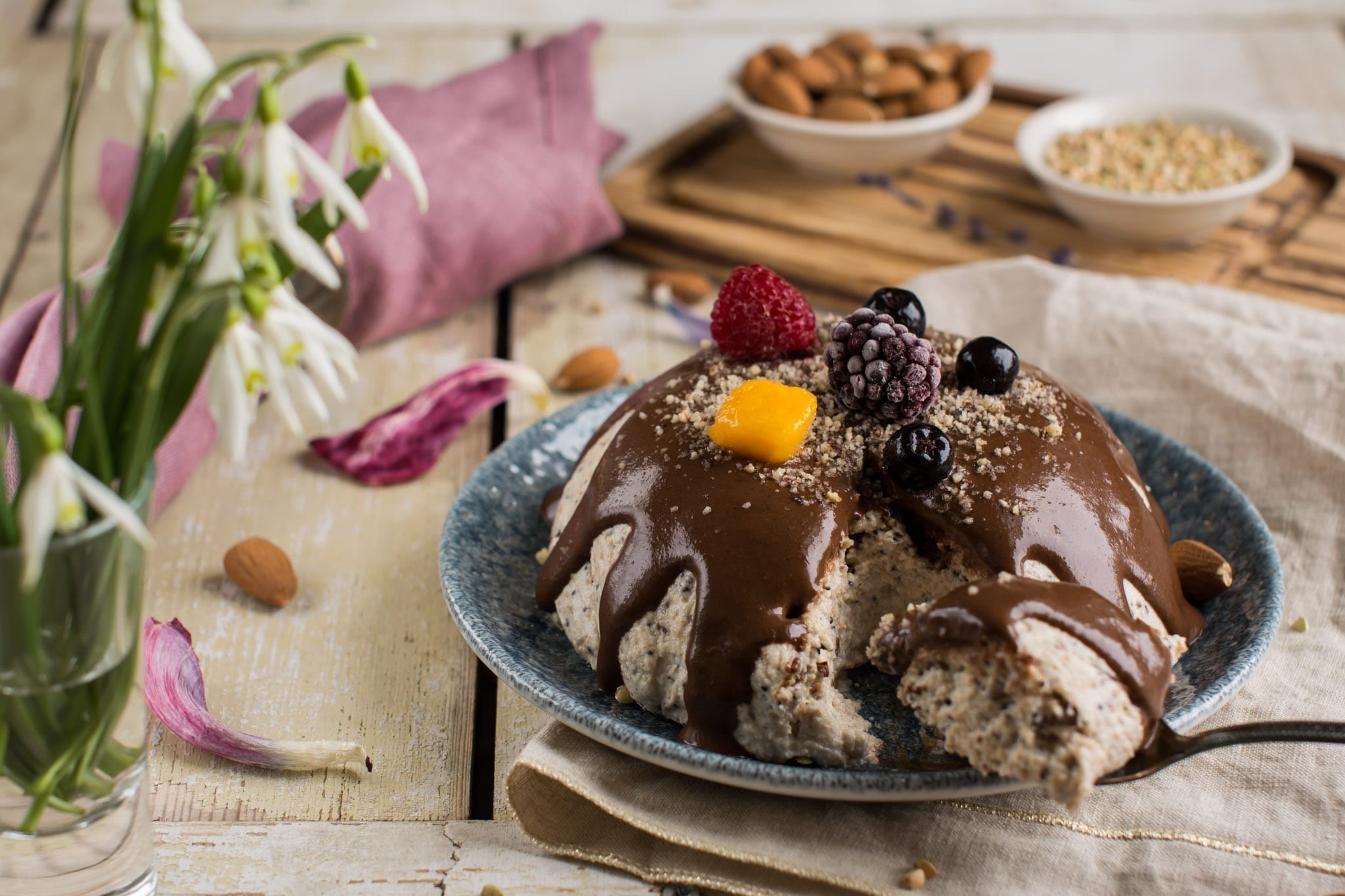 To sum it all up, my raw Easter cheesecake is vegan, gluten-free, oil-free, refined sugar free and Candida diet friendly, not to mention its creamy deliciousness!
Please tag me in social media whenever you try one of my recipes and leave a comment bellow if you have any question! I'd love to see your creations! Instagram @thenutriplanet and Facebook @nutriplanet.health.hub
Print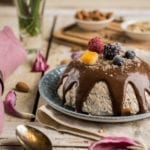 Raw Easter Cheesecake Pascha Recipe
---
---
---
Instructions
Soak almonds and buckwheat overnight. Drain and rinse buckwheat and peel almonds.
Put all ingredients (except chocolate and poppy seeds) into blender and process until you have a smooth batter. You'll need to help with spoon.
Stir chopped chocolate and poppy seeds into batter.
Line a cup or a small bowl with some plastic wrap or cheesecloth and scoop the mixture into the cup. Press the mixture down so it sits in the cup quite tightly. Cover the top with plastic wrap and refrigerate overnight or at least 5-8 hours.
To serve, remove the wrap, place a fitting plate upside down on the bowl and flip. Remove the bowl and cheesecloth/plastic wrap.
Decorate Pascha with Healthy Chocolate Sauce and berries of choice.
Notes
Use my code nutriplanet to get 15% off when buying Goodio chocolates. They deliver worldwide.
NB! This raw Easter cheesecake has a soft texture, i.e. you won't be able to cut and serve nice firm pieces. Should you wish to do so, add a modest tablespoon of psyllium husk to the batter.
Happy Easter!