Pascha is a traditional Easter dessert made of cottage cheese, cream, butter and sometimes also egg yolks + loads of sugar and dried fruits. Needless to say, I wanted to create a much-much leaner vegan Easter cheesecake Pascha without compromising the creaminess or flavour.
Even though I've seen a few recipes that use only cashews, I still find that the best plant-based substitute for cottage cheese is soaked and blended raw buckwheat, whereas cashews and coconut milk give the needed creaminess, and sweetness comes from a bit of agave syrup and dried fruits. Now, I initially wanted to use raisins, but was too late to discover that I had run out of them.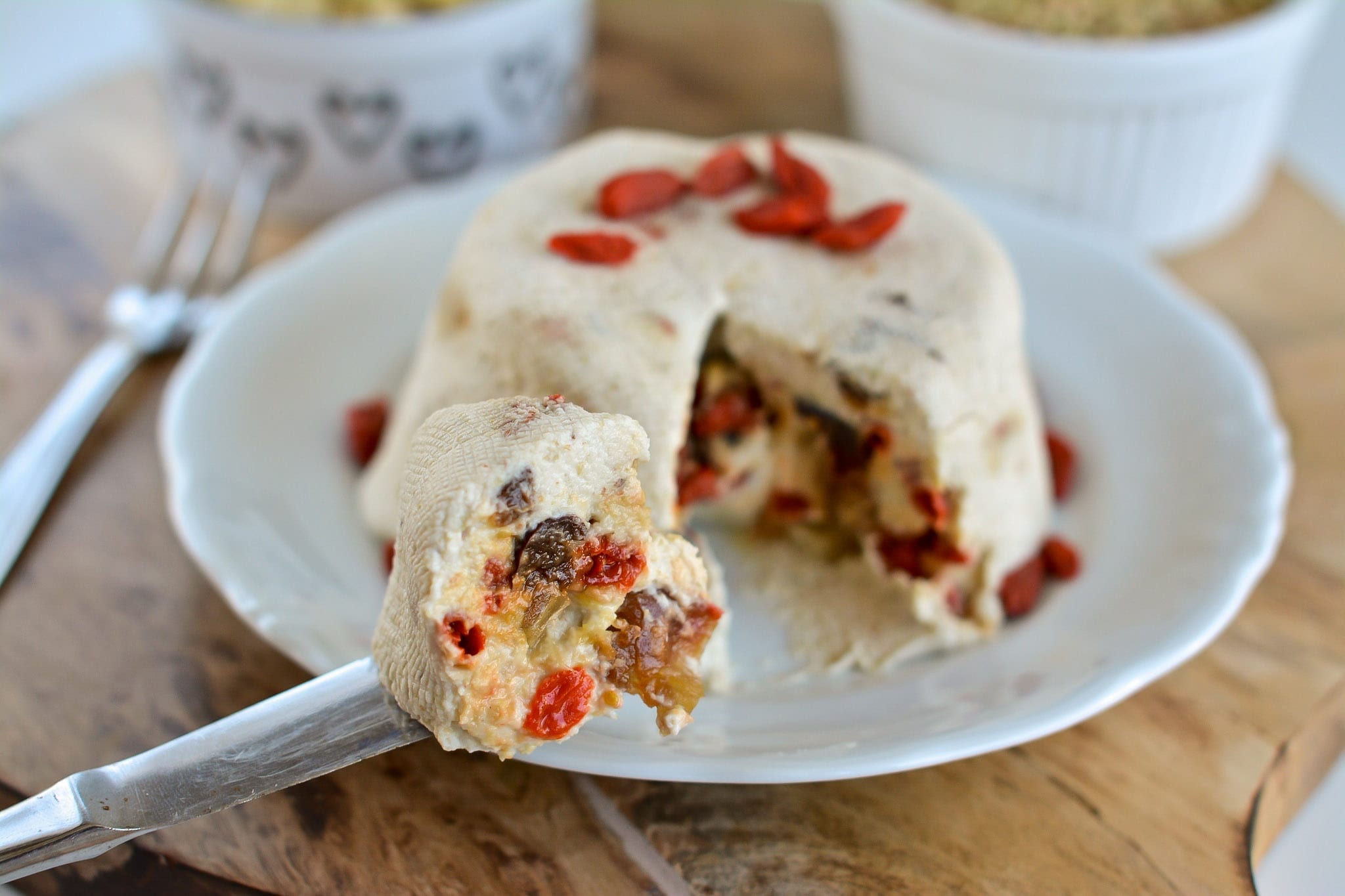 In addition to heartiness and creaminess, my vegan Easter cheesecake has nice lemony sour flavour compensated by the chunks of sweet dried fruits. I have to admit that there is one non-whole-food ingredient in this vegan Pascha recipe, i.e. agave syrup. Of course, I could have sweetened the Pascha with dates, but I wanted to preserve the white colour of the traditional Easter cheesecake, so that people looking for a great substitute could relate to it.
Should you prefer a vegan Easter cheesecake pascha without artificial sweeteners, head to Chocolaty Plant-Based Easter Cheesecake.
On top of it all, my vegan Easter cheesecake Pascha recipe is also raw, gluten-free, and uses no oil.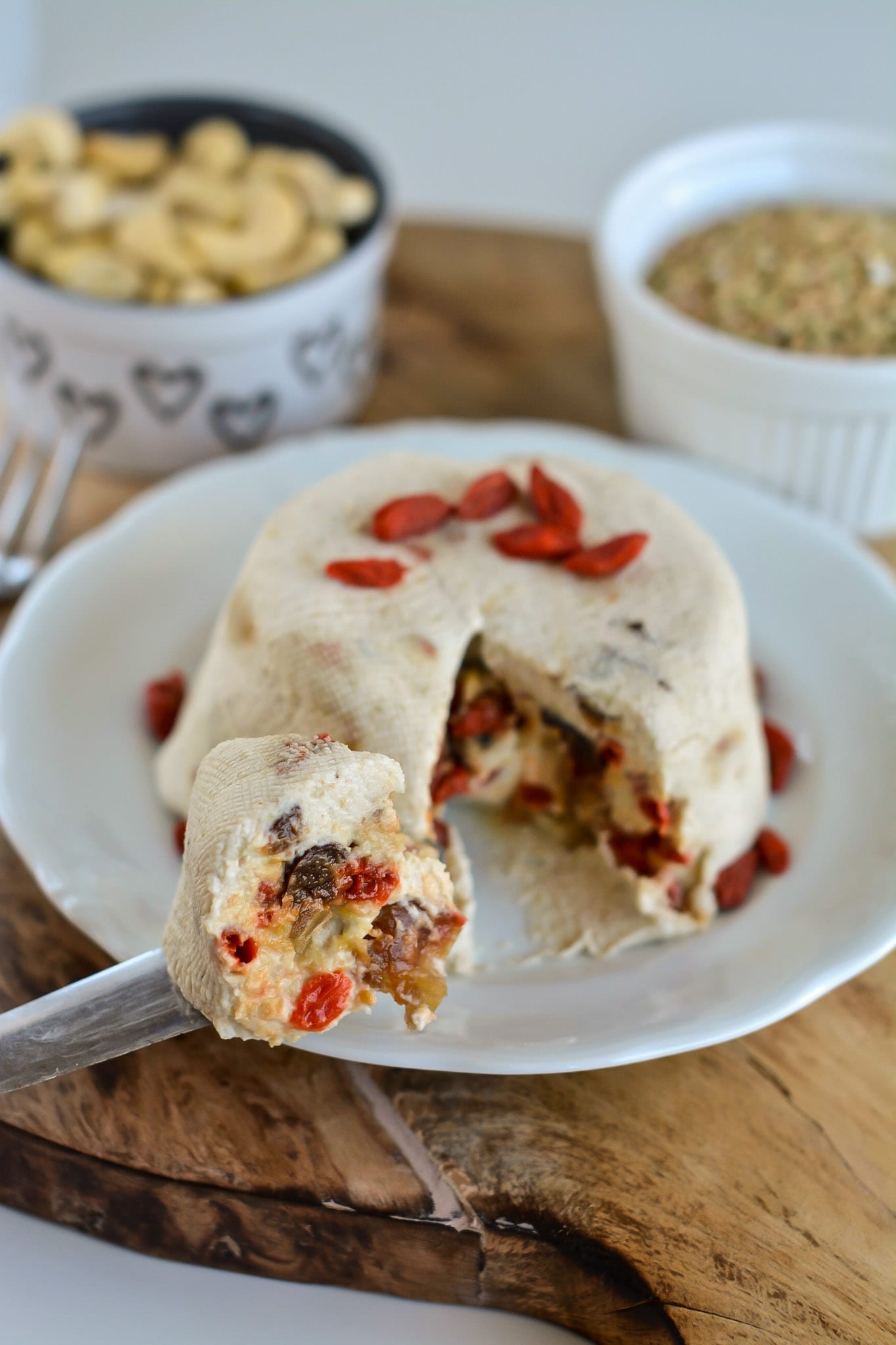 Vegan Easter Cheesecake Pascha Recipe
Ingredients
¾ cup (2 big handfuls) of cashews, soaked overnight
½ cup (a bit heaped) raw buckwheat, soaked overnight
Juice of half a lemon
1 tbsp. agave syrup
1 tbsp. coconut milk
Pinch of sea salt
3 prunes
3 dates
3 tbsps. goji berries or raisins
Directions
Drain and rinse the soaked cashew nuts and buckwheat. Place in a blender with coconut milk, lemon juice, and zest and agave syrup. Blend until very smooth and thick. Add a tiny bit of water if necessary (I added 4 tbsps.).
Chop the dates and prunes quite finely and stir them with the goji berries or raisins into the batter.
Line a cup or a small bowl with plastic wrap or cheesecloth (I actually used gauze, which gives the nice square pattern) and scoop the mixture into the bowl or cup. Press the mixture down so it sits in the cup tightly. Cover the top with plastic wrap or foil or a lid and refrigerate overnight or at least 6 hours.
To serve, put a plate on the bowl, then turn it over and remove the Pascha from bowl and take off the wrap.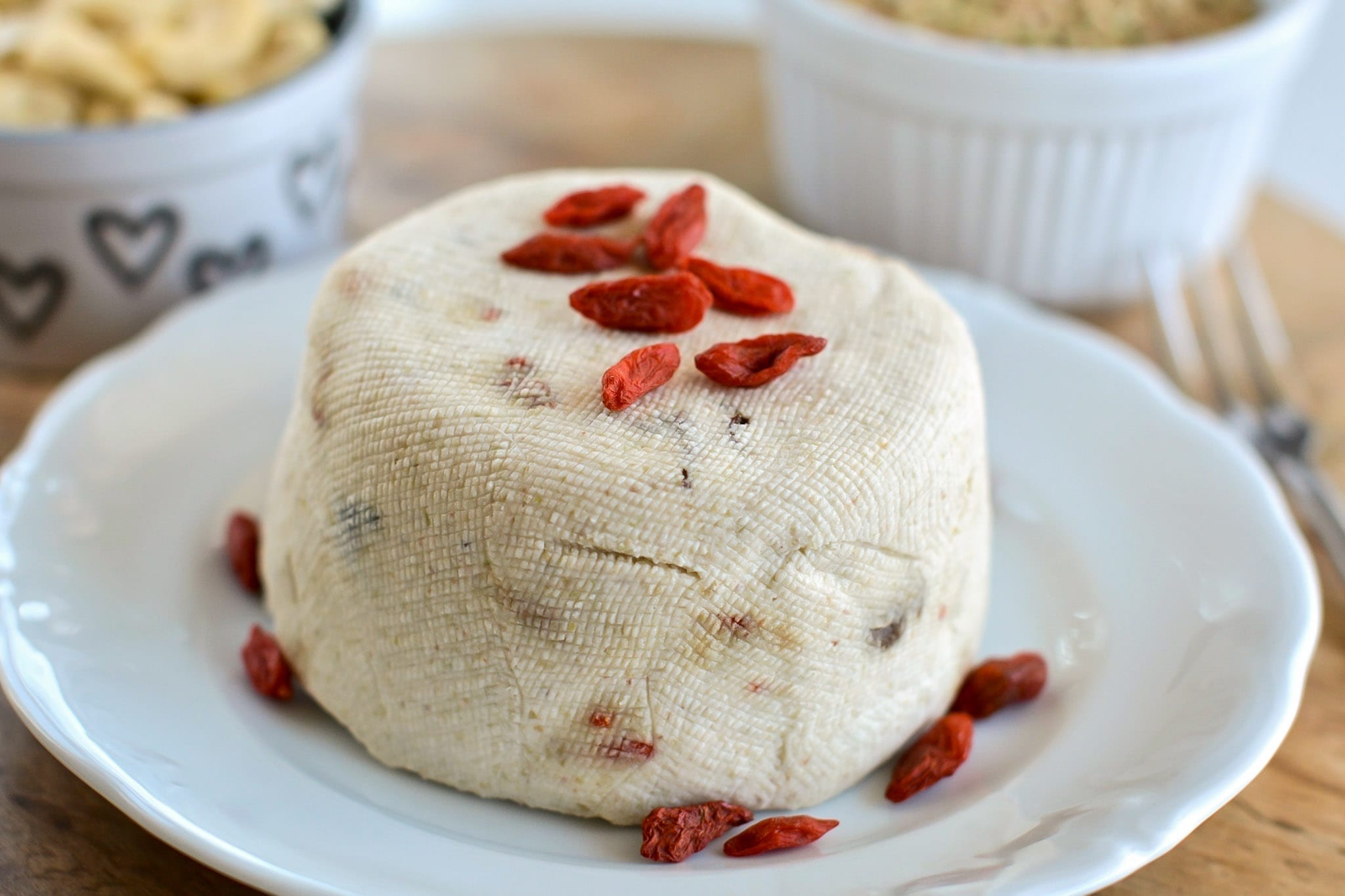 Tips:
Use smaller cups to refrigerate it in to have ready-to-eat smaller portions.

Use other dried fruits, e.g. figs, apricots, mulberries, raisins.

Should you want it even creamier, add more cashews.

If you'd like it less sour, use less lemon juice and zest.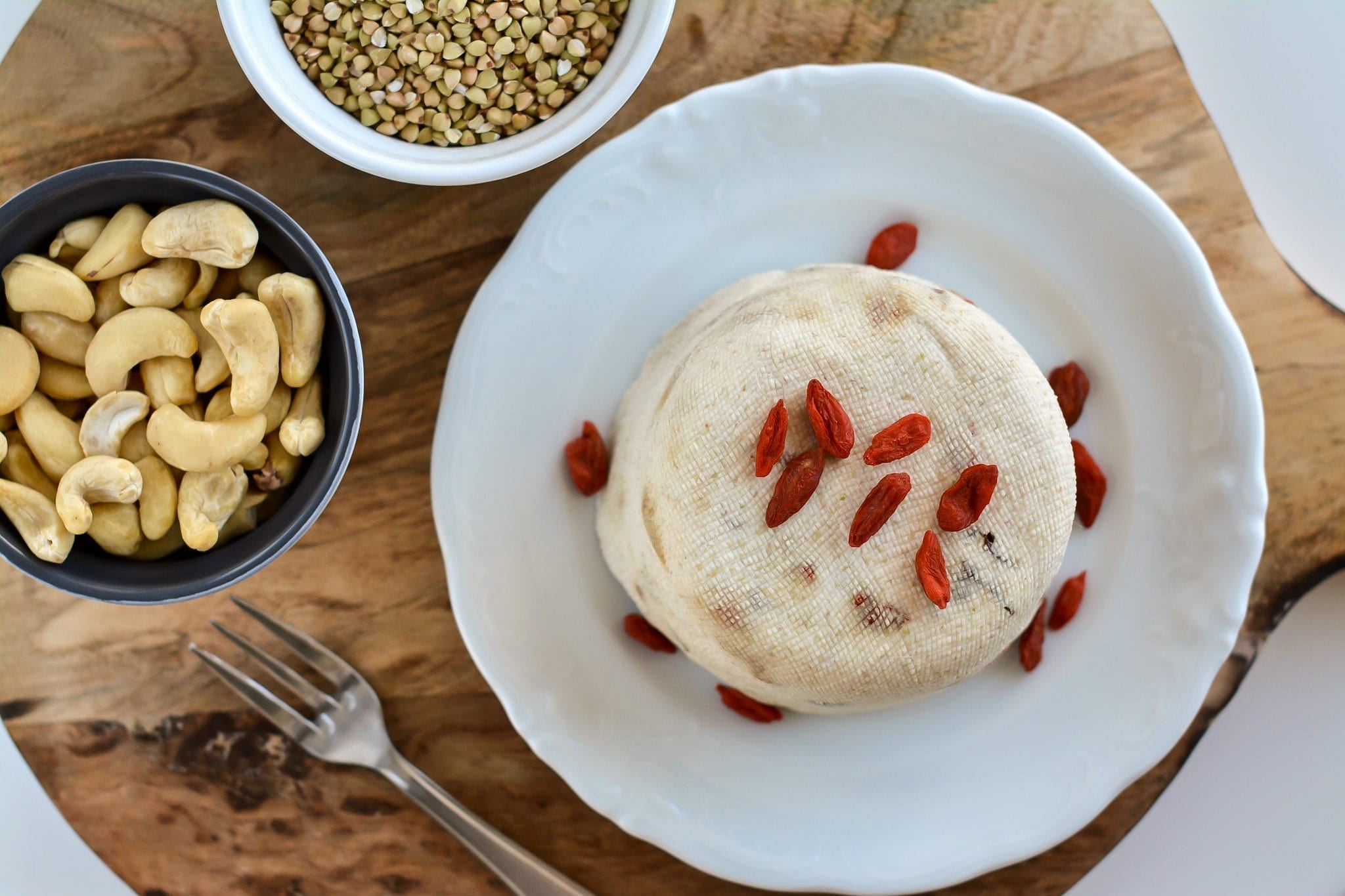 Enjoy the holidays!