I hardly ever use just one grain to prepare porridge – usually it is a blend of two different grains. So, this time I decided to make chocolaty millet amaranth porridge with raw grated veggies. The chocolaty part of this porridge comes from carob and cacao, which is another blend I use very often. I think carob and cacao work perfectly together, one being sweet and the other bitter. I'm sure you have noticed the pair in my Chocolaty Sweet Potato Muffins, Beet-Carrot Chocolate Muffins or Oil-Free & Sugar-Free Chocolate Sauce.
Now, let's move on to the raw grated veggies in my millet amaranth porridge. I started to add raw veggies into my porridges shortly after I went on vegan Candida diet simply to have more raw foods in my menu and to diminish the part of grains that tend to have quite high glycemic load. I really liked what I had created and haven't given up on the combo of porridge and raw veggies ever since.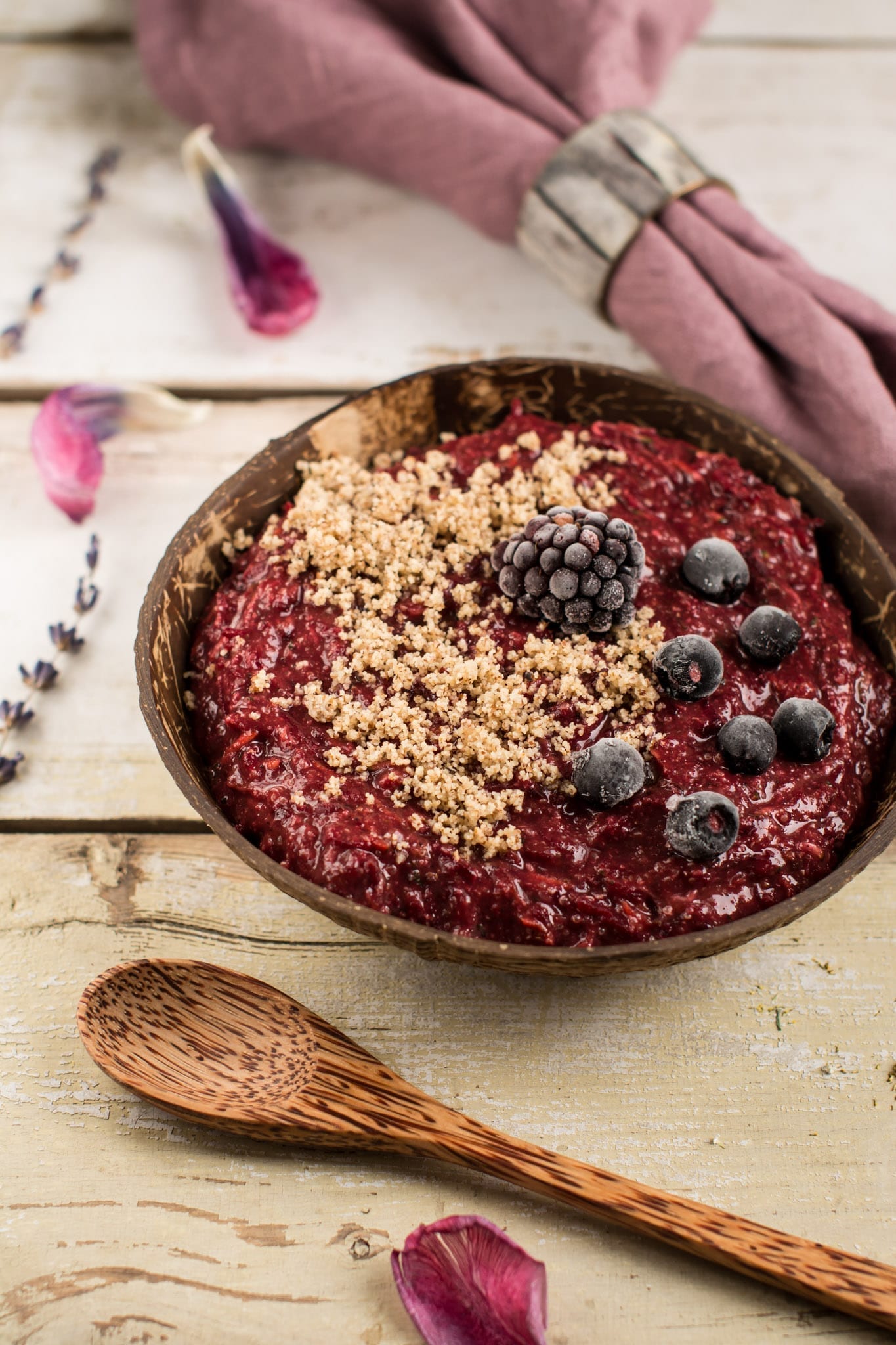 Why should you soak the grains before making your morning porridge? Well, soaking enhances the mineral absorption by diminishing phytates and phytic acid in grains/seeds. Furthermore, soaking makes your grains much easier to digest, which means wellbeing through less or no bloating and/or gas. Besides, remember not to combine grains with fruits/berries and nuts, if you have a sensitive belly. I have found that my system (quite sensitive one I might say) works well with a small quantity of berries and fresh figs. Read more about Why Combining Right Foods Matters.
I think I made the discovery of soaking and blending my morning grains before cooking about a year ago. This is when I wrote 9-Step Guide to Preparing Balanced Porridge and 5 Ways to Prepare Nutritious Porridge. I already used the soak and blend method for pancakes and muffins and thought it would make a super creamy porridge as well. Furthermore, the porridge is much quicker to make as the grains are broken down into smaller parts (similar to semolina). My millet amaranth porridge stays a bit crunchy because amaranth seeds are quite hard. However, I think the combination of creamy millet and crunchy amaranth is just perfect.
Watch videos here:
Next – why millet amaranth porridge? I remember millet already from my childhood. I actually liked it already back then while many children didn't. In my opinion millet is one of the best comfort foods you can find. Besides the yumminess, millet is also a good source of copper, manganese, phosphorus, and magnesium. However, people with hypothyroidism should be careful with millet as it may suppress thyroid function. (1)
And then comes amaranth, which I first discovered and bought in Barcelona. For a start, I tried to make muffins using my soak-and-blend method, but it didn't work out so well. This was because amaranth seeds are so tiny and quite hard that they don't blend as perfectly as millet and buckwheat. Nevertheless, they work amazingly in porridge.
What's beneficial about amaranth is that it is relatively rich in amino acid lysine containing approximately twice as much as wheat. Furthermore, as far as the content of calcium, iron, and magnesium is concerned, amaranth is much more like Swiss chard containing about four times as much calcium as wheat and twice as much iron and magnesium. (2)
To conclude the long story, besides being so creamy and yummy, my chocolaty millet amaranth porridge with raw grated veggies is also vegan, plant-based, oil-free, refined sugar free, gluten-free and Candida diet friendly. Take that!
Creamy and Chocolaty Millet Amaranth Porridge
Ingredients:1 serving
15g (0.53oz) millet groats, uncooked
15g (0.53oz) amaranth seeds, uncooked
50g (1.8oz) plant milk
About 170g (6oz) of water
Spices: ⅛ tsp. ground cloves, ⅛ tsp. ground cardamom, ⅛ tsp. ground nutmeg, ½ tsp. cinnamon, ½ tsp. ginger powder
1 tbsp. carob powder + 1 tsp. cacao powder
Stevia of xylitol to taste
¼ tsp. Himalayan salt
Dash of black pepper
50g (1.8oz) raw beetroot, finely grated
50g (1.8oz) raw carrot, finely grated
50g (1.8oz) raw summer squash (zucchini), finely grated
Directions
Soak millet and amaranth overnight. Rinse and drain.
Blend soaked millet and amaranth with plant milk and water. I use immerse blender. Pour the mixture into a small pot.
Bring to boil and simmer for 5 minutes whisking every now and then and adding water if/when necessary. Cover with lid and set aside.
Finely grate carrot, beet and summer squash.
Add all the spices, salt, sweetener and pepper to the porridge. Mix well and taste. It needs to be quite intense, as the veggies will smooth it out.
Mix in grated veggies. Keep mixing until all the ingredients are well incorporated. Taste and add salt/sweetener/spices if necessary.
Sprinkle on some chopped almonds or hazelnuts and berries of choice.
Tips on my millet amaranth porridge recipe:
I use either non-GMO soy, almond, brown rice, hazelnut, or quinoa-brown rice milk without any artificial additives (sugar, syrups, preservatives).
I use about 15 stevia drops to sweeten my porridge. You can also prepare your porridge with naturally sweet plant-based milk (brown rice, oat) omitting the water and you wouldn't even need any sweetener.
I use purple carrots to give the porridge an extra cool look.
Should you prefer the summer squash a bit crunchier, leave it coarser than carrot.
You absolutely don't need to use all the spices listed above  – just use the ones you like in the desired quantity.