Most of my main meals consist of a curry or a stew or a dhal and lots of raw veggies ever since I started my vegan Candida diet. Therefore I created yet another recipe to have some variety – curried red lentil dhal with Jerusalem artichoke (make sure to watch the video further below). You might also want to check out my Quick and Easy Salad with Chickpea Dahl
Jerusalem artichoke is a root vegetable of sunflower family plants originating from North America. It is referred to as "earth pear" in Estonian (if I make a direct translation). However, in English it is also called earth apple, sunroot, sunchoke, or topinambour.
Benefits of Jerusalem artichoke include:
Rich in iron
Excellent source of potassium and copper
Contains soluble as well as insoluble fibre
When I first tried the Jerusalem artichoke it tasted quite peculiar, but nevertheless palatable. Since then, every time I eat it again my affection for it grows. My first recipe with Jerusalem artichoke was a soup, but just recently I discovered it was perfect in a curried red lentil dhal accompanied by butternut squash and sweet potato.
However, you might want to be cautious with Jerusalem artichoke if it is your first encounter as it may cause digestive issues when eaten raw or if its' inulin content is especially high. It's best to start with a small cooked serving to see whether they have any effect on your system. Luckily my curried red lentil dhal only has 20 grams of sunchoke per serving hence being a safe place to start.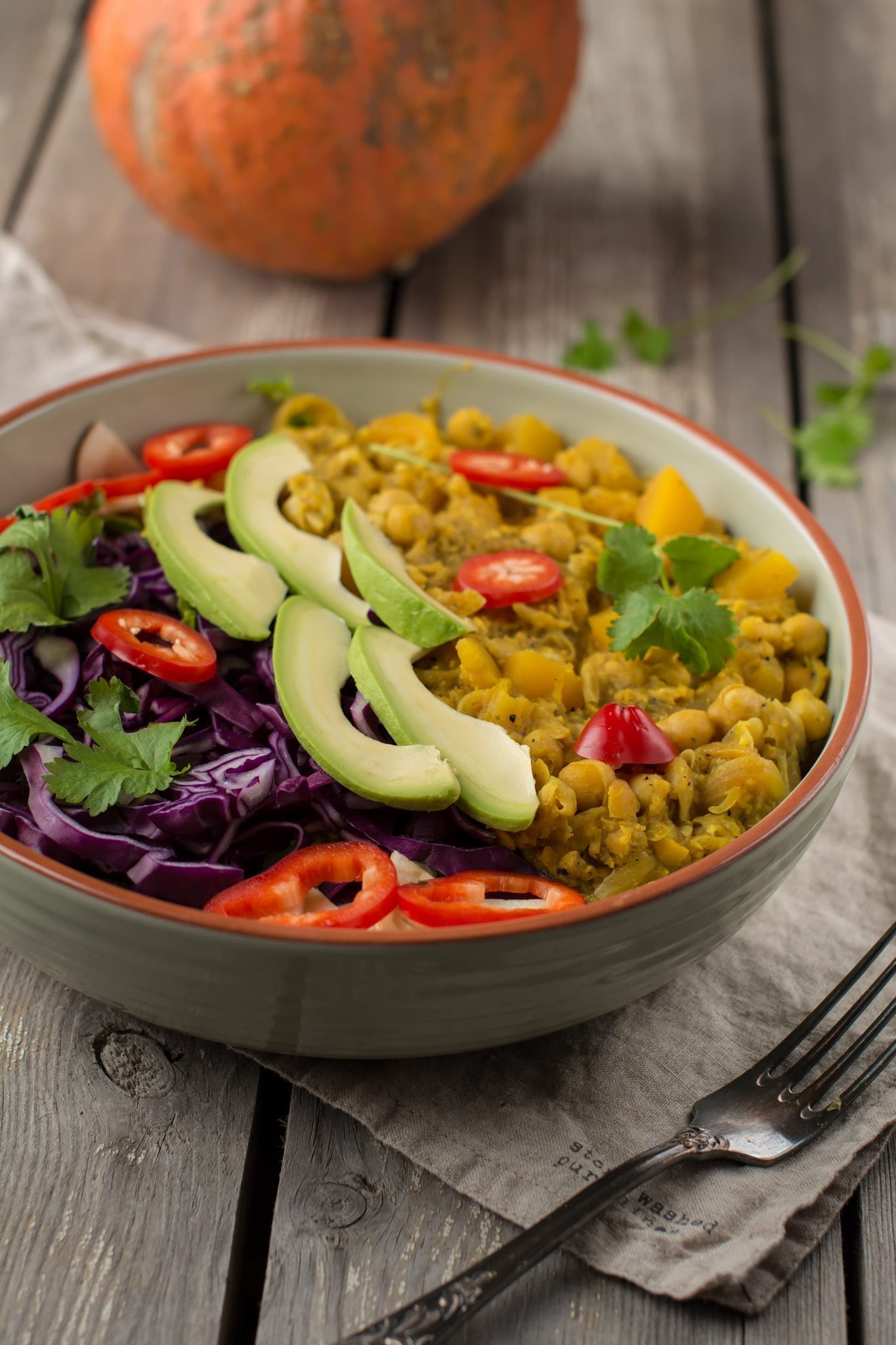 My curried red lentil dhal is excellent on a pile of raw veggies, such as Romain lettuce, spinach, red cabbage, celery, parsnip, carrot, turnip, bell pepper and even sauerkraut. Pour the dhal onto your salad, mix it up and start munching! You get a warm and comforting yet crunchy salad bowl to enjoy. I always prefer to eat my dhal on top of a salad rather than having it separately as I eat much slower when there's something to chew on. Slow and mindful eating results in satiation and better digestion. Therefore I myself feel happier and lighter after a meal rather than dealing with digestive issues.
Needless to say, my curried red lentil dhal with butternut squash, sweet potato and Jerusalem artichoke is whole food plant-based, vegan, oil-free, gluten-free and Candida diet friendly (if you are back on starches).
Curried Red Lentil Dhal Recipe |1 serving|
Ingredients
½ tsp. coriander seeds
¼ tsp. cumin seeds
¼ tsp. caraway seeds
¼ tsp. fennel seeds
¼ tsp. mustard seeds
Seeds from one cardamom pod or a dash of ground cardamom
1 tsp. turmeric
1 bay leaf
60g (2.1oz) red lentils, washed thoroughly and drained
1 tbsp. onion flakes
½-1 tsp. dried garlic
1 tbsp. dried celery (optional)
120g (4.2oz) butternut squash or any other winter squash
30g (1oz) sweet potato
20g (0.7oz) Jerusalem artichoke
1 small pak choi (add later)
Himalayan salt and black pepper to taste
Splash of coconut milk or other plant milk
Fresh coriander to garnish
Directions
Crush the seeds using a spice grinder or a pestle and mortar.
Wash the lentils thoroughly and put them into a pot together with crushed seeds, turmeric, bay leaf and cubed vegetables.
Pour in enough water to almost cover the ingredients and mix well. Bring to boil and simmer for about 10 minutes.
Add chopped pak choi on top and simmer for another 5 minutes.
Season with Himalayan salt and black pepper and mix well. Remove bay leaf.
Add a splash of coconut milk or any other plant milk and mix again.
Ingredients: Raw Salad
100g (3.5oz) Romain lettuce
80g (2.8oz) red cabbage, chopped
60g (2.1oz) turnip, grated
20g (0.7oz) parsnip
30g (1oz) avocado
Some carrot and red bell pepper to garnish (optional)
Tips on my curried red lentil dhal recipe:
Pour the curried red lentil dhal over your raw salad and mix it through to have a delicious and comforting yet crunchy meal.
If you are lazy or in a hurry you might want to skip crushing all those seeds and just use ½ tsp. of any curry mix and ½ tsp. of garam masala instead.
Should you want to go extra deep, heat the seeds on a dry pan for a few minutes before crushing them to release more flavours.
The ingredients in the raw salad are not carved in stone – be creative and use whatever is in season or what you have at home.
Make a bigger batch by doubling or tripling the ingredients.
Sources: