I've wanted to share my everyday lunch with you for ages in the form of video and now I have finally done it. Just watch how easy and quick it is to prepare a healthy, nutritious and filling lunch – there is no rocket science or tons time or money needed.
As I'm on Candida diet I try to eat a large part of my food raw, hence the huge pile of raw veggies in my salad bowl (420 grams in total) – Romain lettuce, chicory salad, red cabbage, turnip, parsnip and avocado. Putting aside the Candida diet, anyone would benefit from eating more raw food.
I have found it the most convenient to use dahl or stew as the cooked protein-rich part of my meal – besides being comforting and hearty, it also serves as perfect oil-free dressing.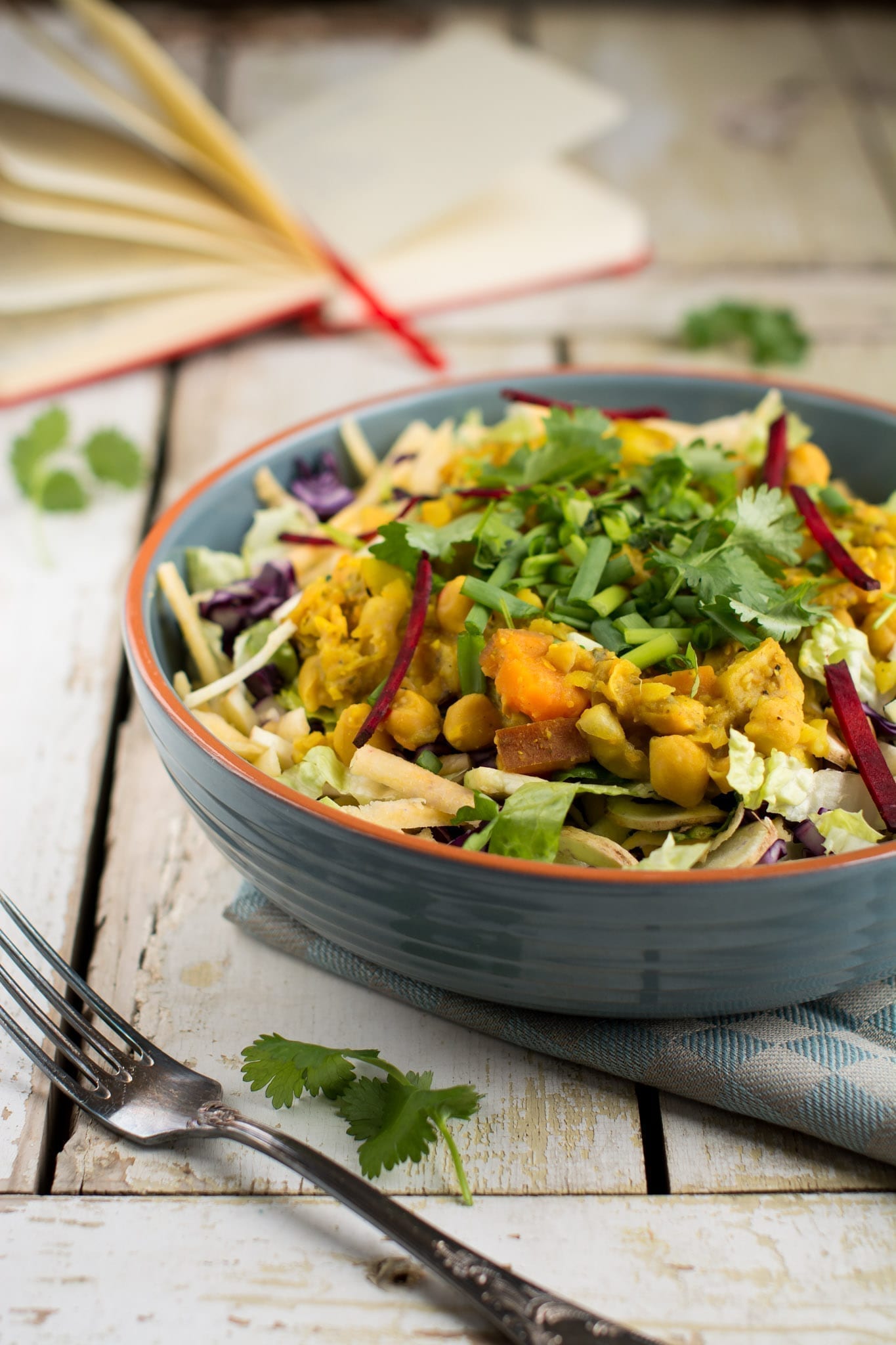 Believe it or not, but my dinners are even bigger containing some steamed veggies in addition to raw ones.
Almost everybody should find my salad with chickpea dahl suitable for his or her diet, as it is vegan, plant-based, gluten-free, sugar-free, dairy-free, and oil-free as well as Candida diet friendly.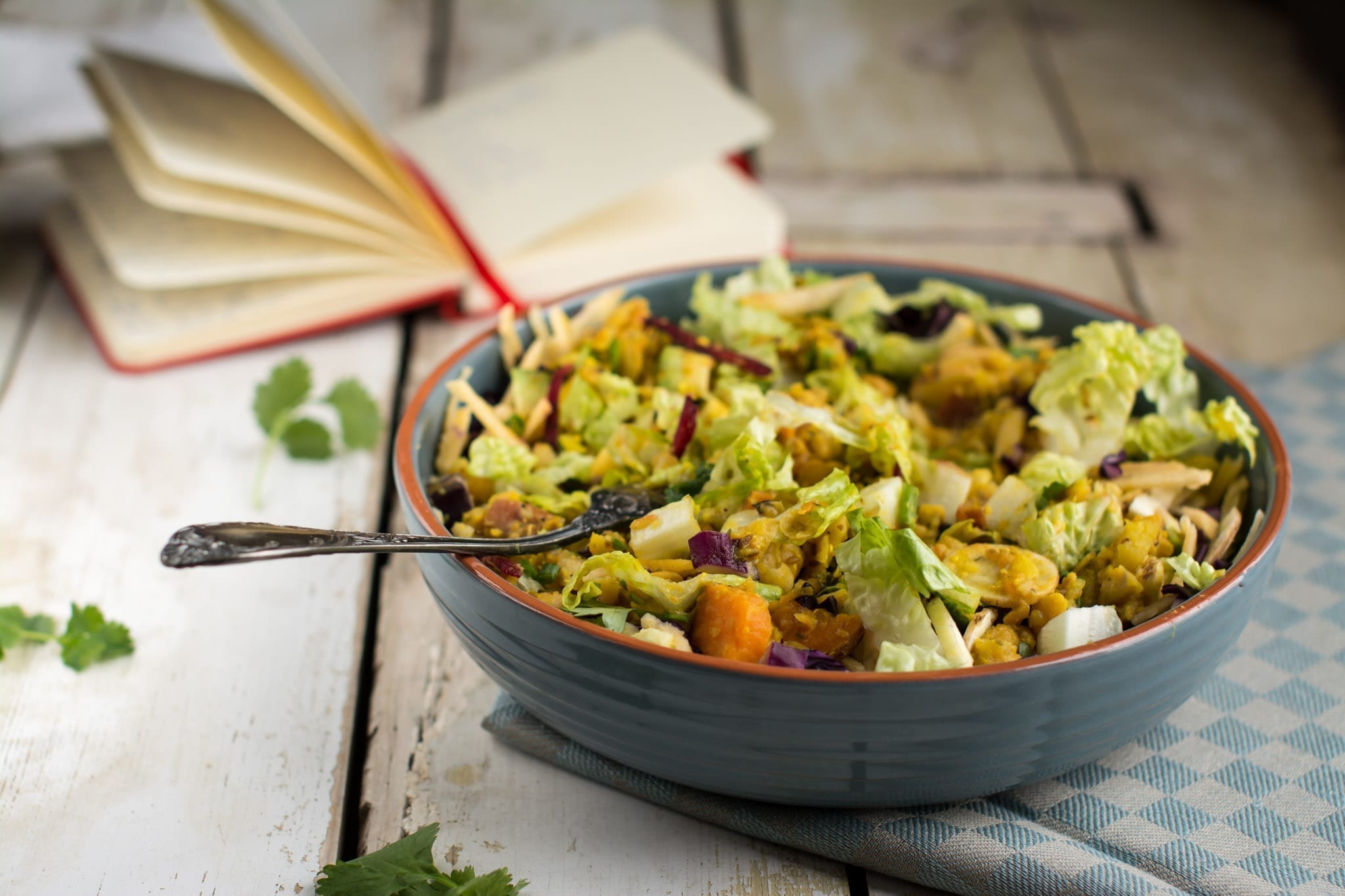 Furthermore, it is easy to take it to work in two different lunch boxes – prepare the raw veggies the evening before and store them in one big container and the dahl in a smaller container in fridge. Just heat the dahl up in the office and pour it over the veggies. It's healthy, satisfying, easy and low-budget!
Quick & Easy Salad with Chickpea Dahl
Ingredients:Chickpea Dahl
1 tbsp. onion flakes
1 tsp. garlic flakes
1 tsp. turmeric
1 tsp. garam masala
Black pepper and Himalayan salt to taste
30g (1oz) potatoes, cut into cubes
30g (1oz) sweet potatoes, cut into cubes
½ can (120g, 3.6oz) boiled unsalted chickpeas, rinsed and drained
Splash of coconut milk (about 4g, 0.1oz)
Directions:Chickpea Dahl
Throw onion, garlic, turmeric, garam masala, potatoes and sweet potatoes into pot and mix well.
Add chickpeas and mix again.
Add enough water to barely cover the veggies. Bring to boil and simmer until potatoes are soft (5-8 minutes).
Take potato masher or fork and mash the dahl until it has thickened to desired consistency. Add salt and pepper and mix well.
Pour in a splash of coconut milk and mix again.
Ingredients:Salad
120g (4.2oz) Romain lettuce, chopped
50g (1.8oz) chicory salad, chopped
80g (2.8oz) raw red cabbage, chopped
40g (1.4oz) raw parsnip, sliced
100g (3.5oz) raw turnip, coarsely grated
30g (1oz) avocado
Green onions
Fresh parsley
Arrange the raw veggies in a big bowl the way you want and pour chickpea dahl over them. Season with green onions and fresh parley and you are ready to go!
Tips:
You can use any beans instead of chickpeas – white, red, black, brown etc.
You don't need to add coconut milk – just ditch it or use any other unsweetened plant-based milk instead making the meal even more lean.
Should you not be a fan of garam masala, use any curry powder instead.
If you have salted chickpeas, you most probably won't need to add any salt.
Nutritional facts: 394 kcal, 67.7 grams carbohydrates, 10.9 grams fats, and 16.4 grams protein.