I had the idea of using parsnip and chickpea flour in a pancake recipe in the middle of the week and I immediately made a small batch to experiment. Oh my, they turned out so yummy and perfect that I couldn't wait for Sunday to bake a proper stack and take photos! Be sure to check out a short video further down of how I spread my homemade chocolate sauce on a pancake and cut a bite!
I blended some raw summer squash, purple carrot and parsnip into the batter as opposed to already cooked purees so that I didn't have to heat my veggies twice. The purple carrot gave the batter this most amazing light and delicate purple colour, which unfortunately vanished to a great extent during baking.
The pancakes don't use chickpea flour exclusively, but also soaked raw buckwheat groats and oat bran. The chickpea flour allows omitting ground flax seeds which I normally use in my pancake recipes making them even leaner than usually. After all, it's better to consume flax seeds raw as opposed to roasted or otherwise heated as heat makes their good fats go rancid.
I realize that my pancake recipes turn more unconventional every time, but I've had the regular and traditional versions for way too long and it's time to try something new. How else could I deliver a new pancake recipe almost every week!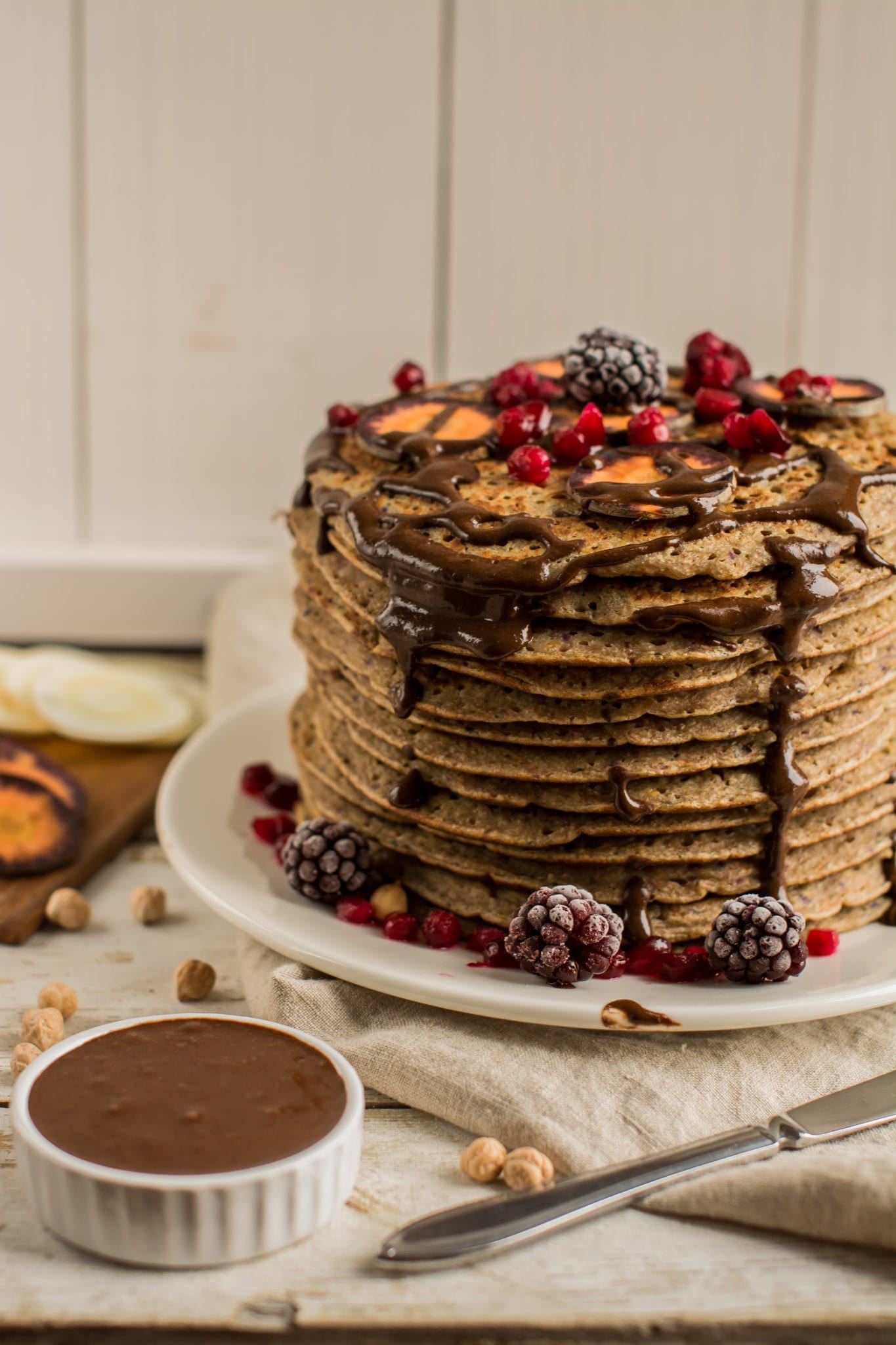 I'm so grateful for my Candida diet, which (after leaving me without fruits) made me experiment with veggies. I don't think I would have come up with those delicious, lean and low glycemic load recipes if it weren't for my new diet and being forced to crawl out of my comfort zone again.
My Parsnip-Carrot Pancakes with Chickpea Flour are vegan, plant-based, oil-free, sugar-free, gluten-free (if you tolerate avenin in oats) and also Candida diet friendly.
Parsnip-Carrot Pancakes with Chickpea Flour
Ingredients:13-14 pancakes
150g (5.3oz) raw buckwheat groats, soaked
90g (3.2oz) oat bran
60g (2.1oz) chickpea flour
500g (17.6oz) naturally sweet plant-based milk (oat or brown rice)
150g (5.3oz) water
½ tsp. Himalayan salt
70g (2.5oz) raw summer squash
40g (1.4oz) raw carrot, cut into thin slices
40g (1.4oz) raw parsnip, cut into thin slices
2 tbsps. applesauce
2 tsps. baking powder
Directions
Soak buckwheat groats overnight or at least for 6 hours. Rinse and drain.
Add the rinsed groats along with other ingredients into blender and blend until smooth and homogeneous batter forms. Taste and adjust by adding more salt/sweetener if necessary.
Take a good quality non-toxic non-stick pan. Add a few drops of oil onto the pan and swipe it off with folded kitchen paper. Let all the oil absorb into the paper and use it to swipe the pan clean between pancakes.
Put a ladleful of batter onto the pan and even it out with a spoon/ladle or by shaking and/or tilting the pan to get the exact shape of your pan bottom. The frying time greatly depends on your stove. I flip it around when it is almost dry on top and also check the colour of the bottom side.
Tips on toppings:
Blend berries of your choice and add banana for sweetness if necessary.
Blend fruits of your choice.
Add spices of your choice, e.g. cardamom, vanilla, cinnamon.
Applesauce makes a great pancake jam, especially if you add a splash of coconut milk.
Should you prefer the pancakes sweeter, add a sweetener of choice – xylitol, stevia, juicy dates or agave syrup or use only oat or rice milk rather than the mix of milk and water.
For a healthy Chocolate Sauce just combine together:
1 heaped tsp. tahini
1 tbsp. coconut milk
3 tbsps. oat or rice milk
2 tbsps. carob powder
1 tsp. cacao powder
½ tsp. cinnamon
It was sweet enough for me without any extra sweeteners, but feel free to add some if necessary.