Christmas is over, but I still like to make nori rolls every now and then. This year I modified Nori Sausages with Barley-Lentil Filling to meet my new dietary restrictions (Candida diet to be more precise). This time I've tried to make nori rolls with quinoa-bean, especially black bean.
Definitely check out the video of how to make the nori rolls further below!
First, I substituted regular onions with red ones, which carry more flavour and sweetness. Furthermore, the colour is a lot nicer and more intense. I made the rolls with brown rice first, which was really tasty, but then I remembered red quinoa and decided to give it a go – I'm so glad I did, as the result was deliciously nutty and crunchy.
Should you not find gluten-free soy sauce and you have issues with gluten, use miso paste instead. I did it myself for a couple of times and was delighted with the taste. Miso paste tends to cost quite a bit though, so you'll have to see what's the best option. Not that good quality gluten-free soy sauce costs any less!
This recipe makes 4 rolls, but you don't necessarily need to bake them at once. Instead, you can store the leftover filling in fridge and roll it up whenever needed. I also like to use the filling for my lunches and dinners by heating it up and adding more liquid (plant-based milk and water). It'll then be more like a stew and I can pour it over my raw salads. Delicious!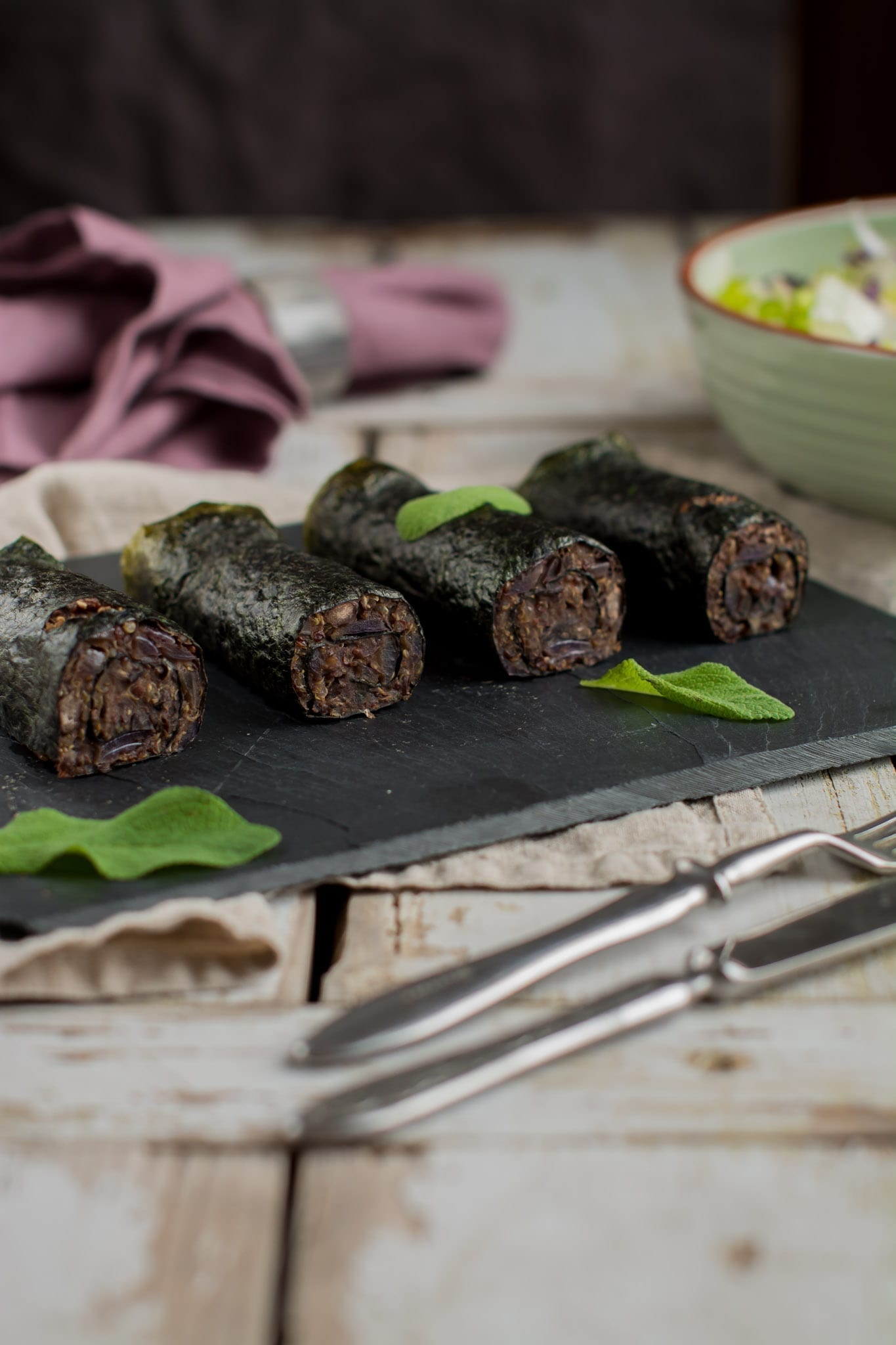 On the other hand, should you have guests and need bigger quantity, just double the recipe and you'll have enough filling for 8 rolls.
My 6-year-old has loved those rolls since I made them for the first time three years ago and it hasn't changed. He also said that the quinoa version was so yummy!
Besides being delicious, comforting and satisfying the nori rolls with quinoa-bean filling are also super lean (only 11.7% of calories come from fat), vegan, plant-based, gluten-free, oil-free, sugar-free and Candida diet friendly.
Please tag me in social media whenever you try one of my recipes and leave me a comment bellow if you have any questions! I'd love to see your creations! Instagram @thenutriplanet and Facebook @nutriplanet.health.hub
Print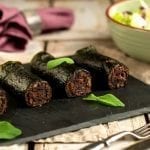 Nori Rolls with Quinoa-Black Bean Filling
---
---
1

big or

2

small red onions, chopped

1 tsp

. majoram

½ tsp

. ground nutmeg

1 tsp

. cinnamon
A handful of fresh sage leaves (about 6g, 0.2oz), chopped

2

tbsps. low-sodium soy sauce

1

can unsalted black beans, mashed

45g

white quinoa, dry weight

45g

red quinoa, dry weight
---
Instructions
Soak quinoa for a few hours, then drain and rinse. Boil it in water until soft (not too soft, keep the seeds separate, not as porridge). It takes about 10 minutes to cook soaked quinoa.
While quinoa is boiling rinse, drain and mash the black beans.
Chop onion and sauté with 1-2 tbsps. of water for 3-4 minutes. Then add marjoram, nutmeg, cinnamon, and sage. Stir and add 2 tbsps. of soy sauce. Sauté the onions for another minute.
Add boiled quinoa and mashed black beans to onions/herbs and mix well. Taste and add soy sauce if necessary.
Place a nori sheet on your sushi mat, leaving the rough side facing upwards. Spread 3 tbsps. of filling evenly on the sheet leaving the upper margin uncovered about 2 cm. (It's important for sealing the roll later.) You can use either your wet hand or a spoon to do it.
Start rolling and gently pressing the roll using the mat. Press really gently and be careful not to press out the filling. Seal with the uncovered nori edge. If you press too tightly the rolls will crack open in the oven.
Heat oven to 200°C (390°F) and bake the rolls for 15 minutes. Let them cool a bit before eating.
Cook Time:

15 minutes

Method:

Baking
Keywords: nori rolls with quinoa-bean
Tips for my nori rolls with quinoa-bean:
You could substitute black beans with black lentils. Take 100 grams (3.5oz) dry weight and boil them until very soft (they boil for 25-30 minutes). Discard any excessive water and mash. They boil a lot faster of you soak them overnight.
Serve the sausages with oven-baked vegetables, a salad of raw veggies and gravy of choice, e.g. my cheesy sauce. You'll find the recipe from Vegan Festive Lentil-Potato-Nut Roast.
Make the rolls ahead and heat them up whenever needed. Or store the filling in fridge and roll them up when you get hungry.
Need more rolls? Make double batch.
You can also use only red or only white quinoa instead of the mixture of two.