In Estonia we have blood-sausage tradition (a mixture of blood, barley and herbs in animal intestine baked in oven). These sausages are a must-have on Christmas and New Year's Eve table, served with cranberry sauce and pickled pumpkin cubes.
Last year, for the first time, I tried plant-based version of these sausages. The dark substance can be easily substituted with black beans and/or lentils rolled into nori sheets, and I personally like the result very much. Our meat-eating family members really enjoyed these sausages last year at Christmas party at our place. My 90-year-old grandmother, who is extremely narrow-minded towards "unusual" foods, did not even make a difference – she asked whether I really had made these blood-sausages myself. I nodded with enthusiasm 🙂
This year I will be spending Christmas with my small family (just me, my hubby and our 4-year-old) in Valencia, and nori sausages will definitely be part of our Christmas dinner. I made a batch the other day to take photos and my kid is now asking for more every day.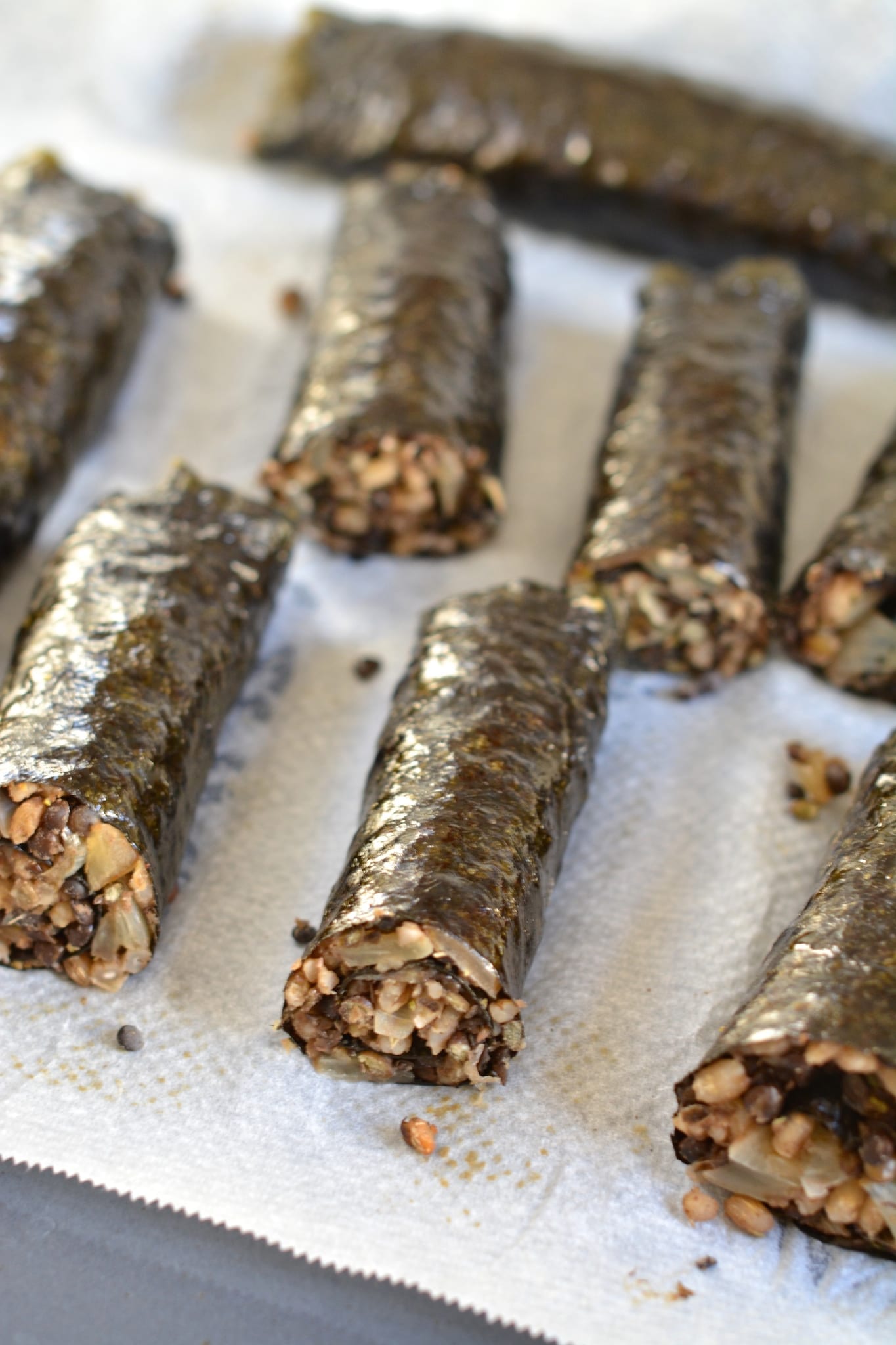 Nori Sausages with Barley-Lentil Filling
Ingredients:7 sausages
3 medium or 2 big onions
2 tsps. marjoram or oregano
1 tsp. ground nutmeg
A bit of cinnamon
1 tsp. dried sage
Soy sauce of quality (according to taste)
200g (7oz) black (Beluga) lentils, dry
10 big tbsps.(190g, 6.7oz) barley groats, dry
7 nori sheets
Directions
Boil the barley groats in water until soft (not too soft, keep the groats separate, not as porridge). Boil the black lentils until very soft (they boil for 25-30 minutes). Discard any excessive water.
Sauté diced onions in water or broth for 3-4 minutes, and then add marjoram/oregano, nutmeg, cinnamon, and sage. Stir and add soy sauce. Remember you can always add some more! Be careful not to over salt it! Sauté the onions for another minute.
Put the lentils in a big bowl. Mash them with your hands or use potato masher (I did that).
Add boiled barley and onions to lentils and mix well. Taste and add soy sauce, if necessary.
Take nori sheets and start rolling like sushi.  I put 3 tablespoons of mixture on each roll. Use sushi rolling mat – it is much easier that way.
Heat oven to 200 C (390 F) and bake sausages for 15-20 minutes. Let them cool for about 10 minutes.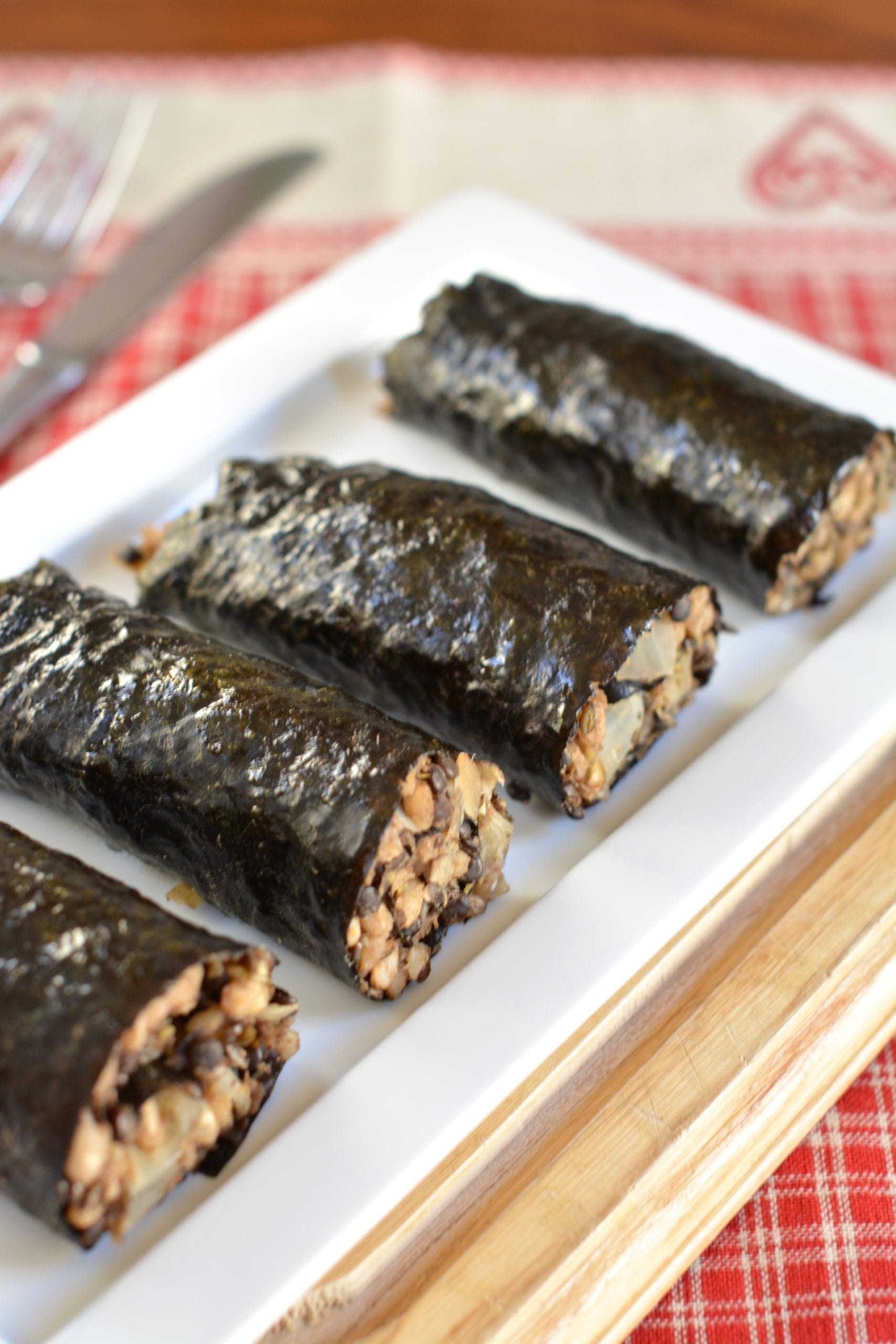 Tips:
You could substitute half of the lentils with 1 can drained and rinsed black beans. Mash them together with boiled lentils.
Serve the sausages with oven-baked vegetables and gravy of choice.
Make the sausages ahead and heat them up whenever needed.
These sausages can be made gluten-free using brown rice instead of barley.
Should you not like the taste of nori, use rice paper. Soak the paper in warm water as instructed on the package, add the filling, roll up and bake as described above. As rice paper is quite thin, you might want to turn the sausages over to avoid burning.
You do not necessarily need to bake the sausages – they are also good just after rolling!
This recipe was inspired by Sandra Vungi's black bean-nori sausages. I adjusted it to my own liking and style.