In case you've followed my blog for a while, you must have noticed by now, that I love muffins. In fact, I usually bake muffins 3-4 times a week to satisfy my family's appetite and mine. Fortunately I have developed several whole food not-so-sweet muffin recipes (like those gluten free chocolate chip muffins) that do not affect our health or weight and can be enjoyed guiltlessly.
Instead of oil and sugar, my festive vegan gluten free chocolate chip muffins use peanut butter, persimmon, dates and banana. All those goodies make the muffins hearty, moist and sweet enough for anyone's tastebuds. Furthermore, they make a great addition to your daily meals or festivities without the adverse effects of conventional treats.
It's most noteworthy that making gluten free muffins is so easy using gluten free flours such as raw buckwheat flour, millet flour, quinoa flour, rice flour and gluten free oat flour. This time I decided to go for buckwheat and oats to make my chocolate chip muffins.
Most of all, my gluten free chocolate chip muffins are so good because they are:
vegan
refined sugar free
dairy free
oil-free
oh-so-gooey
guiltless treat
Finally, you can browse all my vegan muffin recipes (including vegan Candida diet friendly versions) here.
Gluten Free Chocolate Chip Muffins with Peanut Butter and Persimmon
Ingredients:Wet
5-10 dates (I use 5)
250ml (1 cup) water or plant-based milk
1 medium banana
2 heaped tablespoons peanut butter
1 big ripe persimmon
A dash of sea salt
Ingredients:Dry
120g (4.2oz) raw buckwheat flour
155g (5.5oz) oat flour
2 tsps. baking powder (I use tartare baking powder)
2 tbsps. (not heaped) cacao powder
2 tbsps. (not heaped) carob powder
Dark chocolate pieces (as much as you want)
Directions
Firstly, in a small bowl, cover the chopped dates with 250ml water or plant-based milk and let soak for about 30 minutes.
Next, in a big bowl, mix together the flours, and powders.
Then, place the dates with the soak water, banana, peanut butter, and persimmon into a blender and blend until smooth.
Now, add this wet mixture to the bowl of dry ingredients, and mix until all the dry ingredients have disappeared.
Spoon the batter into a silicone muffin pan or individual muffin cups, or parchment muffin papers in a metal pan . Press a piece of dark chocolate into every muffin. This recipe makes 15 big muffins.
Finally, heat oven to 350°F (175°C). Bake for 30-35 minutes. The muffins will be done when cracks appear. Let cool in the pan for about 15 minutes before removing.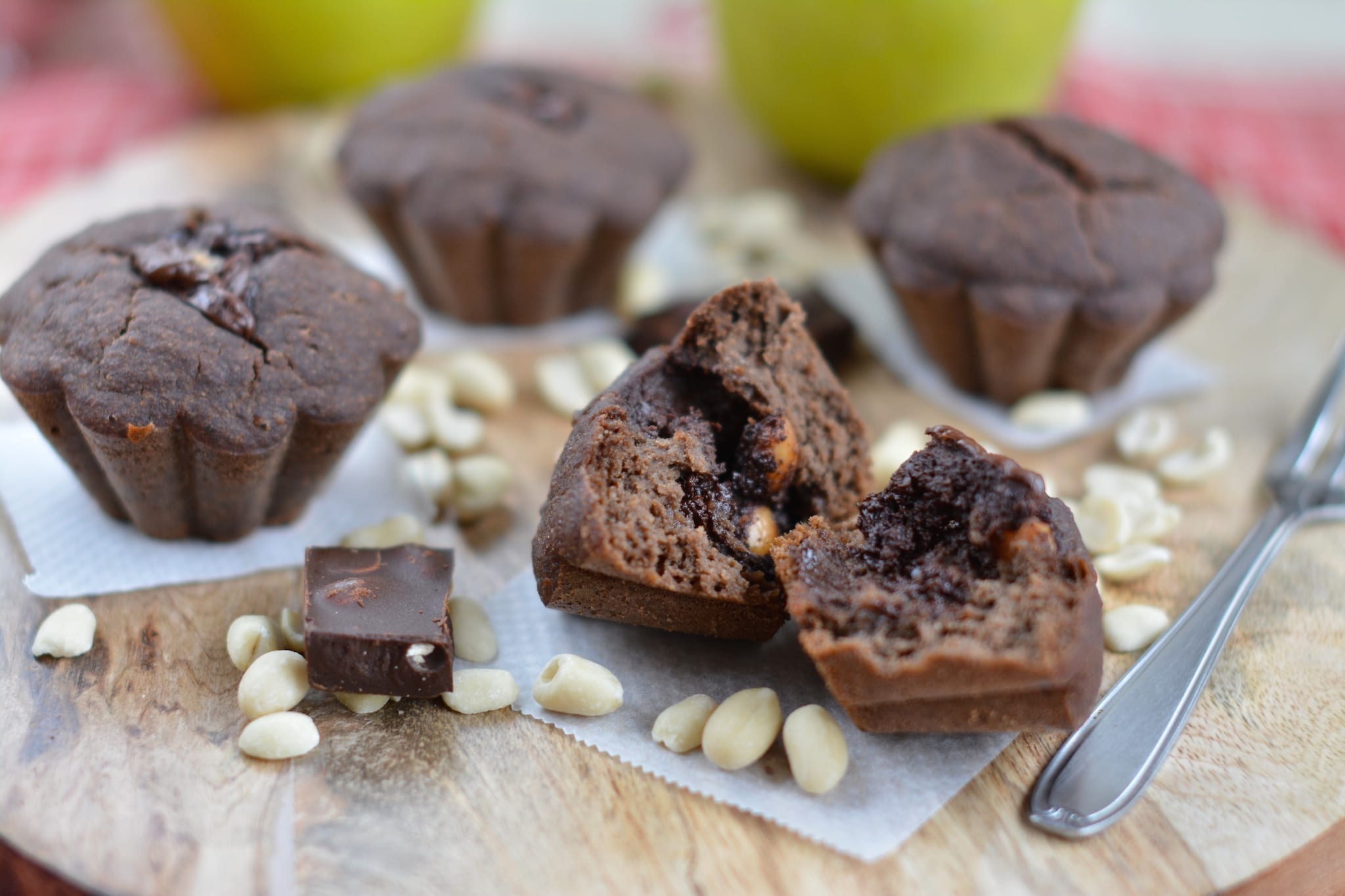 Tips on my vegan gluten free chocolate chip muffins:
Make leaner muffins by ditching the chocolate pieces.
Use any plant-based milk you like, i.e. almond milk, hazelnut milk, oat milk, rice milk, quinoa milk etc.
You might want to put less dates, if you use sweetened plant-based milk.
If you have medjool dates (the big ones), use 3-5 pieces.
You can also use only carob or only cacao. I just like to play with different tastes.
Enjoy!