Turn those vegan pumpkin blondies into your favourite dessert that is free from oils and refined sugar. You'll only need a food processor and 15 minutes of your time to make this healthy vegan gluten-free recipe.
My vegan pumpkin blondies are:
Dairy-free
Gluten-free
Oil-free
Can be made nut-free and peanut-free
Soy-free
Candida diet friendly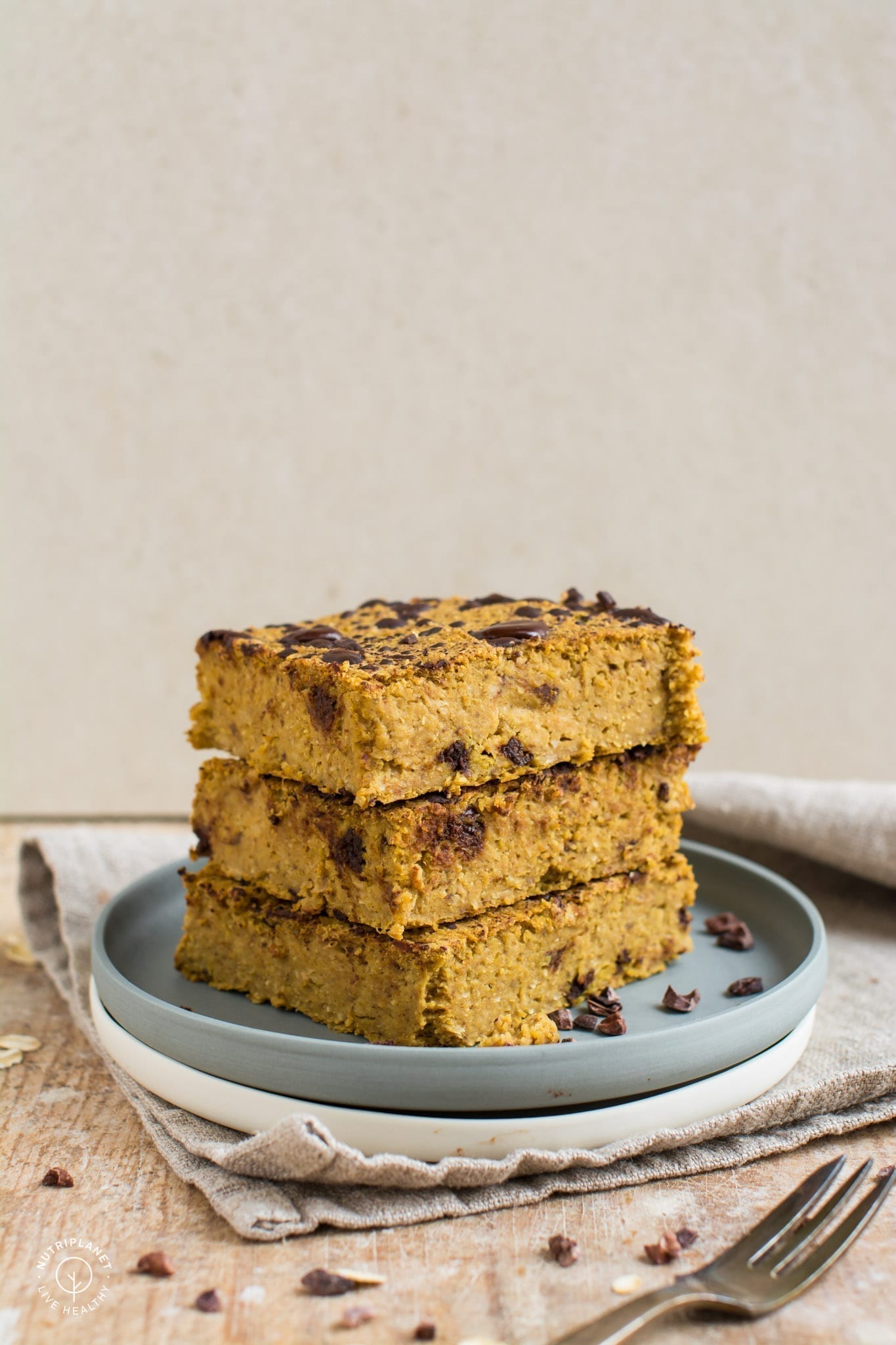 It's one of those pumpkin delights that I'll be making all winter long until the pumpkins run out.
It's noteworthy that in my opinion blondies are such a wonderful change to brownies. Not that there's anything wrong with brownies! No, I'll keep on making those as well! In fact, should you be more into brownies, check out the following recipes:
Watch the tutorial video of my vegan pumpkin blondies:
By the way, I have one more vegan blondie recipe on my blog, i.e. Vegan Chocolate Chip Blondies that are also gluten-free, oil-free and refined sugar free.
While we're at it, let's dot the i's and cross the t's with mentioning another creation similar to blondies and brownies – Chocolate Mint Greenies that I created quite a while ago, but in my opinion are so worth referring to.
OK, enough of brownies and greenies! After all, this is a blondie post! So, let's move on to the ingredients I used in this particular vegan pumpkin blondies recipe.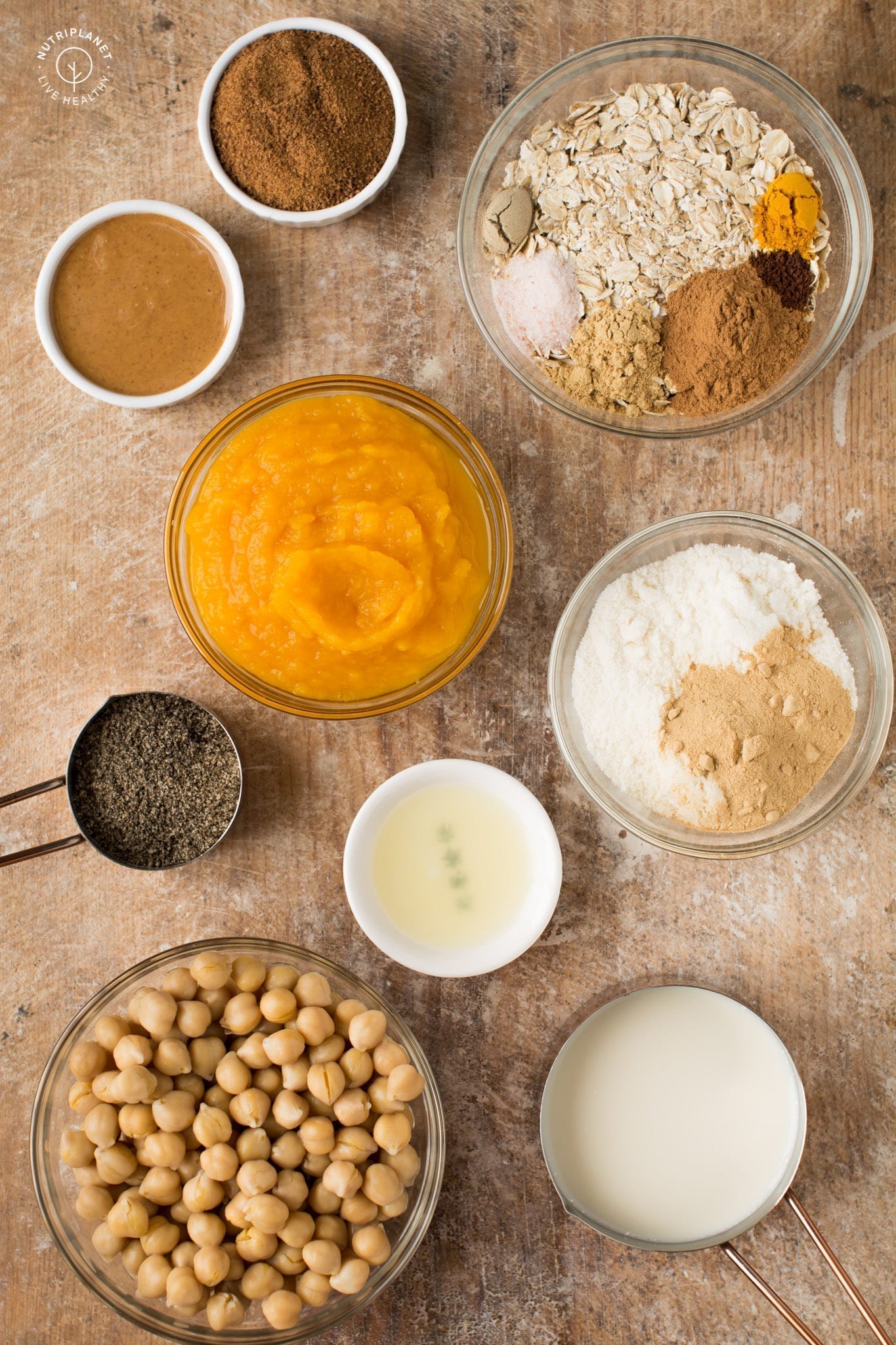 The Ingredients in My Vegan Pumpkin Blondies Recipe
First I'd like to point out what I don't use in this vegan blondies recipe. You won't need any refined ingredients such as refined sugars, syrups or brown sugar; all purpose flour mixture, butter or oil (not even coconut oil).
To be honest I don't see any need for baking powder or baking soda either. This pumpkin blondie will turn out on the moist side, so you absolutely don't need to make it rise. Good news for all those allergic to rising agents, isn't it?
Needless to say, my blondie recipe is free from eggs, dairy and gluten as well.
Let's move on to what this pumpkin dessert is made of:
The Bulk Ingredients
Firstly, most of the mass comes from chickpeas, an admirable ingredient I've been using in baked goods since I created the Chickpea Cookie Dough Bites' recipe.
The second important component in this vegan pumpkin blondies recipe is rolled oats – one of my favourite ingredients to use in brownies, blondies and cookies. I'd also add coconut flour to this list as it absorbs a lot of liquid and therefore expands quite a bit.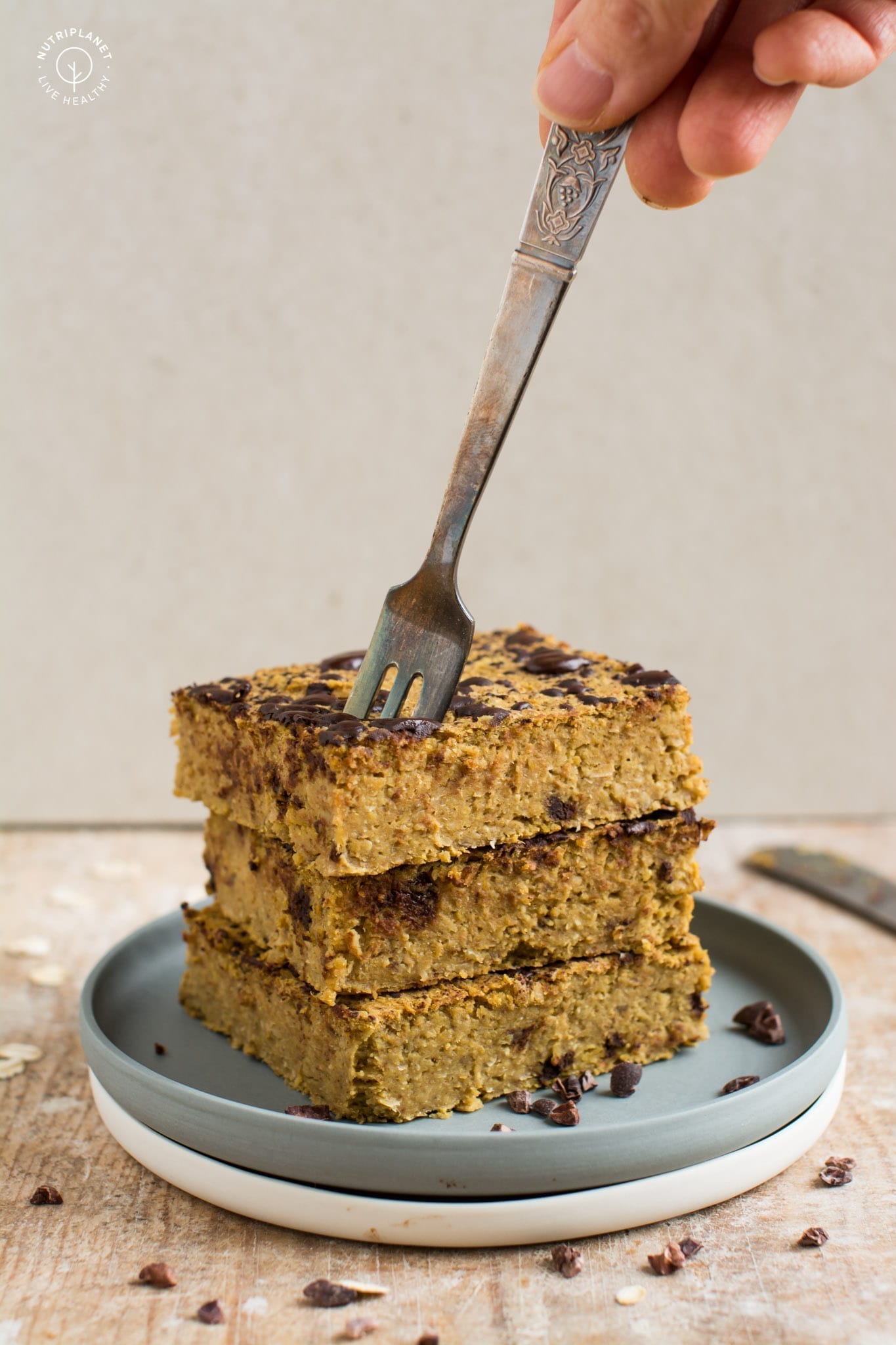 Moistness and Heartiness
As you know, I swear by whole food ingredients as much as I can. So instead of oil, you'll find nut butter and pumpkin puree in my vegan blondies. Furthermore, there's some extra heartiness from chocolate chunks – either from chopped dark chocolate, cacao paste (liquor) or chocolate chips resulting in delicious chocolate chip blondies.
Spices
I say there have to be spices whenever pumpkin is concerned! I therefore went for ginger, cinnamon, cardamom and cloves. Should you be really into spices, feel free to add some nutmeg and allspice as well. Instead of measuring all the individual spices, you may save some time and effort by throwing in ready pumpkin spice mix.
Furthermore, to highlight the beautiful colour of pumpkin, I added some turmeric. If you're after even brighter colour, feel free to add more than ¼ teaspoon.
Sweeteners
Now, as far as sweeteners are concerned I love to use either date sugar or coconut sugar in combination with liquid stevia. See tips below for exact measurements.
Another ingredient in those vegan pumpkin blondies that might not be familiar to you is mesquite flour. The latter has a deliciously sweet and caramelly flavour that I've come to appreciate. You're welcome to read substitution info under tips below the recipe.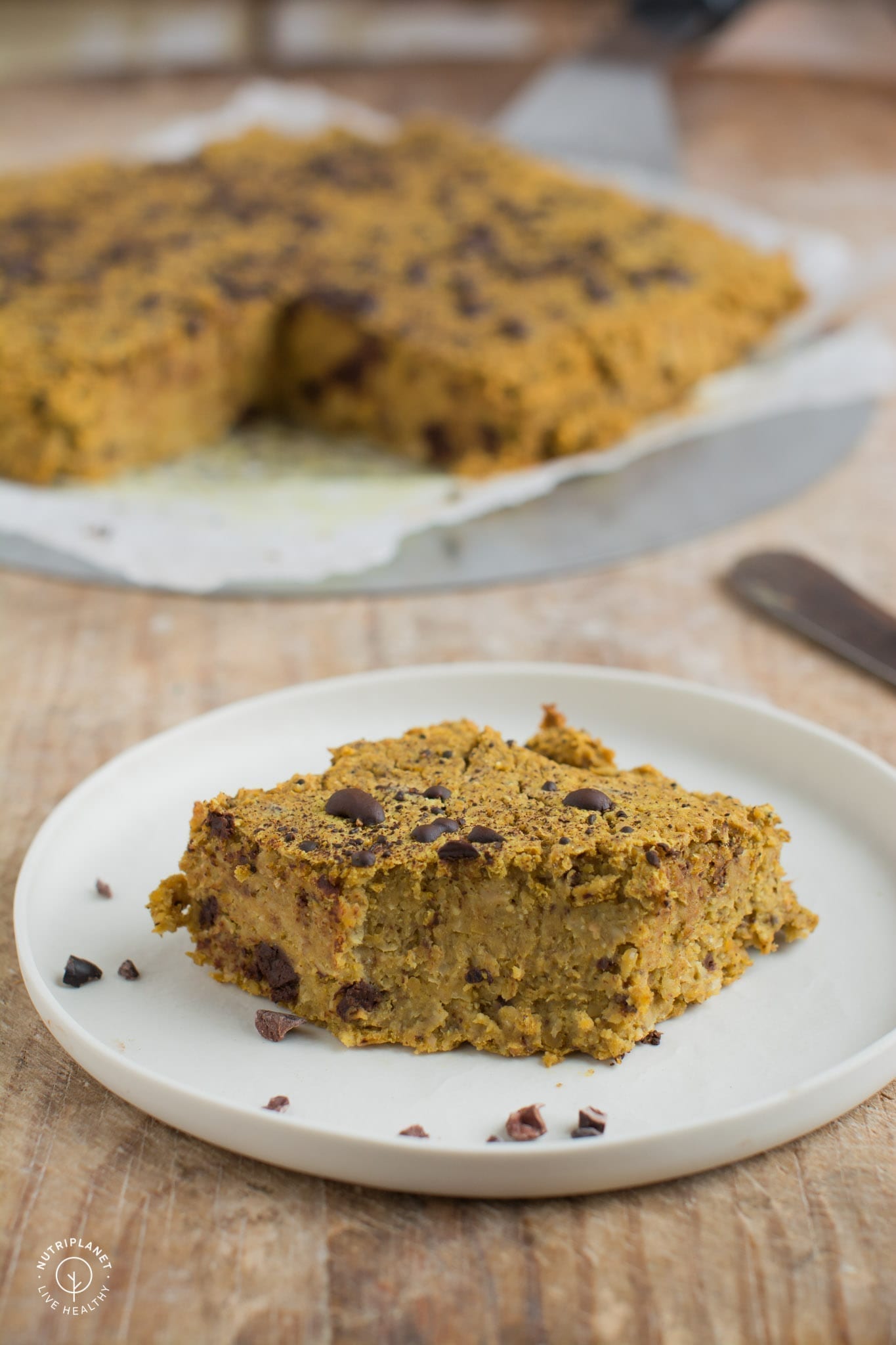 Finally, I use ground chia seeds as a binder. To be honest, this blondie recipe would also work without any binders. However, I find the texture a bit better when some ground chia seeds or flaxseeds are added. Another option would be to use psyllium husks or psyllium powder.
More vegan pumpkin recipes on my blog: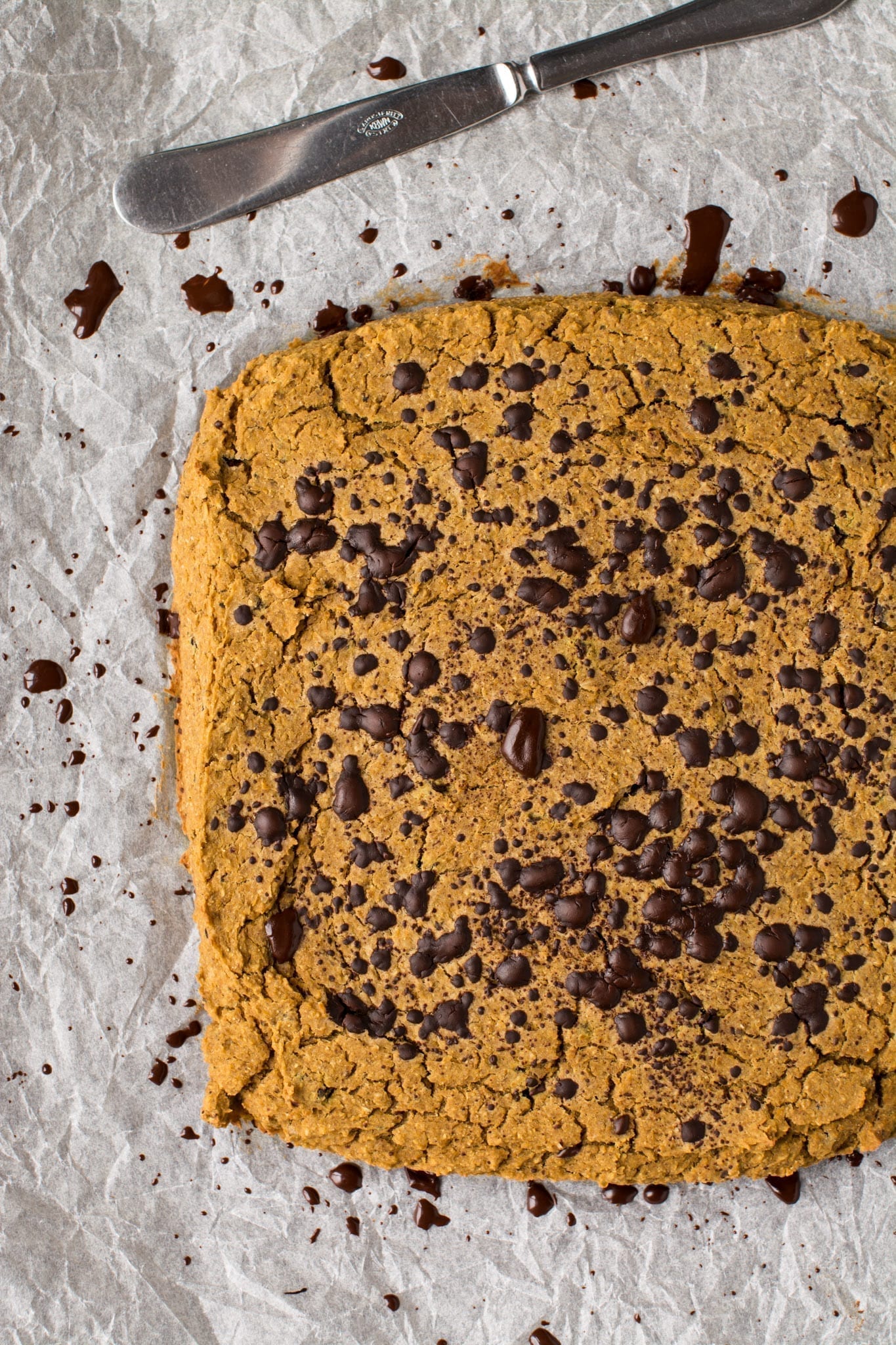 To sum it up, I'd like to praise those vegan pumpkin blondies as they're:
So easy to make.
As healthy as a dessert can be.
Relatively low in fat.
Low effort – simply throw all ingredients into food processor, transfer to pan and bake!
Finally, do let me know when you make this recipe or in case you have any questions or comments about my vegan blondies. Feel free to comment below! Tag me in social media, Instagram @thenutriplanet and Facebook @nutriplanet.health.hub
Print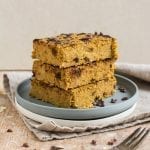 Vegan Pumpkin Blondies
---
Author:

Nele Liivlaid

Total Time:

50 minutes

Yield:

10

servings

1

x
Description
Turn those gluten-free vegan pumpkin blondies into your favourite dessert that is free from oils and refined sugar. You'll only need a food processor and 15 minutes of your time to make this healthy vegan gluten-free recipe.
---
---
Instructions
If you don't use ready pumpkin puree, bake the pumpkin in oven (200°C, 390°F 40-50 minutes for halved pumpkin and 15-20 minutes for pumpkin cubes) or simply steam cubed pumpkin for 10 minutes. I suggest you puree the pumpkin and add as much water as necessary to be able to process it (otherwise the batter will stay too dry).
When the pumpkin puree is ready, add all the ingredients into food processor and process until you have homogeneous batter. Scrape sides whenever necessary.
Finally mix in ¾ of chopped chocolate or cacao paste.
Next, take a cake tin, baking pan or a baking sheet lined with parchment paper, and transfer the blondie batter onto the sheet. Now form a circle, square or rectangle that is about 2 centimetres (0.8 inches) thick, smooth it out with spatula, sprinkle with the remainder of chopped chocolate and bake at 175°C (350°F) for 35 minutes. Let cool before slicing.
Notes
You may eat those vegan blondies as they are or serve them with a dollop of vegan vanilla ice cream and/or some extra maple syrup.
Slice the blondies up to pumpkin bars and store on countertop for a day. For longer keeping store in sealed container in fridge (up to 4 days) or freezer.
Feel free to use white beans instead of chickpeas.
Use any nut or seed butter, i.e. peanut butter, almond butter, tahini, cashew butter, sunflower seed butter etc. So, if you're after peanut butter blondies, use peanut butter etc.
You could also use oat flour instead of rolled oats, but flour will most probably absorb more liquid, so add about one more tablespoon of plant milk.
Ground flaxseeds can be used instead of chia seeds, but add twice as much, i.e. 4 tablespoons.
Should you be unable to find mesquite flour, you may replace it with yakon powder or carob powder or leave it out altogether. In case you decide to ditch mesquite, add half a tablespoon of extra coconut flour.
You may use 3 teaspoons of pumpkin spice mix instead of individual spices (ginger, cardamom, cloves, and cinnamon).
I personally like to substitute some of the coconut or date sugar with liquid stevia. The ratio I've used is 24 drops of liquid stevia and 3 tablespoons of date or coconut sugar. 12 drops of liquid stevia equals 1 tablespoon of sugar. Should you be on Candida cleanse, substitute xylitol for date/coconut sugar.
This blondie is NOT overly sweet to begin with, so feel free to add sweetener as needed.
Feel free to use any plant milk instead of oat milk. However, if you decide to go for naturally NOT sweet variety (soy, almond, hemp), you might need to add a little bit more of sweetener – I'd say one more tablespoon or 12 more liquid stevia drops.
Any pumpkin variety (except spaghetti squash) works well in this recipe. Butternut squash will give you the sweetest result – if you get your hands on a very good squash that is!
Finally, I use either cacao paste or Goodio Chocolate, that is one of my favourite bean-to-bar chocolates on earth! Use code nutriplanet for 15% off!
Prep Time:

15

Cook Time:

35

Category:

Baking

Method:

Oven
Nutrition
Serving Size:

1/10 of recipe

Calories:

211.5

Sugar:

8.7g

Sodium:

131.6mg

Fat:

6.3g

Carbohydrates:

24g

Fiber:

8.3g

Protein:

7.9g
Keywords: pumpkin, blondies
Disclaimer: this post contains affiliate links. As an Amazon Associate and Goodio affiliate I earn from qualifying purchases. For every purchase made from the links in this post, you'll be able to support my work. So you can look after your health, and contribute to my mission at the same time. Thank you!