Once you try this hearty, warming and comforting spiced pumpkin overnight oats, you'll keep on having it for breakfast for many mornings to come.
Now, as soon as the days got colder and gloomier and the pumpkin season started, I once again turned to one of my favourite veggies, i.e. butternut squash. I prefer butternut squash to all the other varieties because of its consistency and flavour. As the name already says, it is nutty, but also incredibly sweet making it a perfect substitution to banana to those on Candida diet.
However, you are welcome to use any kind of winter squash to make my spiced pumpkin overnight oats should you not get your hands on butternut squash.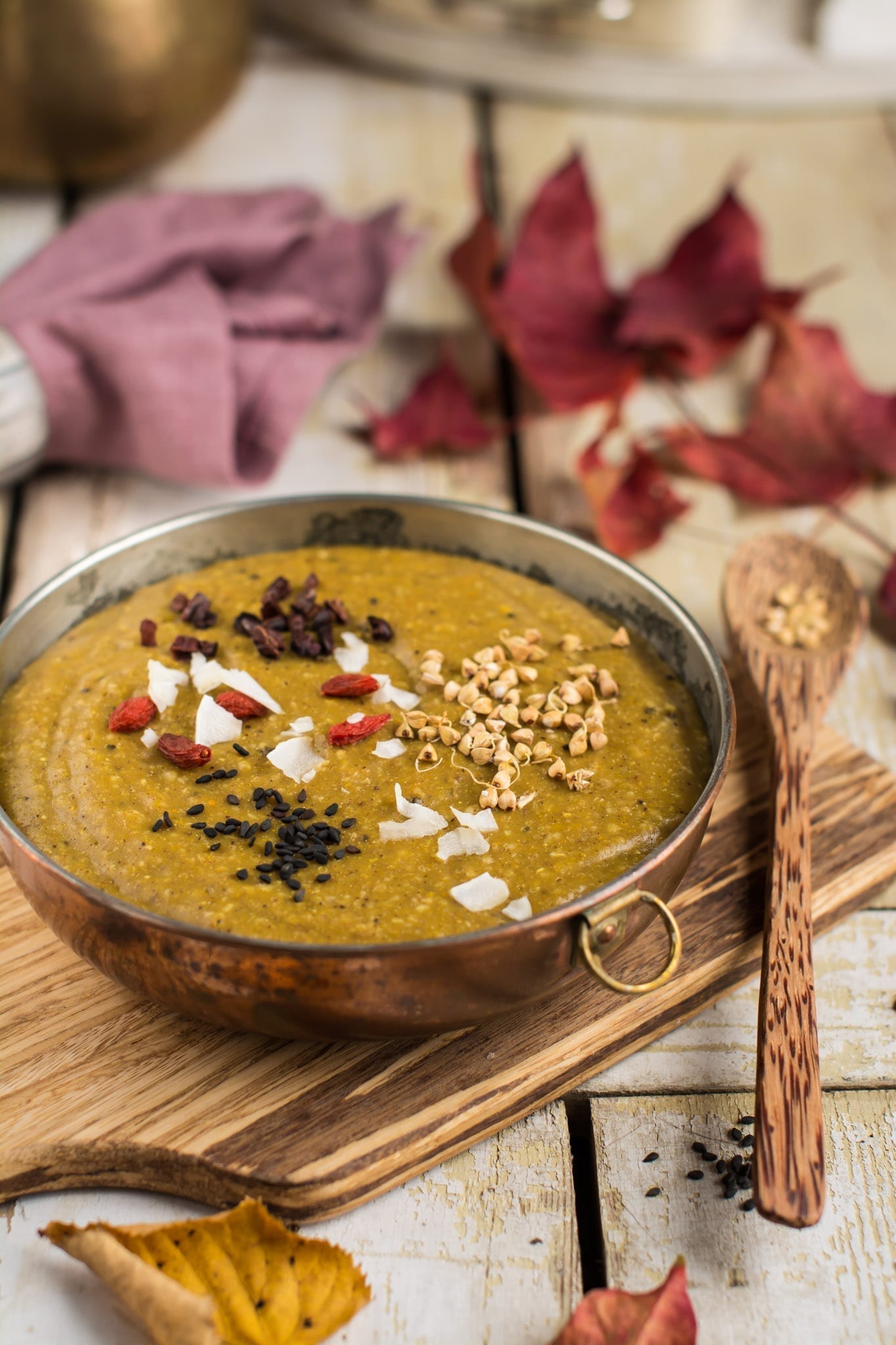 Next, my spiced pumpkin overnight oats are super creamy, because after soaking the grains overnight I also simmer them on low heat. Besides, you get extra creaminess from pumpkin puree, plain soy yogurt and a tiny splash of coconut milk. However, be careful with coconut milk, because it's easy to add too much and make your meal quite fatty.
To sum it up, my spiced pumpkin overnight oats are extremely healthy, vegan, plant-based, oil-free, sugar-free, gluten-free (if you use gluten-free oats and can tolerate avenin), and Candida diet friendly.
On top of it all, the portion of my spiced pumpkin overnight oats is fine-tuned in terms of glycemic load, i.e. the serving doesn't exceed 20 GL points (see more under nutrition info and Vegan Candida Diet – Living Candida Free After The Cleanse). Therefore, you're much less likely to experience blood sugar spikes. However, if you have history with blood sugar fluctuations, remember not to leave too much time between meals or your blood sugar won't like it!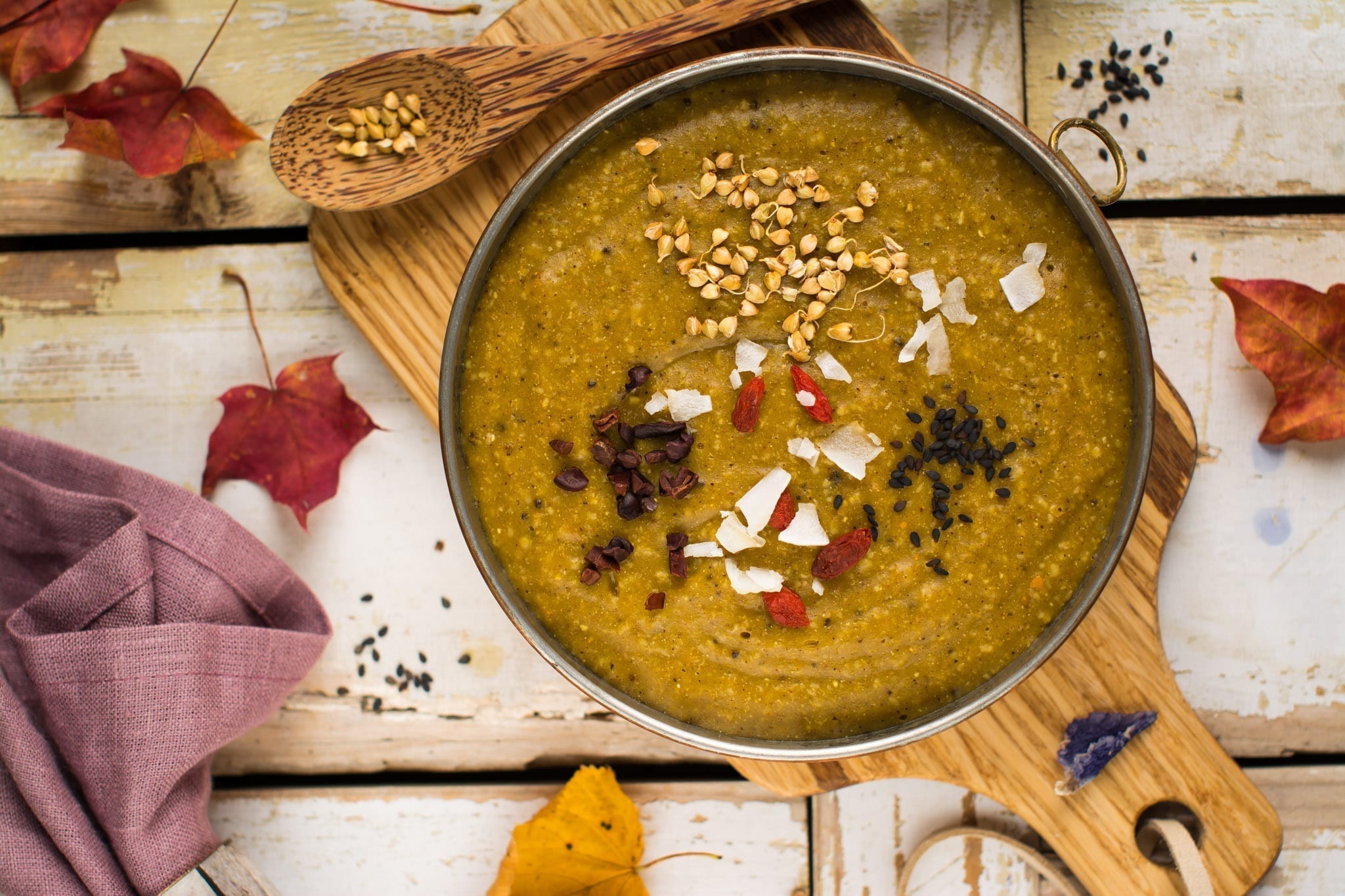 Finally, don't be intimidated by the long list of ingredients – it is mainly the spices that make it so long! It really is a very simple pumpkin overnight oats recipe that anyone can manage to prepare.
Spiced Pumpkin Overnight Oats Recipe
Ingredients:1 serving
About 290g (10.2oz) of water, enough for desired consistency
20g (0.7oz) oat bran
20g (0.7oz) gluten-free oats or regular rolled oats
2 tsps. turmeric
1 tsp. cinnamon
1 tsp. carob powder
½ tsp. ground ginger
⅛ tsp. cardamom
⅛ tsp. ground cloves
⅛ tsp. ground nutmeg
Dash of black pepper
Himalayan salt to taste
Stevia drops or xylitol to taste (see tips)
80g (2.8oz) pumpkin puree or finely grated pumpkin
30g (1.1oz) plain soy yogurt
A splash (5g, 0.2oz) of coconut milk
Directions
First, soak oat bran and rolled oats overnight in about 150 grams (5.3oz) of water.
In the morning, pour the soaked grains (with the soak water) and grated pumpkin into small pot, add another 140g (4.9oz) of water and cook for 5 minutes whisking almost continuously. Add water gradually as the porridge thickens to regulate the consistency.
Next, throw in all the spices, salt, sweetener, pepper and pumpkin puree (if you use puree) to the porridge. Mix well.
Finally, top your porridge with yogurt and coconut milk. You may mix them in or leave on top, as you prefer.
Nutritional info: 240.3 kcal, 43.1g carbohydrates (58.8% of kcal), 5.5g fats (23.3% of kcal), 9.4g protein (17.9% of kcal), 12.3g fibre, 18.1 GL points.
Directions:How to make homemade pumpkin puree
First, cut pumpkin into smaller cubes and pour them into a pot or saucepan.
Next, add a bit of water and simmer covered until the pumpkin is cooked (10-15 minutes). Add water if necessary.
Finally, puree with immerse blender.
In the end, should there be any leftovers, transfer it into jars and store in refrigerator.
Tips on my spiced pumpkin overnight oats:
Now, I use about 20 stevia drops to sweeten my porridge.
Next, make you life easier and save time by mixing together a bigger batch of pumpkin spice (cardamom, nutmeg, cloves, turmeric, ginger, cinnamon and carob). Every morning add almost 5 tsps. per serving.
Use any winter squash you like and add a bit more sweetener, if your variety is less sweet.
Feel free to use any sweetener you like, if you're not on Candida diet, e.g. coconut nectar, raw cane sugar, agave syrup, date paste etc.
Finally, should you want your pumpkin overnight oats less spicy, add less ginger or discard it altogether.