I have made tofu cheesecake before, both baked and no-bake version. This beautiful pink cake is actually a hybrid of my Vegan Baked Cheesecake and Vegan Tofu Cheesecake (see below under Related Posts).
Make sure to watch tutorial video further down!
Like many of my recipes before, also this one was born out of necessity. As it happened, I needed to make tofu cheesecake and surprisingly had one beautiful purple sweet potato in hand as well. So, I thought of my no-bake tofu cheesecake with silken tofu. However, I only had hard tofu in my fridge, which I always prefer to eat cooked or baked. As a result, I thought why not combine the two recipes and I'm so glad I did! The outcome was just amazing!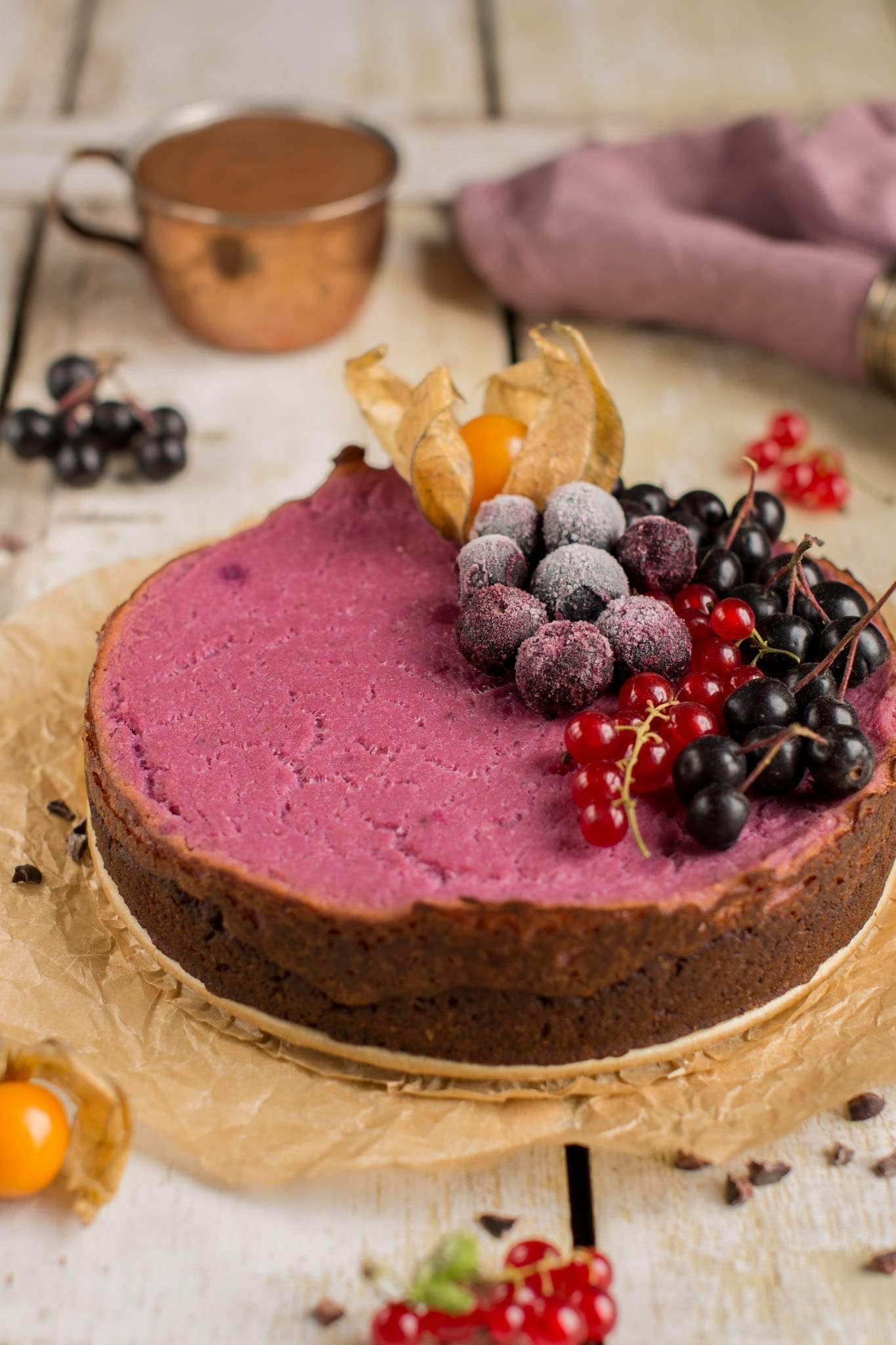 I brought this newly developed tofu cheesecake to my mom's to celebrate my kid's first day at school and everybody loved it. Needless to say, my healthy chocolate sauce only improved the yumminess of the cake.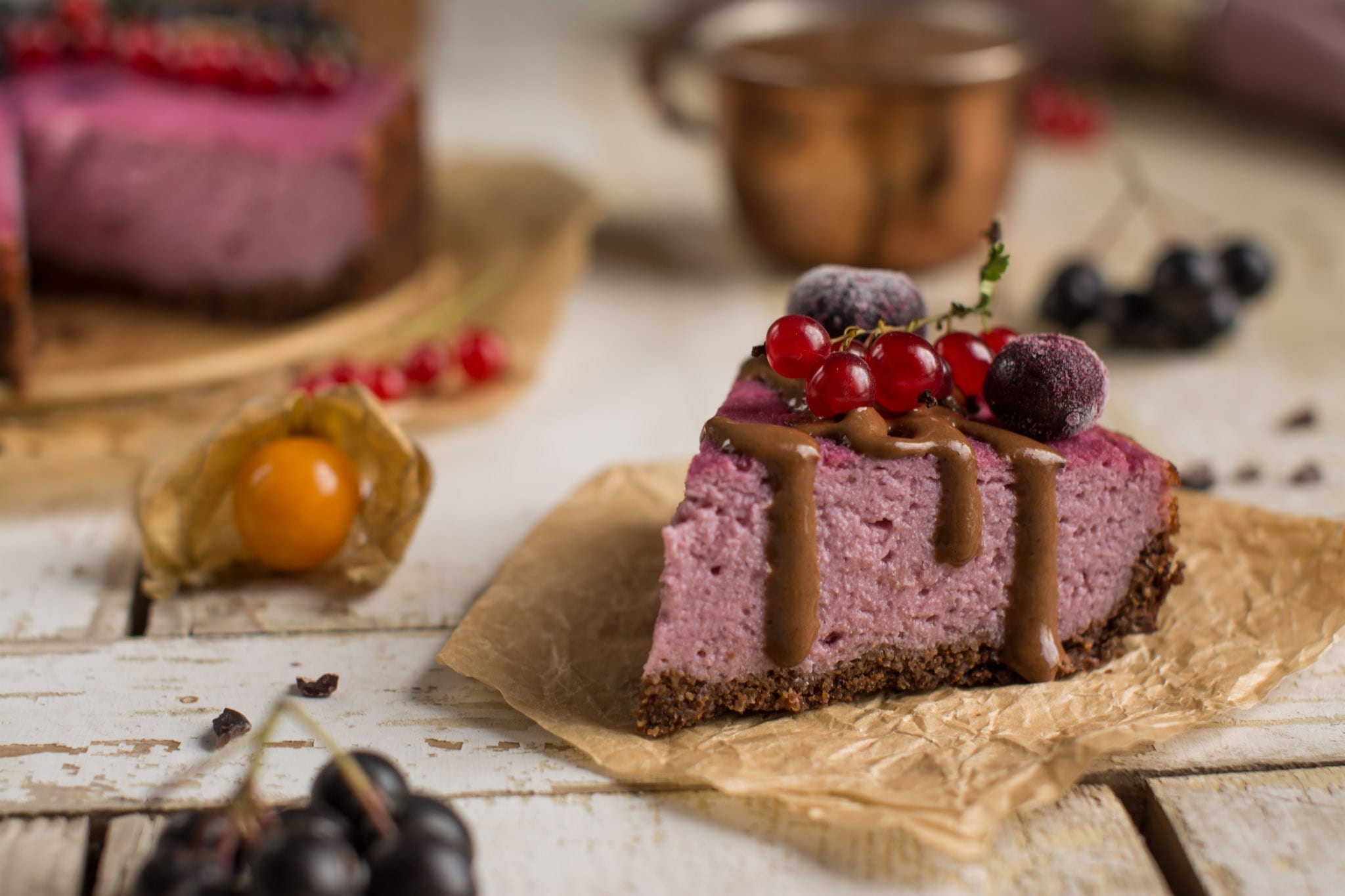 Where does the beautiful pink colour come from, you might ask? Well, lemon juice works magic here! Apparently it creates this amazing pink when coming in contact with purple sweet potato. My mouth was literally wide open when I saw it the first time – so admirable it was!
Moreover, the consistency of my tofu cheesecake really reminds of the traditional ricotta cheesecake. So, it'd be a safe bet to offer it to conventional eaters.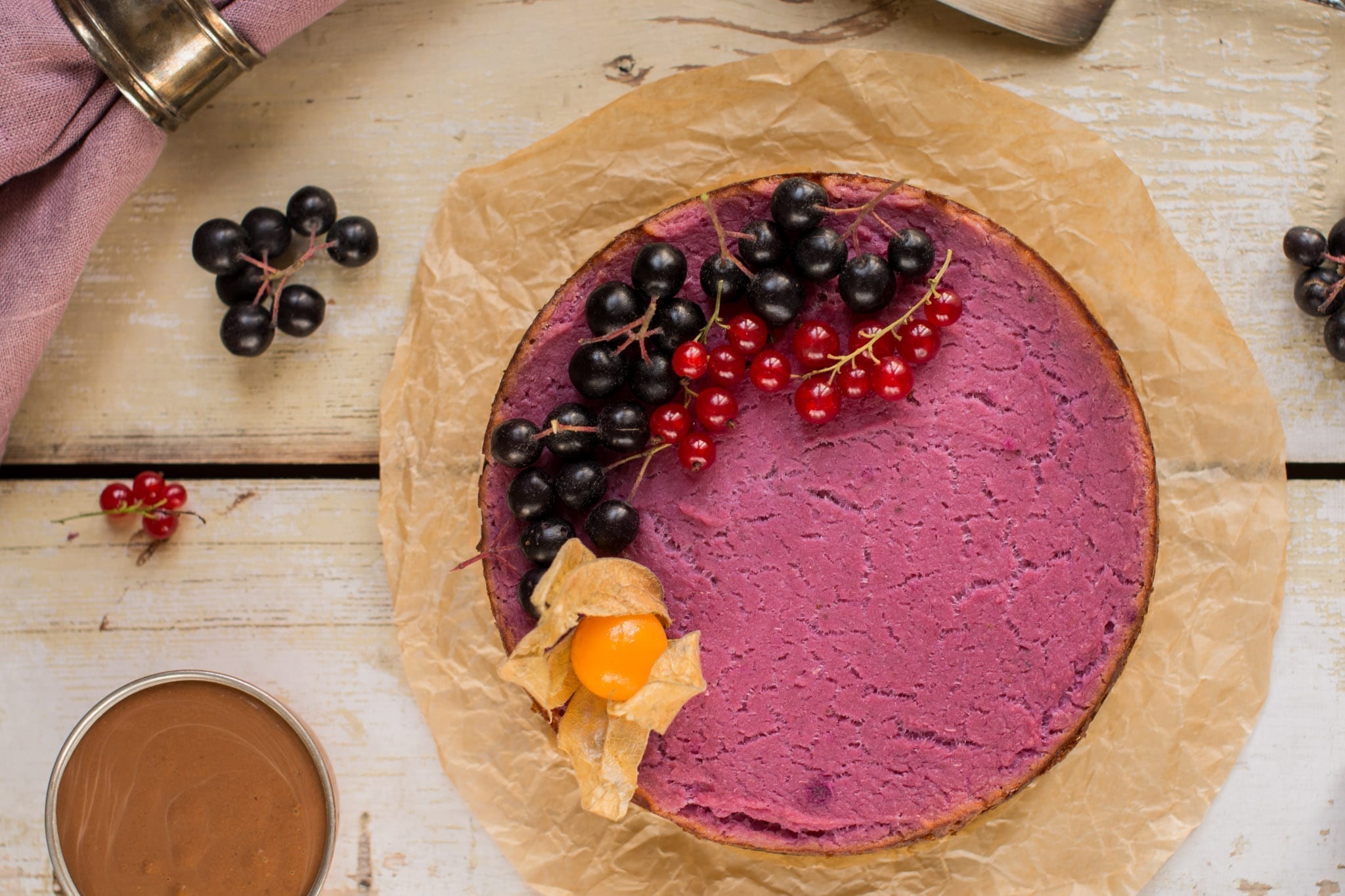 Finally, there really shouldn't be many people out there who couldn't have my tofu cheesecake as it is vegan, plant-based, dairy-free, refined sugar free, gluten-free, oil-free and Candida diet friendly. Only people with nut and soy allergies would be left out.
Tofu Cheesecake with Purple Sweet Potato
Ingredients:Crust
½ cup (45g, 1.6oz) walnuts, soak
1 tbsp. (20g, 0.7oz) peanut butter (without additives, see tips)
¼ tsp. Himalayan salt
1 tbsp. carob powder
1 tsp. cacao powder
15g (0.5oz) gluten-free jumbo oats
15g (0.5oz) oat bran (see tips)
1 tsp. xylitol
1 tsp. cinnamon
2 tbsps. plant milk
Ingredients:Filling
250g (8.8oz) hard tofu
1 smaller (about 157g, 5.5oz unpeeled) purple sweet potato, peel and steam
¼ tsp. Himalayan salt
3 tbsps. xylitol
140g (5oz) plant milk (see tips)
2 tbsps. lemon juice
1 tbsp. psyllium husk
Directions
Soak walnuts for at least 4 hours. Then rinse and drain.
Add all crust ingredients in a small processor and process until homogeneous batter forms.
Press the crust batter into 6" (15 cm) or 6.3" (16 cm) spring form cake tin and bake at 180°C (355°F) for 10 minutes. Let cool.
While the crust is baking, peel purple sweet potato and cut into cubes. Next, steam for 7 minutes.
In a blender or with immerse blender process all filling ingredients (except psyllium husk) until smooth. Now, blend in psyllium husk.
Pour the filling onto crust and bake in 175°C (350°F) oven for 50 minutes until the cake's surface starts to crack.
Let the cake cool. It'd be ideal to let it sit in fridge for a couple of hours after it has cooled down.
Garnish with berries and my Healthy Chocolate Sauce
Nutritional info (⅛ of the recipe): 135 kcal, 8.41g (31.9% of kcal) carbohydrates, 6.39g (52.2% of kcal) fats, 6.39g (19% of kcal) protein, 2.61g fibre, and 5 GL (glycemic load) points.
P.S. Nutritional info does not include garnishes.
Tips on my tofu cheesecake recipe:
In case you are allergic to peanuts, use any other nut butter without additives.
Instead of oat bran and jumbo oats' mixture you can use only the one or the other.
I used unsweetened oat milk in crust and in filling. Should you use unsweetened, but naturally NOT sweet plant milk (quinoa, millet, hazelnut, almond, soy etc.), add more xylitol or other sweetener of choice.