Pancake Day is just around the corner! To make your life easier, I gathered together 12 gluten-free vegan pancakes in this yummy and comforting round-up post. No matter which recipe you'd make, they're all super healthy and can be enjoyed without harmful side effects, even by those on Candida diet.
12 Gluten-Free Vegan Pancakes for Pancake Day
Besides being absolutely delicious, all the below vegan pancakes are also super healthy. It's my speciality to hide veggies in most of my pancake recipes. Furthermore, I rarely use flours, but prefer to soak (and sometimes even sprout) my grains before making pancake batter. Please don't get intimidated though, because soaking requires only minimal effort – you just need to plan ahead!
So, which recipes have I chosen for this gluten-free vegan Pancake Day round-up?
You'll find my chocolaty sourdough pancakes, regular sourdough buckwheat pancakes, vegan buttermilk pancakes, a few protein pancake recipes with tofu, and several pancakes with plenty of hidden veggies. Obviously, all my pancake recipes are plant-based, gluten-free, dairy-free, oil-free, and are made without eggs or milk.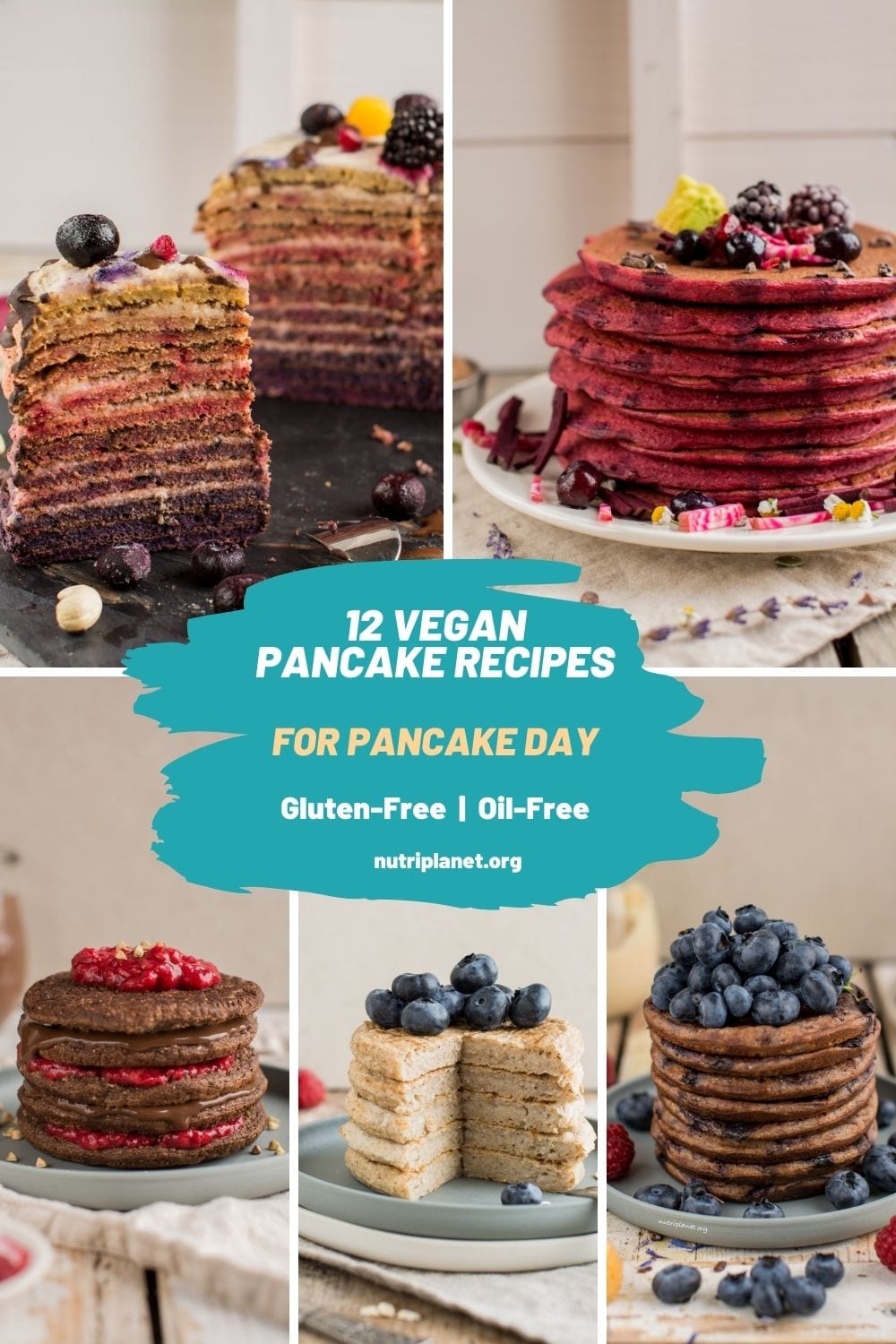 Let's start off with the most decadent crepe tart you can celebrate Pancake Day with 🙂 The shading colour effect is not obligatory, but it does stick out of you want to surprise your guests. Being on Candida diet I developed Candida diet friendly buckwheat cream that contains no bananas and used my Chocolate Sauce.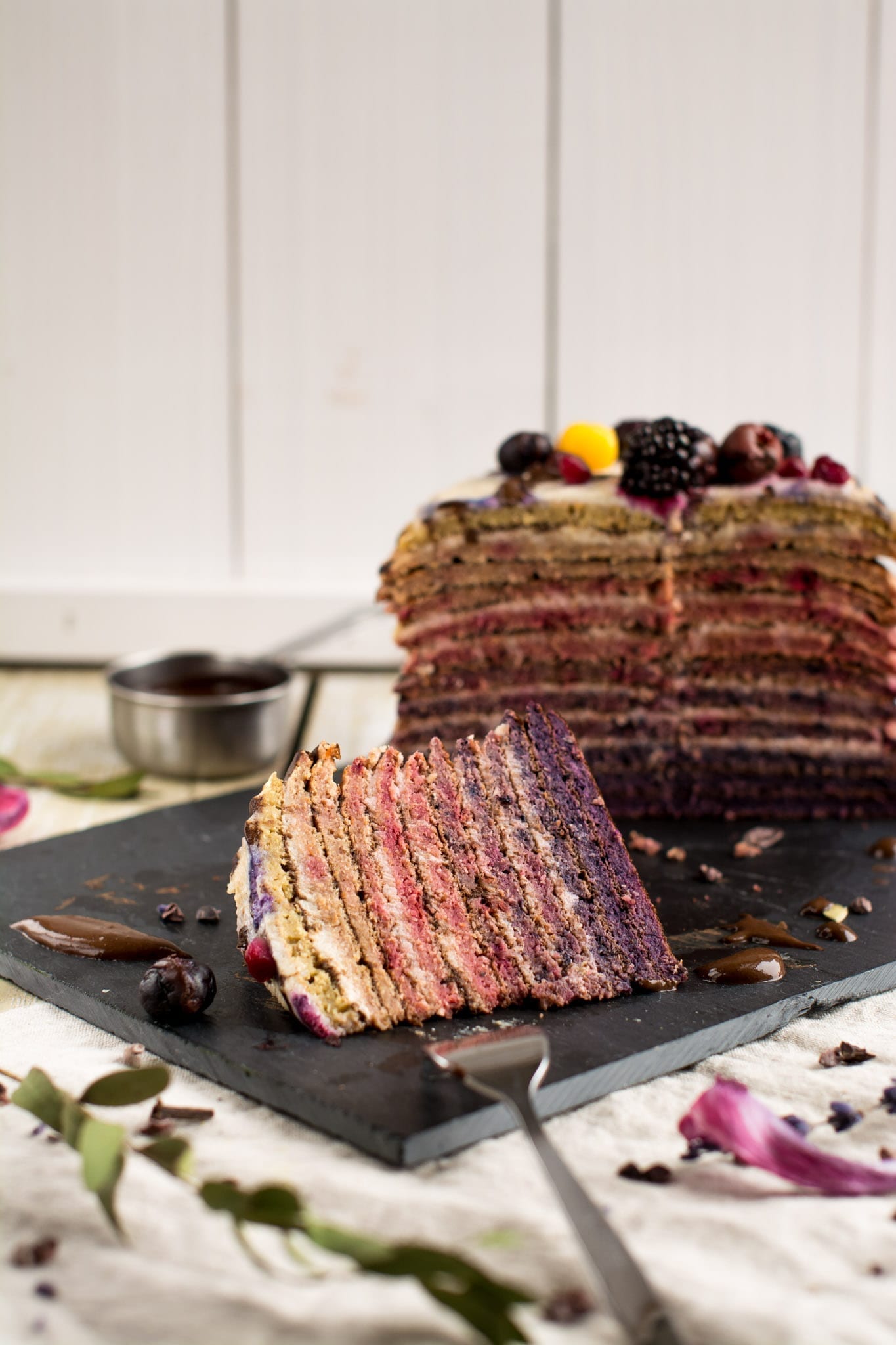 Here's another festive vegan pancake tart! It was back in 2016 when I created this whole food plant-based pancake batter recipe with soaked millet and buckwheat. Furthermore, I also assembled a beautiful and delicious vegan oil-free, gluten-free and sugar-free pancake tart using cashew-buckwheat ricotta and date-chocolate cream as layers along with fresh mango, strawberries and blueberries. Should you be on Candida diet, use this ricotta cream and this chocolate frosting instead.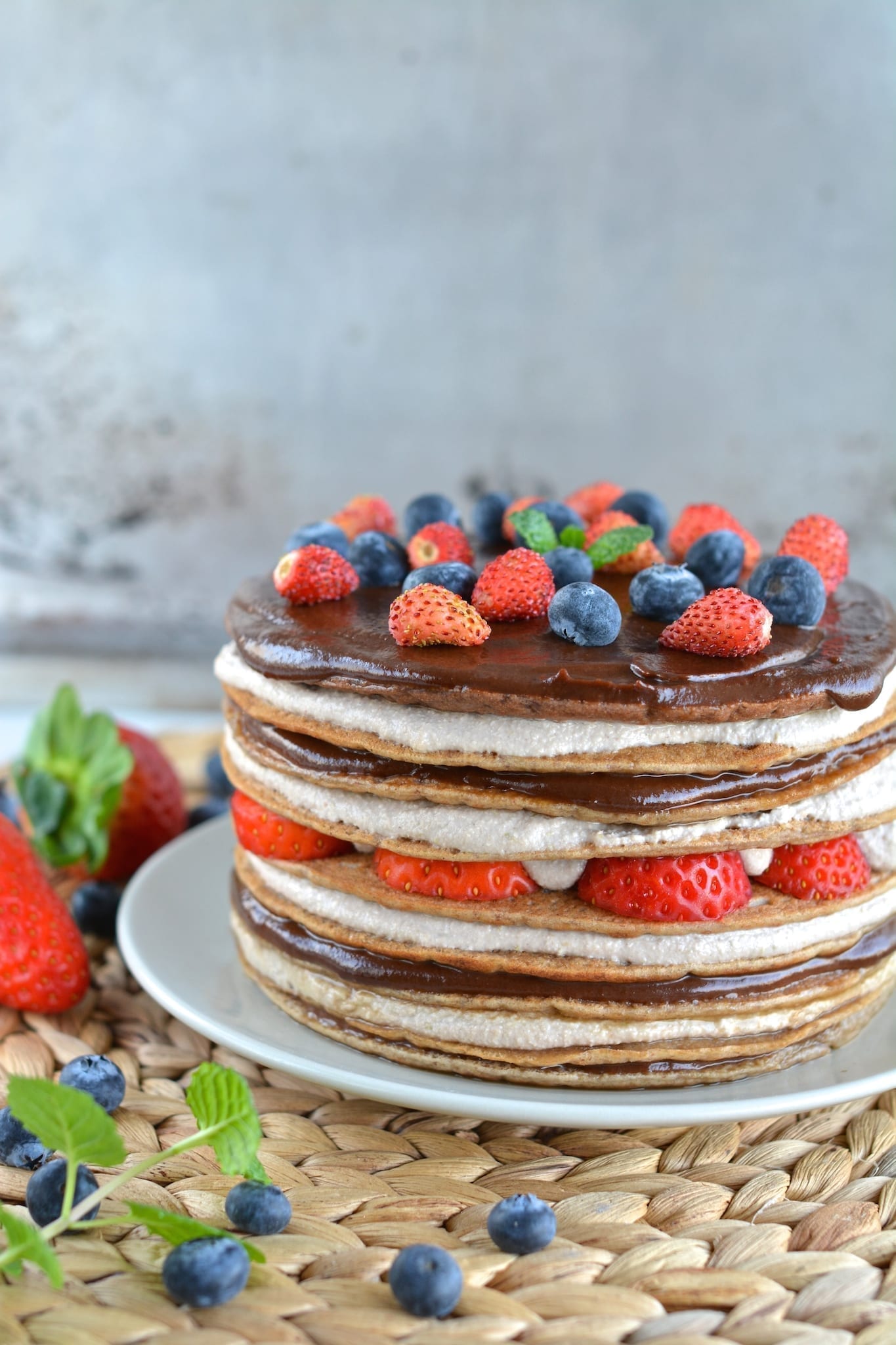 Let's move on to super healthy and gut-friendly sourdough pancakes! You'll love this chocolaty recipe if you're into gluten-free vegan pancakes made with sourdough. Besides being low-glycemic, dairy-free and egg-free, they are also light and fluffy and so easy to make. Add some chocolate chips for festive occasions such as Pancake Day!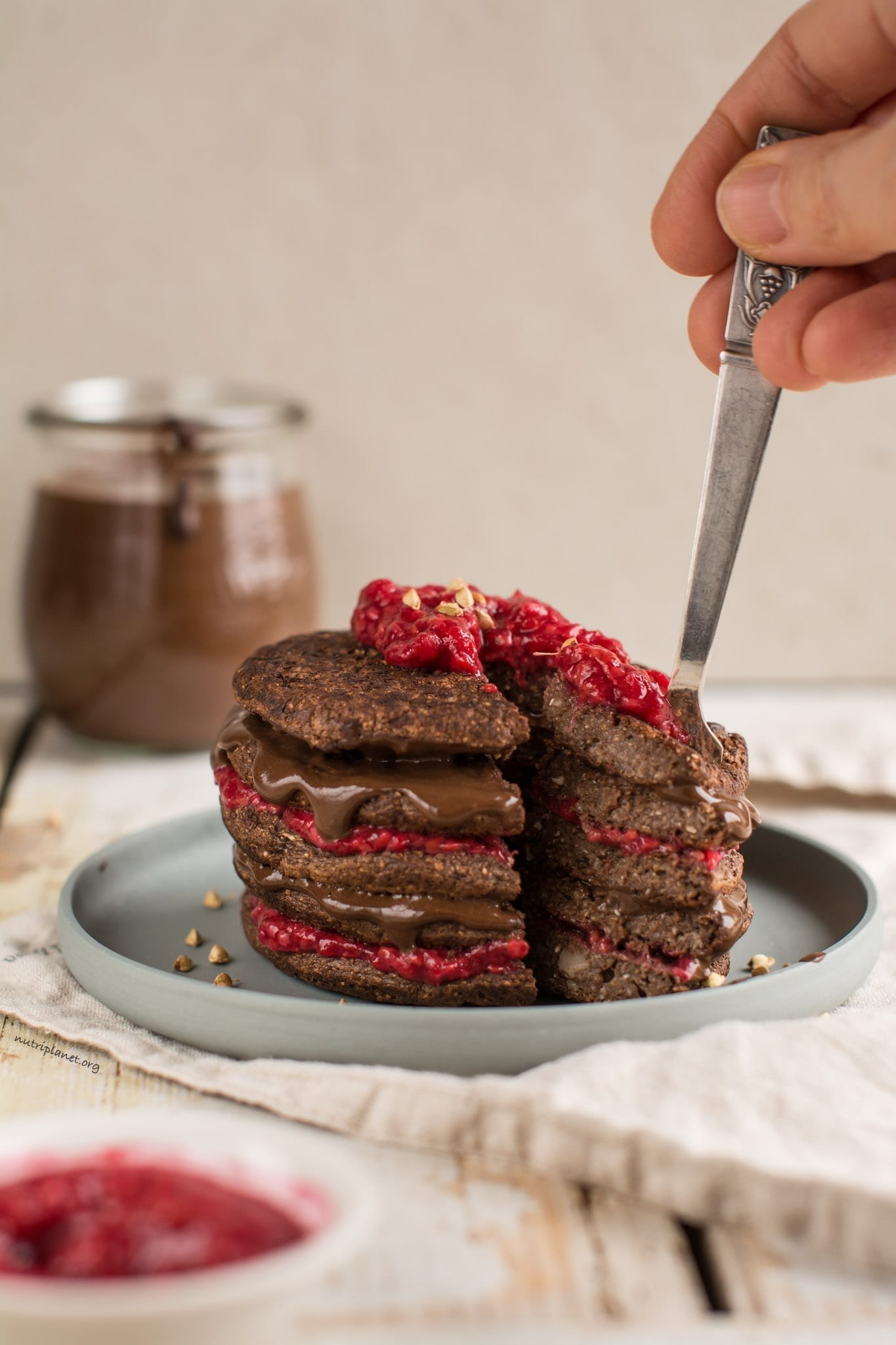 Those vegan pancakes are the most delicious pancakes my hubby has ever had. At least this was what he said! I've made those lentil pancakes in many variations (different colours) and they're all so fluffy and delicious!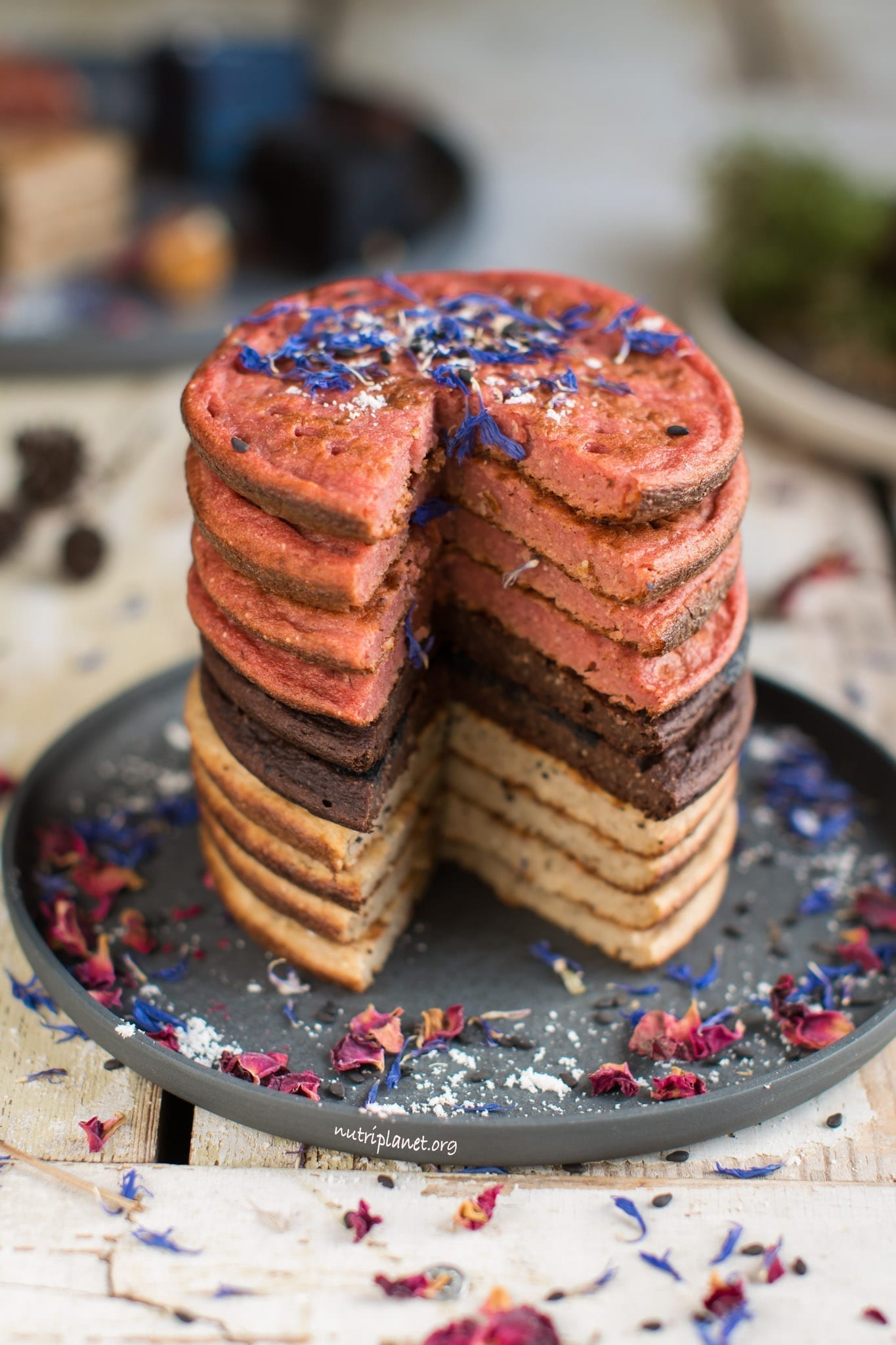 Delicious vegan buckwheat sourdough pancakes that will remind you of the fluffy buttermilk pancakes from your childhood. Only this recipe uses no whipped egg whites, dairy or white wheat flour. Be ready to plan ahead though as sourdough pancakes are slow food!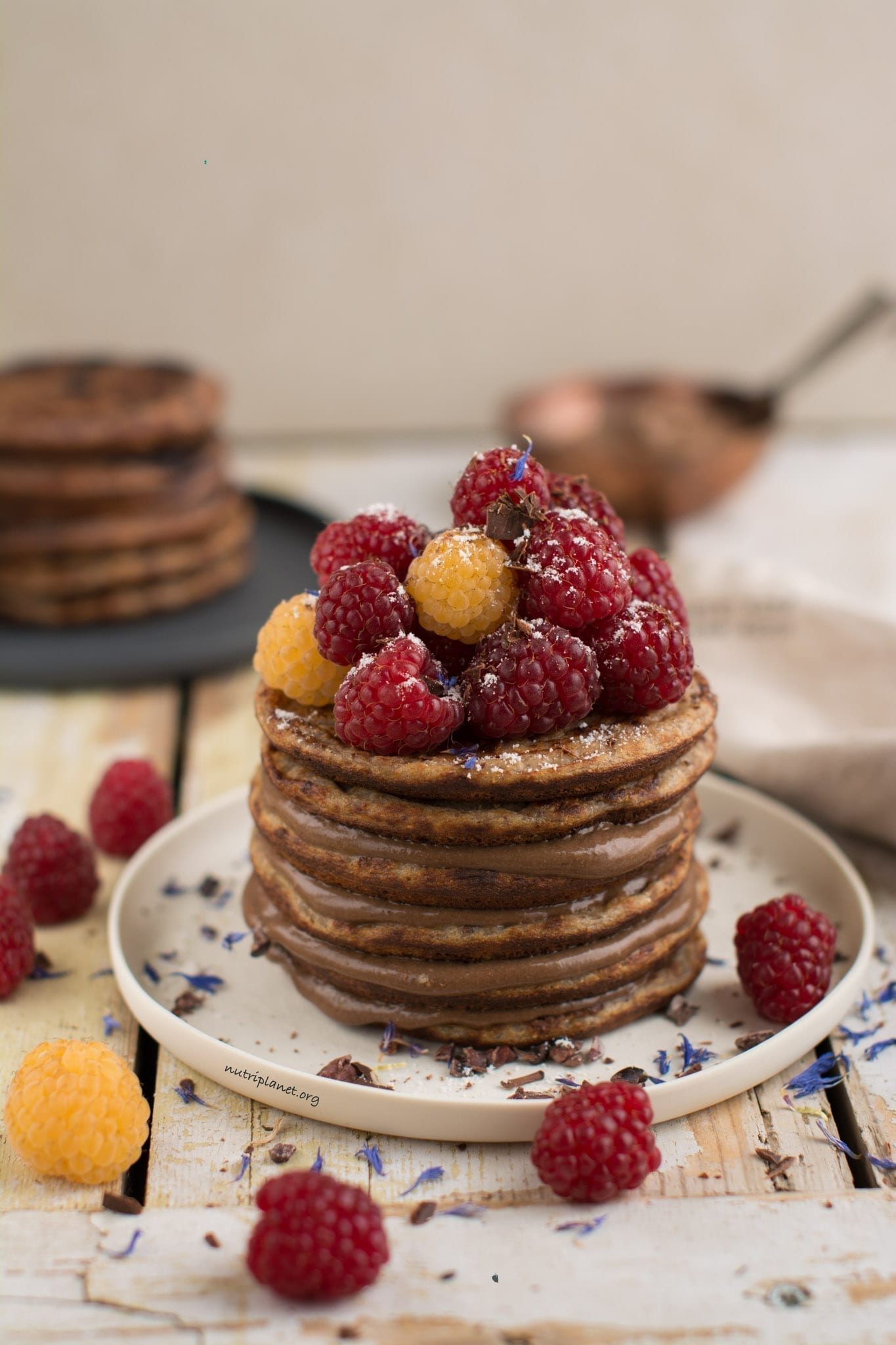 I'd used all the imaginable veggies in my pancake recipes – carrots (plain and colourful), summer squash, butternut squash, parsnip, beetroot, and purple yams; in raw, baked, powdered and grated form – before I finally tried sweet potatoes. Let me tell you – there's no going back! This recipe might as well be my Chocolaty Sweet Potato Muffins in the form of pancakes as it uses the same base – sweet potato, carob, cacao, buckwheat and oats.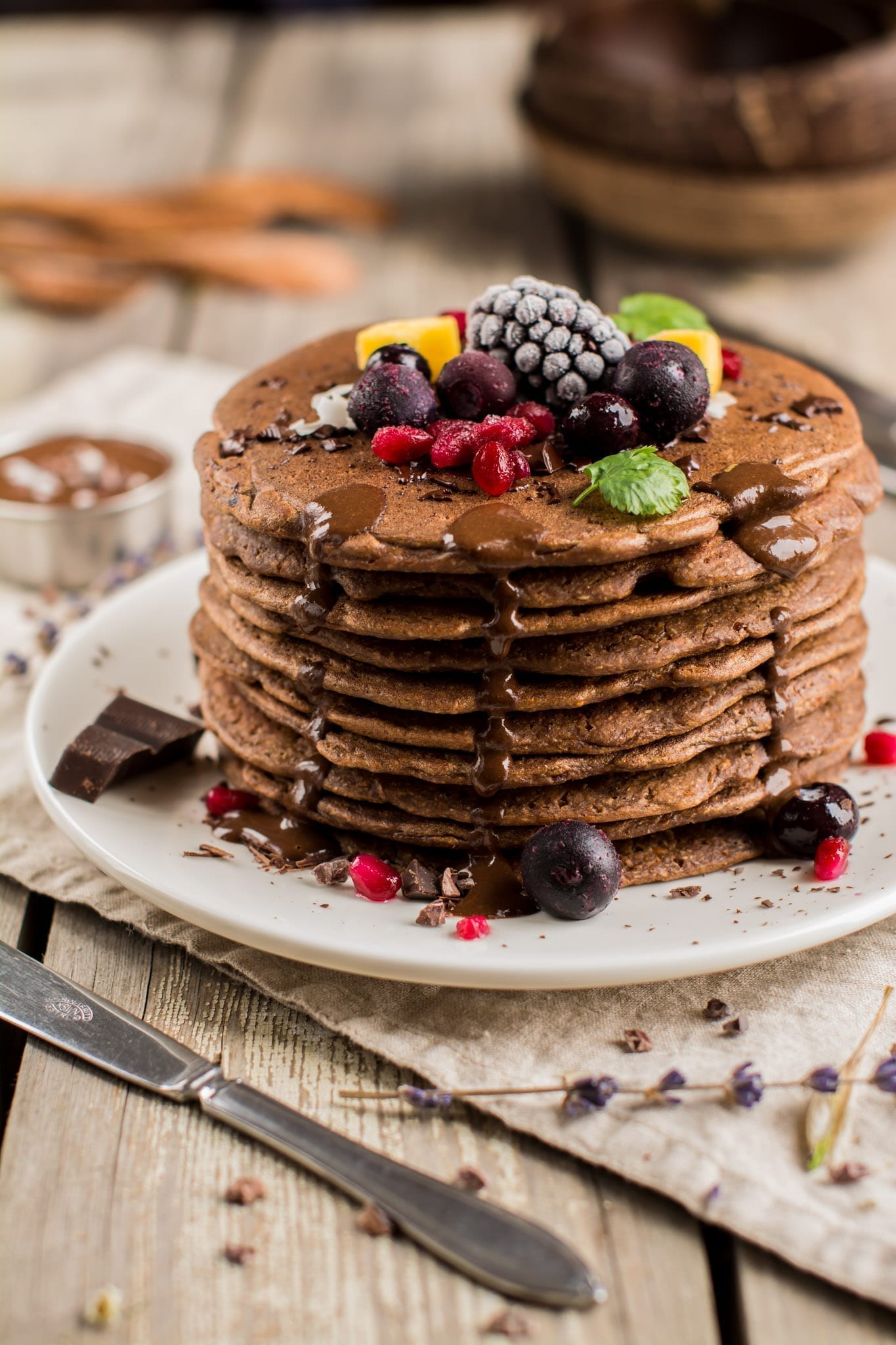 Those tofu and beet protein pancakes have the prettiest colour, don't you think? In addition to tofu, soaked raw buckwheat and millet groats I also use chickpea flour, which is a great binder and allows omitting ground flax seeds that I prefer to consume raw. Festive enough for Pancake Day, right?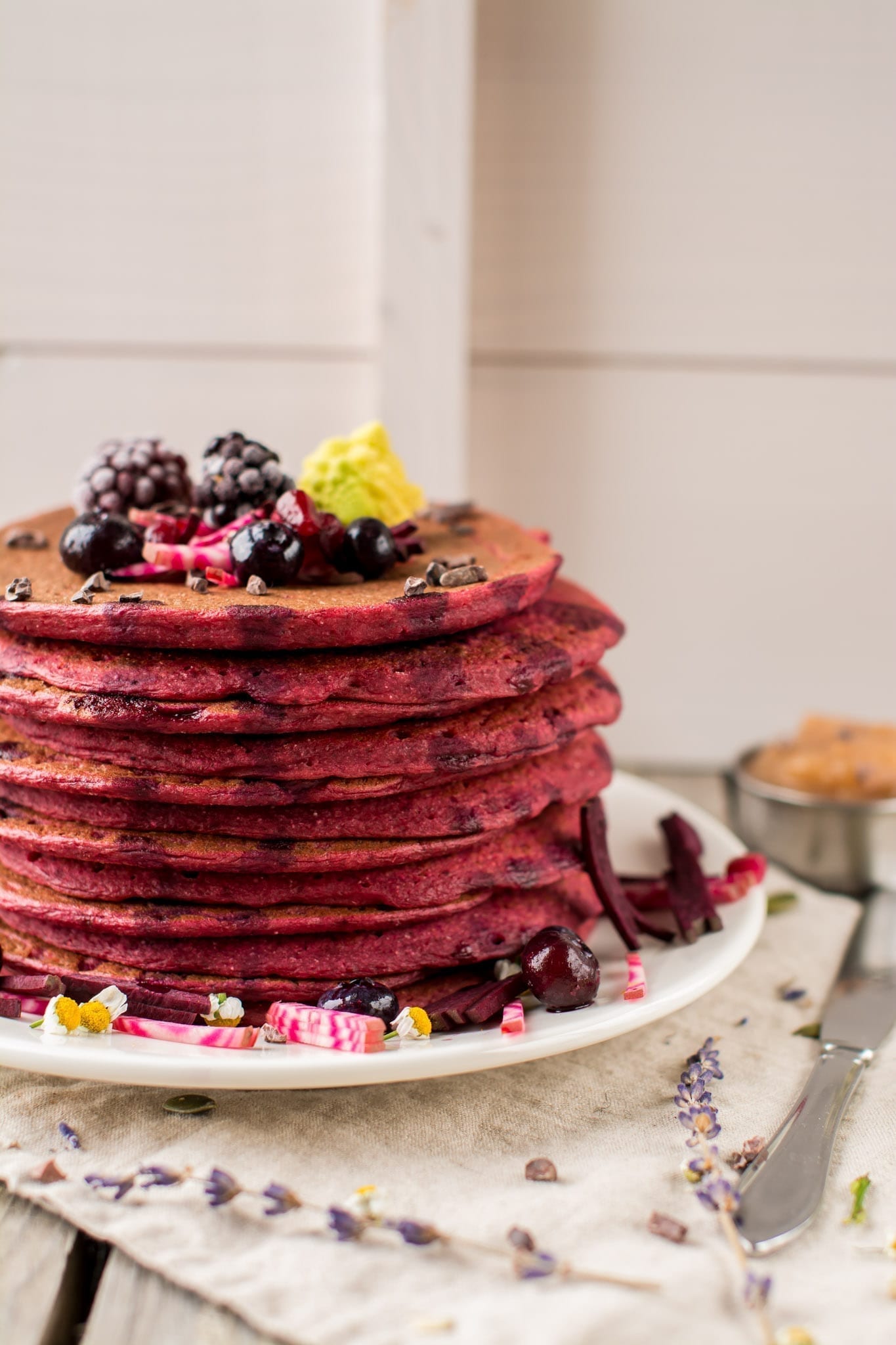 Those vegan pancakes must be one of my favourites of all times! This recipe is of sweet side having a hint of cinnamon and ginger in it, but staying true to tofu. My hubby loved them saying that this was what he meant by classic taste. Like always, I blended some veggies into the batter – summer squash and parsnip in their raw form, so that I wouldn't need to heat them twice.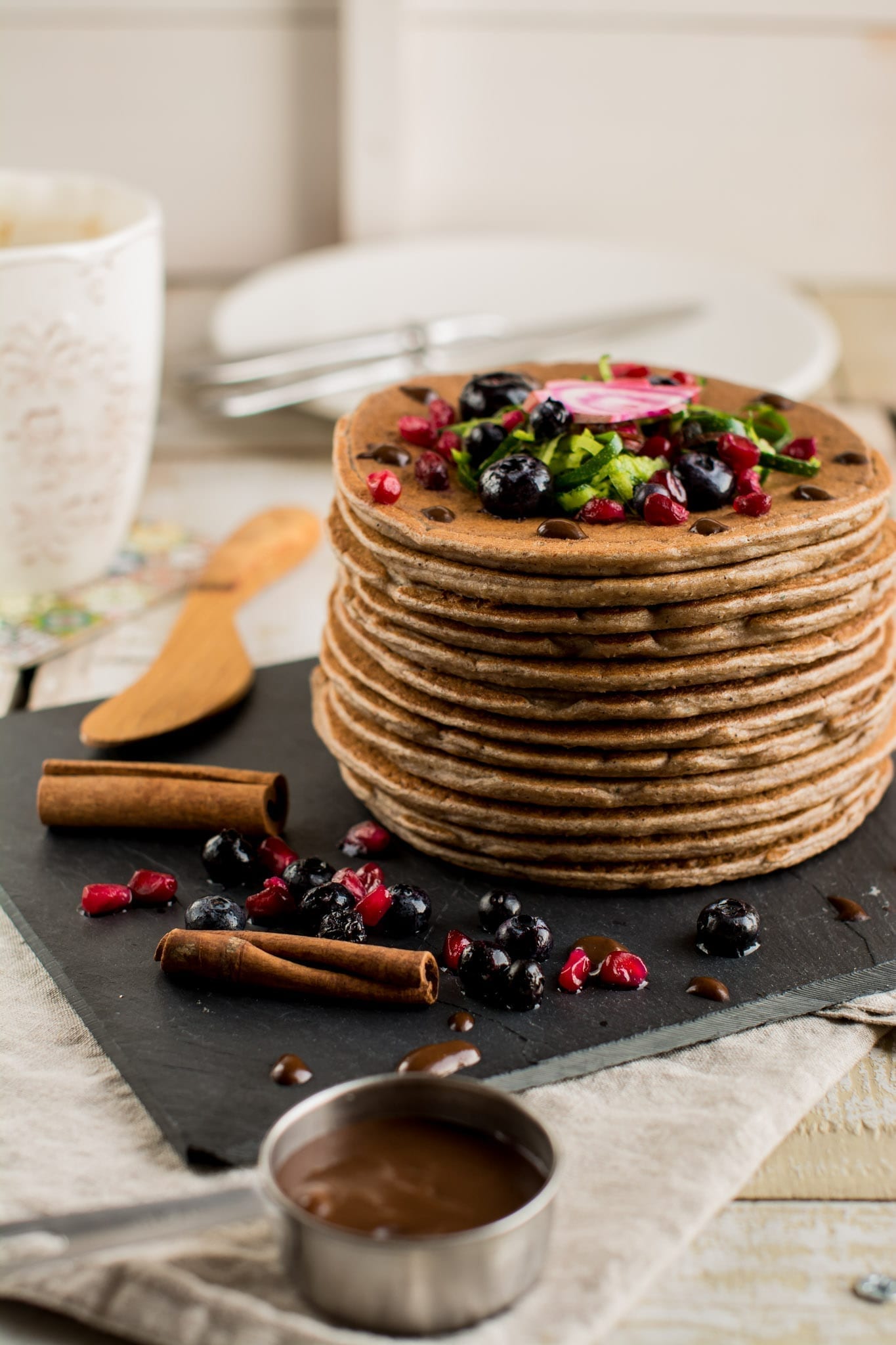 This vegan pancake recipe is perfect, if you're looking for spicy protein pancakes – the chilli tofu works wonders! In case you don't have tofu in chilli marinade, add cayenne or chilli pepper to the pancake batter. Works just as well! In addition to tofu and chickpea flour the pancakes also use soaked raw buckwheat groats and oat bran. I'm sure most of you have had dairy ricotta pancakes at least once in your lives. If you need a comparison, I'd say that this is what my tofu pancakes are alike the most.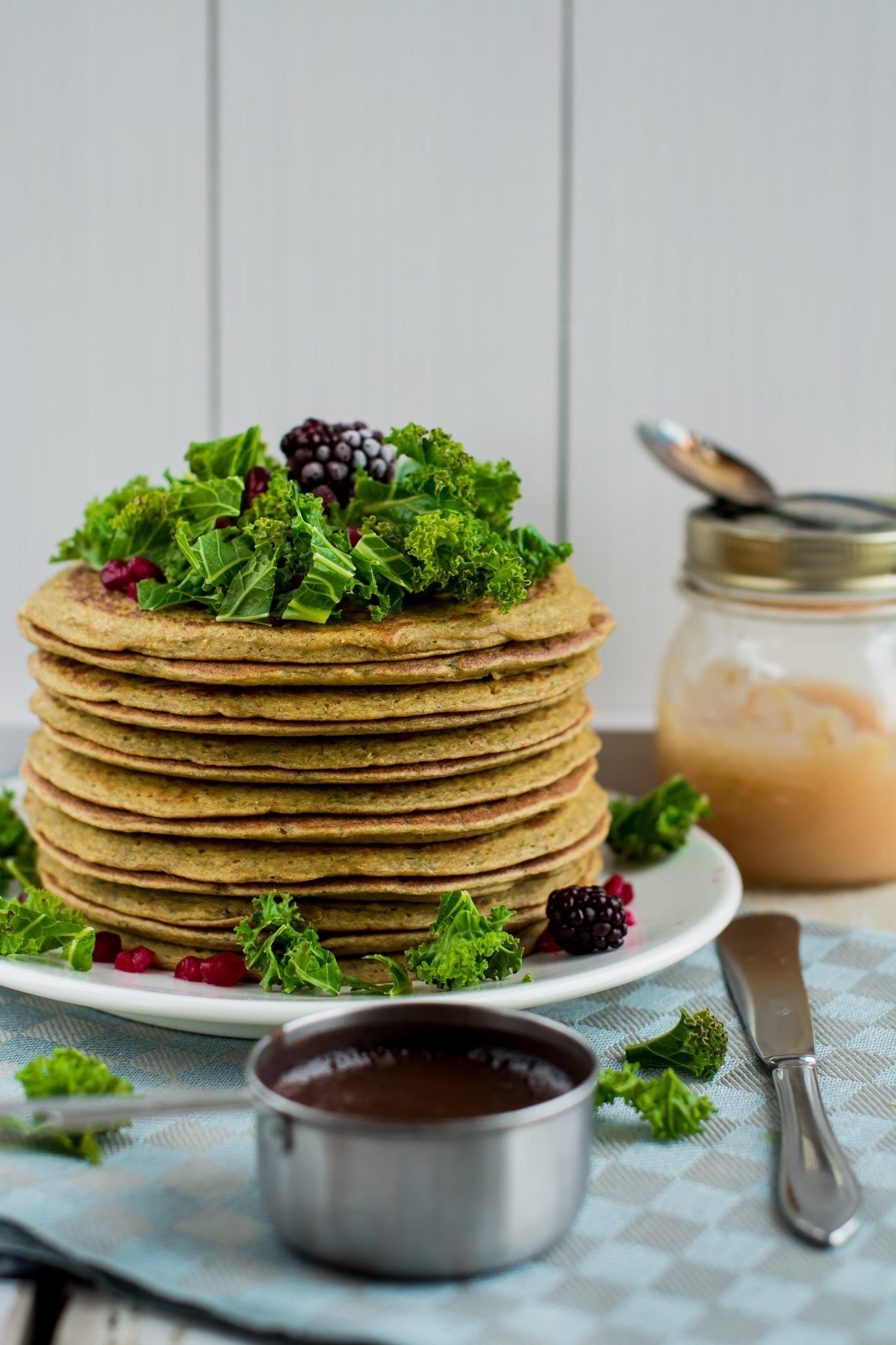 When I woke up on that Sunday I had no idea what colour would my vegan pancakes be. Then, I remembered that I hadn't had blueberries for ages, so that was decided. However, for me pancakes are not pancakes if they don't contain some veggies. So, I thought to myself which vegetable would compliment the colour of blueberries. Obviously it was beetroot!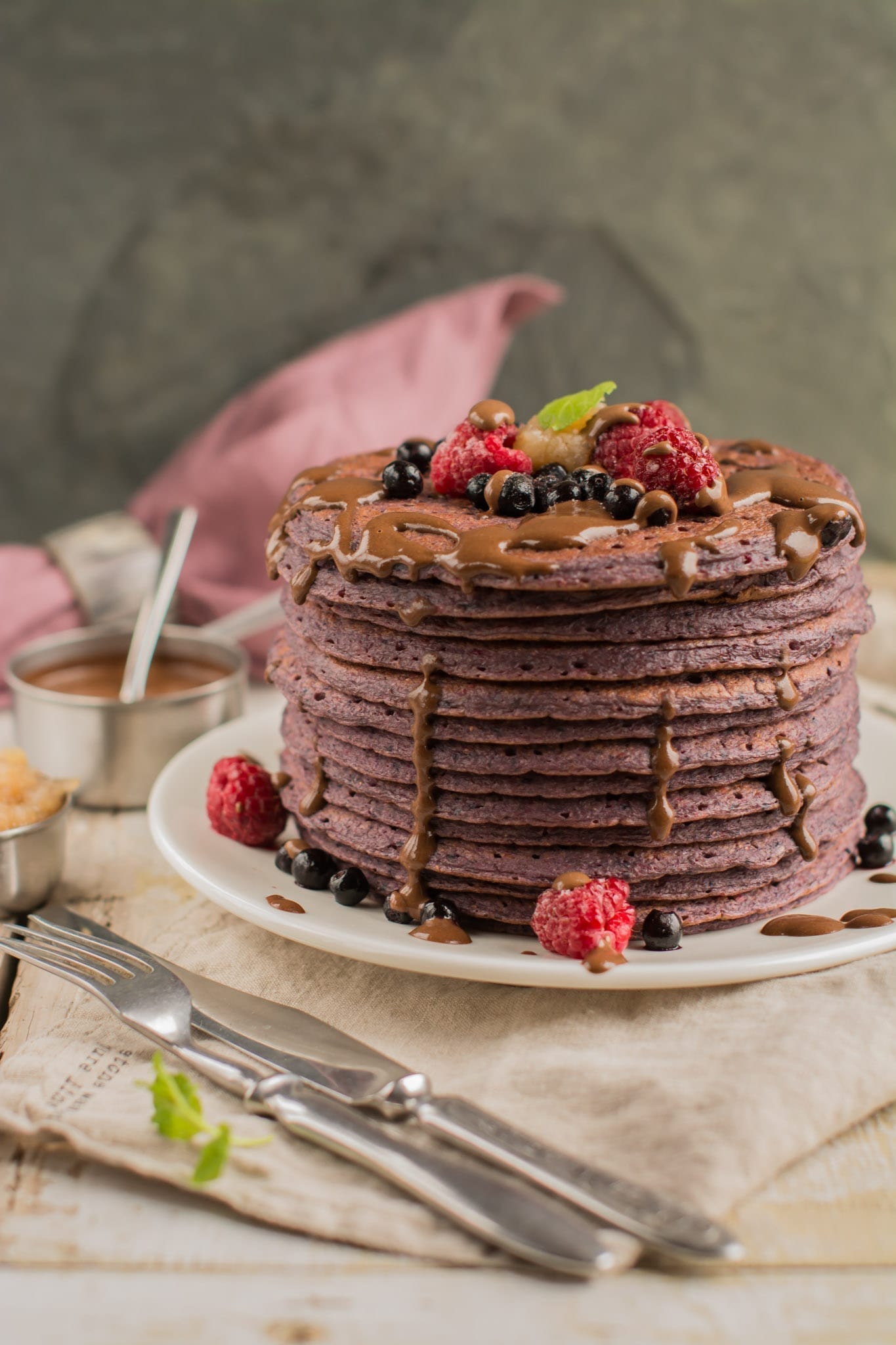 It was seventh vegan pancake recipe on my blog, but I thought there was room for another as there is no such thing as too many pancakes 🙂 I'd made green pancakes before – Kale-Spirulina Pancakes, but this time I aimed for a lighter green colour and a subtler taste – the combination of matcha and ginger was perfect!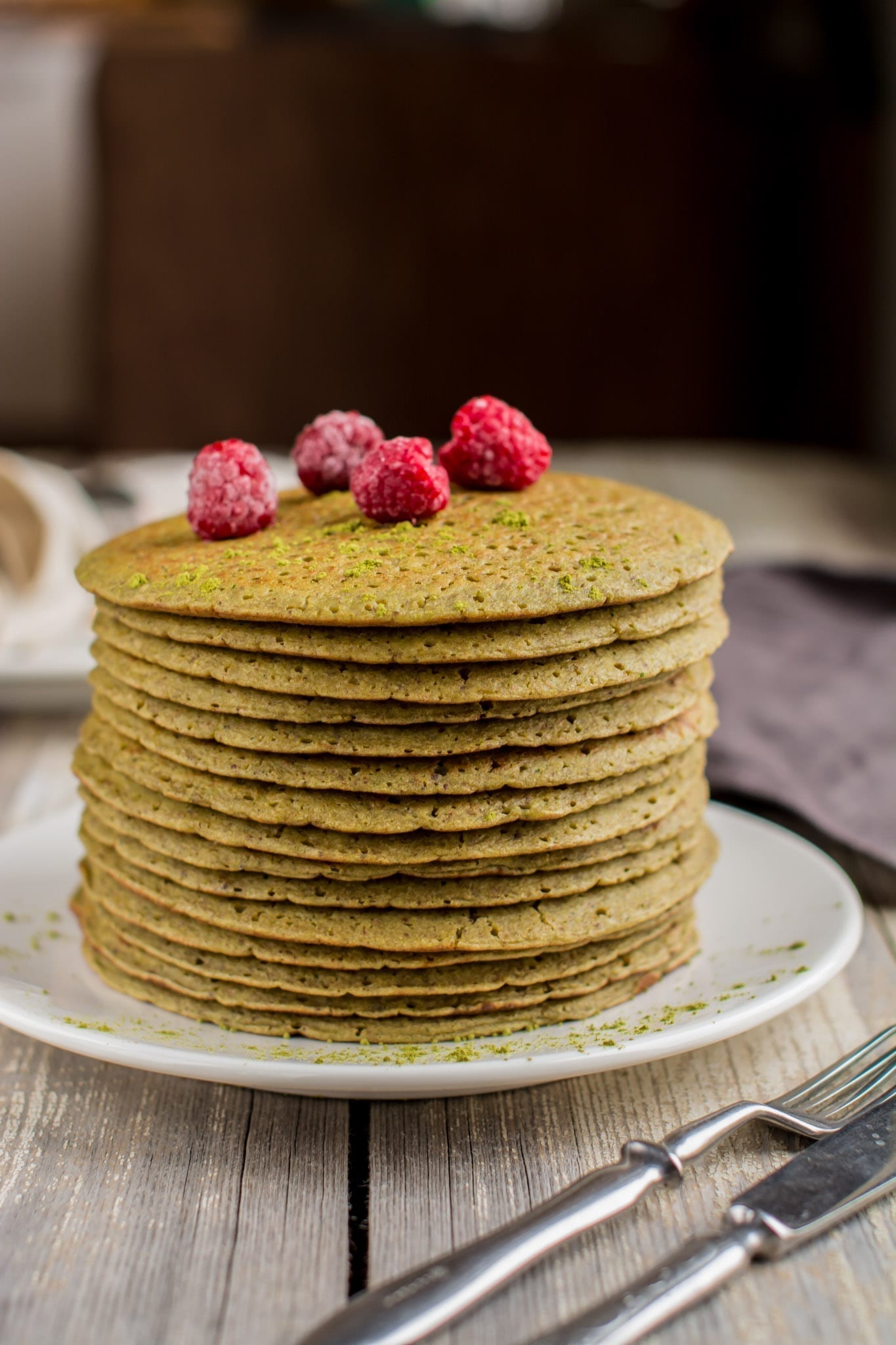 For many of you pancakes are probably a must-have on Pancake Day, even if you are on Candida diet, like myself. The good news is that you don't have to give up the comforting traditions just because you have dietary restrictions or simply want to be healthy. My fluffy and spiced squash-carrot vegan pancakes with buckwheat and oat bran are Candida diet friendly, plant-based, vegan, sugar-free and oil-free. One might claim them to be gluten-free as well, but there's a debate on avenin in oats – some people with celiac disease can tolerate gluten from uncontaminated oat products, but others react with an autoimmune response. Should you be one of those people, substitute oat bran with rice bran.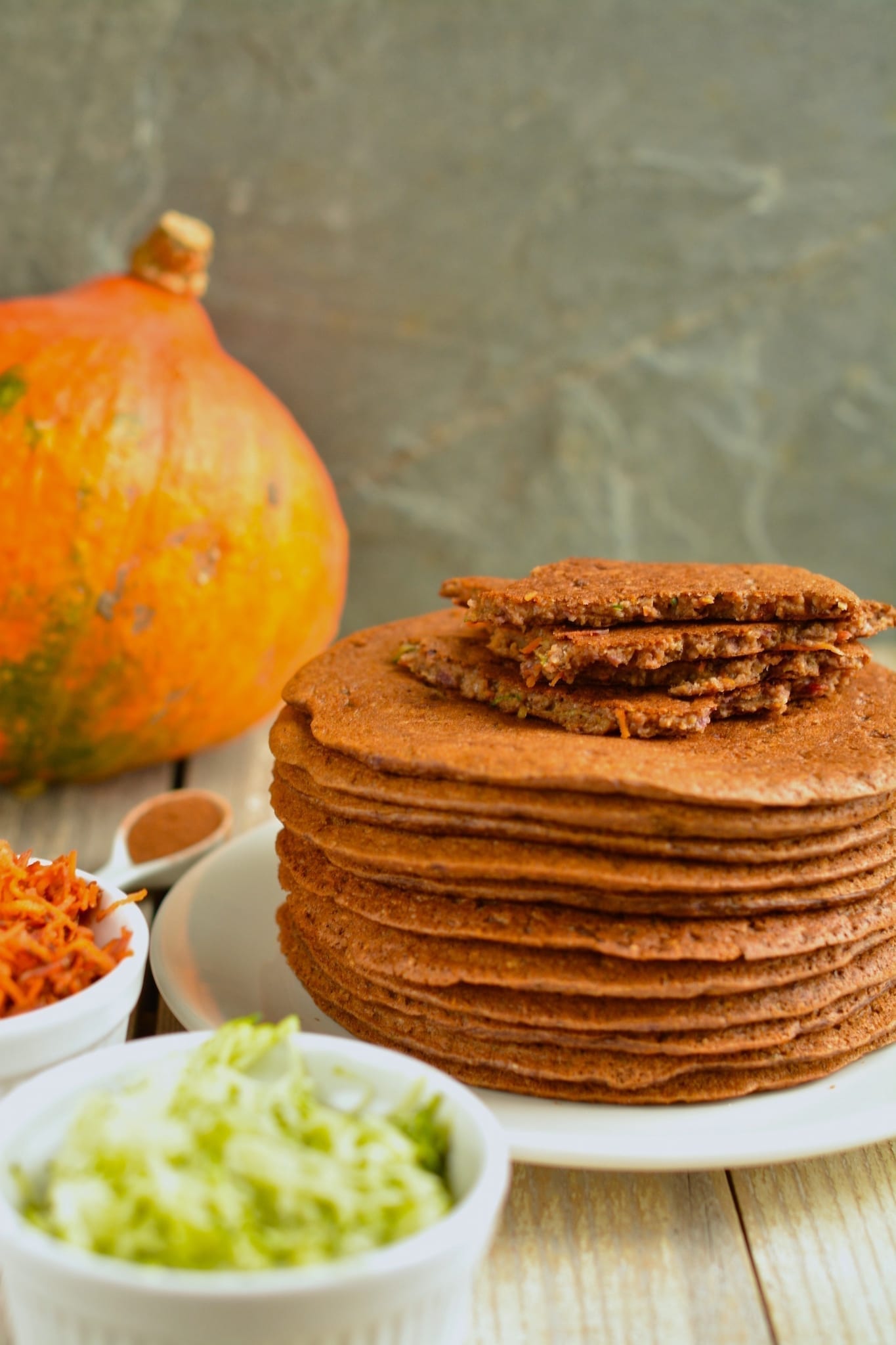 I hope you found a recipe that will satisfy your pancake cravings on the upcoming Pancake Day and got tons of healthy inspiration for those pancake Sundays!
What I love most about my job is to show people that restrictive diet (Candida diet, gluten-free diet, or sugar-free diet) doesn't have to be restrictive at all 🙂 It's just the matter of being creative with the ingredients you have and turn them into something even yummier and prettier than the conventional alternatives!
Finally, I'd love to hear from you! Let me know your favourite vegan pancake recipe in the comments below!
Warm regards,
Nele