Those tofu and beet pancakes have the sweetest colour making them a perfect Valentine's Day treat.
I must say I'm not a huge fan of Valentine's Day because of its commercial background today, but once upon a time it used to be a very sweet tradition. You can read all about it from my last year's post Oat-Banana Cookies.
Remember not to feel obligated to behave in a certain manner forgetting the true meaning of the tradition altogether. I know people who choose to avoid the day entirely just because of its commercialization and remember their friends and loved ones on another day when they're not supposed to do it, thus making the gift more meaningful. What do you think of that?
It's also important not to go overboard – if your loved one likes to be remembered on Valentine's Day then please remember him or her!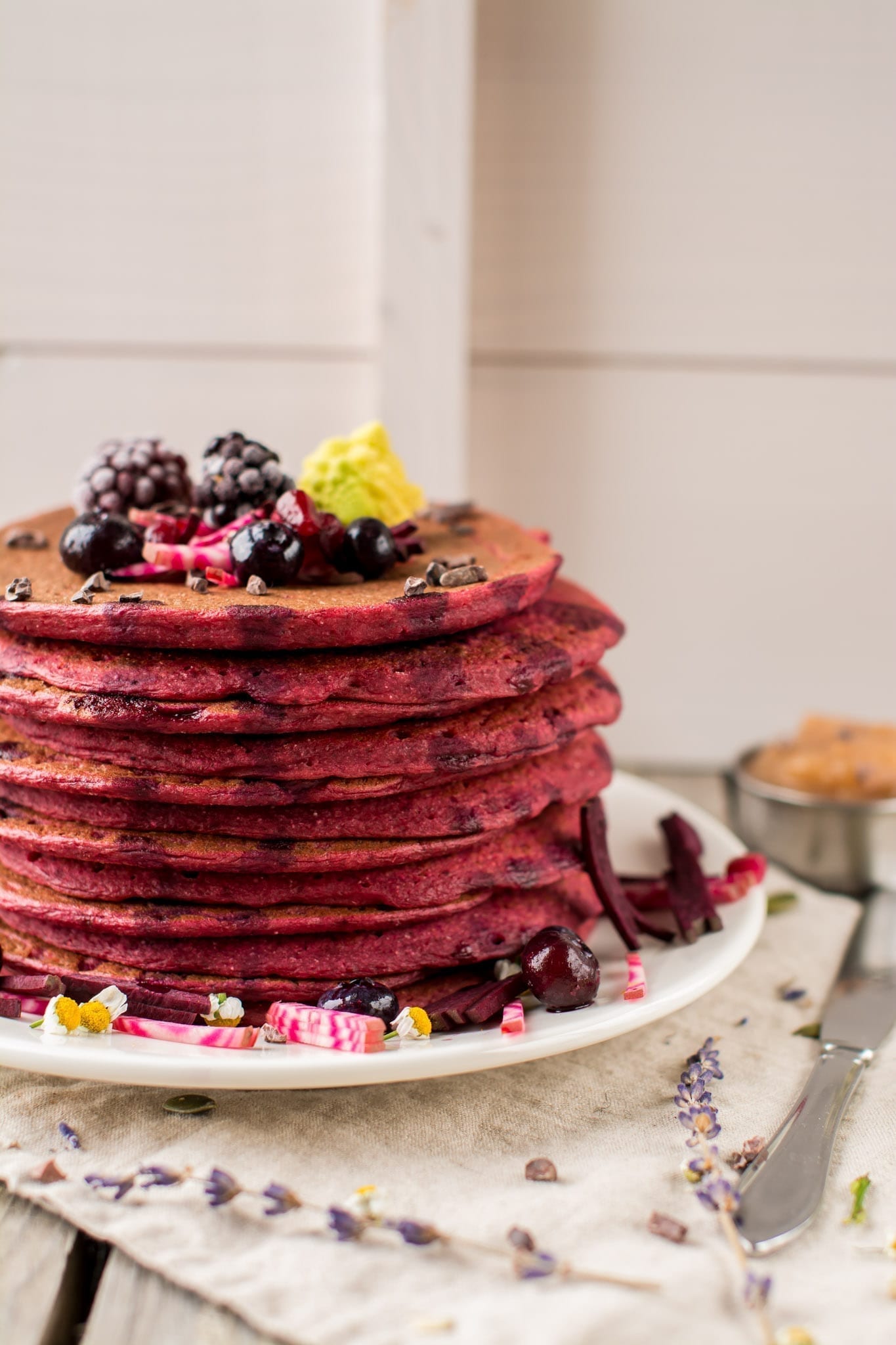 In addition to tofu, soaked raw buckwheat and millet groats I also use chickpea flour, which allows omitting ground flax seeds that I generally use in my pancake recipes. After all, it's better to consume flax seeds raw as opposed to roasted or otherwise heated as heat makes their good fats go rancid.
The tofu and beet pancakes differ from my latest pancake recipes because I substituted oat bran with millet groats. Read all about the reasons from my previous post Chocolaty Sweet Potato Muffins.
This most amazing pink colour comes from raw beetroot and some wild blueberry juice – I went for colourful and regular beetroot. Had I used boiled or oven-baked beetroot, the colour would have been totally different! So, definitely choose raw beet.
I'm sure most of you have had dairy ricotta pancakes at least once in your lives. If you need a comparison, I'd say that this is what my tofu pancakes resemble the most.
My Tofu & Beet Pancakes are vegan, plant-based, oil-free, sugar-free, gluten-free and also Candida diet friendly. Please tag me in social media whenever you try one of my recipes! I'd love to see your creations! Instagram @thenutriplanet and Facebook @nutriplanet.health.hub
Print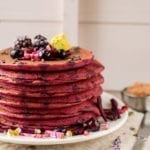 Tofu & Beet Pancakes Recipe
---
Description
Those tofu and beet pancakes have the sweetest colour making them a perfect Valentine's Day treat.
---
150g

(

5.3oz

) raw buckwheat groats, soaked

75g

(

2.6oz

) millet groats, soaked

30g

(

1oz

) chickpea flour

125g

(

4.4oz

) hard plain tofu

450g

(

16oz

) naturally sweet plant-based milk (oat or brown rice) or a mixture of water and milk

2

tbsps. wild blueberry juice or

¼ cup

wild blueberries

½ tsp

. Himalayan salt

40g

(

1.4oz

) raw parsnip, cut into thin slices

2

small raw beetroots (about

90g

,

3.2oz

)
---
Instructions
Soak buckwheat and millet groats overnight. Rinse and drain.
Add the rinsed groats along with other ingredients into blender and blend until smooth and homogeneous batter forms.
Take a good quality non-toxic non-stick pan. Add a few drops of oil onto the pan and swipe it off with folded kitchen paper. Let all the oil absorb into the paper and use it to swipe the pan clean between pancakes.
Put a ladleful of batter onto the pan and even it out with a spoon/ladle or by shaking and/or tilting the pan to get the exact shape of your pan bottom. The frying time greatly depends on your stove. I flip it around when it is almost dry on top and also check the colour of the bottom side.
Keywords: tofu; beet pancakes
Tips for my tofu and beet pancakes:
Unsweetened applesauce goes very well with those pancakes.
They are also excellent with my healthy chocolate sauce.
The pancakes are also very yummy just plain.
If you forgot to put the groats to soak, wash them thoroughly, drain and add 120 grams of liquid to batter.