How about a simple vegan lentil stew with tomatoes for dinner tonight? Potato and lentils make it a comfort food that my family loves and can't get enough of. Scoop out the last bits with a slice of crusty bread and enjoy life!
Furthermore, it's a great recipe for batch cooking – when filming the tutorial video, I doubled the recipe and didn't need to cook for the next few days. Such a win-win!
Besides being so simple, this plant-based lentil stew is also quite versatile as you can easily turn it into lentil soup by adding more liquid. You can eat it as is, use as dressing for salads or Buddha bowls and even pour over a pasta dish. So, taking the time to prepare this one dish, you can have different meals over the next days.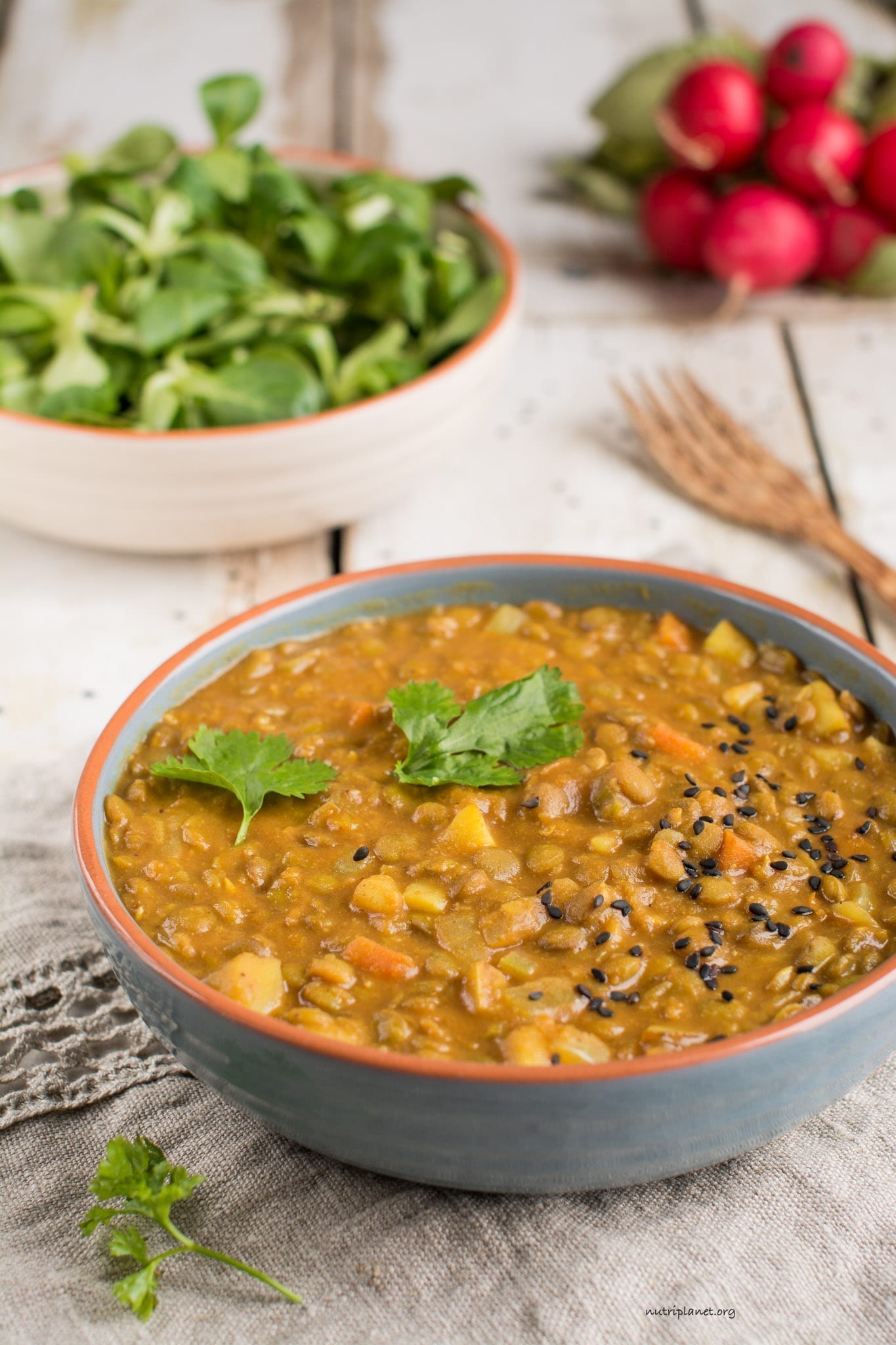 Why soak lentils before cooking
I always soak my lentils, beans, grains, nuts and seeds before cooking/eating, because soaking:
removes or reduces phytic acid and tannins,
neutralizes toxins in the colon as well as enzyme inhibitors,
encourages the production of beneficial enzymes,
makes the proteins more readily available, and
increases the amounts of vitamins, especially A, C and B vitamins.
You could even go further and sprout the lentils before cooking as sprouting reduces the glycemic load even further (carbohydrates diminish and the content of protein and soluble fibre increases).
How to sauté without oil
Now, I don't use any oils, not even olive oil or coconut oil to sauté my onions or other veggies. It's really simple to use water or vegetable broth instead!
How to sauté without oil:
Heat up a few tablespoons of water in a skillet or large pan.


Next, add any veggies or leafy greens.

Sauté them covered for as long as needed. Stir every now and then.

Add water 1-2 tablespoons at a time whenever it evaporates.

See, it's as easy as that – you just used whole food ingredients and didn't even compromise on flavour!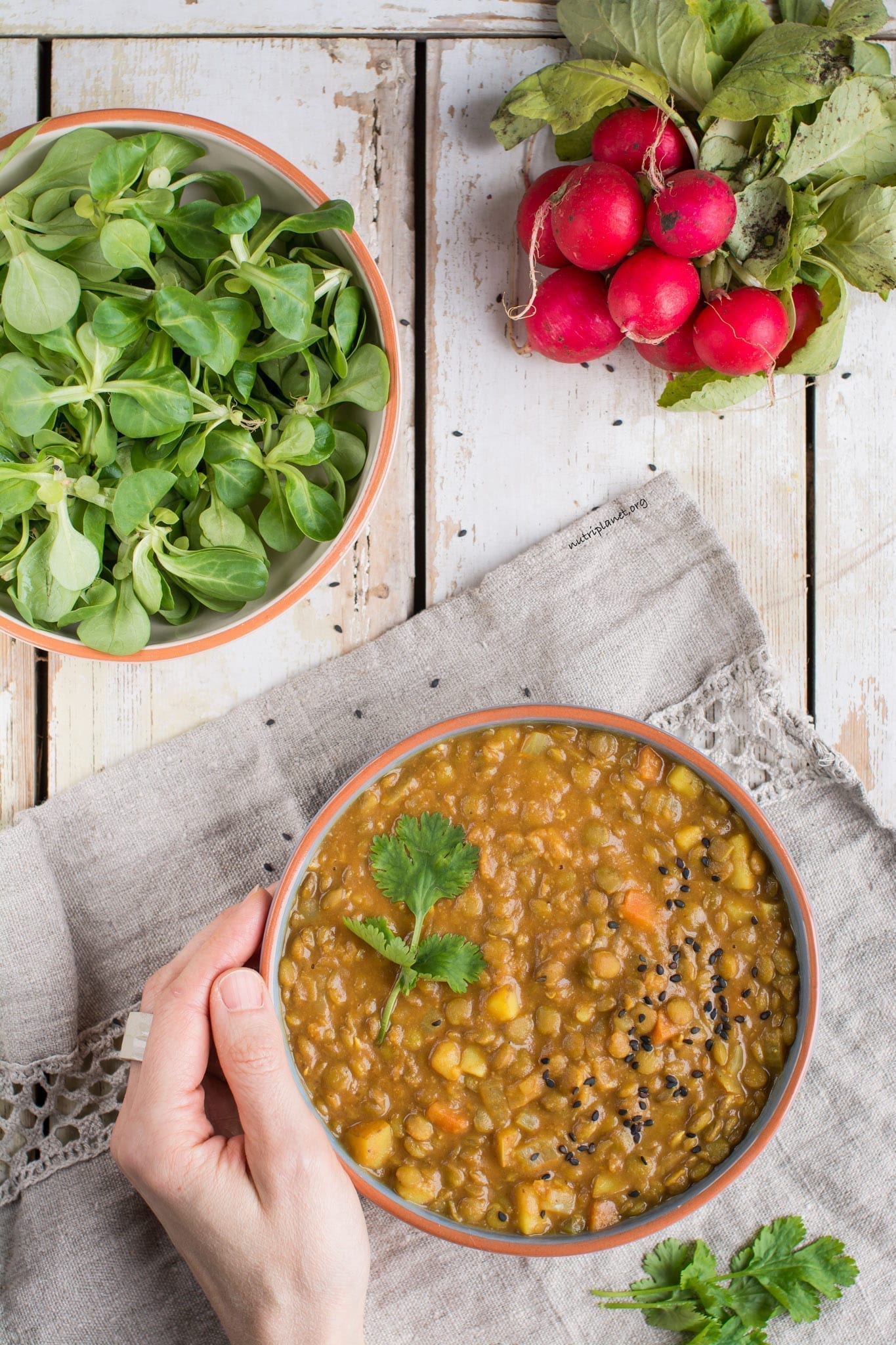 Why you should try my vegan lentil stew:
Easy and quick recipe with simple ingredients.
Perfect for batch cooking, i.e. making your life easier.
Many uses from stew or chowder to pasta sauce. Whole food ingredients make it ultra healthy.
My lentil stew is a perfect vegan comfort food even for those on restricted diet as it's:
Low-fat
Oil-free
Gluten-free
Grain-free
Nut-free and peanut-free (see sub info below)
Soy-free
Low-glycemic (watch the quantities though)
Candida diet friendly (see tips below for cleanse phase)
Finally, I'd love to hear from you! Are you into lentil stews? Do you have any special hacks and tricks? Let me know in the comments below and tag me if you share your creations on social media!
Vegan Lentil Stew with Tomatoes
Print
ingredients
200g (7oz) dry green lentils
1 medium yellow onion (60g, 2.1oz)
2 medium or 3 small garlic cloves
1 large celery stalk
1 large carrot
1 medium potato (about 160g, 5.6oz)
1 tbsp. turmeric
2.5 tsps. crushed cumin seeds
2.5 tsps. crushed mustard seeds
1¼ cup unsalted tomato puree
1 tbsp. additive-free peanut butter
¾ tsp. Himalayan salt (or less)
Black pepper to taste
Print
directions
Start by soaking lentils for 6-8 hours. Rinse, drain and set aside.
Next, prepare the spices – toast cumin seeds (from 30 seconds to 1 minute until your nose just gets a whiff of smoke and fragrance) and mustard seeds (2-5 minutes until fragrant and lightly browned, removing from heat when the seeds start to pop) on a dry pan, let cool and crush using mortar and pestle. Or make a bigger batch and grind in a spice grinder. Learn more about dry-roasting Indian spices.
Then, crush garlic cloves, finely dice onion and chop up carrots, celery and potato.
Heat up a few tablespoons of water in a skillet or large pan. After that, throw in onions and sauté them for 2-3 minutes stirring every now and then. Add water 1-2 tablespoons at a time whenever it evaporates.
Next go in the carrots, celery, potato cubes and turmeric. Give everything a good stir and sauté for another few minutes. If you didn't toast the spices, throw them (crushed) in along with turmeric. Again, add extra water if necessary.
Next, pour in soaked lentils and enough water to almost cover the ingredients. Mix well and cover with lid. Bring to boil, then reduce the heat and simmer covered for 15 minutes or until the lentils are tender. At this point, mix in crushed garlic and toasted/crushed cumin and mustard seeds. You may add garlic when the stew is done – read why from the tips below.
Then, add tomato puree and mix well. Bring to boil and simmer for another 5 minutes. You may leave the lid off, if there's plenty of liquid or add extra water if necessary.
When the stew is done, mix in peanut butter. Make sure it's well incorporated.
Finally, let cool a bit before you add salt and black pepper to let the tastes settle.
Garnish with fresh herbs, i.e. onion greens, parsley or coriander.
Nutritional info per serving (¼ of the recipe): 274 kcal, 42.1g carbohydrates (72.4% of kcal), 3.09g fats (10.1% of kcal), 15.8g of protein (23% of kcal), 7.58g fibre, 260mg sodium, and 13 GL points.
If you want to have pasta, rice or other grains with your dish, but need to keep the GL points under 20, halve the lentil stew portion and add about ¼ cup of cooked grains (brown rice, millet, buckwheat, quinoa, amaranth) or pasta.
Serving tips for my vegan lentil stew
Make a balanced bowl and add my lentil stew to (choose one or more options):
Lettuce and/or arugula.
Steamed leafy greens (collard greens, turnip greens, kale, card, pak choi, or spinach).
Steamed veggies (Brussels sprouts, broccoli, cauliflower, Chinese cabbage, or asparagus).
Oven baked veggies (bell peppers, cauliflower, beetroot, carrots, turnip, parsnip or mushrooms).
Raw veggies (sauerkraut, white or red cabbage, turnip, carrots, radishes or bell pepper).
Substitution tips on my vegan lentil stew:
Alternatively, use 5 teaspoons of my Indian Spice Mix instead of cumin and mustard seeds or replace turmeric, cumin and mustard seeds with 2½ tablespoons of your favourite curry powder.
Feel free to use vegetable broth instead of water for sautéing.
Any lentils would work in this vegan lentil stew – unhulled red lentils, brown lentils, or any variety of green lentils.
Try substituting regular potato with sweet potato – it'll be a delight!
You could use 1¼ cup of finely diced tomatoes instead of tomato puree.
Feel free to use any nut or seed butter instead of peanut butter – almond butter or tahini would work great in this recipe. Also, coconut milk is an option if you have nut allergies.
Try replacing Himalayan salt with low-sodium soy sauce or tamari sauce – it'd give perfect umami to your dish!
Finally, if you're on Candida cleanse phase, sprout the lentils before cooking, ditch potatoes (add another carrot) and use tahini, almond butter or coconut cream/milk instead of peanut butter.
More useful tips on this lentil stew recipe:
To enhance the flavours and make the legumes even more digestible, add a bay leaf along with soaked lentils and water. Discard it when the stew is done. Should you dislike the taste of cumin seeds (I know, some people do), then leave them out or substitute with caraway seeds.
Sometimes life happens – should it be that you don't have time to soak the lentils (or you just forgot), make sure to wash them thoroughly and add more water while preparing. 200g (7oz) of dry green lentils soak in about 220g (7.76oz) of water.
As the tastes settle, always add salt when the dish has cooled a bit. You'd always sprinkle more if you taste your food hot.
To get the most out of garlic, stir it in when the stew is done and you've turned off the heat. The reason is because cooking garlic destroys the garlic's ability to make allicin and makes cooked garlic generally not as beneficial as raw garlic.