Here's the best chewy and soft gingerbread cookies recipe that makes your house smell of holiday flavors. It's a quick and easy recipe requiring 8 ingredients and 45 minutes to make.
Before we go on, considering that this post is quite long, I'd like to give you a brief overview of what to expect:
In the beginning I describe how I achieved the chewiness and softness of those gingerbread cookies.
After that I point out all the good qualities of the cookies.
Most importantly, you'll find many useful tips below the recipe: how to decorate the cookies, substitution tips as well as additional recommendations to succeed with this recipe.
Then, given that you'll have some cookies left over, I share my tricks for storing.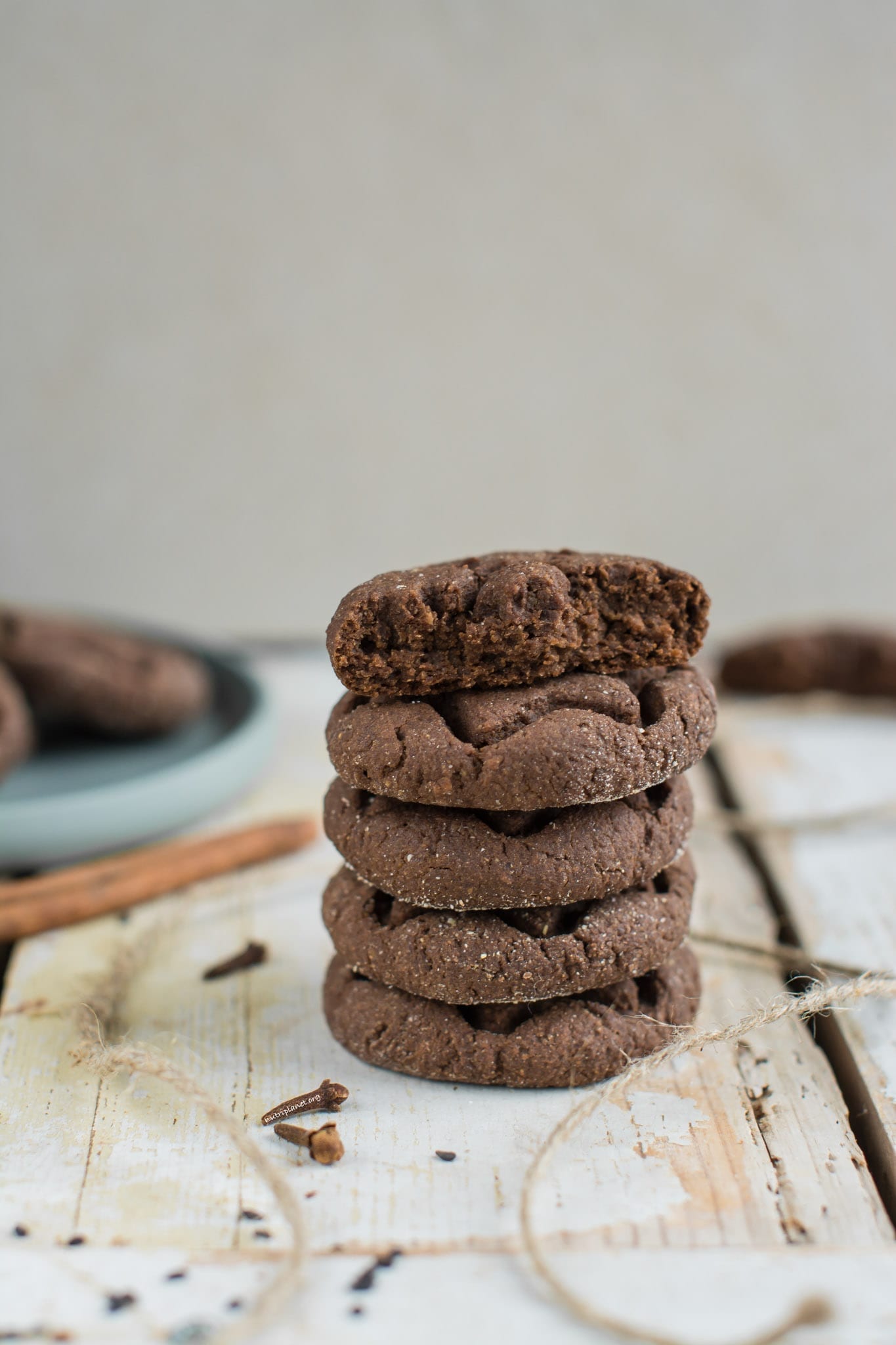 Henceforth, it's a simple homemade recipe for those who love gingerbread with all the perfect spices that come with it. I use my own homemade gingerbread spice mix for this recipe. I definitely recommend making a big batch for the holiday season – it comes handy if you bake as often as I do or love to use the spice mix anywhere you can, e.g. even in your morning porridge.
Another key point is that my gluten-free soft gingerbread cookies are also as healthy as they can get – they do not contain refined sugar (not even brown sugar), refined flours and oils or butter. Furthermore, my soft gingerbread cookies come without molasses. So, what's in them?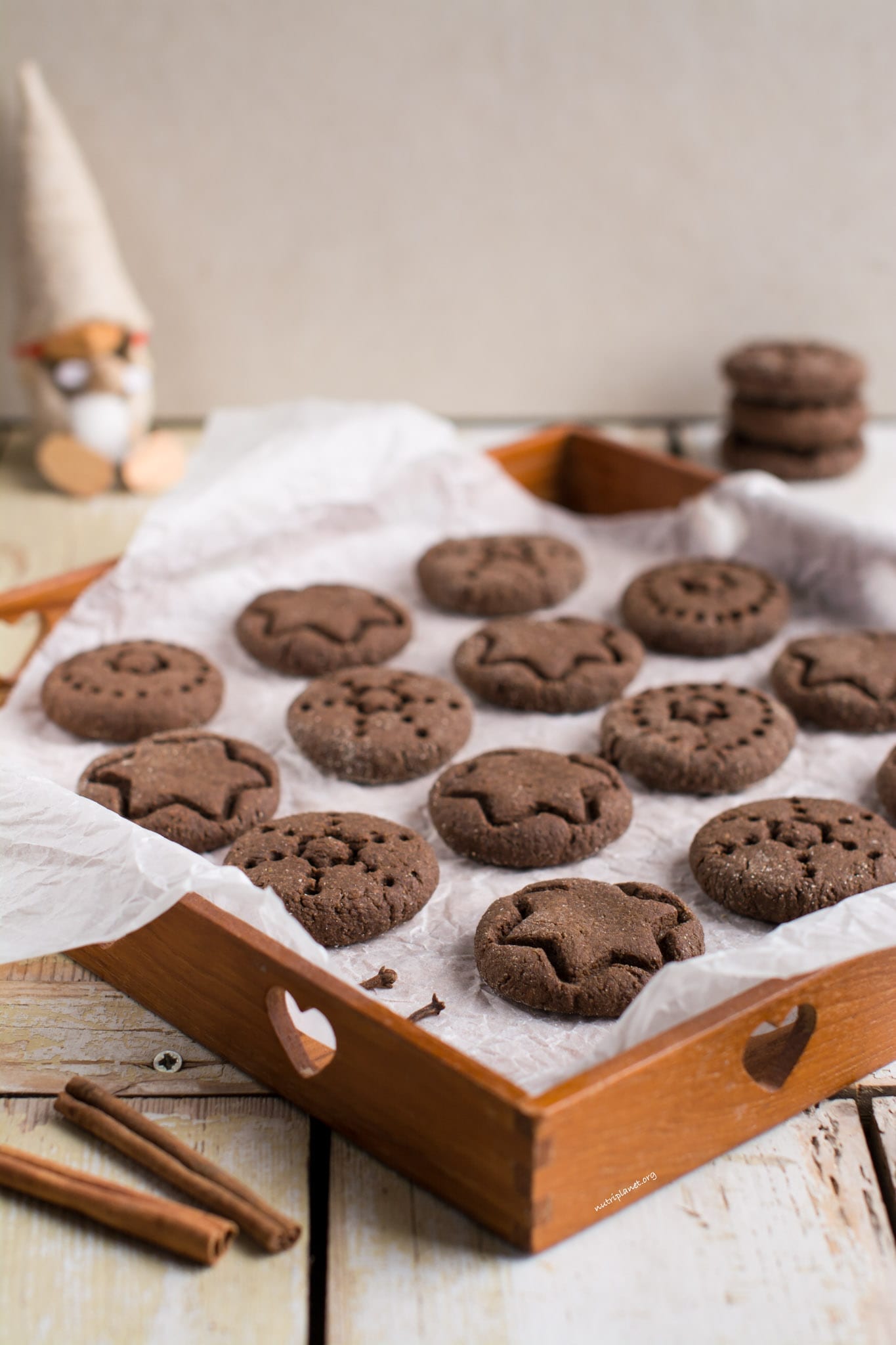 How to make healthy chewy and soft gingerbread cookies.
I've been obsessed with chickpeas in gluten-free vegan baking ever since I discovered chickpea cookie dough bites. So, it felt very natural to include them into this year's gingerbread cookies recipe.
It's very easy to achieve chewiness if you don't use any refined ingredients – whole foods naturally need chewing before you can swallow them. This in turn results in better digestion and consuming smaller quantities as your brain will have time to receive the "full stomach" signal. So, no melting in your mouth like with refined flours, sugar and butter.
While almost all the ingredients contribute to chewiness (except salt, sweetener and plant milk), the softness comes from… well, soft batter 🙂 However, it's not as simple as that! The batter stays soft after baking because it has very little grain-based flour in it – most of the mass is chickpeas, tahini and nut flour that do not absorb much liquid.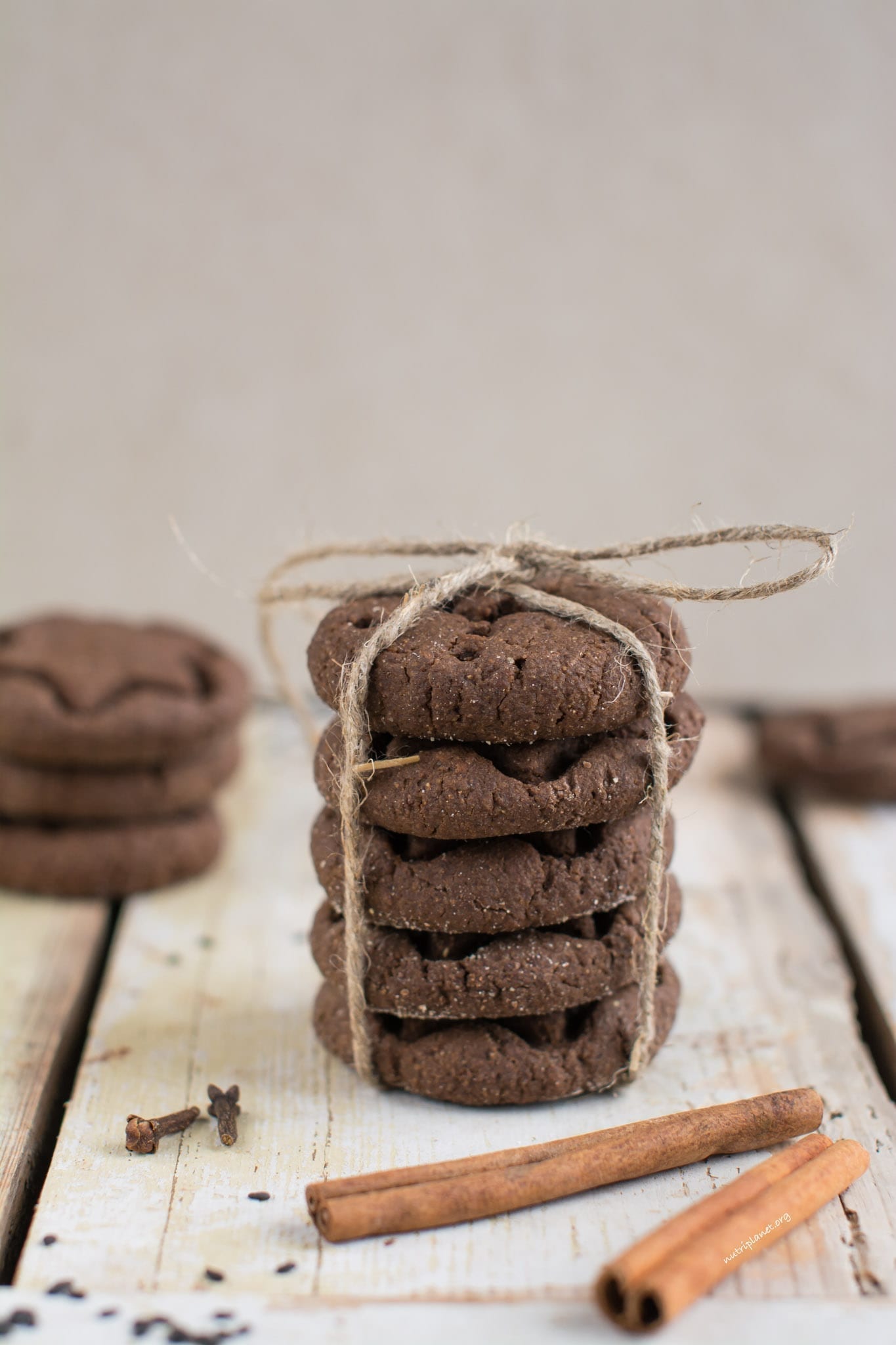 What makes them the best soft gingerbread cookies?
Simple recipe with 8 ingredients (not counting salt and sweetener)
Gluten-free
Refined sugar free
Suitable for those on low glycemic diet and vegan Candida diet
Diabetic friendly
Kid-approved – my kid's classmate loved them when he was over. In fact, he couldn't get enough!
Soy-free
Peanut-free
Low in grains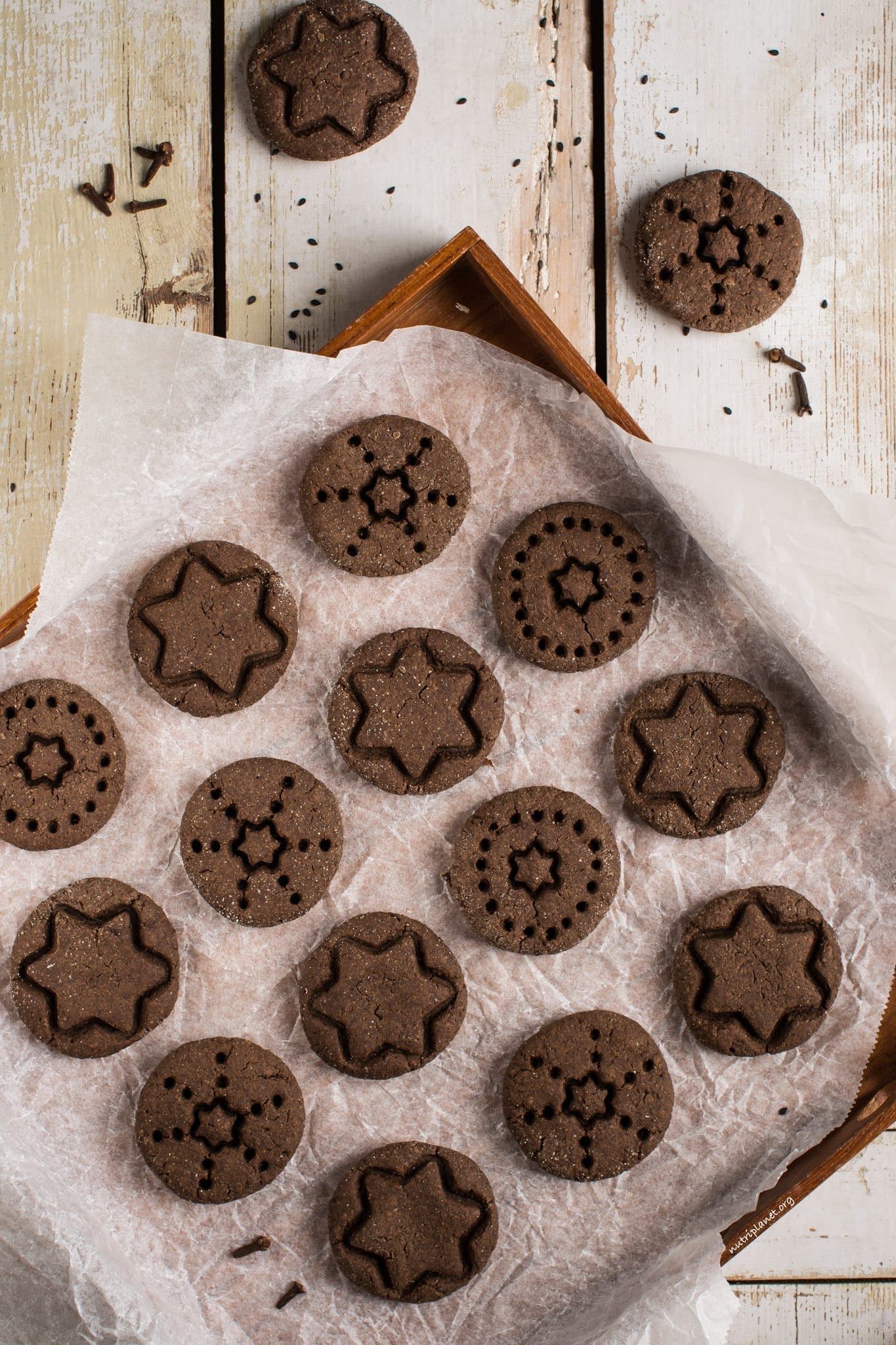 If you feel that you're into traditional rollable Christmas cookies, check out the other gingerbread cookie recipes up on my blog: Gluten-Free Vegan Gingerbread Cookies, Vegan Gingerbread Recipe, Whole Food Plant-Based Gingerbread. While the first two are also suitable on Candida diet, the latter contains dates as sweetener.
Finally, please let me know what you think of my chewy and soft gingerbread cookies recipe! After all, I've never come across any gingerbread cookies using chickpeas before 🙂 Leave me a comment below! If you make this recipe and post about it, please tag me – I'd love to see your creations! Instagram, Facebook and Twitter.
Enjoy!
Print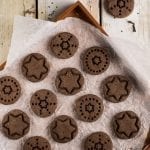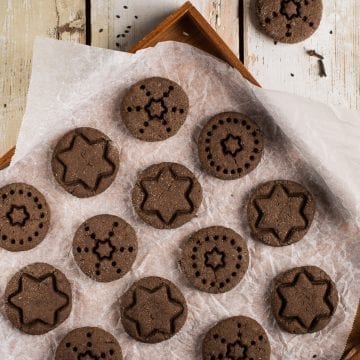 The Best Soft Gingerbread Cookies [Gluten-Free]
---
Author:

Nele Liivlaid

Total Time:

55 minutes

Yield:

21

cookies

1

x
Description
Here's the best chewy and soft gingerbread cookies recipe that makes your house smell of holiday flavors. It's a quick and easy recipe requiring 8 ingredients and 45 minutes to make.
---
---
Instructions
Start by adding all ingredients (except buckwheat flour) into food processor and process until you have homogeneous batter. Check substitution tips if you don't have food processor.
Then, blend or mix in buckwheat flour.
Preheat oven to 350°F (175°C).
Next, take ungreased cookie sheet (or baking sheet) and line it with parchment paper. Weigh about 30g (1.06oz) pieces of cookie dough and, using the help of two spoons, place them onto baking sheet. You'll get about 21 cookies (given that you don't eat much dough).
Now, you have two options. First, you can shape your gingerbread cookies using a fork. Secondly, you can make neat-looking cookies by flouring your hands and shaping them into same-size discs. To achieve that, start by making a small ball between your palms and then press it down and shape into regular circle. Flour your hands as needed – the cookies are quite soft.
Bake the cookies for 25 minutes, and then transfer onto cooling rack and let cool completely.
Notes
One cookie has 2.5 GL Points.
Nutritional info per cookie (with date sugar): 76.3 kcal, 6.15g carbohydrates (49.9% of kcal), 3.3g fats (39% of kcal), 4.08g protein (21.4% of kcal), 2.84g fibre, and 30.6mg sodium.
Prep Time:

30 minutes

Cook Time:

25 minutes

Method:

Baking
Nutrition
Serving Size:

1 Cookie

Calories:

71.6 kcal

Sodium:

30.6mg

Fat:

3.23g

Carbohydrates:

5.22g

Fiber:

2.84g

Protein:

4g
Keywords: gingerbread cookies
How to decorate my soft gingerbread cookies
You can go for my vegan sugar-free Royal icing or vegan cream cheese frosting. My Royal icing is made of xylitol and is therefore suitable also for those on low glycemic diet or Candida diet. Check the recipe post for all the natural colourings you can use to spice things up!
Finally, you can also make use of rubber stamps, cookie forms and chopsticks to create beautiful patterns. I used a bigger and smaller star-shaped cookie form and a chopstick for the patterns you see on photos. In the video I utilised a small fork to shape the cookies and to draw stripes on top of them. Make sure you press the patterns BEFORE the cookies go into oven!
Substitution tips for my soft gingerbread cookies recipe:
If you don't have food processor, use your regular or immersion blender to process chickpeas, plant milk, tahini and xylitol into homogeneous batter. Mix all the other ingredients in a large bowl, pour the wet mixture over and mix well. I used the same method for my vegan gingerbread cake.
You can easily use butter beans or even black or red kidney beans instead of chickpeas.
Instead of tahini, you may use any other additive-free nut or seed butter.
Almond milk can be substituted with any other additive-free plant milk: oat milk, rice milk, cashew milk, hemp milk, or soy milk etc.
Feel free to use liquid stevia instead of xylitol: 1 tablespoon of xylitol equals about 12 drops of stevia.
Should you not struggle with Candida overgrowth or unstable blood sugar, feel free to use any preferred sweetener, i.e. brown sugar (raw cane sugar), coconut sugar, maple syrup, blackstrap molasses, or agave syrup.
You can use any fat-reduced nut flour instead of almond flour – coconut flour, peanut flour, pumpkin seed flour, pistachio flour etc. Make sure the flours (protein powders) are additive-free. Especially watch out for added sugars. If you make your own almond milk, dehydrate the pulp and then grind it into fine flour. Use it in recipes that call for fat-reduced nut flour.
Next, you can use other gluten-free flours instead of buckwheat flour, e.g. teff flour, oat flour or rice flour. I wouldn't recommend using 100% rice flour though as it has quite strong taste.
More tips for the best chewy and soft gingerbread cookies:
You might need to add a bit more plan milk (about a few tablespoons), if you use home-cooked chickpeas or beans. It's because in my experience, canned chickpeas (and beans in general) tend to be a lot moister than home-cooked ones. Check the consistency of dough from video above.
Make sure you use fat reduced almond (or any other nut) flour, i.e. protein powder and NOT ground almonds. If you're not sure, check the label – the fat content per 100 grams should be about 10-14 grams. If there're 50-60 grams of fat, it's ground nuts and your dough consistency will be totally different.
How to store my soft gingerbread cookies:
Given that you'll have some cookies left over, feel free to leave them in a container or cookie jar on kitchen counter (with lid loosely on) for up to 24 hours. In case you don't mind the cookies drying up a bit, you might leave them even longer.
In my opinion it'd be the best to freeze the cookies as soon as they've cooled down. Put the cookies in a freezer friendly container or zip lock bag and freeze for up to 1 month (or even longer). Heat them up in oven or microwave whenever you need a quick bite or a convenient go-to snack.
Disclaimer: this post contains Amazon affiliate links.