This vegan cauliflower oatmeal is a perfect low glycemic breakfast porridge recipe that won't make your blood sugar spike.
Definitely go to post Low Carb Vegan Breakfast Porridge Guide to learn the principals of cooking a balanced and delicious low glycemic porridge.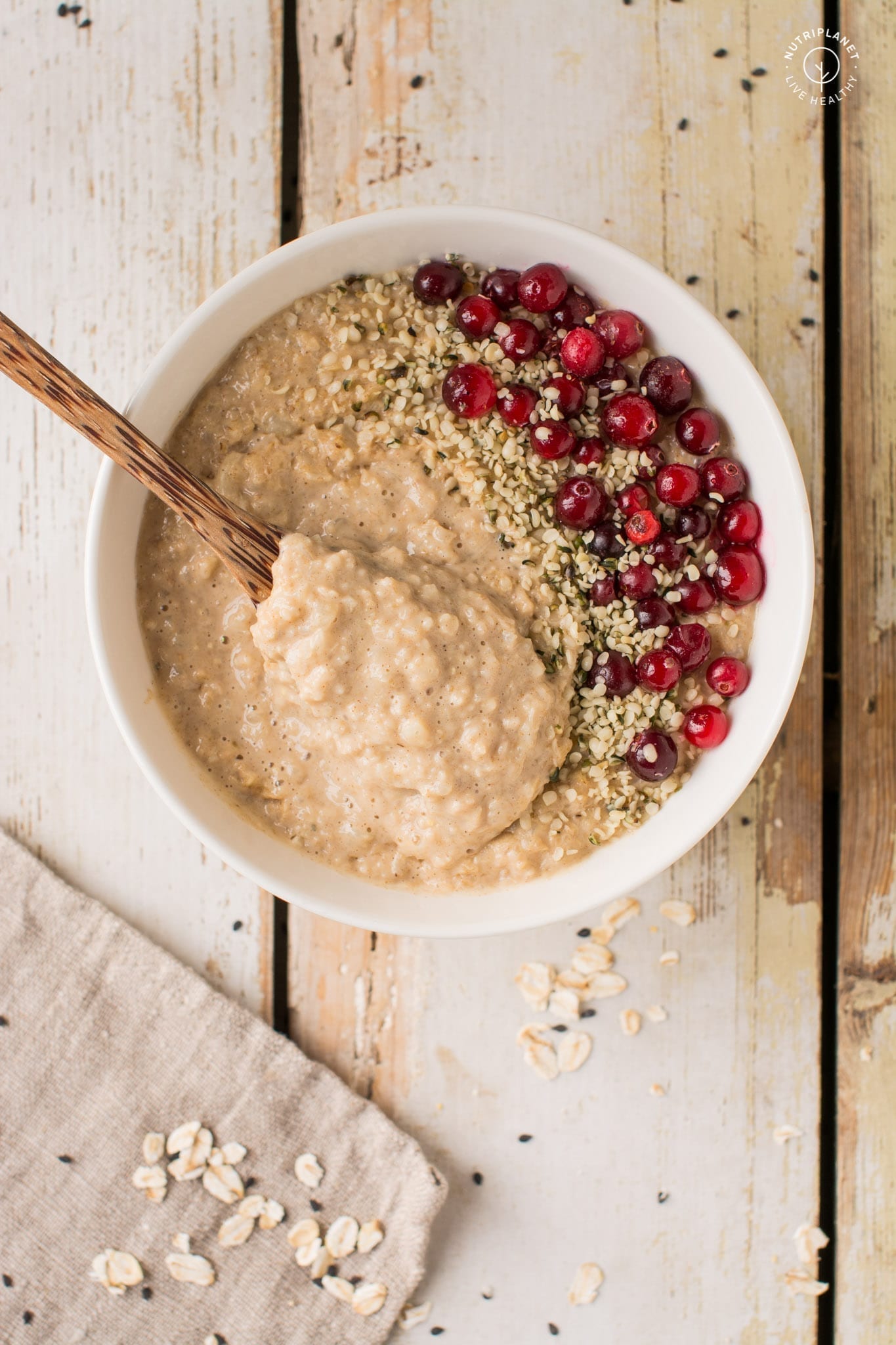 The Story
I first discovered cauliflower as an excellent breakfast porridge ingredient when I started vegan Candida diet back in 2016. I'm not afraid to tweak existing recipes or come up with totally new ones in order to feel the best that I possibly can. After all, it's exciting to try new combinations and discover new cooking hacks.
Hence, I woke up one morning and it suddenly came to me how wonderful it would be to add riced cauliflower to my porridge to diminish the quantity of grains and therefore lowering glycemic load. Needless to say, I absolutely loved the result! Both raw and briefly cooked cauliflower worked well for me. Feel free to experiment and find out what's best for you.
This cauliflower oatmeal is one of my favourite low carb porridges as it:
has a perfect texture
is so filling
has got volume
How to make this recipe even lower in carbs with a fewer glycemic load points:
Use only oat bran, i.e. 40 grams.
Instead of rolled oats, add 2 tablespoons of ground flaxseeds or chia seeds or the combination of both to cooked porridge (add liquid for desired consistency). Always grind your own seeds. Use a spice/coffee grinder.
Ditch mesquite flour.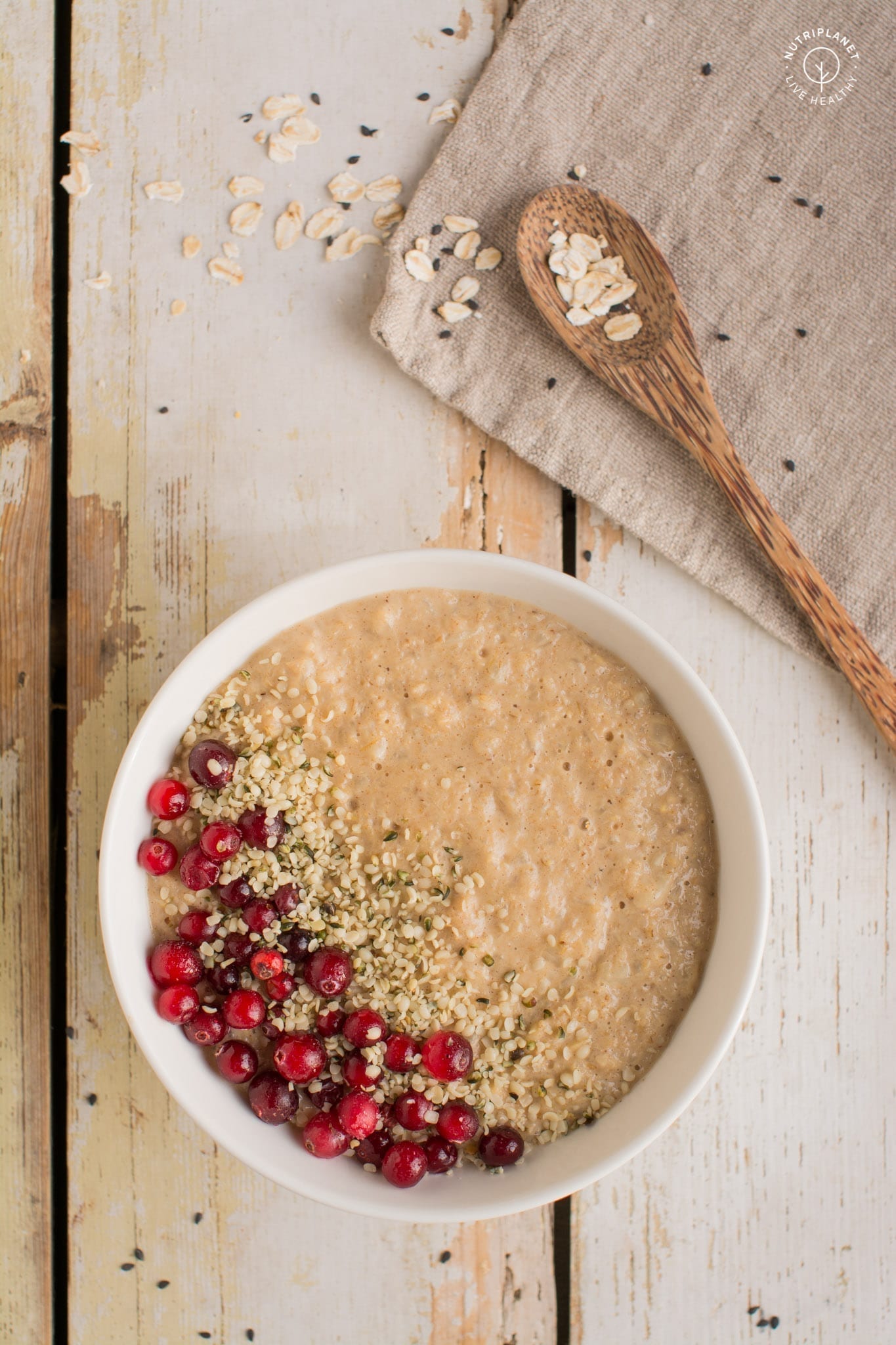 You may of course tweak this recipe to your liking by ditching, adding or swopping ingredients. However, if your aim is to have low glycemic porridge:
Don't add any high GL sweeteners, e.g. maple syrup, coconut nectar, coconut sugar, date sugar, raw cane sugar etc. Find out which are suitable low glycemic sweeteners from blog post Low Carb Vegan Breakfast Porridge Guide.
Stay away from dried fruit (dates, figs, raisins, apricots etc.) and sweet fresh fruits (banana, mango, persimmon).
By all means, don't increase the amount of grains.
I love this cauliflower oatmeal recipe so much because it's:
Plant-based
Dairy-free
Gluten-free
Candida diet friendly
Low glycemic
More Low Glycemic Breakfast Ideas:
Lentil and Oat Bran Porridge
Low Carb Chocolaty Overnight Oats
Vegan Omelette with Sprouted Chickpeas
Creamy Oat Bran Porridge with Silken Tofu
Sweet Mung Bean Breakfast Porridge
Spiced Oat Bran Porridge with Carrot and Zucchini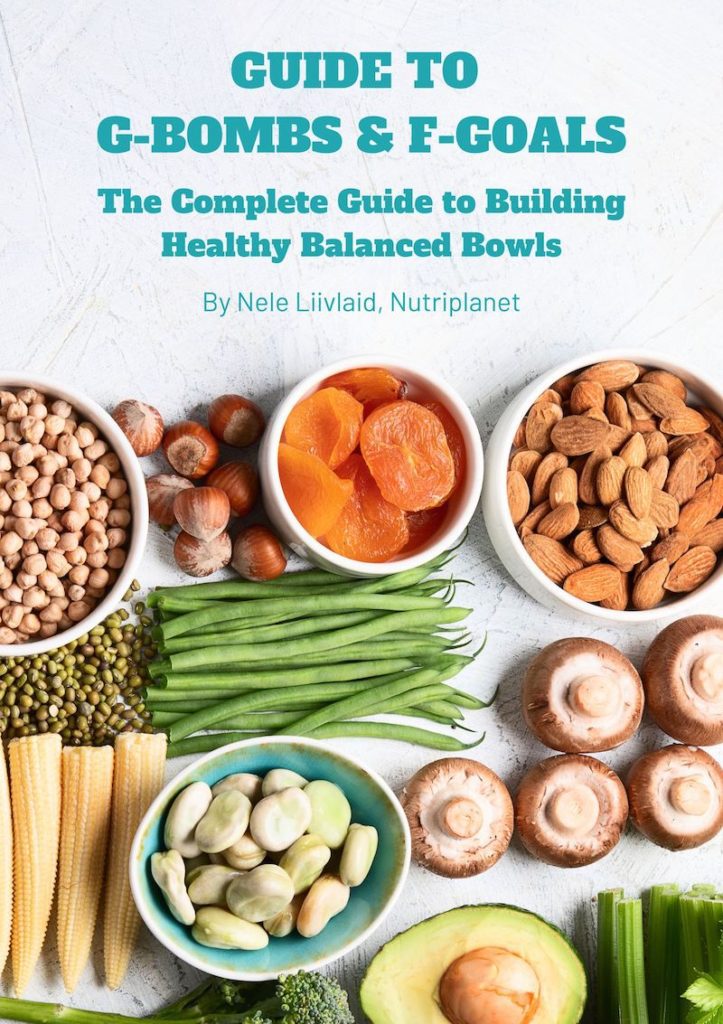 Step-by-step visual guide to building your own balanced bowls.
Print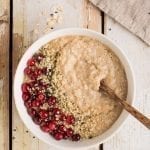 Cauliflower Oatmeal
---
Description
This vegan cauliflower oatmeal is a perfect low glycemic breakfast porridge recipe that won't make your blood sugar spike.
---
---
Instructions
First, in a small bowl pour enough water on the rolled oats to cover. Set aside.
Then, using a grater or food processor, make riced cauliflower. You can prepare a bigger batch and store the leftovers in a sealed container or glass jar in fridge for the next days.
Next, cook oat bran in soymilk or water for 5 minutes over medium to low heat stirring occasionally. Add the riced cauliflower for the last 2 minutes. You can also cook the bran and cauliflower together for 5 minutes if you like softer and mushier cauliflower. 
Now, turn off the heat and mix in the soaked rolled oats along with cinnamon, ginger, salt and mesquite flour. Add water or plant milk if necessary.
Transfer the cauliflower oatmeal into porridge bowl and top with cranberries and seeds.
Notes
This recipe is worth 20 glycemic load points.
Feel free to use almond milk instead of soymilk. Coconut milk is also un option if you're not concerned about the fat content.
Any nuts or seeds can be used instead of sunflower seeds. If you prefer nut and seed butters, opt for additive free varieties, e.g. peanut butter, almond butter, cashew butter, sunflower seed butter, tahini etc.
As far as spices go, add your favourites and ditch the ones you don't particularly enjoy.
Blueberries, raspberries, blackberries or lingonberries would gladly enjoy the spotlight on top of your cauliflower oatmeal bowl. Stick to mildly sweet and sour berries though, if your aim is to have a low glycemic breakfast.
Mesquite flour can be substituted with monk fruit powder or yakon powder.
Turn this recipe into chocolaty cauliflower oatmeal by using carob and/or cacao powder.
Prep Time:

10

Cook Time:

5

Method:

Stove
Nutrition
Serving Size:

1 serving

Calories:

285

Sodium:

221mg

Fat:

9.8g

Carbohydrates:

33.6g

Fiber:

11.2g

Protein:

15.1g
Keywords: porridge, cauliflower
Disclaimer: this post contains affiliate links. As an Amazon Associate I earn from qualifying purchases. For every purchase made from the links in this post, you'll be able to support my work. So you can look after your health, and contribute to my mission at the same time. Thank you!
Feel free to PIN the below image!