by Nele Liivlaid (Nutriplanet)
More than a year ago I could not have imagined putting beans into a brownie. As I was in search for a oil-free brownie I came across of this recipe using beans and was quite sceptic at first. However, after trying it out it became one of my favourite sweet treats. I developed the recipe to my own taste and gladly share the outcome with you!

When offering this brownie to guests for the first time, I did not advertise it as bean brownie, but let them guess the ingredients. No one guessed right and people were very surprised hearing the brownie contained beans. Now, I have to warn you that there are two kinds of people – the ones who love it and the ones that do not get overly excited. I and my family definitely fall into the first category.
Ingredients:
The brownie:
1 cup dates
enough water to cover the dates
2 big ripe bananas
2 heaped tbsp peanut butter (with no additives)
2 cans beans of choice (I like black beans), washed and drained
2 tbsp carob powder
2 tbsp raw cacao powder
100 ml coconut milk
1 cup boiled or oven-baked beetroot, grated (measure grated)
4 tbsp oat flour (not heaped)
Cashew Cream:
1 ½ cup cashews
½ cup water
3 tbsp coconut oil
2 tbsp agave syrup
¼ tsp sea salt
Preparation
The brownie:
Chop the dates and put them in a food processor with water. Let soak for at least 30 minutes.
Add all the other ingredients of this brownie recipe (except the flour) into food processor and process until smooth with no pieces. You might need to scrape down the sides during the process.
Add flour and process again.
Heat your oven to 175 Celsius (350 F). Line a round 24 cm (9.45 inches) baking tin with parchment paper, pour the batter in and bake for about 30-35 minutes, until you see cracks forming on top of the brownie. Let cool.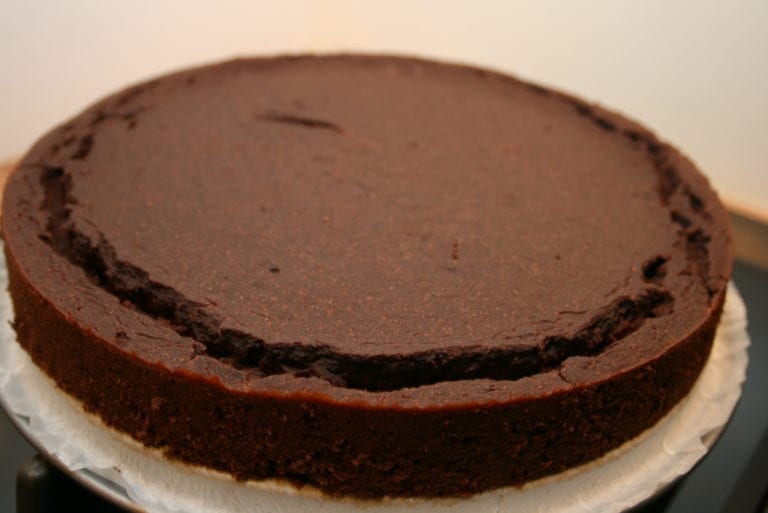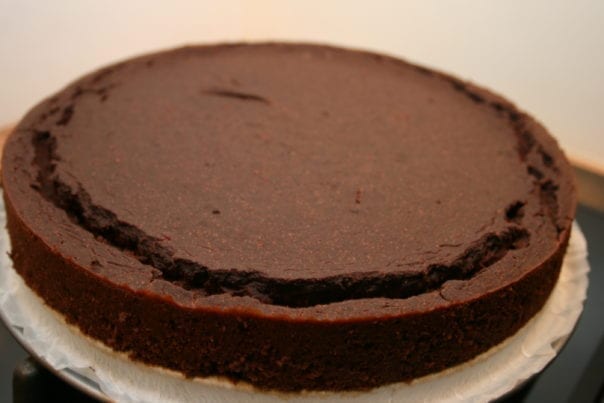 Cashew Cream:
Throw all ingredients in high-speed blender. Blend until smooth and creamy. Transfer to a bowl and keep in fridge.
Now, you can spread the cream on top of the brownie or just serve with individual slices.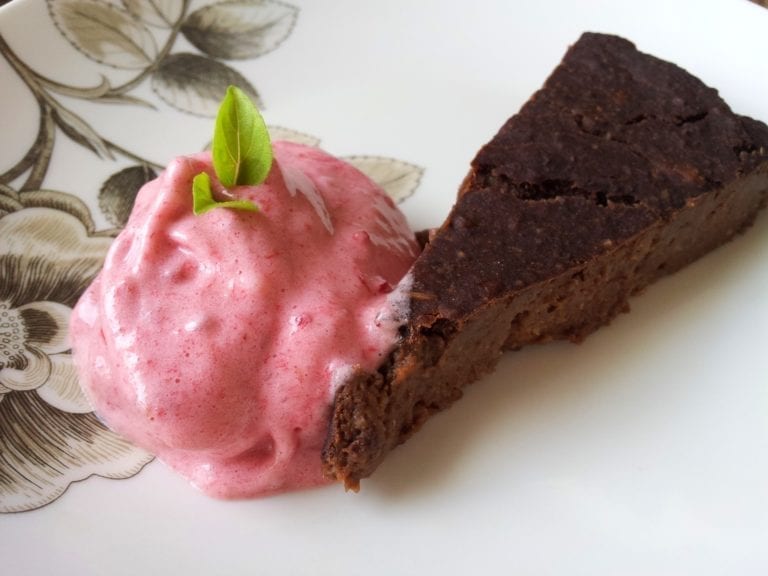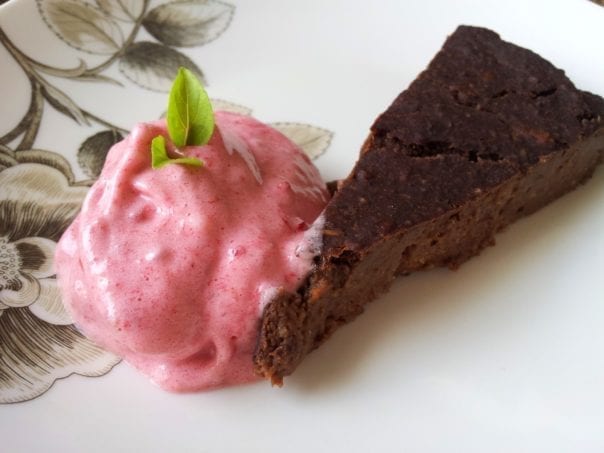 You can also prepare it without the cashew cream on top. Instead, serve it as is or with banana-berry ice-cream or just a simple berry sauce.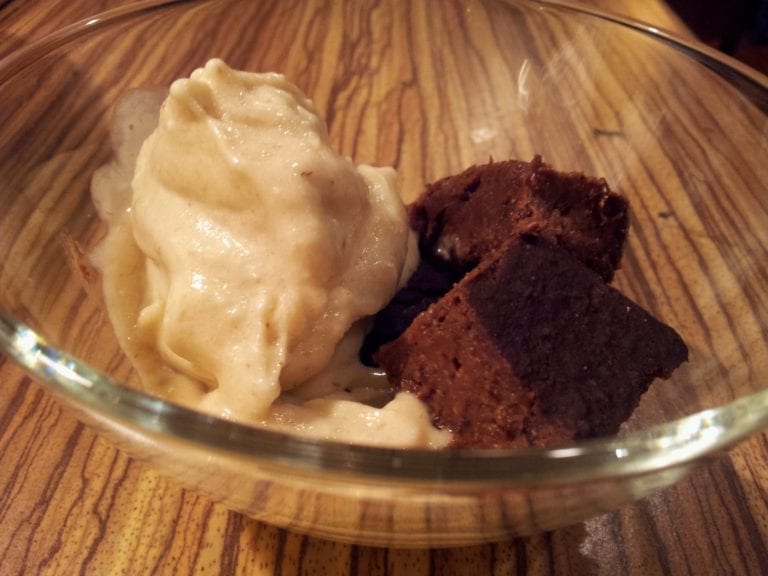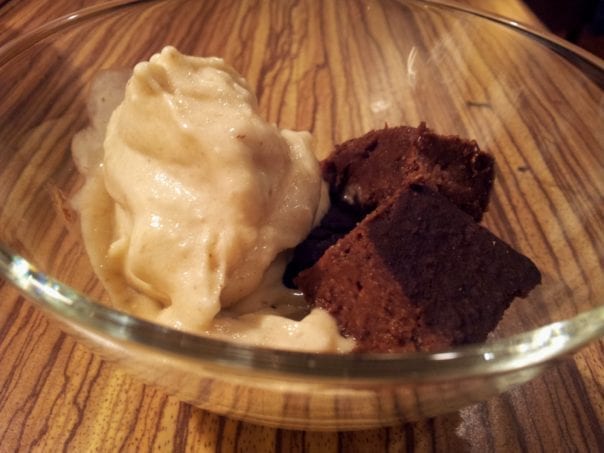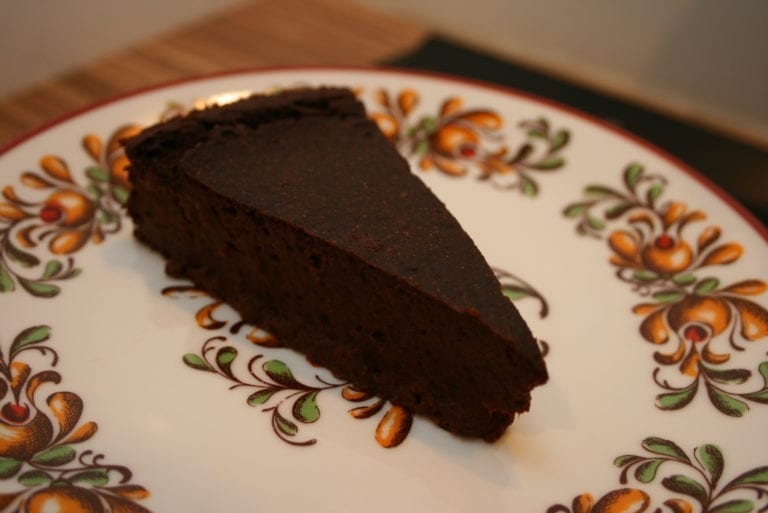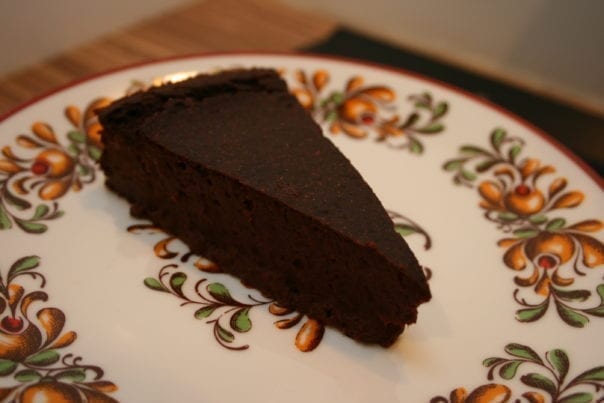 Notes:
* This brownie is of a soft side. Should you like it firmer, add more flour. Prepare as instructed the first time and tune it to your best liking the next time. The brownie firms up once it cools.
* If you do not like beet, leave it out, but add less flour as beet gives the brownie the juiciness and extra sweetness I really love.