Learn how to make vegan oil-free wild garlic pesto with just 4 ingredients (not counting salt and water). Spread it on a slice of sourdough bread, make pesto pasta or add to salads, stews and Buddha bowls.
My wild garlic pesto recipe is:
vegan
oil-free
gluten-free
dairy-free
low glycemic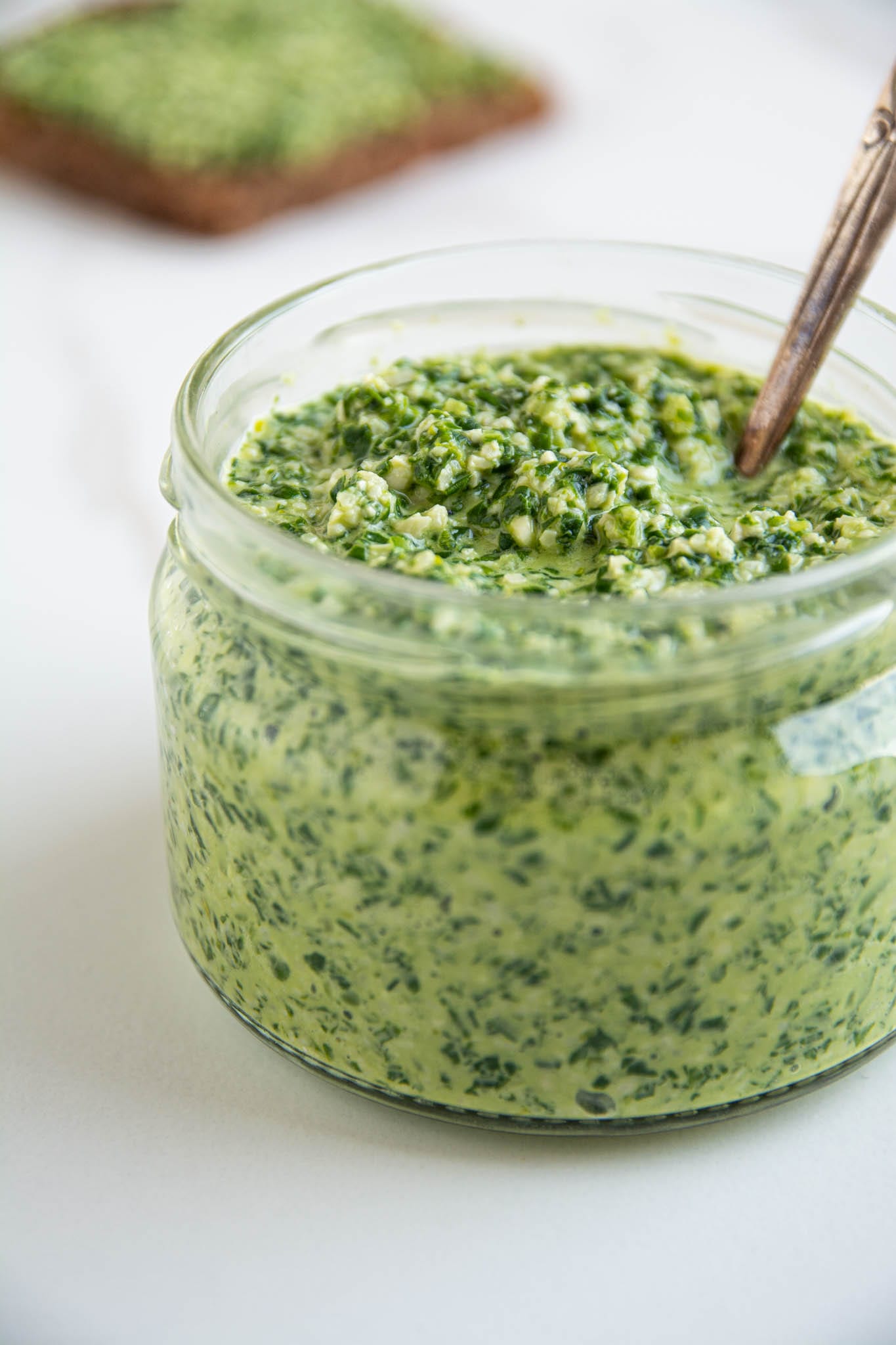 How to Make Oil-Free Wild Garlic Pesto
Before we move on to the pesto recipe, let's talk a little bit about wild garlic!
What is Wild Garlic?
Wild garlic is one of those heavenly foraging finds that will give you a perfect nourishment in the early spring and summer.
It has many names – allium ursinum, wild cowleek, wild leek, ramsons, buckrams, broad-leaved garlic, wood garlic, bear leek or bear's garlic. It is a bulbous perennial flowering plant in the amaryllis family Amaryllidaceae. Wild garlic is native to Europe and Asia, where it grows in moist woodland.
It's noteworthy that in most languages wild garlic has something to do with bears e.g., bear's garlic in English. Also, its Latin name refers to a bear – ursinum. The reason is that wild garlic is basically the first thing bears will look for after crawling out of their hibernation caves in order to cleanse their bodies.
Which Parts Are Edible and When Is It in Season?
The leaves and flowers are edible. Young leaves are delicious added to soups, sauces and pesto. Depending on the region, the leaves appear in March or April and are best picked when young. The flowers emerge from April to June and can add a potent garlic punch to salads and sandwiches. [1]
Benefits of Wild Garlic
Wild garlic is known to lower high blood pressure, which can lessen your risk of atherosclerosis, heart attacks, and strokes. Additionally, wild garlic is able to lower overall cholesterol levels, keeping your heart in good shape as you age.
Moreover, traditional medicine values wild garlic as an antimicrobial and anti-fungal agent used either internally or externally. There is a substantial number of reports in which the antimicrobial activity of various extracts prepared from different plant parts were tested in vitro against a wide array of bacterial and fungal strains.
Some studies show that wild garlic can have anti-parasite effects as well.
Wild garlic in rich in antioxidants.
A component in wild garlic's volatile oil (diallyl disulfide) inhibits cancer cell growth. It basically makes cancer cells to commit suicide. [2]
Is Wild Garlic Safe to Consume?
It is generally considered safe. However, some individuals may be allergic to some components in wild garlic e.g., diallyl disulfide, allylpropyl sulfide and allicin. Also, consult with your doctor if you're taking anticoagulants. [2]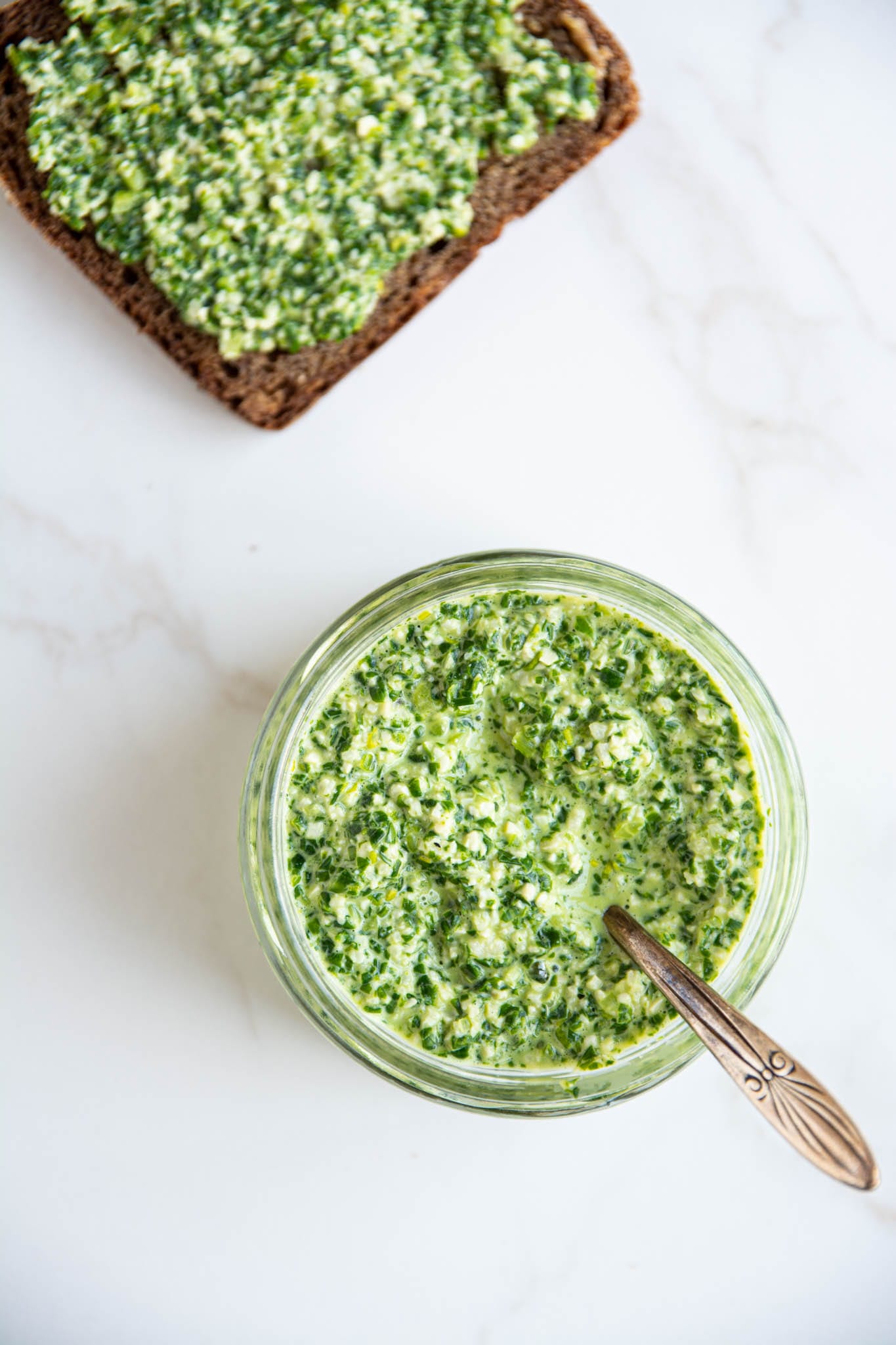 The Ingredients
My wild garlic pesto has very simple ingredients. It's noteworthy that traditional pesto is made with lots of olive oil, but I beg to differ offering you a delicious vegan oil-free pesto recipe. Besides being oil-free, my pesto recipe is also dairy-free and gluten-free.
The first and obvious ingredient is wild garlic which has a heavenly garlicky taste – you can feel its power by simply inhaling the flavour.
Next, cashews give this pesto substance. You can soak them first, but I prefer not to as they're quite soft per se. Soaking is recommended if you decide to go for other nuts and seeds instead of cashew i.e., almonds, walnuts, pecans, sunflower seeds, or pumpkin seeds. You might also use nut or seed butters for creamier consistency.
Wild garlic and lemon are a match made in heaven so of course there's fresh lemon juice in this recipe!
Since no pesto is the real thing without salt, we add Himalayan salt. Feel free to opt for both, salt and pepper. In my opinion wild garlic is pungent enough on its own and doesn't need the addition of pepper.
Classic pesto usually includes Parmesan cheese, but I use nutritional yeast to achieve cheesy flavour.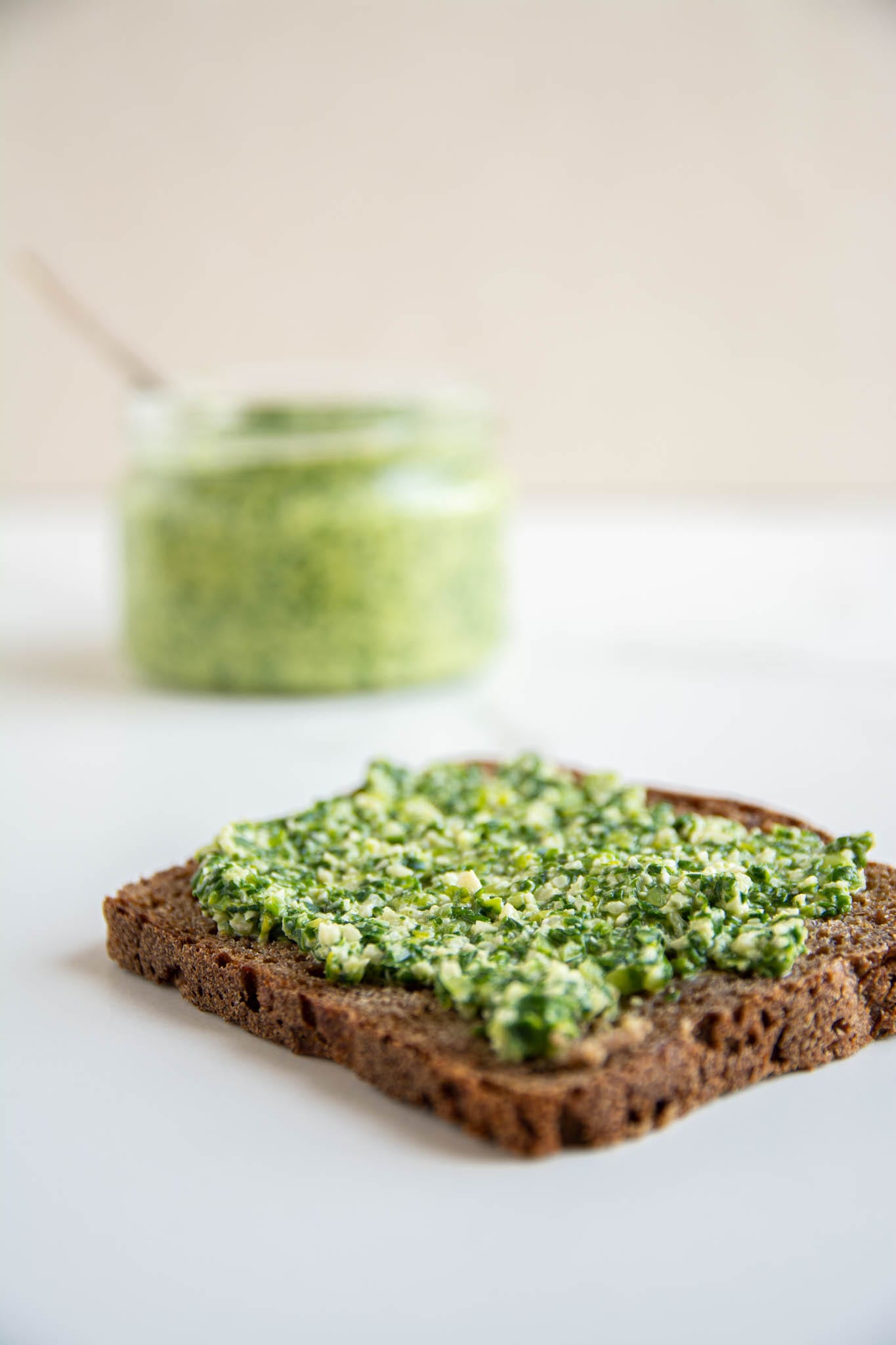 How to Use Wild Garlic Pesto
I love this pesto recipe because there are several ways you can make use of its delicious pungency:
Simply spread it on a slice of sourdough bread or a cracker.
Alternatively, mash some avocado and mix it with wild garlic pesto for a delicious sandwich.
Use it to make pesto pasta by mixing some into freshly cooked pasta.
Add it to your Buddha bowl for a tangy flavour and extra boost. Mix some pesto into your soup or stew bowl.
Some recipes that you would like: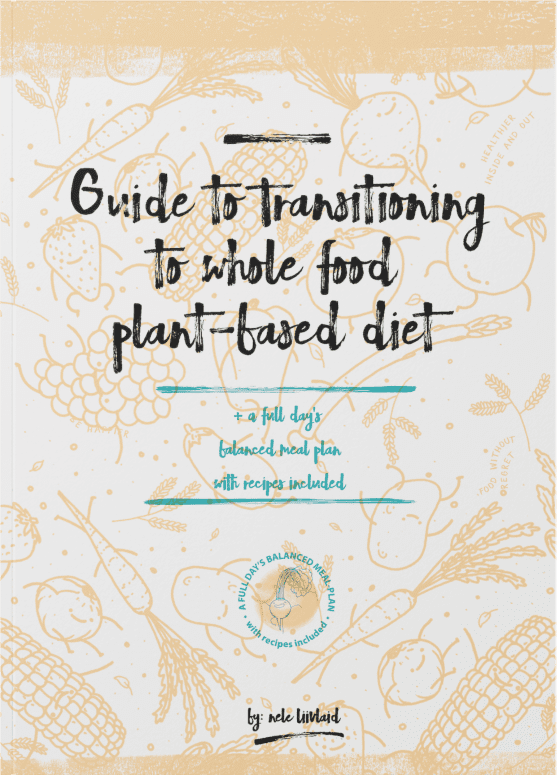 Download my FREE Guide to Plant-Based Diet
Including a full day's meal plan!
Learn the basics, prepare your kitchen and pantry, compile a balanced meal plan, handle challenges with family and friends, learn the tricks of dining out as well as travelling.
Learn the secrets of weight loss, better health and happiness!
Print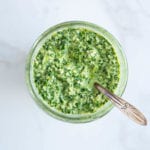 How to Make Oil-Free Wild Garlic Pesto [Video]
---
Author:

Nele Liivlaid

Total Time:

54 minute

Yield:

15 tablespoons

1

x

Diet:

Vegan
Description
Learn how to make vegan oil-free wild garlic pesto with just 4 ingredients (not counting salt and water). Spread it on a slice of sourdough bread, make pesto pasta or add to salads, stews and Buddha bowls.
---
---
Instructions
Start by washing the wild garlic under running water – regardless of whether you got it from farmer's market or you foraged it yourself. 
Now, using scissors cut the wild garlic into smaller pieces and add it to a blender or smaller container of your food processor.
Next, add the remaining ingredients and process until you have a pesto consistency.
Notes
Store in a glass jar in the fridge for up to 4 days. For longer keeping fill the ice cube trays with pesto and transfer it into freezer.
If you don't have neither blender nor a smaller food processor container, simply double the recipe and use a regular sized food processor.
Feel free to utilise other nuts such as almonds or walnuts. However, I'd suggest you soak them first and add less water to the recipe.
For a nut-free version, substitute cashews with pine nuts, tahini, pumpkin seeds, or sunflower seeds. Again, I recommend soaking pumpkin and sunflower seeds first and adding less water. Alternatively use nut or seed butter (the same weight).
You can regulate the water quantity according to the desired consistency.
Feel free to process the pesto into a really smooth consistency, if you have a high-speed blender. I personally prefer a bit chunkier outcome.
If it's not wild garlic season or you can't get it anywhere, make basil pesto instead by substituting fresh basil leaves for wild garlic.
Finally, as Cronometer does not list wild garlic I calculated the nutritional facts with fresh basil (their caloric value is almost the same).
Prep Time:

5 minutit

Method:

Food processor
Nutrition
Serving Size:

1 tablespoon

Calories:

26

Sodium:

75.4mg

Fat:

1.6g

Saturated Fat:

0.3g

Carbohydrates:

1.3g

Fiber:

0.5g

Protein:

1.5g
Keywords: oil-free pesto, wild garlic
Disclosure: this post contains affiliate links. As an Amazon Associate I earn from qualifying purchases. For every purchase made from the links in this post, you'll be able to support my work. So you can look after your health, and contribute to my mission at the same time. Thank you!
You're welcome to PIN the below image!