Try those delicious baked kale chips that are also oil-free. It's a great recipe for a healthy snack instead of potato chips for when you crave something crispy and a bit salty.
Now, what I especially love about this kale chips' recipe is that it's:
easy to make
delicious and crispy
a fantastic way to eat more greens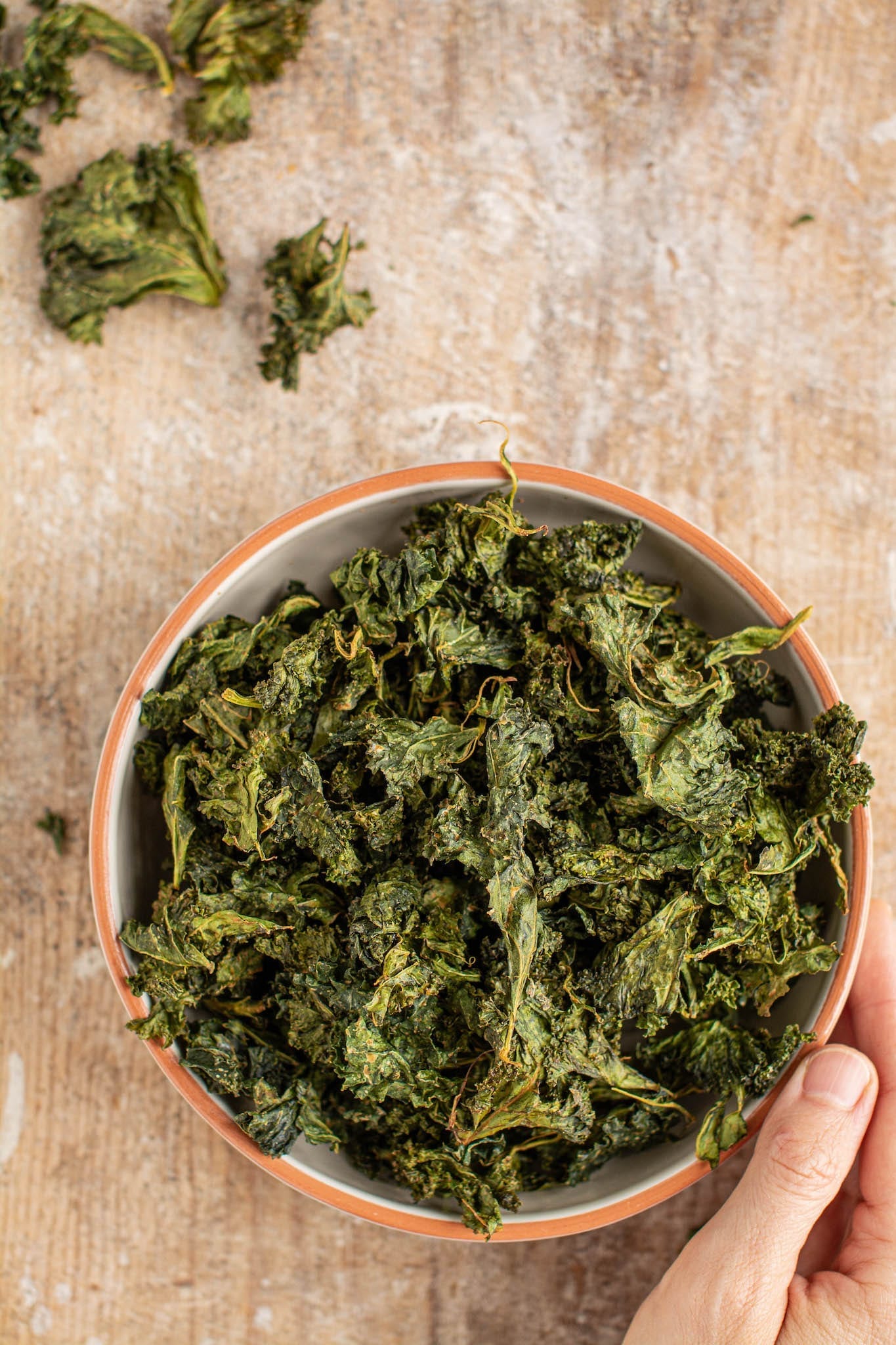 Needless to say, my baked kale chips are:
Plant-based and vegan
Gluten-free
Oil-free
Candida diet friendly (omit nutritional yeast in the cleanse phase)
Soy-free
Nut-free
High in protein
I must admit I love kale chips as it's an excellent snack when eating a healthy diet. I'm therefore thrilled that my recipe turned out perfect even without any oils or saturated fat.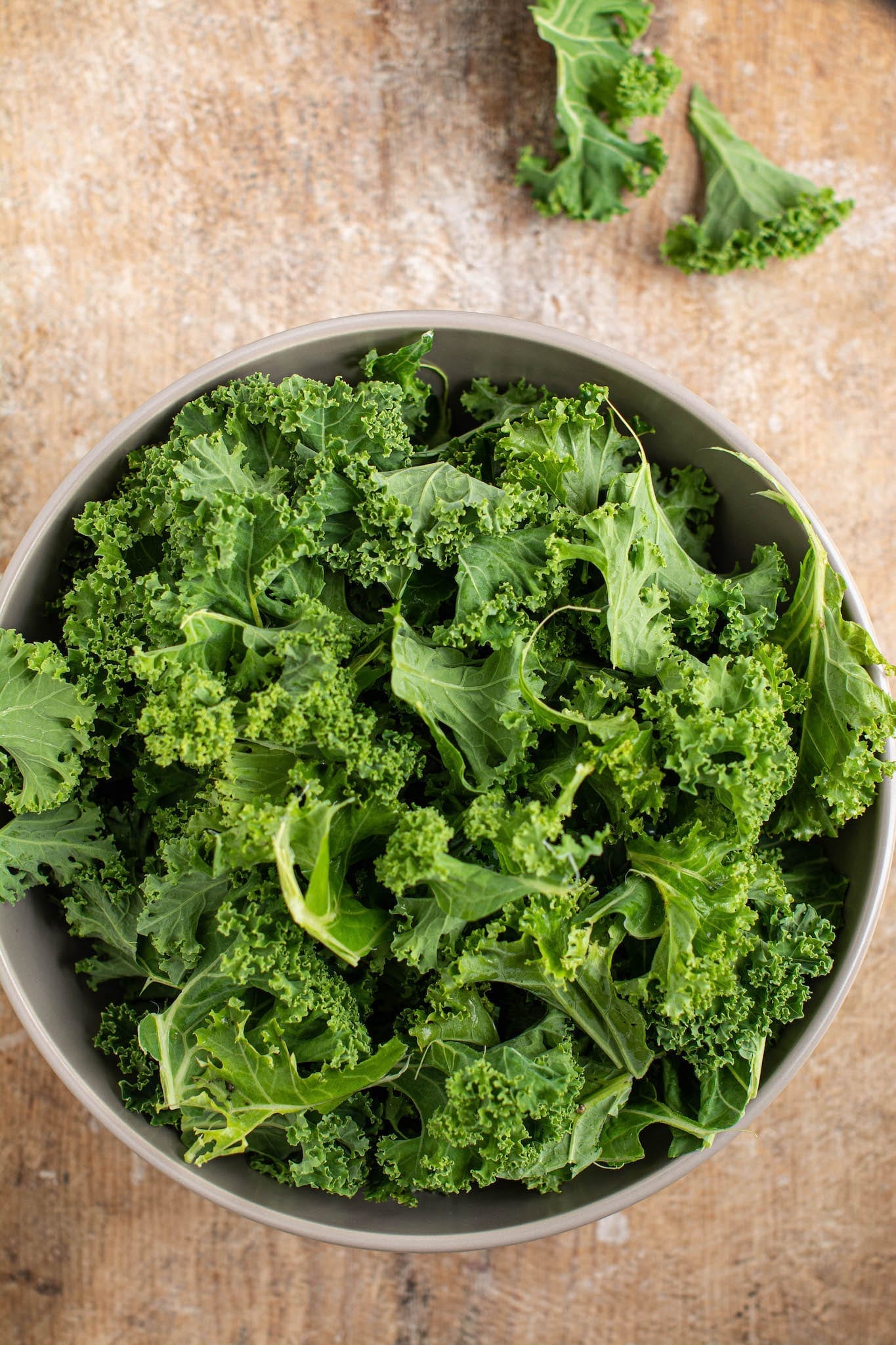 Health Benefits of Kale (and Kale Chips)
As it turns out, eating kale is a very wise decision. To start with, it is an excellent source of vitamins K, A and C as well as manganese and copper. In addition, kale contains considerable amounts of vitamin B6/B2, calcium, fibre, and vitamin E. And finally, it is a good source of iron, potassium, vitamin B1/B3, magnesium, omega-3 fatty acids, phosphorus, protein, and folate.
It's also noteworthy that kale has been studied more extensively in relationship to cancer than any other health condition. To be honest, it makes perfect sense as kale is rich in antioxidants, anti-inflammatory as well as anti-cancer nutrients.
In short, the main health benefits of kale lie in its:
Antioxidant Properties
Kale's cancer preventive benefits clearly link to its unusual concentration of two types of antioxidants, i.e. carotenoids and flavonoids.
Anti-inflammatory Effects
It's interesting fact, that you'd need to eat only 100 calories of kale to get over 350 milligrams of the most basic omega-3 fatty acid (alpha-linolenic acid, or ALA). Furthermore, kale is also a spectacular source of vitamin K. It's a known fact that the latter is a key nutrient for helping regulate our body's inflammatory process.
Anti-Cancer Nutrients
Moving forward, kale is a top food source for at least four anti-cancer nutrients. And once you eat and digest kale, your body converts those nutrients into cancer preventive compounds.
Cardiovascular Support
We know that clogging requires plaque building along the walls of the arteries. Now, usually chronic inflammation and chronic oxidative stress comes before the plaque formation process. Therefore, it is not surprising to see a food like kale lessening our risk of arteriosclerosis. The reason is that kale is a concentrated source of antioxidants and anti-inflammatory nutrients.
Furthermore, kale also has cholesterol-lowering ability. Kale contains a variety of fibre-related nutrients that can bind together with bile acids. When this binding takes place, our blood cholesterol levels go down because our body needs to replace the bile acids.
Detoxification
Next, kale helps regulate detox activities in our cells. As you already might know, our cells must detoxify most toxins using a two-step process. The two steps in the process are Phase I detoxification and Phase II detoxification. The ITCs (isothiocyanates) made from kale's glucosinolates favourably modify both detox steps (Phase I and Phase II). In addition, the unusually large numbers of sulphur compounds in kale help support aspects of Phase II detoxification. By supporting both aspects, nutrients in kale can give our body an advantage in dealing with toxic exposure, whether from our environment or from our food. [1]
Stimulates Immune System
What's noteworthy is that cooked kale appeared to work even better, i.e. have better stimulatory effect on your immune system. [2]
The Ingredients in my Baked Kale Chips
Let's move onto the ingredients of those baked kale chips. Needless to say, this recipe consists only of whole food plant-based ingredients.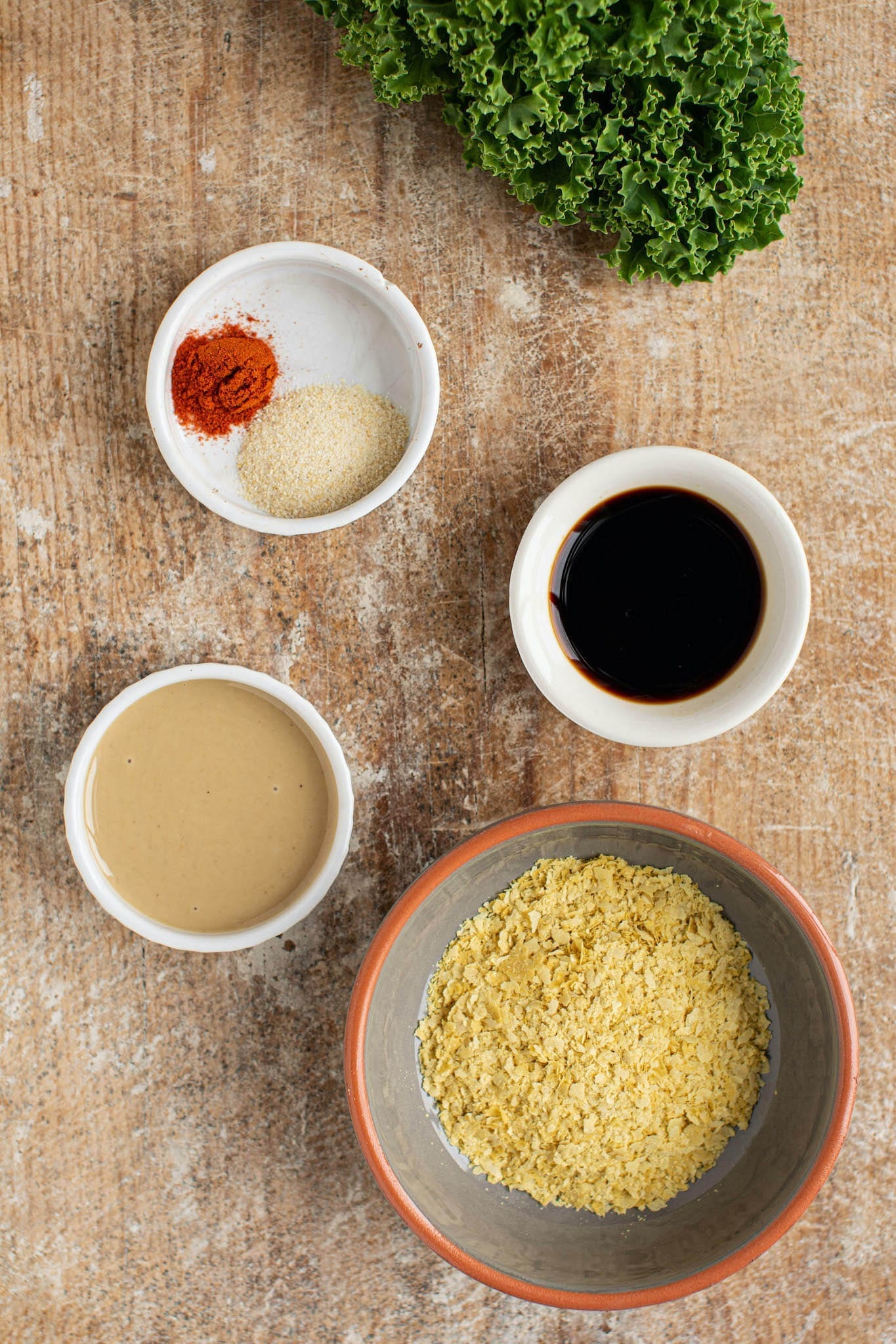 Kale
The first and obvious component is kale. Now, you can use any kale variety you can get your hands on:
Curly kale that is dark green and sometimes purple with tightly wound curls. This is the kale you'll most often see in the grocery store. However, curly kale can be a bit bitter for some people, featuring pungent notes of pepper. This is the type I used for my kale chips.
Lacinato or Dinosaur kale with large blue-green leaves about two to three inches wide has long been a staple of Italian cuisine.
Red Russian kale is larger and far less curly than regular curly kale. It comes with vibrant reddish-purple stems and flat green leaves. What makes this type uniquely versatile is its ability to be used as a baby leaf, as well as after it's been left to fully mature.
Redbor kale is an attractive kale variety with red, ruffled leaves. It can be used both on the plate and in the garden as an ornament. [3]
Tahini
Needless to say, my recipe does not call for any oil. It's because I prefer whole food plant-based ingredients. So, in order to add some heartiness to those kale chips, I turned to tahini aka sesame seed paste. Obviously, you can use any nut or seed butter you like, e.g. peanut butter, almond butter, or sunflower seed butter.
Tamari
As a rule, people prefer their kale chips salty. I decided to use tamari, but any soy sauce or even Himalayan salt would fit perfectly into this recipe. However, many people are monitoring their sodium intake for health reasons. Therefore, I added the maximum amount of tamari into the recipe card for those wishing to eat according to Pantricious guidelines.
Herbs and Spices
Let's move on to herbs and spices! After all, this is where those kale chips get their flavour. I chose to include smoked paprika and garlic powder. Should you be on a low-histamine diet, omit paprika powder and use sweet paprika instead.
Nutritional Yeast
Finally, nutritional yeast comes into play for some cheese flavour. If, for any reason, you can't have nutritional yeast, simply leave it out. You might use an extra tablespoon of nut or seed butter though, because nutritional yeast absorbs quite a bit of liquid.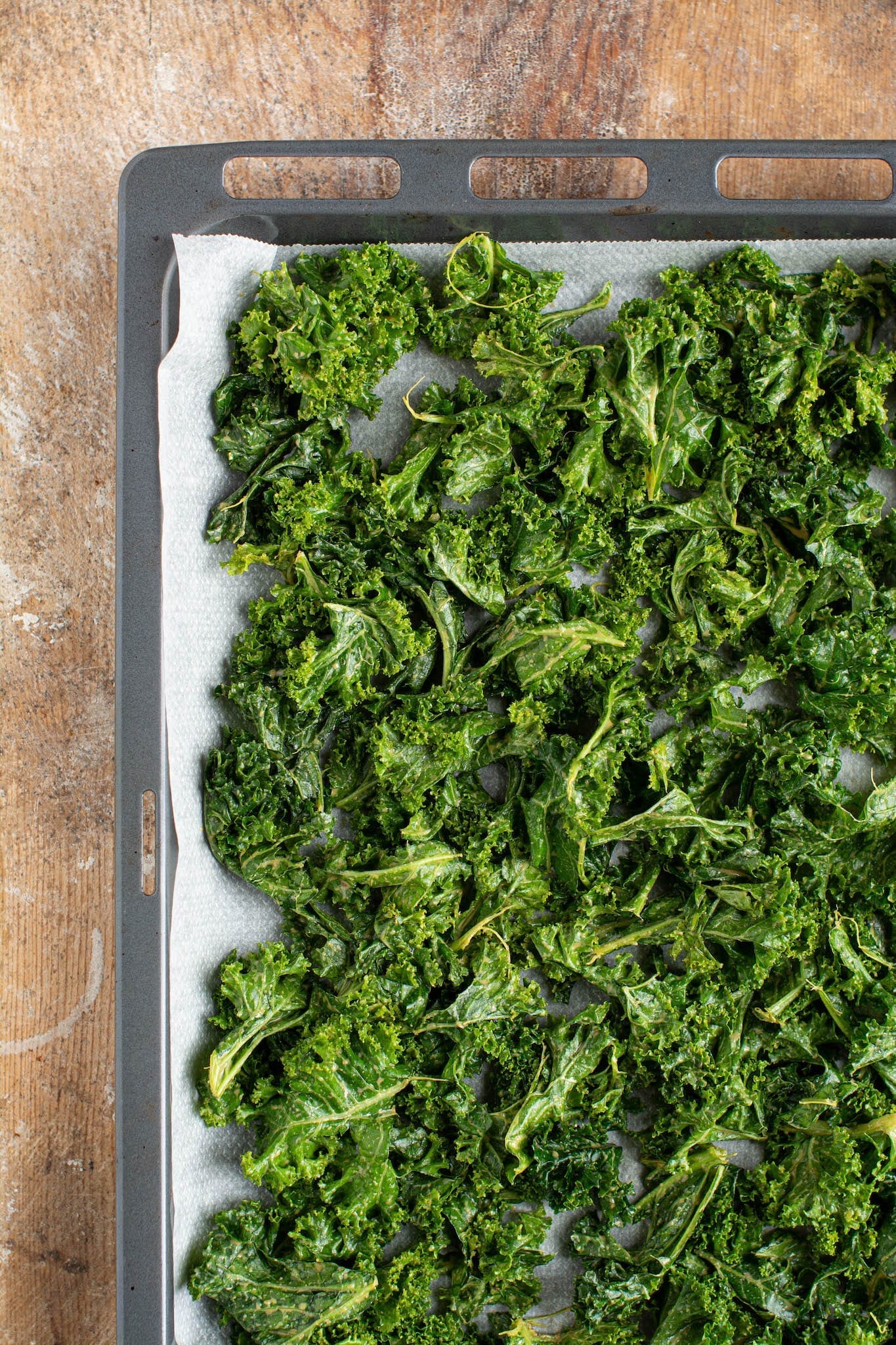 How to Choose the Best Kale for Kale Chips
Here are a few simple rules for choosing the best kale:
Colour and freshness.

Look for kale with firm, deeply coloured leaves and moist hardy stems. The leaves should look fresh, be unwilted, and be free from signs of browning, yellowing, and small holes.

Storage.

Kale should be displayed in a cool environment since warm temperatures will cause it to wilt and will negatively affect its flavour.

Size of the leaves.

Choose kale with smaller-sized leaves since these will be more tender and have a milder flavour than those with larger leaves.
For your information, kale is available throughout the year. However, it is more widely available, and at its peak, from the middle of winter through the beginning of spring. [4]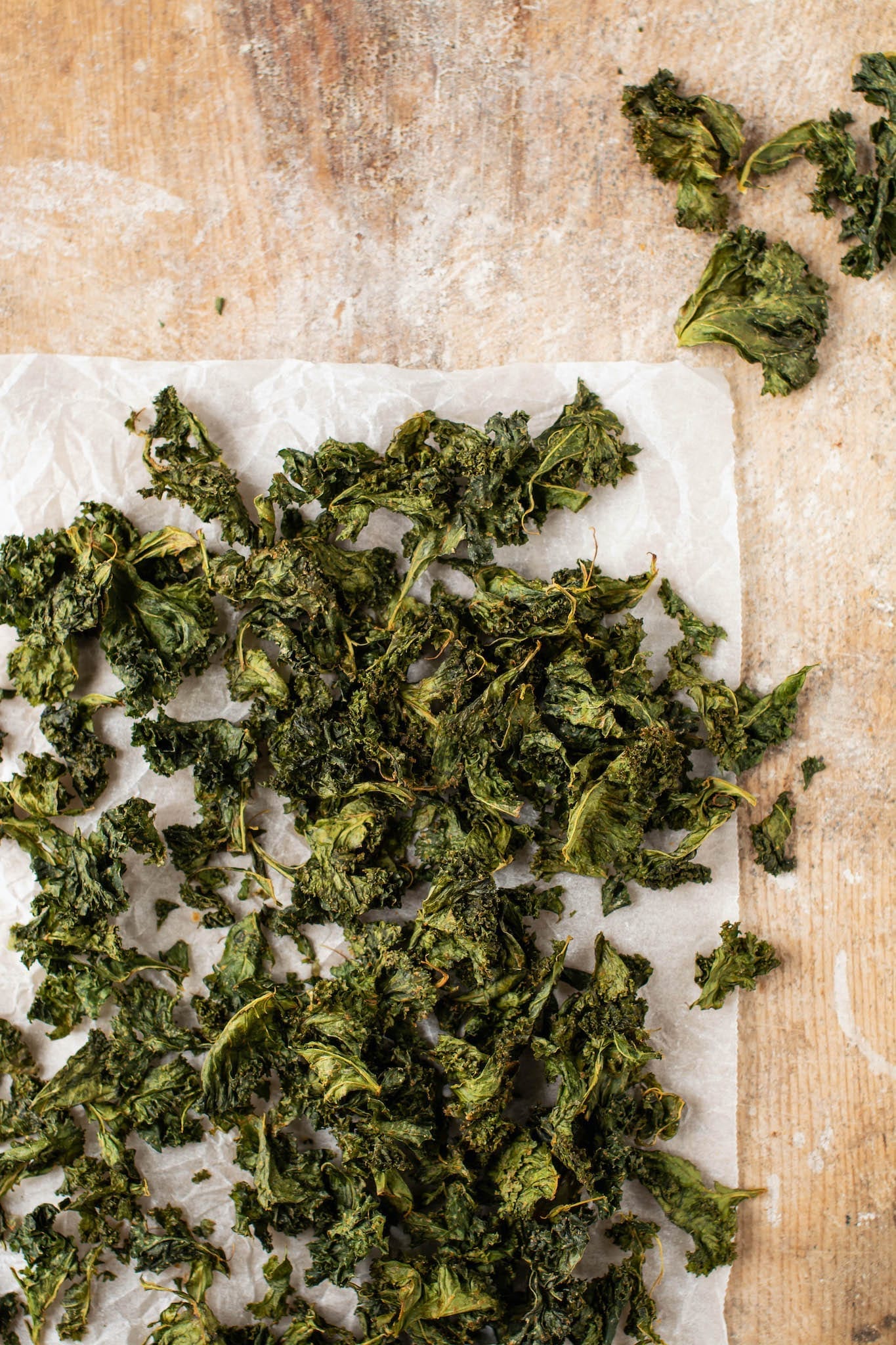 How to Store Fresh Kale
First, place kale in a plastic storage bag removing as much of the air from the bag as possible.
Store in the refrigerator where it will keep for 5 days.
The longer it is stored, the more bitter its flavour becomes.
Finally, do not wash kale before storing because exposure to water encourages spoilage.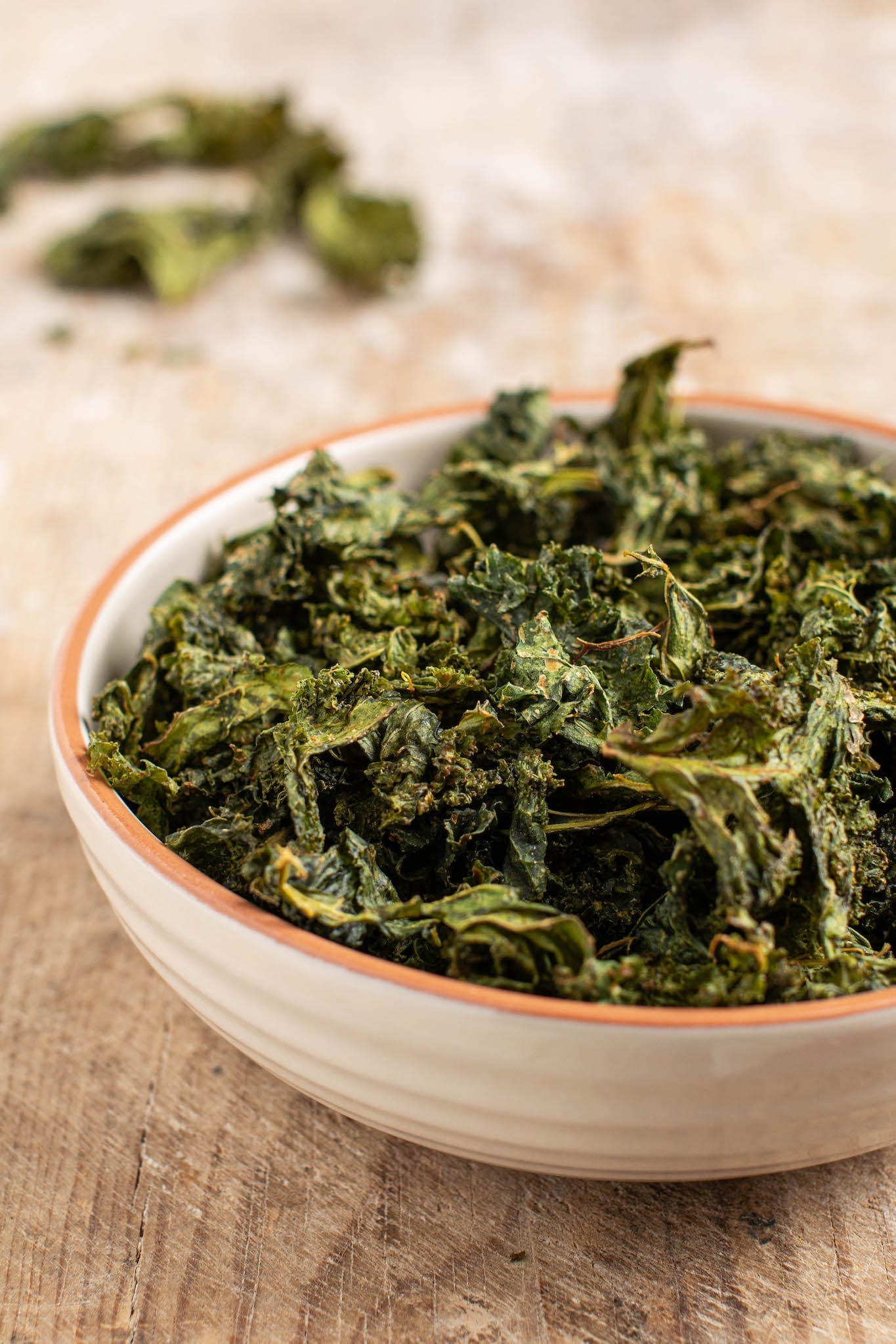 How to Store Baked Kale Chips
Given that you have some kale chips left over, it's best to store them in a zip lock bag or an airtight container. However, you need to make sure they are fully dehydrated in order to avoid any mould developing as well as to keep their crispiness.
To make things even easier for you, I've created the below tutorial video on how to make my baked kale chips: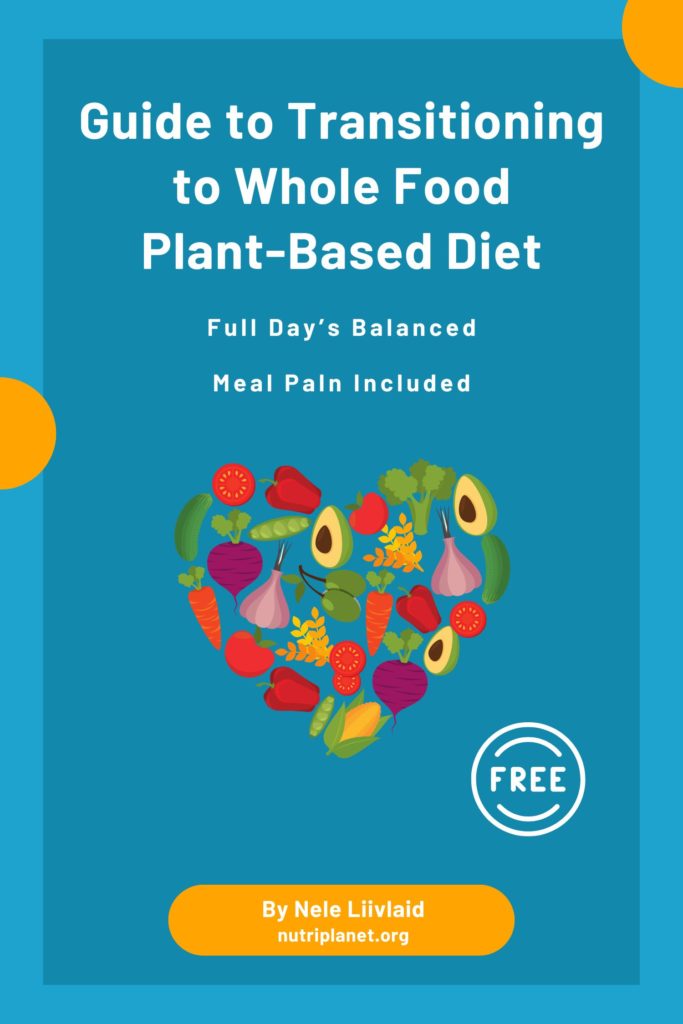 Download my FREE Guide to Plant-Based Diet
Including a full day's meal plan!
Learn the basics, prepare your kitchen and pantry, compile a balanced meal plan, handle challenges with family and friends, learn the tricks of dining out as well as travelling.
Learn the secrets of weight loss, better health and happiness!
Print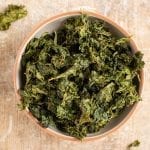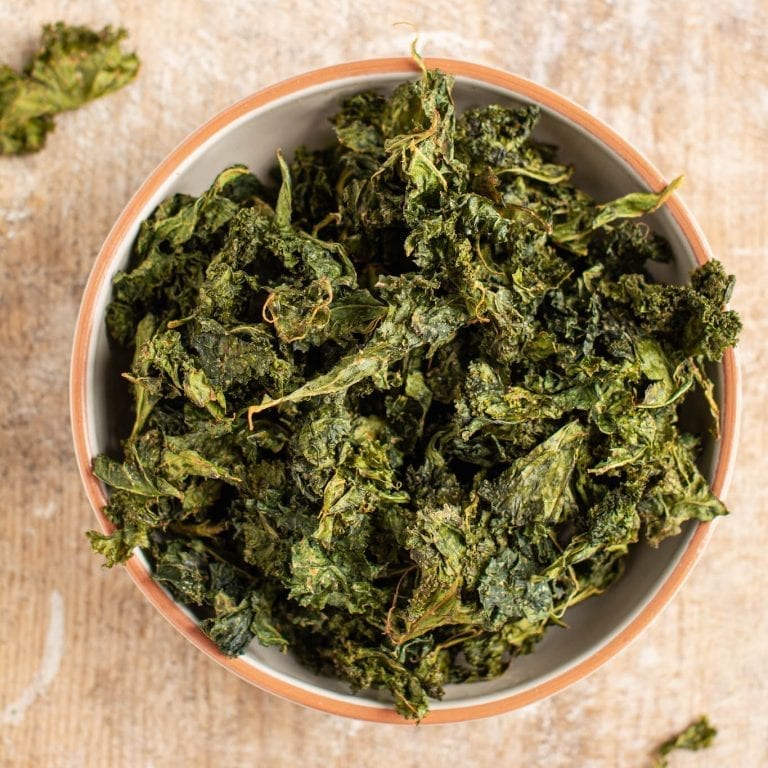 Baked Kale Chips [Gluten-Free, Oil-Free]
---
Author:

Nele Liivlaid

Total Time:

1 hour

Yield:

2

servings

1

x

Diet:

Vegan
Description
Delicious baked kale chips that are also oil-free. It's a great recipe for a healthy snack instead of potato chips for when you crave something crispy and a bit salty.
---
---
Instructions
Start by washing the kale thoroughly. Then shake it dry, remove the stems and tear the leaves into bigger chunks/pieces. You'll fill a big 3-litre bowl!
Next prepare the dressing in a small bowl. Simply mix together all the ingredients.
Now pour the dressing onto kale leaves and start massaging with your hands until everything is well incorporated, and the kale has shrunk in size by about a half.
Then place the massaged kale leaves onto baking sheet lined with parchment paper spreading them evenly.
Next, heat oven to 100°C (212°F) and bake the kale for 10 minutes with fan on. Remove from oven and mix them up a bit. Turn off the fan and bake for 10 more minutes. Again, take the sheet out and move the chips around separating any moist pieces. Return the kale into oven for another 10 minutes. Then take them out and mix to see whether there are still any moist pieces. If yes, send them back into oven for final 5-10 minutes until all the kale chips turn crisp. Let cool before eating.
Notes
Store in zip lock bags or airtight container for up to a week, but make sure the kale chips are completely dry to avoid mould from developing.
Any nut or seed butter can be used instead of tahini. For example, peanut butter, almond butter, sunflower seed butter.
You can substitute garlic powder and tamari with garlic salt.
If you don't have tamari, you can also use soy sauce, sea salt or Himalayan salt.
Now, should you be on a low-histamine diet, it's be better to leave out the smoked paprika and substitute it with sweet paprika.
Finally, nutritional yeast is not recommended in the Candida cleanse diet phase. Therefore, make your kale chips without the nooch. Sure, you'll miss the cheese flavour, but the chips will be tasty, nonetheless. However, as nutritional yeast absorbs some water, I'd suggest you either decrease the amount of water a bit or add an extra tablespoon or nut or seed butter.
Prep Time:

15 minutes

Cook Time:

35 minutes

Category:

Snacks

Method:

Oven
Nutrition
Serving Size:

1/2 of the recipe

Calories:

118 kcal

Sodium:

113mg

Fat:

6.5g

Saturated Fat:

0.8g

Carbohydrates:

4g

Fiber:

5.7g

Protein:

8g
Keywords: kale chips, kale
Disclosure: this post contains affiliate links. As an Amazon Associate I earn from qualifying purchases. For every purchase made from the links in this post, you'll be able to support my work. So you can look after your health, and contribute to my mission at the same time. Thank you!
You're welcome to PIN the below image of my baked kale chips: