This post is a reminder of last Christmas, which I spent with my family in Valencia for second year already. On Dec 22 I still didn't know what to cook for Christmas Eve as my kid had an eye infection and I was busy nursing him. The next day I finally got a chance to start brooding over the menu. Last year we had nori sausages with oven-baked veggies and cheesy sauce, but I was anxious to try something new. We all agreed that the veggies and the sauce should still be on the table, but with something novel that we hadn't had before like potato barley sausages.
One of the most typical holiday foods in Estonia, besides the obvious roast, are sausages of any type – blood sausages, plain meat sausages and then there are potato sausages, which traditionally are animal intestines stuffed with fatty pork, butter, onions, garlic and potatoes.
Years ago, when I still ate meat, I tried my mother-in-law's potato sausages and liked the taste very much. Fortunately she didn't use fatty meat cubes as stuffing – I didn't like those even back then. Instead she used barley, which is very much to my liking.
Evidently I was eager to create whole food plant-based version of this traditional Christmas and holiday dish. It was very easy to find substitution for the intestines – rice paper, being transparent and flexible, works really well. Now there was only the stuffing left to think about. Potatoes are potatoes and barley is barley. So are the herbs and spices. I decided to give the sausages a Mediterranean flavour and added sun-dried tomatoes for a bit of colour, and chopped olives for good fats.
Since I wasn't sure about the quantities, I ended up with quite a lot of stuffing (a bit too much for the three of us for one meal), half of which I refrigerated and baked a few days later. I even stored some of the ready sausages in sealed container in fridge and heated them up later. The rice paper is especially nice and crispy the next day. This recipe provided us sausages for four days.
On Christmas Eve I served the potato sausages with oven-baked veggies (onions, garlic cloves, red bell peppers and carrots), a big bowl of steamed kale, chickpea hummus, cheesy sweet potato sauce and whole grain spelt bread from Ingredients, our favourite bakery in Valencia. Dessert was tofu-cashew cream inspired by my cheesecake bowls.
The potato-barley sausages are not exclusively a holiday dish, but you can serve them at any occasion (or no occasion) whenever you feel like it.
And finally, please let me know in the comments below whether you're a fan of potato-barley sausages. Please tag me in social media whenever you try one of my recipes! I'd love to see your creations! Instagram @thenutriplanet and Facebook @nutriplanet.health.hub
Print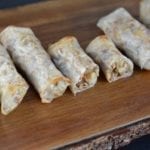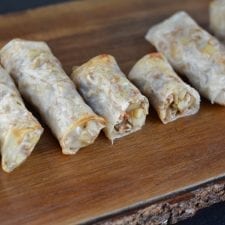 Potato-Barley Sausages' Recipe
---
Description
The potato-barley sausages are not exclusively a holiday dish, but you can serve them at any occasion (or no occasion) whenever you feel like it.
---
24

rice papers

100g

(

0.22oz

) barley

2

big potatoes, cut into small cubes

6

halves of sun-dried tomatoes, chopped

10

green or black olives, chopped

1

big onion, chopped

3

garlic cloves, minced

2

tsps. marjoram

1 tsp

. oregano

½ tsp

. dried sage

1 tsp

. cinnamon
Black pepper to taste
Sea salt or Himalayan salt to taste
---
Instructions
MAKING THE STUFFING
Soak barley overnight or all day and then boil for about 15 minutes until soft. Drain excess water and place in a bigger bowl.
Cut potatoes into small cubes at place into bowl with barley. If you have organic potatoes don't bother peeling them.
Chop sun-dried tomatoes and olives into small pieces.
Chop onion and mince garlic cloves. Sauté covered on pan with 2 tbsps. of water for 5 minutes. Stir occasionally. Add water 1 tbsp. at a time if necessary to prevent sticking.
Add marjoram, oregano, sage, cinnamon, tomatoes and olives to onions and garlic. Stir well and sauté for another 3 minutes.
Pour the herb-onion mixture into potato-barley bowl and stir well.
Finally add sea salt and black pepper. Stir really well and taste. Add more salt and pepper if necessary.
ROLLING THE SAUSAGES AND BAKING
Heat oven to 180 C (355 F).
Line a baking sheet with parchment paper.
Take a bowl with warm water and soak a rice paper until it's soft or follow the instructions on the package.
Lay the soft rice paper on chopping board. Take 2 tbsps. of stuffing and place it almost in the middle of the paper (a bit closer to you). Fold the edge of the paper closest to you over the filling, fold in the sides, and then roll up tightly. Place on baking sheet. Repeat until you've finished the stuffing (or papers).
Bake in the middle position for 20-25 minutes until the sausages are golden and crispy.
Tips for my potato-barley sausages:
The baking time greatly depends on your oven. In Valencia I had an oven that always had ventilator on and 20 minutes was enough, otherwise they would have burnt.
You can make half batch or refrigerate some of the stuffing in sealed container for up to three days.
To make gluten-free sausages, replace barley with rice, buckwheat, or quinoa.
You'll be done much quicker if you have someone to help you soak the rice papers. That's what we did – I was soaking and my husband was rolling the sausages. Or you could put the next paper to soak before starting to fill and roll the next sausage.