Learn a few easy tips on gatherings while eating a whole food plant-based diet. We'll talk about plant-based entertaining and visiting and cover the food as well as psychological side.
When you entertain or visit friends you should be enjoying yourself, not worrying about your meal. I have been through this already and will give you some easy tips for being a good host…and a good guest while following a whole food plant-based diet.
Learn more about my own plant-based journey from the below video!
---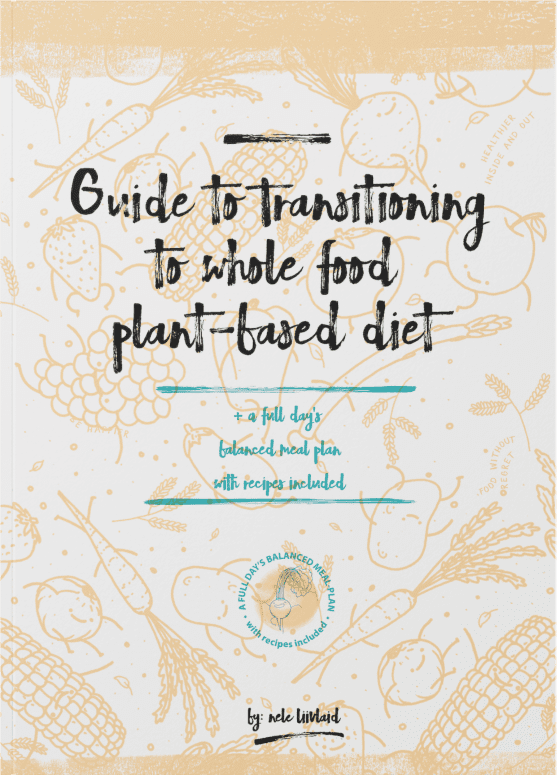 Download my FREE Guide to Plant-Based Diet
Including a full day's meal plan!
Learn the basics, prepare your kitchen and pantry, compile a balanced meal plan, handle challenges with family and friends, learn the tricks of dining out as well as travelling.
Learn the secrets of weight loss, better health and happiness!
---
Tips for Gatherings on a Whole Food Plant-Based Diet
Plant-Based Entertaining
Do your research!
As with entertaining anyone anywhere, ask people whether there's something they don't eat. You also might want to encourage people to bring whatever they want to eat.
Set the rules!
If you have kids and want them to avoid sugary sweets and oily-salty foods, ask your guests politely not to bring any conventional sweet treats (cakes, donuts, candies), crisps and sugary drinks into your home. As the host, you can set some rules and after all, you'll be offering healthy delicious treats and no one will miss out.
Make your food stick out!
Make your food visually appealing and use different textures as well like something creamy with something crunchy, with something hearty-looking, and then something light and leafy.
So far, my carnivorous friends and family members have been happy with the food I've cooked for them at gatherings at my place. They have been introduced to foods they never knew existed like nutritional yeast, raw buckwheat, spelt, xylitol, agave syrup, dates as sweetener, carob, cashews for cheesecakes, sour cream and mayonnaise.
Be clever!
Not everyone has an open mind about novelty so try not to disclose the ingredients before the guests have tasted the food. When they have already eaten and commented on how good everything tastes, then you can reveal the contents…if they're interested. Often people are surprised the food actually has no oil or dairy products in it and it still tastes good.
I get favourable comments a lot with vegan Parmesan, cashew cheesecake, buckwheat bread, and plant-based quiches.
Be considerate!
We all have different taste buds so no matter how you think the food tastes, be sure to have salt, pepper and olive oil on hand. Those who feel they need an extra dash of pepper can add it if they want.
When throwing a party, you don't want to make the food the centre of conversation unless the guests want to talk about it and your lifestyle habits.
Sample Menus
Entrées and Snacks:
Raw veggies, hummus, guacamole, rice cakes, whole grain crackers, toasted whole grain bread slices, nut spreads, vegan sour cream dip, light soup.

Main Course:
Curry, veggie lentil/bean stew, pasta with sauce, risotto, loaf, lasagne, quiche, oven-roasted veggies, patties, hearty soup.

Desserts:
Dark chocolate, muffins, pumpkin pie, bean brownie, cashew cheese cake, raw candies, avocado pudding.
Plant-Based Visiting
Don't make your life difficult by pursuing perfection when it comes to visiting and social gatherings. If you're too picky you might find yourself lonely and miserable very soon. Treat social occasions like you would when travelling and not able to eat ideally all the time.
Do your research!
If there is a set menu for the event (like weddings and funerals), ask the host about the menu and see whether you can combine a meal.
If you have a gathering at a restaurant, check my Dining Out post for tips and hints.
Of course, if you visit someone with similar eating habits to you (or at least an open mind towards it) then there are no challenges. Eat whatever is offered and bring some food of your own should you want to share.
Contribute to the table!
If you visit a carnivore friend or a family member who won't prepare anything special for you, eat before you go or bring your own foods to contribute. People will appreciate this. It's easy to prepare and take the following foods: raw candies, muffins, cookies, raw cut veggies, hummus, guacamole, nut spreads, whole grain crackers and bread.
Go the extra mile and turn your food into a present if you're attending a birthday party. Prepare a treat like a festive cashew cheesecake with chocolate layers or a presentable gourmet basket with different foods/products (nut spreads, quality olives, homemade bread or bread from good organic bakery, fruits, dried fruits, nuts, good wine).
My cheesecakes are a real hit among my family and friends. Wherever I'm invited, people expect me to bring one. It makes a nice present as well so it's win-win: you don't need to buy something extra and you can eat a healthy (and yummy) dessert too.
Be considerate!
When your host is considerate and asks about your eating habits, don't go crazy by ordering a three-course, oil-free plant-based perfectly balanced meal. Emphasize you're not coming for the food but for the good company. Ask for simple things like a salad and tomatoes without dressing, cut veggies (carrots, bell peppers, cucumber, cauliflower) and canned beans.
A good rule is to always offer to bring something yourself so the host doesn't have to bother too much.
The big thing about visiting is to remember not to disapprove or be patronizing towards other people's eating habits and lifestyle: it's their choice and they'll change only if they want to change.
You're welcome to PIN the below image!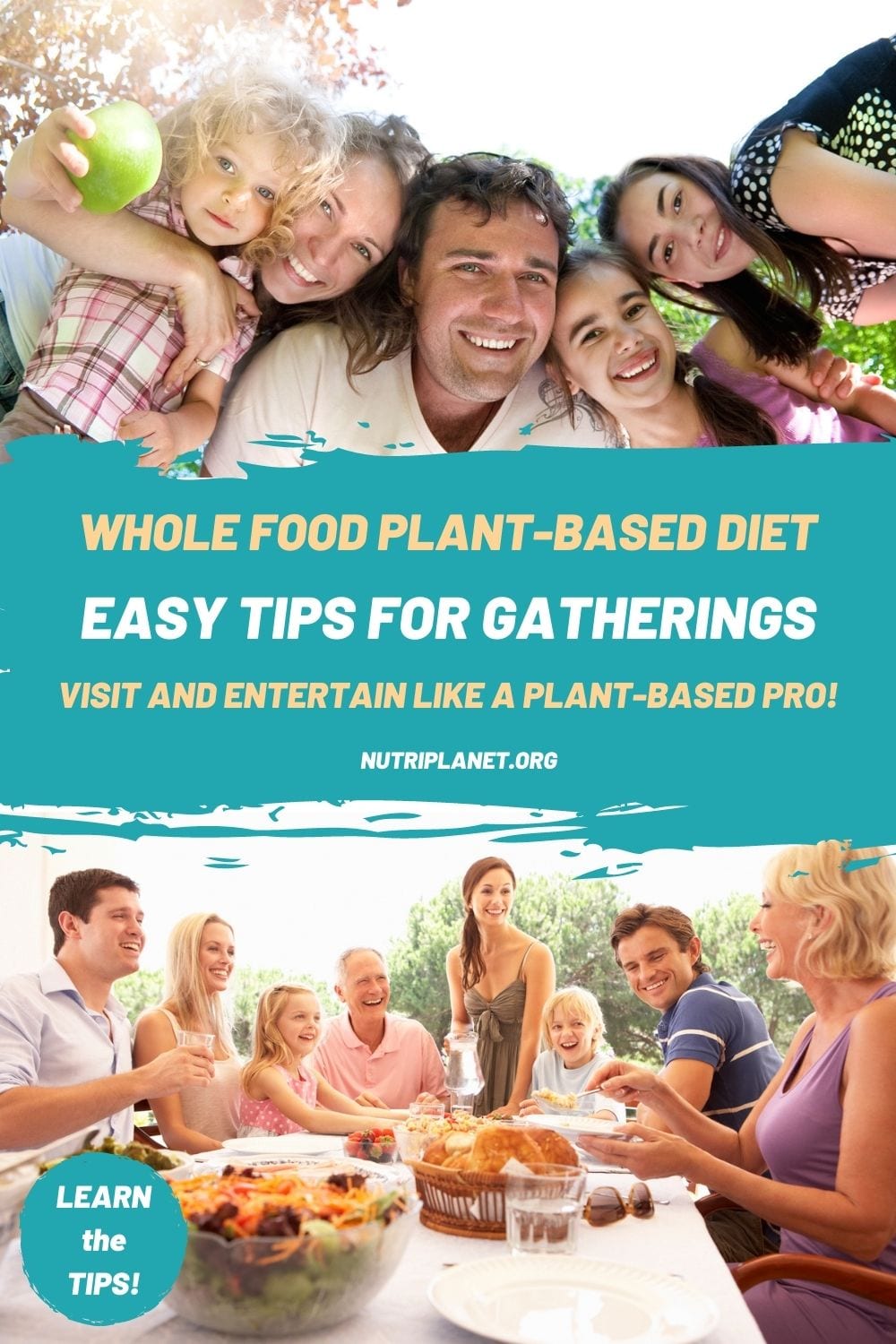 This post is also available in: Spanish