Like many other dishes, this quiche was born out of necessity – I had a big bunch of leek my mom had brought me in the fridge. So, I had to create a recipe that used a lot of leek. I chose quiche as I hadn't prepared one for a long time and my family loves a pie. Needless to say, we were just munching away and humming 🙂
This Potato-Leek Quiche recipe is vegan, oil-free, gluten-free, and yeast-free.

Festive Potato-Leek Quiche
Ingredients:Filling
400g (12dl, 5 cups) leek, chopped
3 tbsps. garlic flakes
3 carrots (300g), shredded with Julienne peeler or cut into shreds
3 potatoes (425g), cut into shreds
2 tsps. broth powder
2 tbsps. dried celery stalks
black pepper
Ingredients:Sauce
5 tbsps. (80g, 150ml, 0.63 cups) chickpea flour
350ml (1.5 cups) water
7 tbsps. nutritional yeast
½ tsp. smoked paprika
Himalayan salt to taste
Directions:Filling
Throw all ingredients onto a pan (ideally one you can use in the oven as well) with a bit of water (100ml, 0.4 cups – add half first and if necessary to prevent sticking, add the other half). The mixture needs to be nicely moist, but not dripping wet. Heat it for about 5 minutes, stirring occasionally.
Directions:Sauce
Mix all ingredients well in a small bowl. Add water gradually to prevent clumps.
If you didn't use a pan that you can also use in the oven, line a cake tin with parchment paper and pour the filling into the tin. Stir the sauce once more and pour it over the filling.
Top the pie with tomato slices.
Bake in 375 F (190 C) oven for 40-45 minutes until the pie is set.
Let cool for 15-20 minutes before slicing.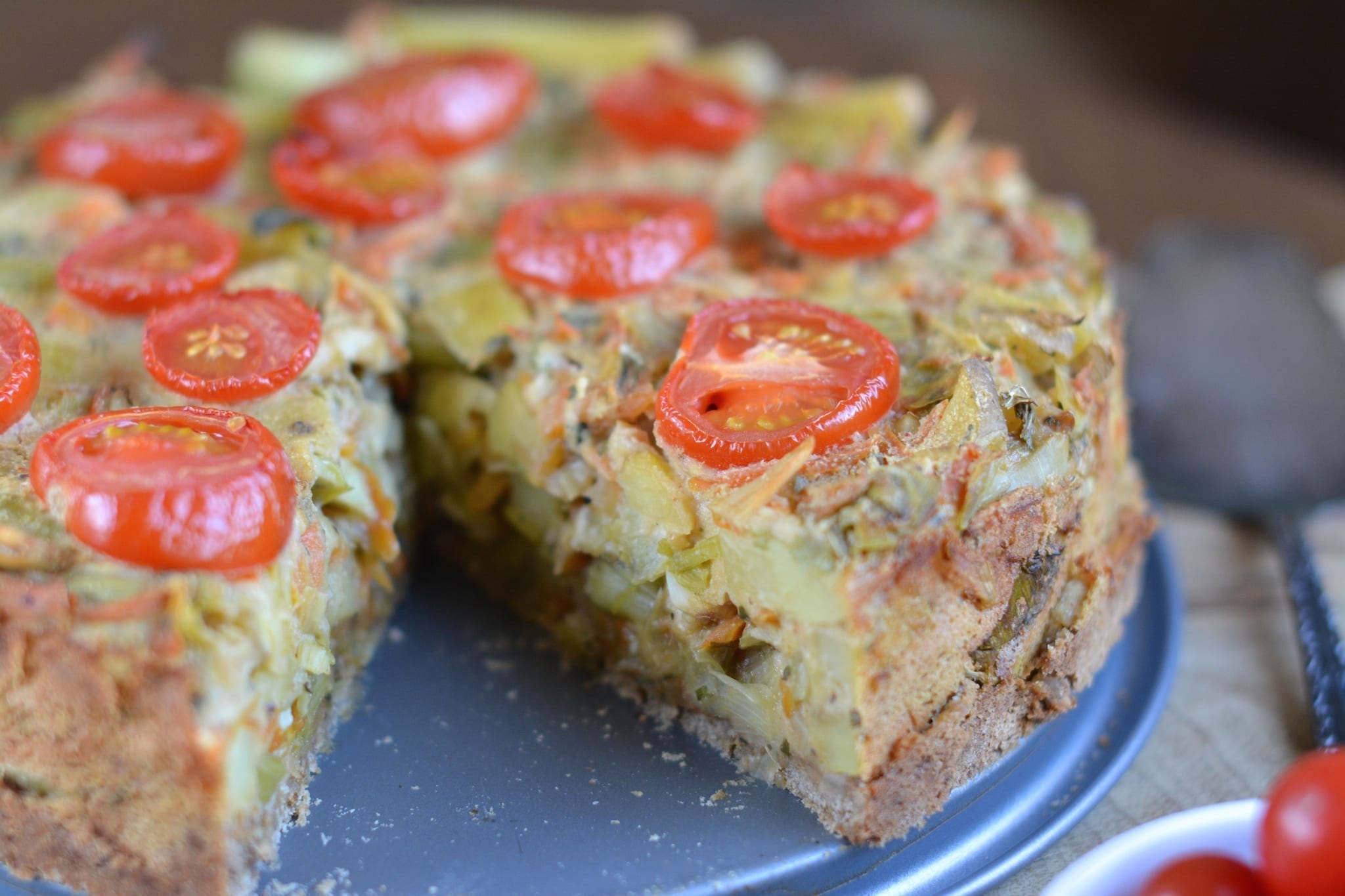 Tips:
You can substitute garlic flakes with 3-4 fresh garlic cloves and dried celery with 1 stalk of fresh celery.
Goes very well with green salad and oven-baked or boiled grated beetroot.