Healthy and delicious plant-based and flourless kale-mushroom pizza on cauliflower-chickpea base.
I know I missed the international vegan pizza day, but this was because I was finishing eCornell's course on Plant-Based Nutrition – a pretty good excuse I think 🙂
All the same, I managed to prepare a pizza my family loved a bit later. Healthyandnourished.com and veganricha.com inspired me to create this mushroom-kale pizza on a flourless cauliflower-chickpea crust.
I plan to experiment with pizzas also in the future, so stay tuned!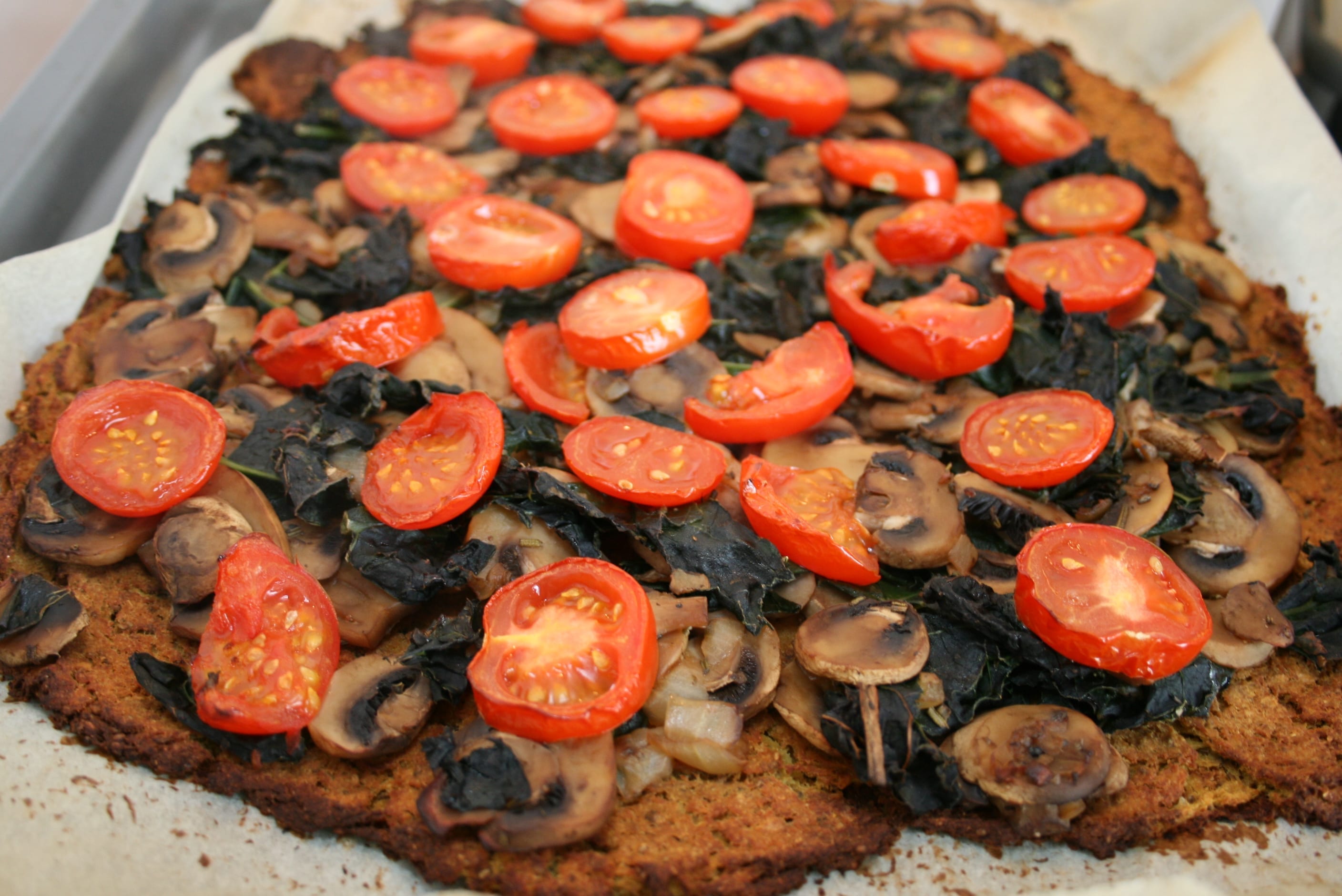 And finally, please let me know in the comments below whether you're a fan of vegan pizza or prefer good old pizza. Please tag me in social media whenever you try one of my recipes! I'd love to see your creations! Instagram @thenutriplanet and Facebook @nutriplanet.health.hub
Print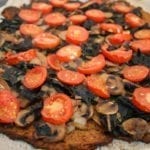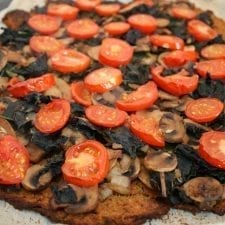 Plant-Based Flourless Kale-Mushroom Pizza
---
Description
Healthy and delicious plant-based and flourless kale-mushroom pizza on cauliflower-chickpea base.
---
CRUST
TOPPING
1

onion, chopped

4

garlic cloves, crushed

300 g

mushrooms
sea salt
black pepper

200 g

kale, chopped (can sub with spinach, pak choi)
cherry tomatoes
---
Instructions
CRUST
Mix chia seeds with water and let sit for about 30 minutes (stirring occasionally and adding water as needed).
Wash and rinse the chickpeas. Process into a paste with immerse blender.
Pre-heat oven to 425 F (220 C). Process cauliflower in food processor. Put the cauliflower on a parchment lined sheet. Spread the grated cauliflower and bake for 7 minutes.
Remove from the oven and transfer to a bowl. Cool slightly. Add the chia gel to the mix.
Add spices and chickpea paste and mix well. It should become a soft-textured dough.
Spread/press the mixture on a parchment lined sheet. Bake for 30-35 minutes or until the crust is golden and the centre is not soft to touch (bake time depends on the moisture content). Turn the sheet around after 20 minutes, if needed.
Cool slightly.
TOPPING
Put chopped onion, crushed garlic and mushrooms with salt and pepper on a saucepan and sauté covered for 5 minutes – add a bit of water only if necessary (the mushrooms should provide enough moisture). Add kale and simmer for additional 5-7 minutes.
Spread the topping on the crust. Put slices of cherry tomatoes on top and bake for 10-15 minutes. If the crust starts to brown too quickly, reduce the temperature to 375 F (190 C) and cook until done. Cool for 5 minutes before slicing. Serve immediately.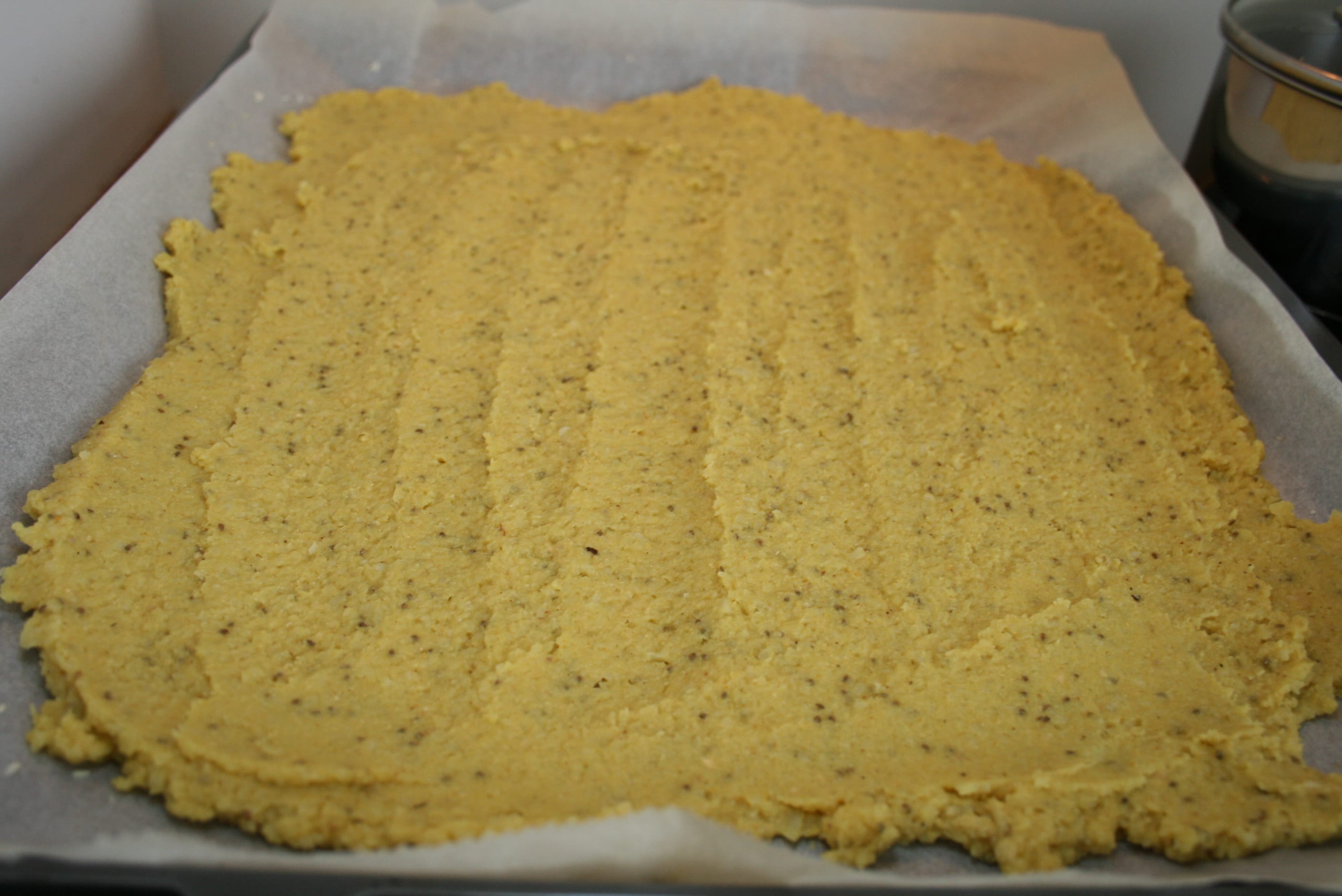 Enjoy!
Disclosure: this post contains affiliate links. As an Amazon Associate affiliate I earn from qualifying purchases. For every purchase made from the links in this post, you'll be able to support my work. So you can look after your health, and contribute to my mission at the same time. Thank you!