This ricotta tart is very festive and perfect for Midsummer's Day and for July 4.
I got the idea for this ricotta-biscuit tart when my 4-year-old and his mates at kindergarten prepared the classic version of the tart with dairy and white-flour-sugar biscuits for Mother's Day. He could not eat this, so he made date-carob candies instead.
Still, I wanted him to try the cake and thought it'd actually not be difficult at all to create a delicious and healthy plant-based version of the popular tart. Needless to say, we all loved the result.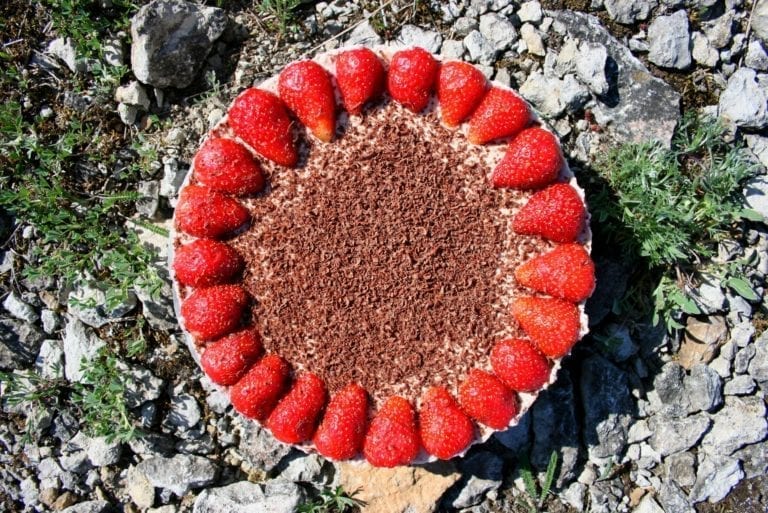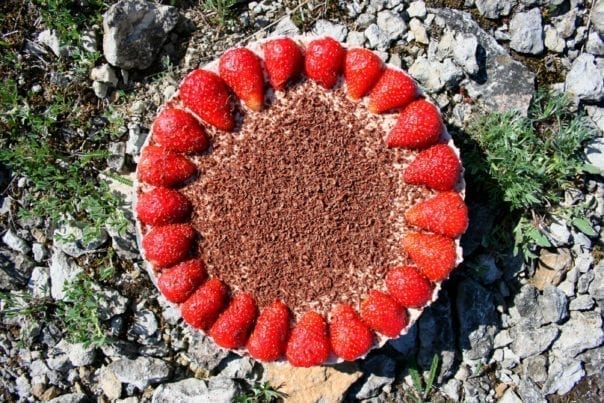 CRUST:
1 cup walnuts
¼ tsp sea salt
8 dates, chopped
Preparation:
Process walnuts and sea salt in a food processor until fine crumbs, then add the dates and process until the mixture holds together when squeezed.
RICOTTA FILLING
Ingredients:
1 cup raw buckwheat, soaked overnight
2 cups cashews, soaked overnight
½ cup coconut milk
5 tbsp agave syrup
2 tbsp coconut oil, melt before use
80 ml water
1 ripe banana
juice of 2 small lemons
½ tsp sea salt
Preparation:
Rinse the soaked buckwheat and cashews before use. Throw all ingredients into high-speed blender and blend until smooth. Help with a spoon when necessary.
BISCUITS
Ingredients:
Wet:
3 tablespoons coconut oil (melt before use)
3 tablespoons water
4 tablespoons agave syrup
½ tablespoons ground flax
Dry:
100 g (3.53 oz) almond flour
115 g (4.06 oz) raw buckwheat flour
115 g (4.06 oz) oat flour
2 tablespoons arrowroot flour
2 teaspoons cinnamon
½ teaspoon fine grain sea salt
Directions:
1. In a small bowl, whisk together all the wet ingredients
2. In a large bowl, whisk together the dry ingredients |
3. Add the wet mixture to the dry mixture and stir well with a spoon
4. Form the dough into 2-3 balls and place one at a time on a lightly floured non-stick mat. Lightly flour a rolling pin (if necessary) and begin rolling out the dough until you have a rectangle that is about 2 mm thick. The dough will crack a bit, but this is totally normal.
5. Cut the crackers into the shapes of your choice.
6. Bake for 10 minutes at 350 F (175 Celsius). Carefully, transfer crackers to a cooling rack for 15 minutes.
NB! Process cooled biscuits in a food processor (S-blade) until fine crumbs (almost flour-like).
Tips:
* You can substitute the arrowroot flour with regular starch.
* You can substitute water with almond milk
* You can grind your own flours from almonds, raw buckwheat and rolled oats. Weigh the same amount as flours.
* You can prepare the biscuits ahead.
* Should you buy store biscuits, use about 390 grams (14 oz).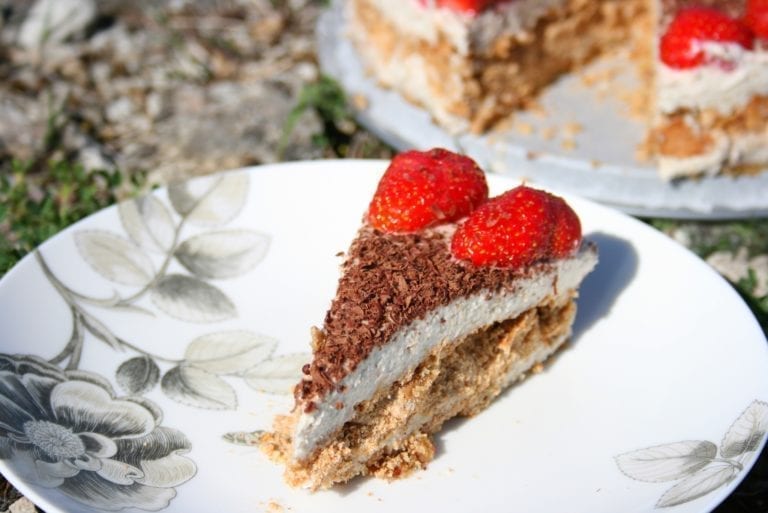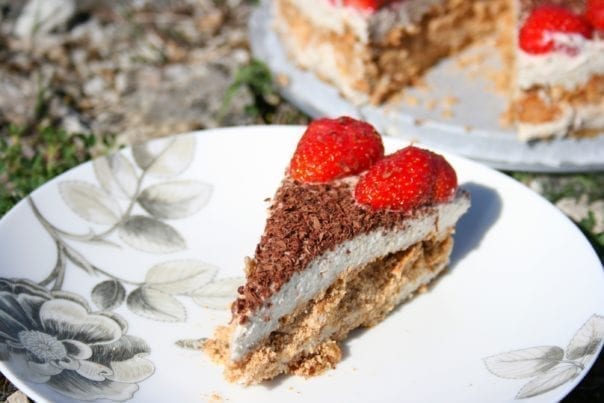 COMPILING THE TART
1. Firmly press crust into the bottom of a round tart tin with removable bottom.
2. Spread 1/3 of the filling onto the crust.
3. Spread ½ of biscuit crumbs on the filling.
4. Moisten the biscuits with a juice from one orange.
5. Continue with step 2 until the filling and biscuits are finished and you have the ricotta filling for top layer.
6. Place the tart in fridge for at least 8 hours or in freezer for 4 hours.
7. Decorate the tart with fresh strawberries (or any other fresh berries) and grated dark chocolate.
Tip:
Before removing the round part of tart tin, cut the edges through with a round tip knife.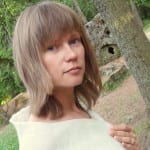 Nele Liivlaid: founder of Nutriplanet.org
She has been into healthy eating for many years, but developed a more profound interest in nutrition and related diseases when she started reading The China Study and other special books on nutrition. After being in real estate and hospitality business for more than 10 years she decided to totally change her path to spread the word about healthy and sustainable nutrition and lifestyle.