Savoury vegan sorghum muffins that make a perfect healthy breakfast or snack requiring only 5 ingredients (not counting salt and baking powder). Furthermore, those sorghum muffins are gluten-free and oil-free. Get ready for a boost of flavours, a subtle sweetness and a bit of crunch.
It's one of those healthy recipes that lack neither taste nor flavour. So, it's a perfect allergy friendly recipe for those afternoons when you need a healthy and satiating pick-me-up snack.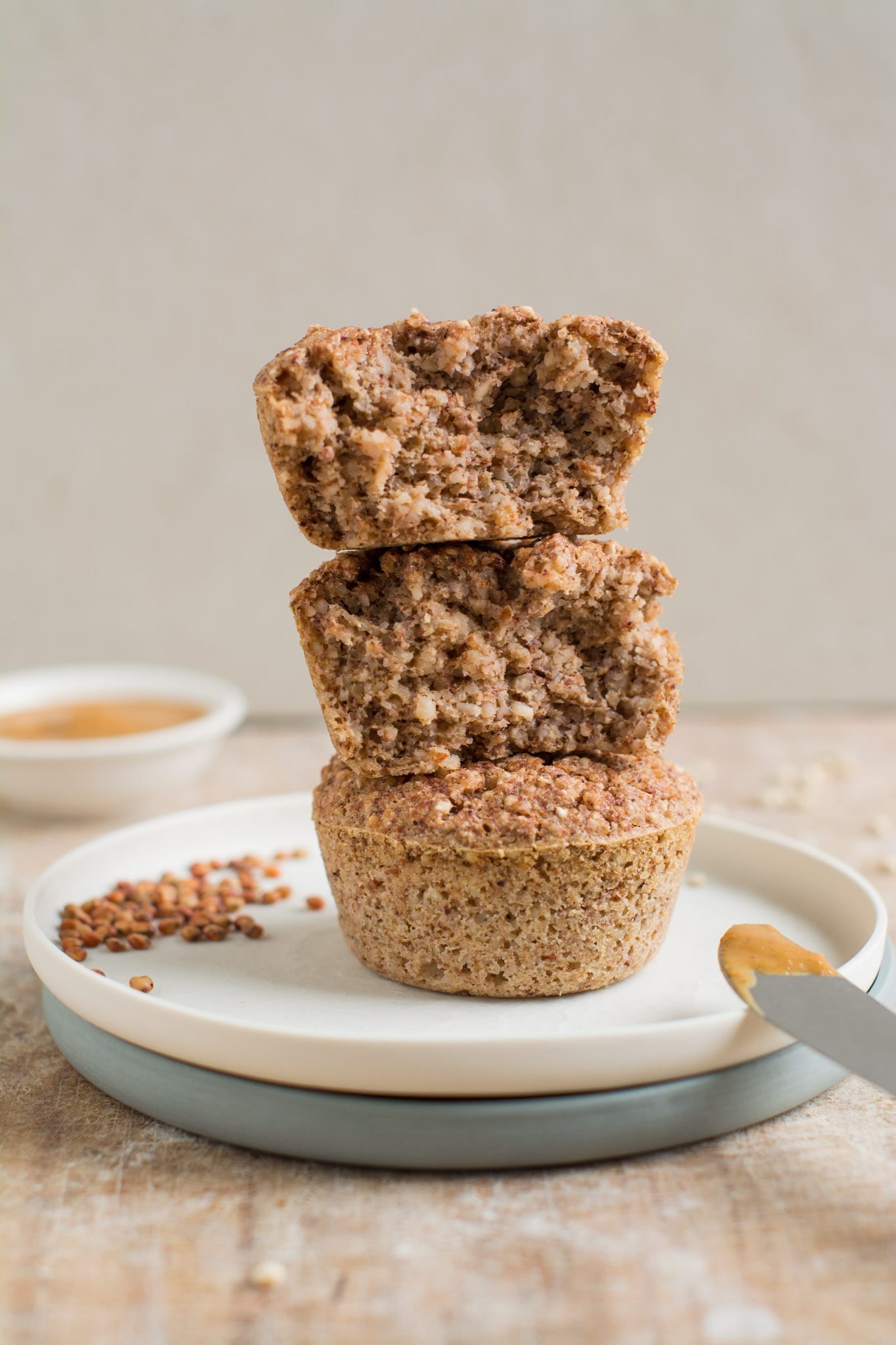 My savoury vegan sorghum muffins are:
Gluten-free
Low-fat
Oil-free
Candida diet friendly
Peanut-free
Soy free
The Story
I first tried sorghum a couple of months back when I discovered it in Rimi Supermarket. By the way, I have not seen it anywhere else in Tallinn.
Besides being a gluten-free grain, I simply thought it looked cool and was eager to try it out. To my great surprise and enjoyment sorghum smells and tastes very similar to barley, but unlike the latter, sorghum is gluten-free. Oh my, how I had missed my quick barley bread! Needless to say, I was ever so happy to develop a similar gluten-free recipe using sorghum!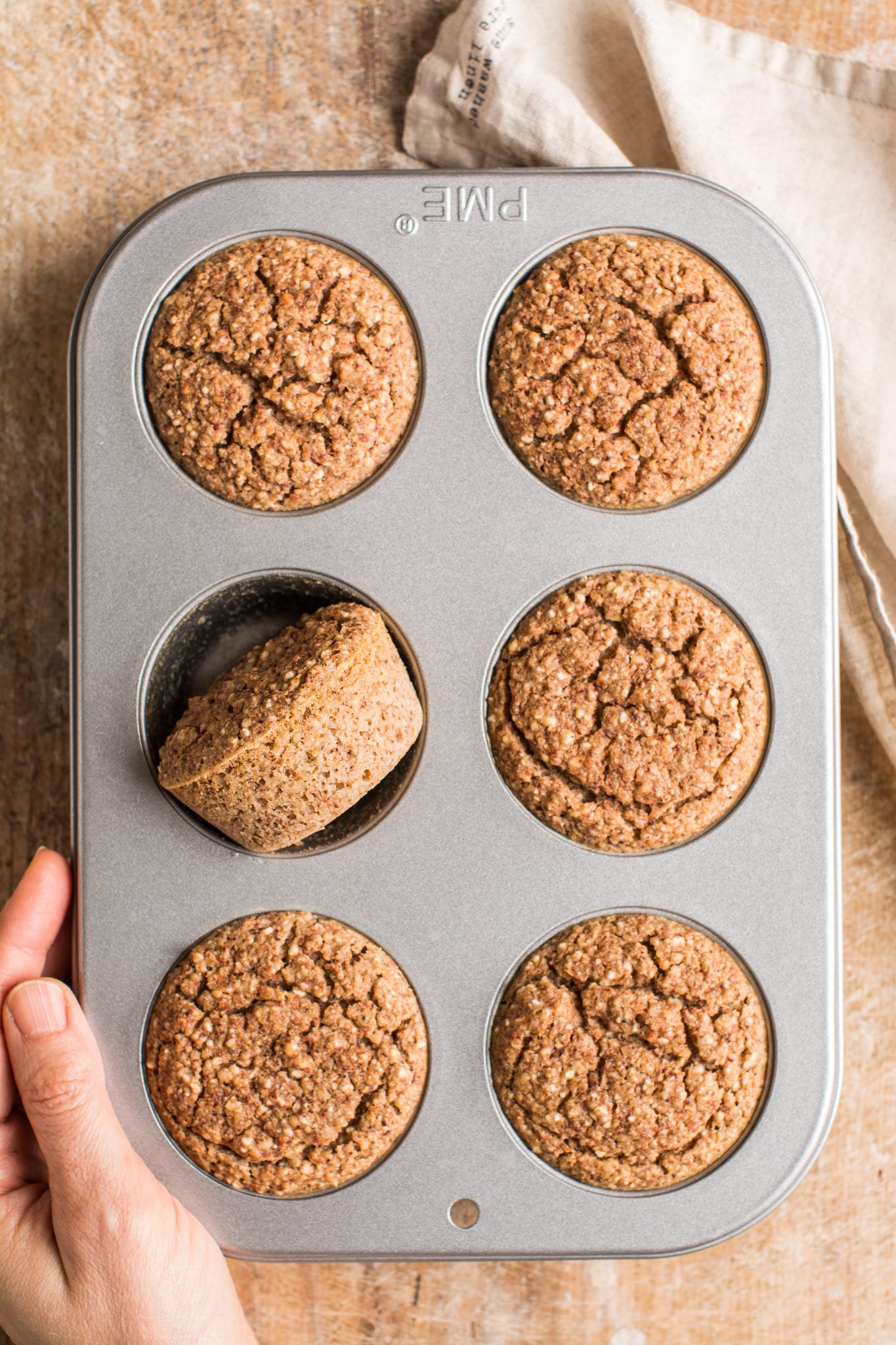 It's noteworthy, that quick barley bread is called karask in Estonia, and it's a very popular bake here. In fact, my first memories go back into early childhood when the delicious flavours of baked karask were floating in the kitchen. Now, traditionally this bake contains sour milk, eggs and butter and is made of barley flour. I veganized this recipe already back in 2015 resulting in Plant-Based and Oil-Free Quick Barley Bread. Furthermore, there's a muffin version in my book Plant-Based Made Easy.
What is Sorghum
As mentioned above, sorghum is a gluten-free grain that is rich in minerals such as iron, copper, magnesium, and manganese. It is unfortunate that in the US, it's primarily used for animal feed. However, the market for human consumption is increasing as well.
Sorghum originates in North-Eastern Africa. The earliest known record of sorghum dates back to 8,000 B.C from an archaeological dig near the Egyptian-Sudanese border. Since then, sorghum has spread throughout Africa and adapted to a wide range of environments.
There is grain sorghum, forage sorghum (for grazing pasture, hay production, silage and green-chop), biomass sorghum (primarily for the production of bioenergy), and sweet sorghum (for sorghum syrup production). Grain sorghum is what interests us, right? So, there are various types of grain sorghum including red, orange, bronze, tan, white, and black coloured sorghum. The darker the colour, the more antioxidant power there is. (source)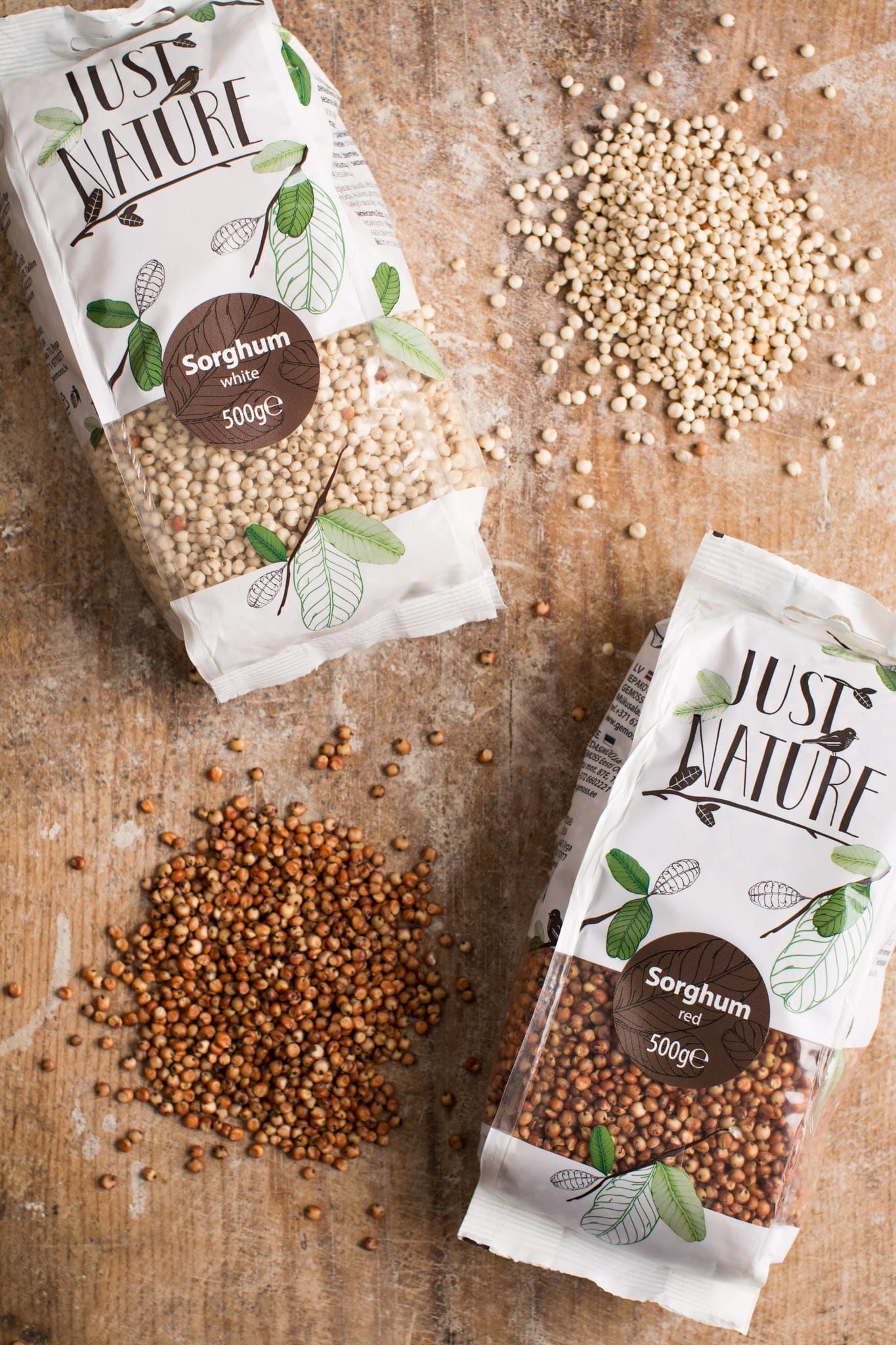 You may use it like any other grains: add into soups, use in salads and Buddha bowls, make porridge, or, in this case, muffins.
Among other benefits, sorghum may help slow the absorption of sugar and keep your blood sugar stable. One study compared blood sugar and insulin levels in 10 people after eating a muffin made with either sorghum or whole-wheat flour. The sorghum muffin led to a greater reduction in both blood sugar and insulin than the whole-wheat muffin. (source)
How to Cook Sorghum
It is quite hard grain, so it takes 1 hour to cook unsoaked sorghum. Soaking on the other hand, reduces the cooking time to half an hour. For its long cooking time, I'd suggest cooking it separately and the adding to ready soup not to overcook the veggies. Alternatively, start making soup by simmering sorghum with onions and bay leaf and add the veggies at later stage, 10-15 minutes before the sorghum is done.
So, here's sorghum for you! Besides having a rich nutritional profile, it is also so versatile when it comes to using it in your dishes and gluten-free recipes.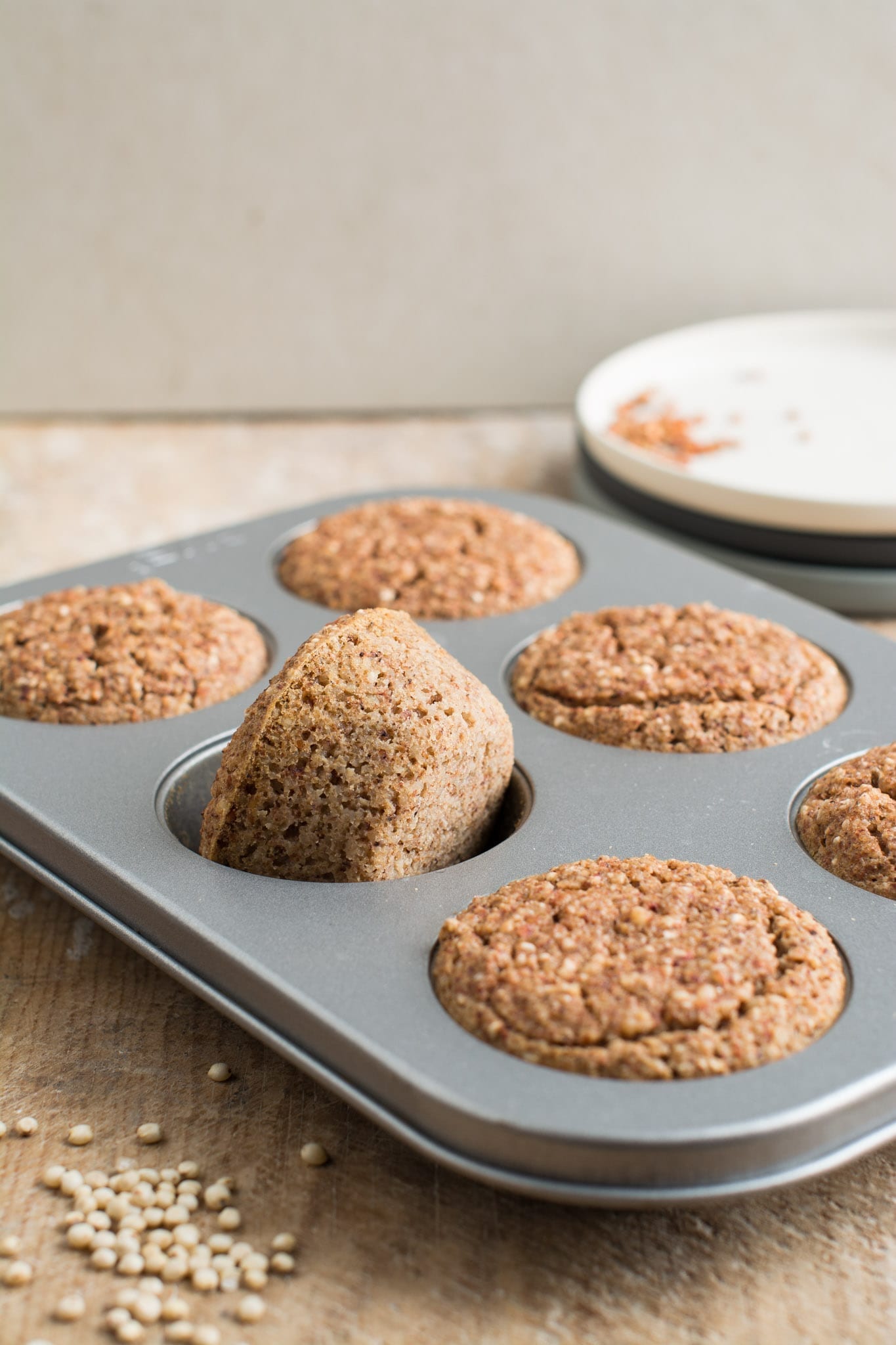 The Ingredients
The main ingredient is evidently sorghum groats that got enough attention in the above section. I'm using soaked groats instead of flour as it's simply more nutritious and easier to digest. If you're more interested in reading why I always soak my legumes and grains, go to my Guide to Sprouted Chickpeas: How to Soak, Sprout and Cook Chickpeas.
Traditionally, sour milk or buttermilk is used in quick bread recipes. A really simple vegan substitution for the latter is sour milk made with plant milk. There's no rocket science – you simply mix plant milk with apple cider vinegar and let it sit for a few minutes.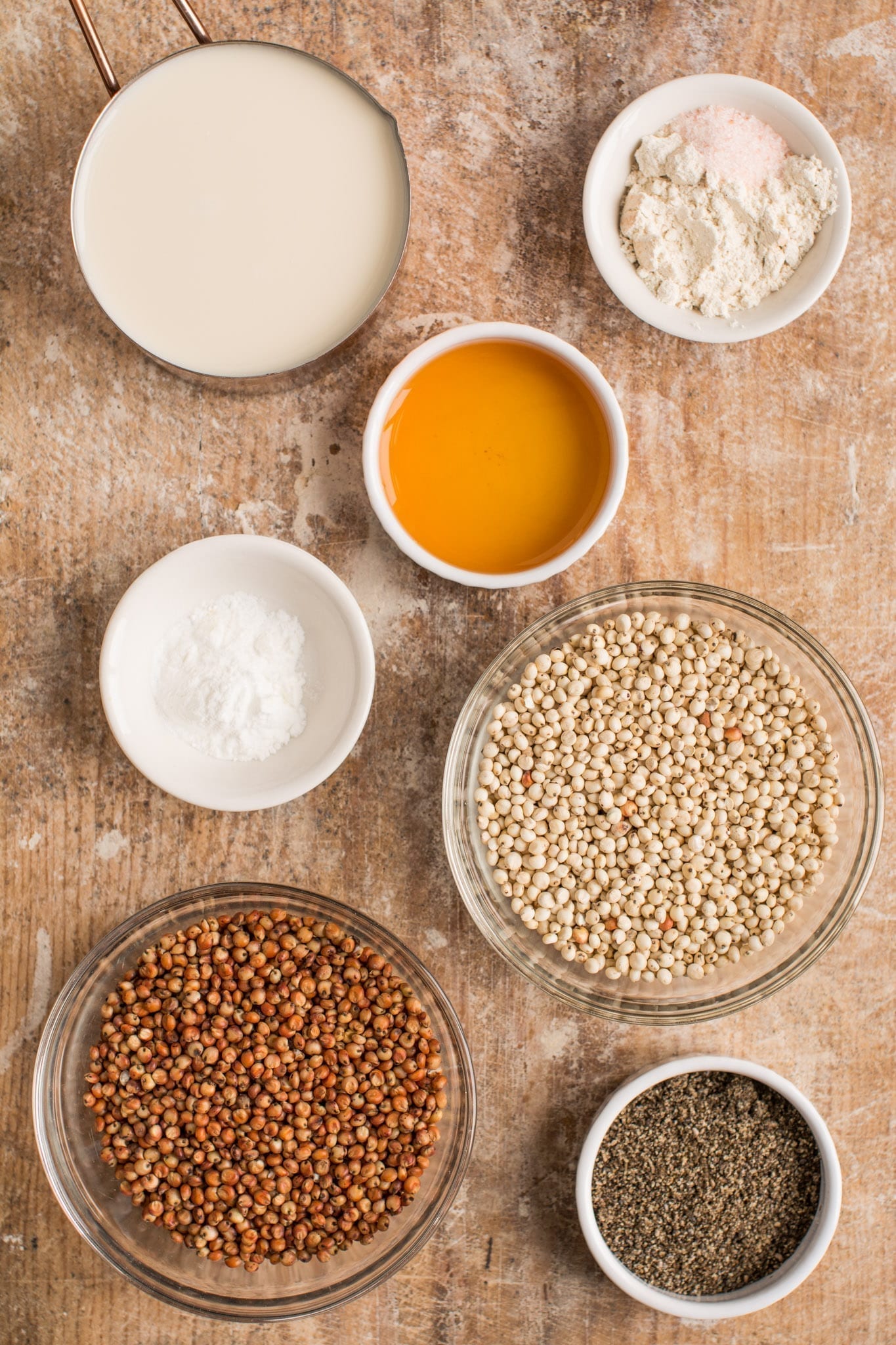 Then, I added almond protein powder for some extra heartiness and Himalayan salt to enhance the flavours.
Ground chia seeds act as an excellent binder making you forget about eggs. And finally, some low sodium aluminium free baking powder to allow the muffins rise a bit.
Variations
To tell you the truth, my favourite version of those sorghum muffins is with mesquite flour and soymilk. I decided to make the official recipe with more common ingredients for those who don't have mesquite at home or can't get it easily. Should you not be one of those people, see tips on recipe card for further directions.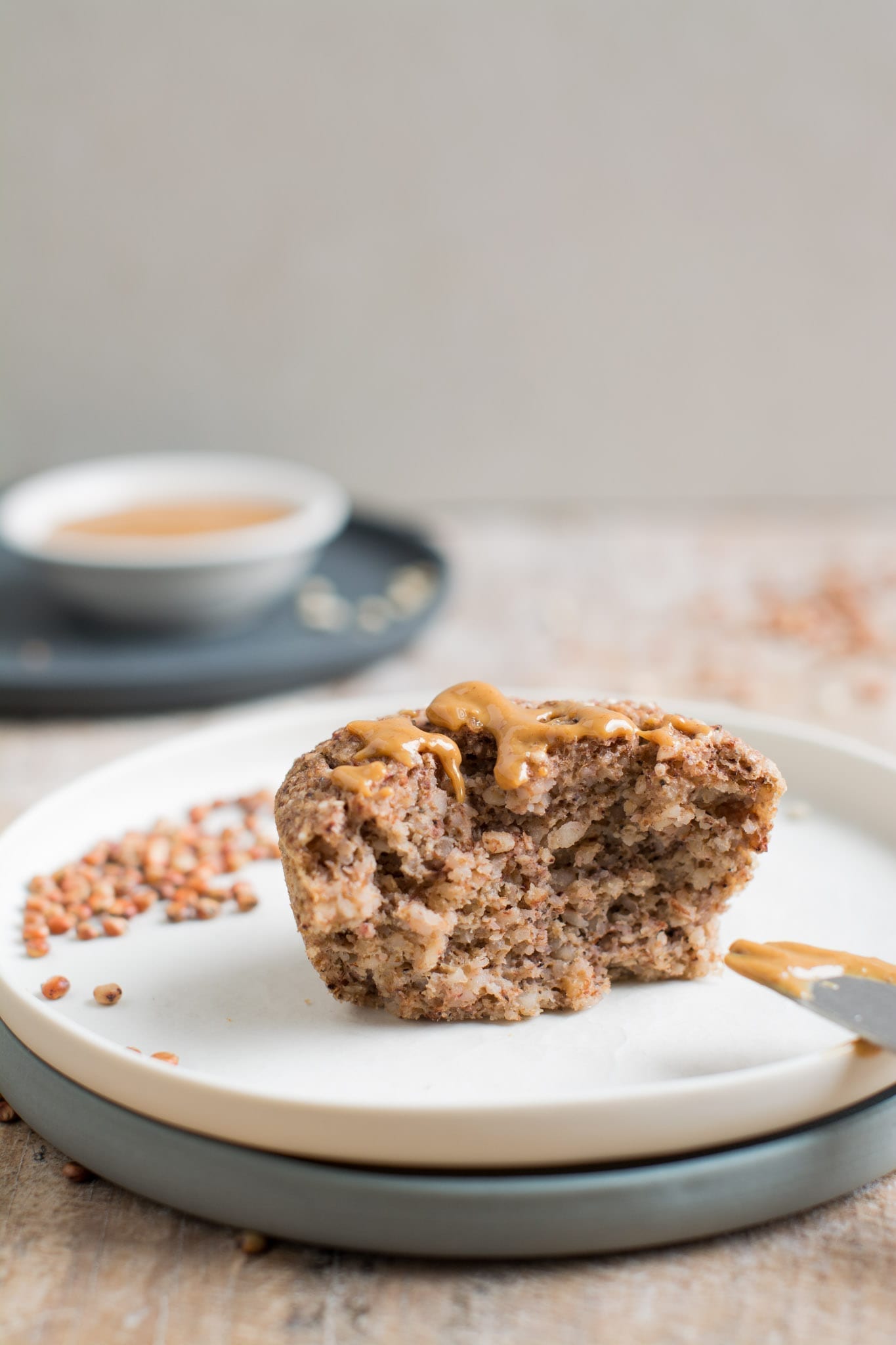 Finally, do let me know when you make this recipe or in case you have any questions or comments about the porridge. Feel free to comment below!
Print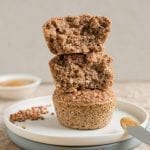 Savoury Sorghum Muffins [Gluten-Free, Vegan]
---
Description
Savoury vegan sorghum muffins that make a perfect healthy breakfast or snack requiring only 5 ingredients (not counting salt and baking powder). 
Soaking time: 8 hours
---
---
Instructions
Start by soaking sorghum groats overnight or for at least 8 hours. Drain and rinse. 
Then, pour oat milk into a small bowl and mix in 1 tablespoon of apple cider vinegar. Let sit for 3-5 minutes.
Next, transfer soaked sorghum groats along with all the other ingredients (except baking powder) into blender or beaker (if you use immersion blender). Blend until you have homogeneous batter. Finally mix in baking powder as well.
Divide the batter between 6 silicone muffin forms or pour into 6-piece muffin pan and bake at 180C (355F) for 30 minutes. You may preheat the oven when you start making the muffin. Remove from oven and let cool before eating. If you want to be certain they're done inside, make sure that the toothpick inserted comes out clean (or almost clean).
Notes
If you're in Estonia, you can get sorghum groats from Rimi Supermarket.
You may use either white or red sorghum, or the combination of the two in this recipe. Red sorghum is harder and therefore results in crunchier muffins. I like to use half red and half white in this recipe.
Ground almonds (that is usually called almond flour) would also work in this recipe. However, in this case, the nutritional profile of the muffins would be different, i.e. containing more fat.
Any plant milk works, but my favourite is additive-free oat milk as it gives subtle sweetness to the muffins.
In case you don't have apple cider vinegar, lemon juice works as well.
Should you go for naturally not sweet milk, such as almond milk or soymilk, substitute mesquite flour for almond flour (1:1) for some sweet taste.
If you're after that hint of sweetness, but don't have neither mesquite flour not oat milk or rice milk (that are naturally sweet), you may throw in a teaspoon of wholesome sweetener like coconut sugar or date sugar. For low glycemic sweetener options read Low-Carb Vegan Breakfast Porridge Guide. 
Ground flaxseeds can be used instead of chia seeds. However, add 1½ tablespoons of ground flaxseeds. Grind the seeds yourself using a coffee/spice grinder and store in a sealed container in fridge.
Storage tips: put any leftovers in a ziplock bag or container with lid. Keeps one day on kitchen counter, 3 days in fridge and a month in freezer. If you want it soft and fresh, simply heat the muffin up in microwave.
Prep Time:

10 minutes

Cook Time:

30 minutes

Category:

Bread

Method:

Baking
Nutrition
Serving Size:

1 muffin

Calories:

145 kcal

Sodium:

111.32mg

Fat:

2.72g

Carbohydrates:

24.8g

Fiber:

3.37g

Protein:

4.95g
Keywords: sorghum, muffins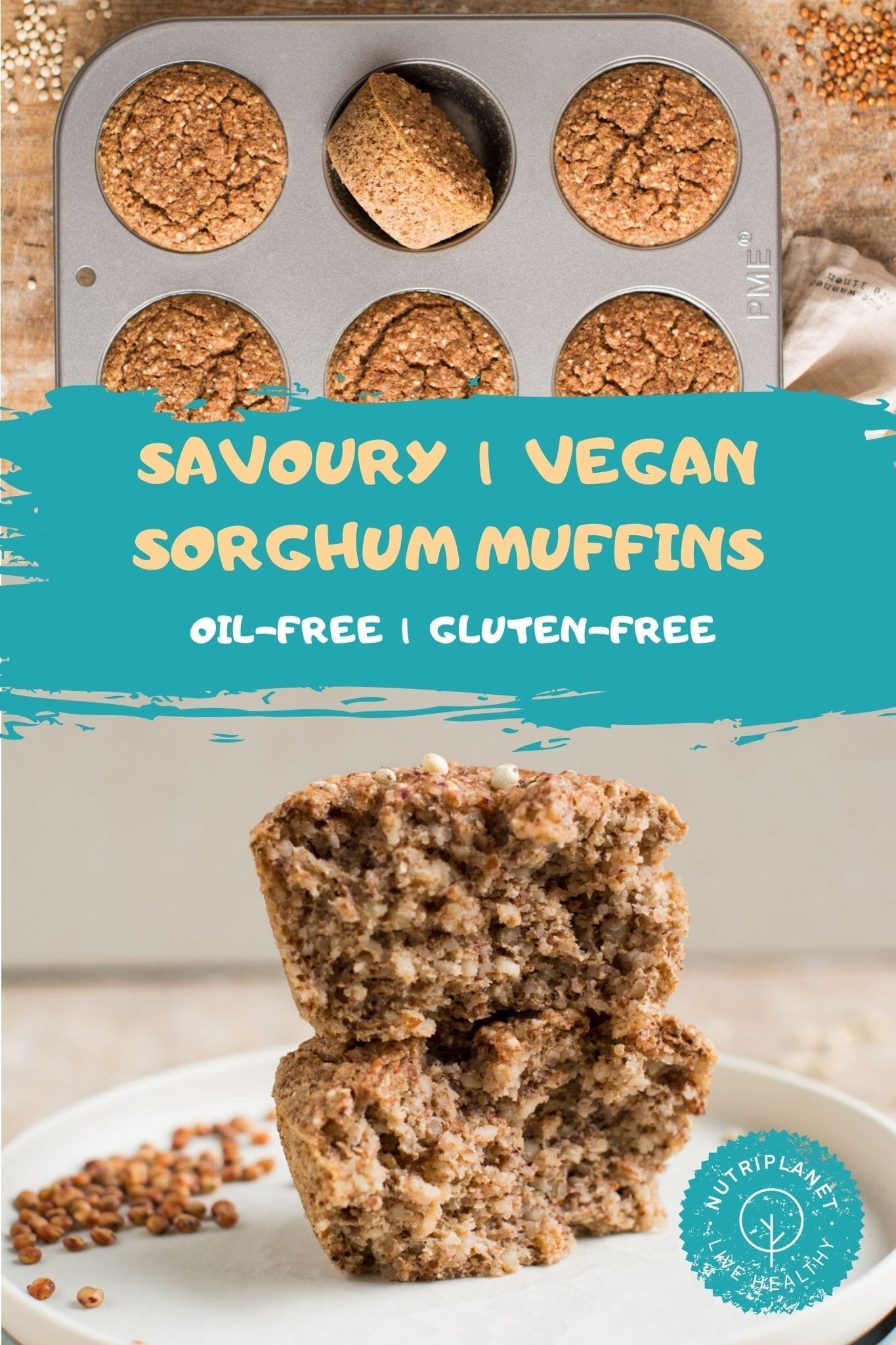 Disclaimer: this post contains affiliate links. As an Amazon Associate, I earn from qualifying purchases. For every purchase made from the links in this post, you'll be able to support my work. So, you can look after your health, and contribute to my mission at the same time. Thank you!