These rich and healthy grain free vegan peanut butter protein balls that use no refined sugars or oils are so easy to throw together! Furthermore, they are perfect raw energy bites for those lazy afternoons.
See how easy it is to make them from tutorial video further down!
Have you ever struggled with blood sugar spikes? It's that wrong hunger soon after eating when you crave for quick carbs and feel fainted if you can't have any. Do you relate? Well, then those protein balls are a perfect healthy snack for you! They are in the lower end of glycemic load, i.e. they don't mess with your blood sugar, but keep it stable instead. Unless you eat the whole batch at one go of course 🙂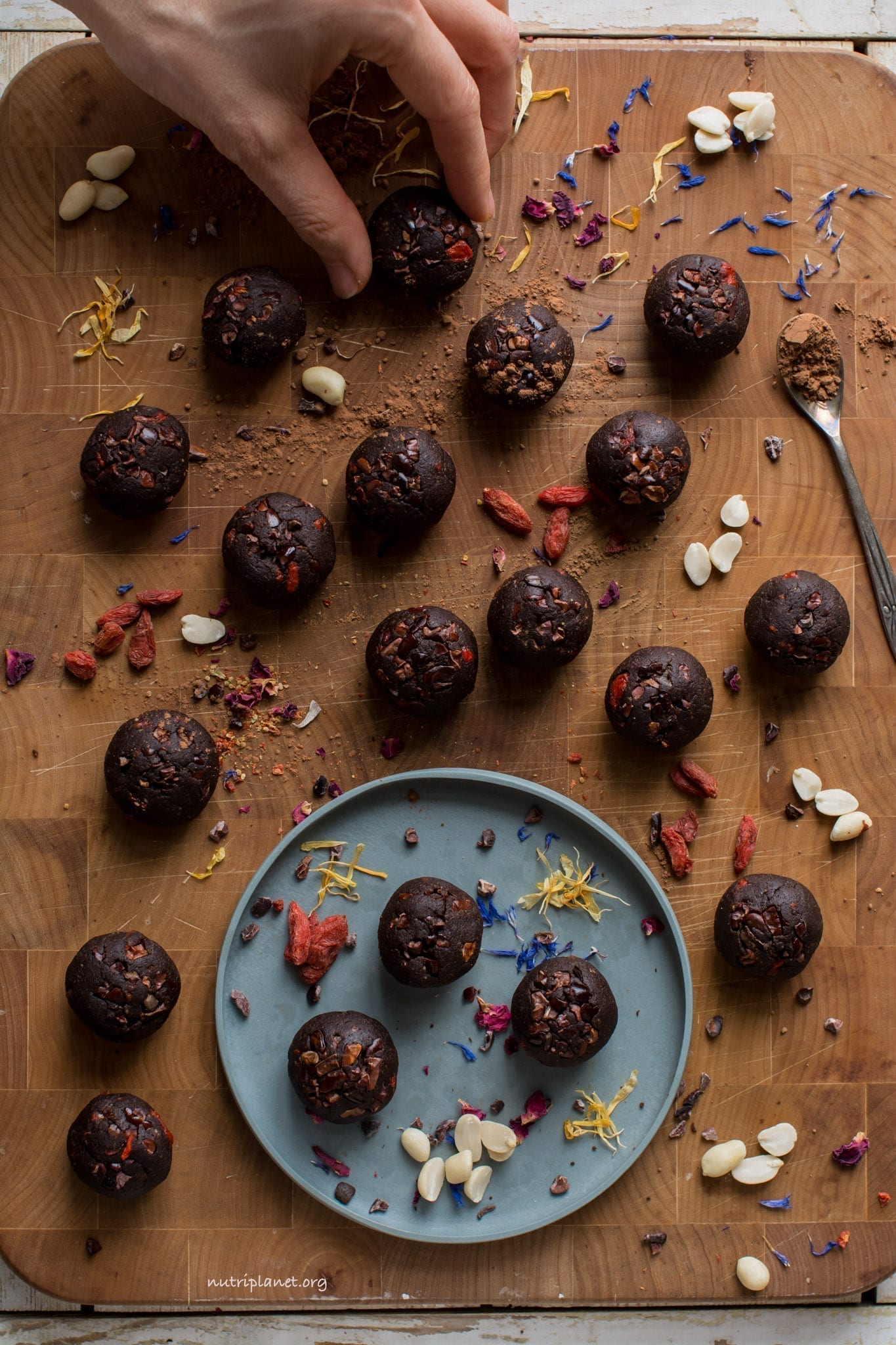 These vegan peanut butter protein balls fit perfectly into your daily menu because they are:
Vegan
Low glycemic
Gluten free
Grain free
Low in sugars
High protein
Oil free
Easy go-to snack
Candida diet friendly
Refined sugar free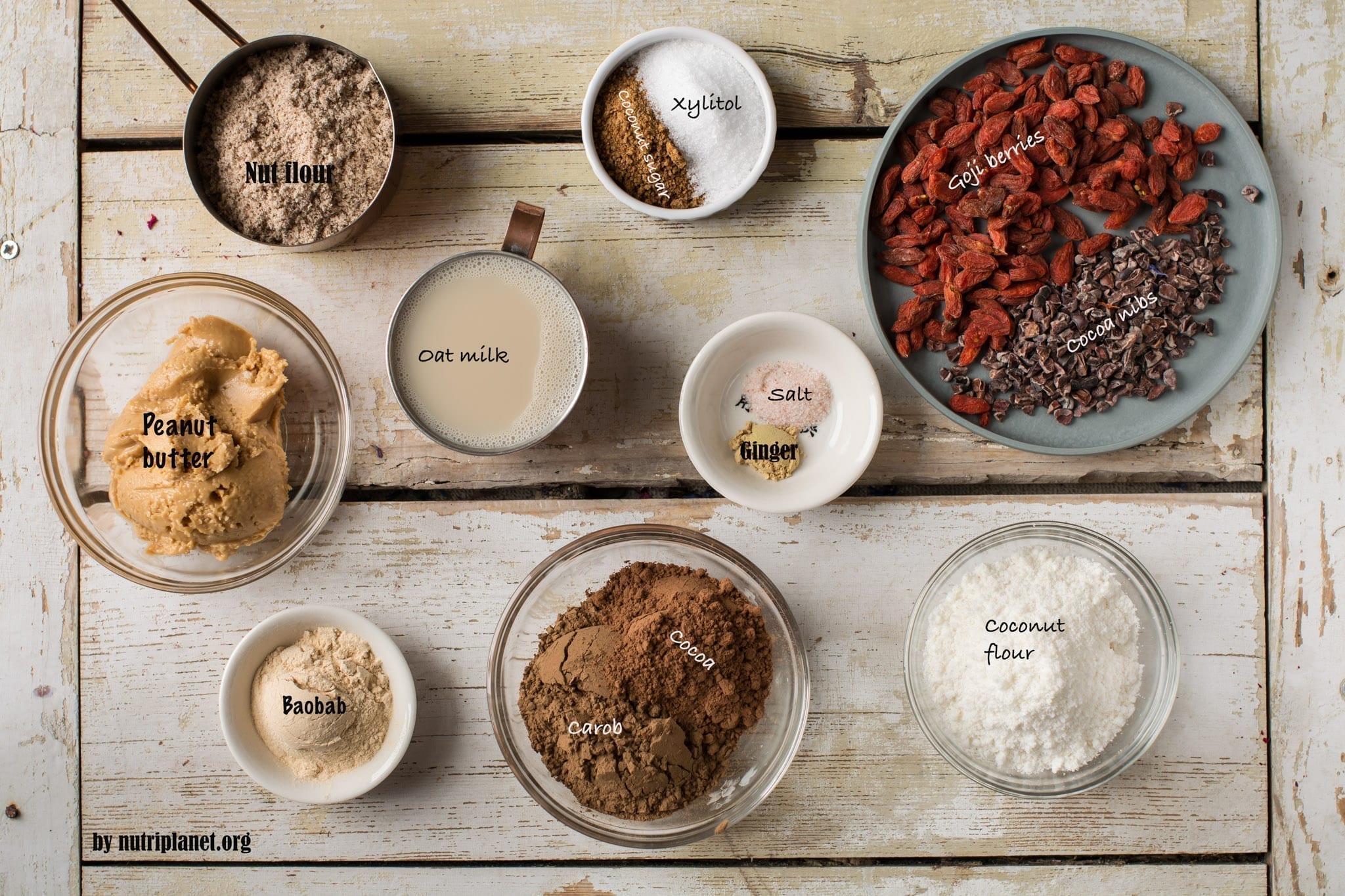 Instead of grains I used coconut flour and hazelnut flour. Remember, coconut flour is not the same as ground coconut flakes, which have much higher fat content (38% vs 86% kcal from fat). The flour is made of pulp and actually is a by-product of milk making process.
In fact, I used homemade hazelnut flour following the same process – I dehydrated pulp from making hazelnut milk and then ground it into fine meal.
If you want to keep the fat content of those protein balls at bay, go for nut protein powders (fat-reduced flours) or prepare the flours by yourself using pulp. When buying nut or seed protein powders, make sure there are no unwanted additives, i.e. prefer the ones that consist of the nut or seed only.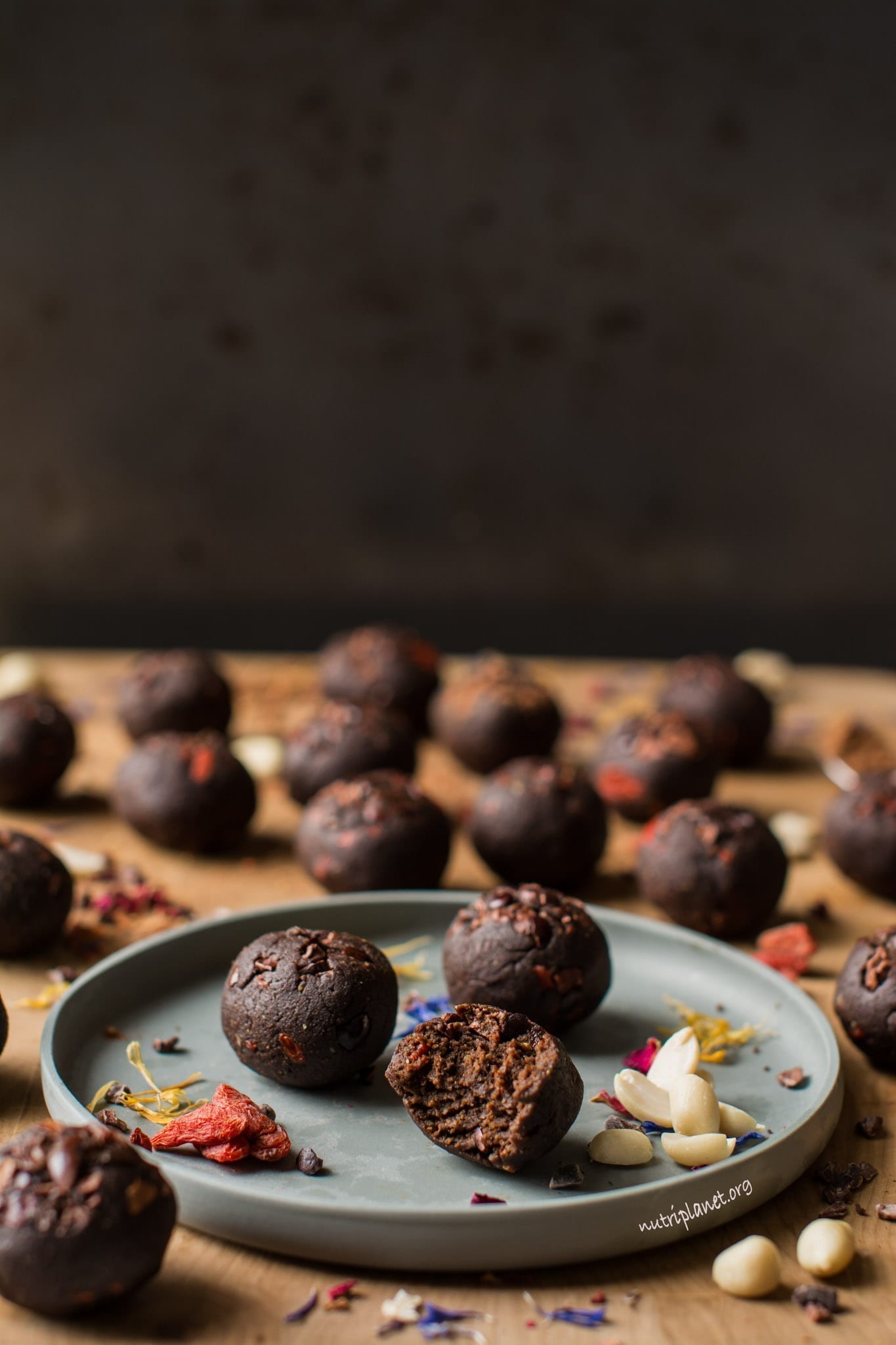 I must admit those peanut butter protein balls really saved my day, because they are lower in fat than dark chocolate or my superfood chocolate candies that I used to grab so thoughtlessly. Moreover, they have much lower glycemic load than for example my homemade chocolate candies that use oats. Consequently, I can have a few more without affecting my blood sugar adversely.
If you love peanut butter like I do, give my Chickpea Cookie Dough Bites a try as well. You'll love them!
Please do let me know if you make those protein balls, because I'd love to know! I'd love to hear from you! Please also tag me in social media whenever you make and share my recipe. Instagram @thenutriplanet and Facebook @nutriplanet.health.hub
So, make a big batch of my peanut butter protein balls, freeze them and you're good for a week! Read more storing tips further down!
Print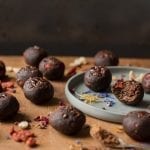 Peanut Butter Protein Balls
---
Description
These rich and healthy grain free vegan peanut butter protein balls that use no refined sugars or oils are so easy to throw together! Furthermore, they are perfect raw energy bites for those lazy afternoons.
---
---
Instructions
Start off by coarsely chopping the goji berries. Put aside.
Then, add all the ingredients (except the berries and cocoa nibs) into food processor and process until dough ball forms. It happens quite quickly and sticks together really well.
Next, add chopped goji berries and pulse for a few times – enough to mix the berries into dough, but not to process them too much.
Now, to make the balls – first, take a 17-gram (0.6oz) piece of dough and then stick one side of it into cocoa nibs. After that you're ready to roll it into a ball or any other preferred shape. See the tutorial video further down!
Finally, refrigerate the protein balls for a couple of hours or overnight and enjoy!
Notes
My peanut butter protein balls are delicious right after you've made them, but they turn firmer when cooled down.
1 ball has 1.5 GL points.
Nutrition
Serving Size:

1 ball, 1/20 of the recipe

Calories:

51.7 kcal

Fat:

2.76g

Carbohydrates:

5.5g

Fiber:

2.09g

Protein:

2.7g
Keywords: peanut butter ball
Tips on substitutions in my vegan peanut butter protein balls recipe:
Coconut flour and nut flour can sub one another. You can also use only one type of flour or go crazy and use ten different ones if you like. However, don't choose chia protein powder as it absorbs a whole lot more of moisture!
Baobab powder is there for its vitamin C content and sour taste. If you don't have any sour tasting powders (rose-hip, acai, blackcurrant, sea buckthorn, camu camu), then add a bit of lemon juice (add less plant milk to the batter) or zest.
Carob and cocoa can also sub one another, but remember that carob is sweet and cocoa bitter. In case you decide to use more cocoa, you might need to add more sweetener as well.
If you're allergic to peanuts, use any nut or seed butter instead. For example, almond butter, sunflower seed butter, cashew butter, pumpkin seed butter, hazelnut butter.
You can use any plant milk for those protein balls. Again, if you use unsweetened and naturally NOT sweet milks, you might want to add more sweetener of choice.
As far as sweeteners are concerned, they can sub one another. I like to use a bit if coconut sugar for its caramel taste. If you're neither on Candida diet nor need to watch your blood sugar, feel free to use any sweeteners you like, i.e. palm sugar, raw cane sugar, date paste, maple syrup, agave syrup.
If you don't have cocoa nibs, use mini chocolate chips instead.
Finally, great substitutions for goji berries are mulberries or inca berries.
Storing tips on my vegan protein balls:
Store in a container in fridge for up to 4 days.
Store in zip lock bag in freezer for up to a month. Cool them down in fridge before putting into freezer.