My family has had smoothies as first breakfast for a few years now. My husband started the tradition as he was looking for a breakfast that'd allow him to ditch the first coffee in the morning, as he was anxious to cut down the daily dosage. This time could be creamy kiwi-avocado smoothie.
The thing is that grains can be a bit too heavy for your digestion in the morning when your body is still waking up. Most of your energy would be directed to digestive process leaving almost none for other activities, such as working. This is when you crab for a cup of coffee.
Fruits and vegetables on the other hand are very easy to digest letting your body to wake up properly. Veggies go through your system fairly quickly allowing you to have a heavier meal (e.g. grains) already in an hour or two.
We discovered kiwi smoothies last autumn when strawberry season finished. Strawberry smoothies are my favourite for their sourness and I think that kiwis are the closest to strawberries when it comes to taste. Although I also adore blueberries, blackcurrants, raspberries, cherries, it is difficult with berries in Spain as they cost a fortune and are rare to find, especially in winter. In Estonia you can go to a regular supermarket and buy frozen blueberries, blackcurrants, raspberries, blackberries (just name it!) with favourable prices. So, kiwi smoothie it is!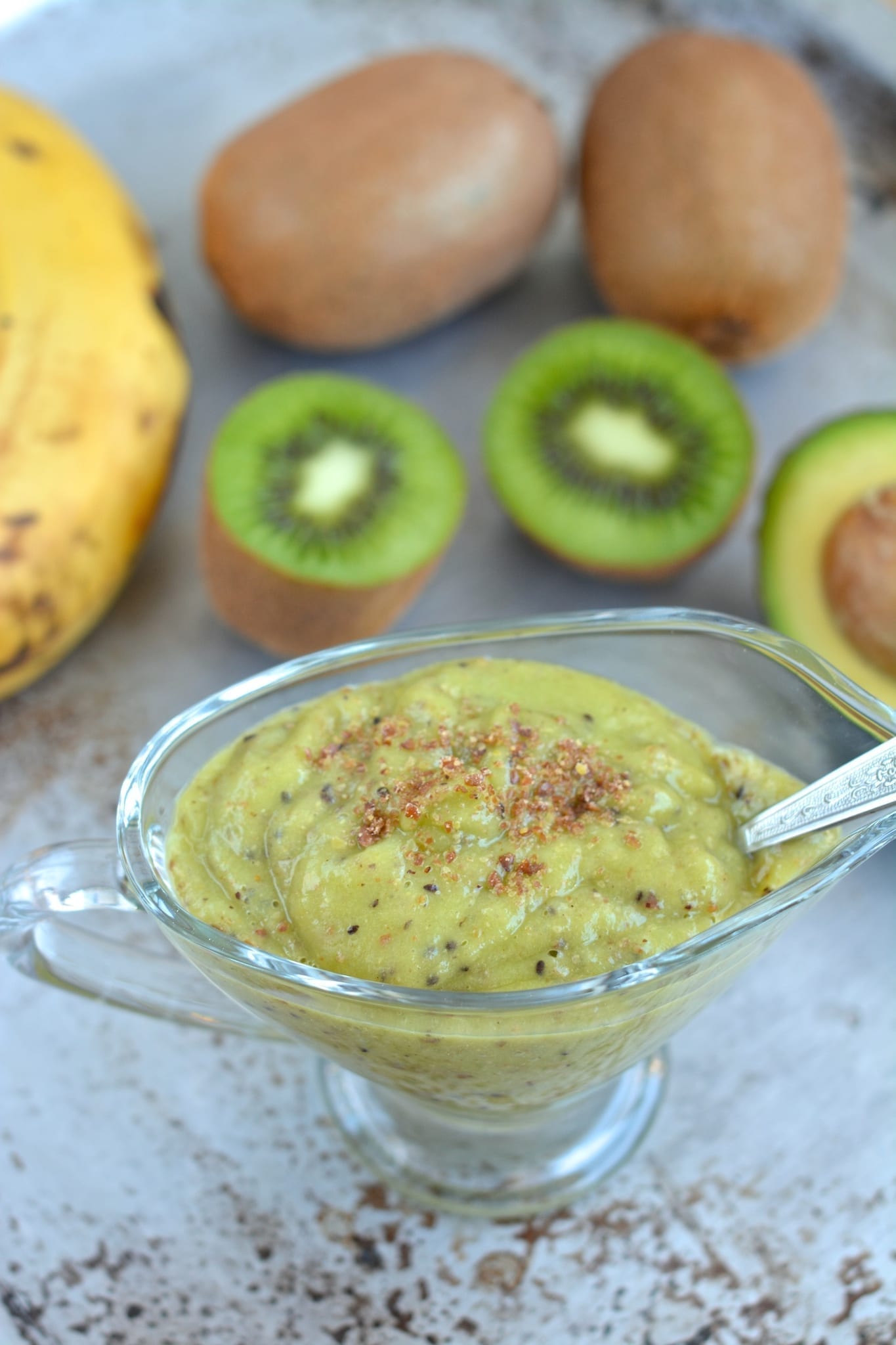 Kiwis
Kiwis are rich in vitamin C, which acts as antioxidant; and potassium, which can help abolish the effects of sodium in the body and lower blood pressure. Be careful, if you are taking beta-blockers (medication prescribed for heart disease), as these can cause potassium levels to increase in the blood. Also, too much potassium can do harm to those whose kidneys are not fully functional (1)
Kiwis are also rich in fibre, which play a vital role in keeping our digestive system healthy and removing waste from the body.
Avocado
Another important ingredient of the smoothie, avocado, is a source of potassium, folate, lutein, and vitamins B, K, E and C. Avocados are also a good source of omega 6 fatty acid, which is necessary for bodily functions, mostly heart health. It's important to pay attention to the correct balance between omega 3 and omega 6 fatty acids. This is necessary because with the right dosage and combinations, these fatty acids help prevent several diseases such as cancer, diabetes, arthritis, dermatitis and, most notably, a majority of cardiovascular illnesses. Studies about the dieting habits of earlier generations show that our ancestors had a perfect omega 3 and omega 6 fatty acid balance – 1:1. In modern days, this ratio can sometimes even skew towards 1:20 or be even more unbalanced. This is mainly due to the fact that omega 6 fatty acids are represented in a wide variety of foods that we're prone to over consuming. In order to restore the balance, eat seeds and nuts rich in omega 3 fatty acids such as ground flaxseeds, hemp or chia seeds or walnuts and limit the consumption of oils and ready meals. The seeds should be ground in order to make them easily digestible and your body can reach the fatty acids hidden under the shell. It's good to add seeds and nuts to your smoothies, morning porridge or salads.
I also add ¼ teaspoon (0.5g, 0.02oz) of agar-agar (a jelly-like substance obtained from algae) per portion for daily iodine dosage. The aim is to have an intake of 150 mcg a day. Agar-agar is the easiest source of iodine when on plant-based diet as 0.5g contains 180 mcg. Another seaweed very high iodine is kombu (2523.5mg/kg). 2 nori sheets have the content of 90 mcg and 2 tbsps. of wakame 160 mcg (2)
From time to time I also like to top my smoothie with a teaspoon of natural soy yoghurt, which combines so well with fruits. My favourite brand is Sojade Soja.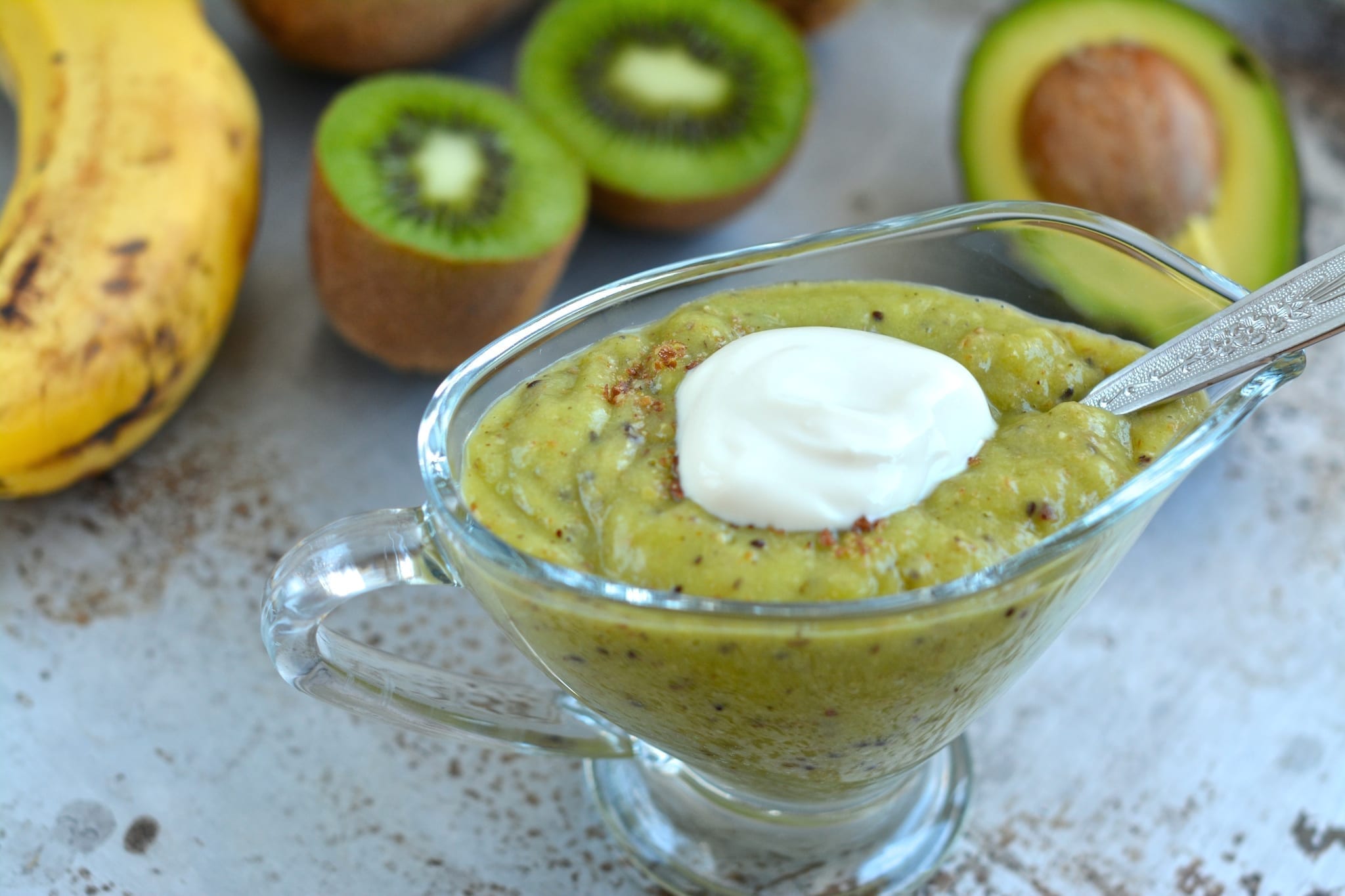 I like to keep my smoothies quite thick and not blend them too silky allowing my teeth to do some work as well. It's important to chew on your carbs as their digestion begins in the mouth. Should you prefer a more liquid smoothie, add some water or plant-based milk.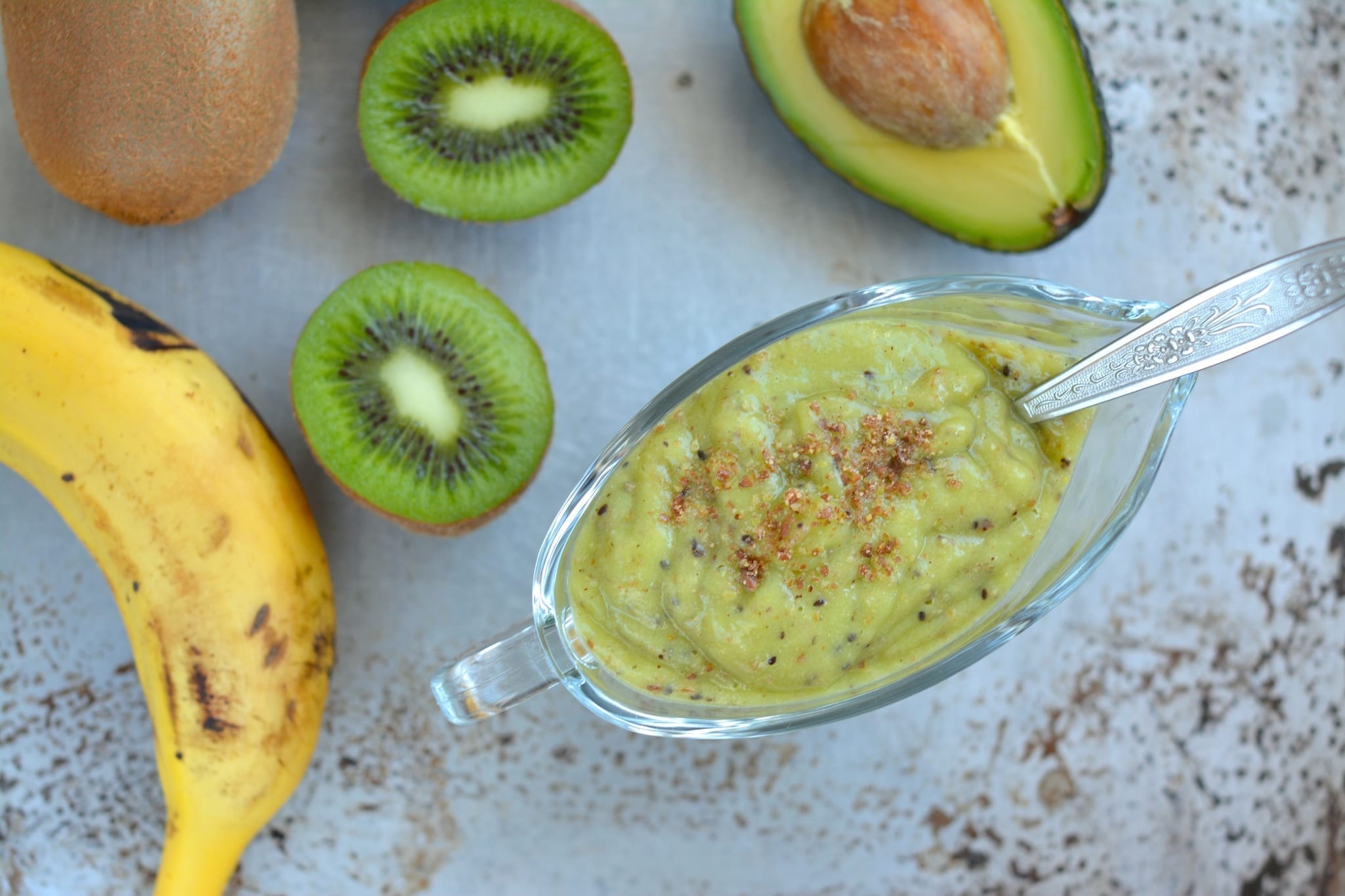 Finally, please let me know in the comments below if you have any questions. Please tag me in social media whenever you try one of my recipes! I'd love to see your creations! Instagram @thenutriplanet and Facebook @nutriplanet.health.hub
Print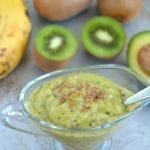 Creamy Kiwi-Avocado Smoothie Recipe
---
Description
My family has had smoothies as first breakfast for a few years now. My husband started the tradition as he was looking for a breakfast that'd allow him to ditch the first coffee in the morning, as he was anxious to cut down the daily dosage.
---
3

kiwis

1

small or

half of a

big banana

½

of a 150g (

5.3oz

) avocado

2

tbsps. ground flax seeds
---
Instructions
Peel kiwis or cut them in half and scoop the pulp out with spoon.
Cut avocado in half and scoop out the deliciously creamy green pulp. Leave the stone attached to the other half and store in sealed contained in fridge.
Throw all ingredients into blender (kiwis first to ease blending) and blend into smoothie (as smooth or chunky as you like).
Prep Time:

7 minutes

Method:

Blending
Nutrition
Serving Size:

1 serving

Calories:

211 kcal

Fat:

8.94g

Carbohydrates:

28.2g

Fiber:

7.16g

Protein:

4.59g
Keywords: kiwi-avocado smoothie
Other smoothies we like to have in the morning include Mango-Turmeric Smoothie, Beetroot-Blueberry Smoothie, orange-carrot smoothie, Strawberry-Avocado Smoothie and various berry smoothies.