I prefer quick and filling lunches that I could also eat in smaller portions. That's why I concentrate on legumes and starches when preparing lunch. There'll be just a bit of veggies to accompany lentils or beans. I have my huge salad bowl with plenty of veggies for dinner.
How to save time while cooking?
To keep the preparation time to a minimum I use ingredients that I can throw straight into pot without the need to cut, peel or chop first – instead of peeling and chopping the onion (+ crying and not being able to open my eyes for a while), I just use dried onion flakes; and instead of peeling and mincing the garlic, I throw a bit of garlic powder or flakes into pot.
For lunch I like to have carrots, which I used to chop and simmer with the soup or stew. Then I discovered that I can save even more time and get a different and very pleasant outcome with a bit crunchy texture when I grate the carrot while the stew is simmering and mix it in at the end. Furthermore, it also cools the stew down a bit, so that I can mix in the turmeric and start eating sooner. I add turmeric after cooling because curcumin is heat-sensitive. Read further about curcumin absorption from my Ginger-Lentil Soup post.
The only thing you need to remember to do in advance is to put the brown lentils to soak and you are good to go. When preparing the stew for lunch, put the lentils to soak the evening before, and when preparing dinner, put them to soak in the morning.
Why soak?
Besides reducing the cooking time soaking makes grains, legumes, nuts and seeds more easily digestible, enhances mineral absorption by reducing or removing phytic acid (which reduces mineral absorption); releases the enzyme inhibitors that store nutrients while growing and prevents premature germination, and even boost vitamin B content.
This plant-based, gluten-free and oil-free brown lentil stew recipe is just about throwing a few ingredients into pot, pouring it all over with water, grating a carrot while the stew is cooking and mixing it in at the end with some coconut milk. It can't get any easier, so you absolutely do not need to worry about your cooking skills.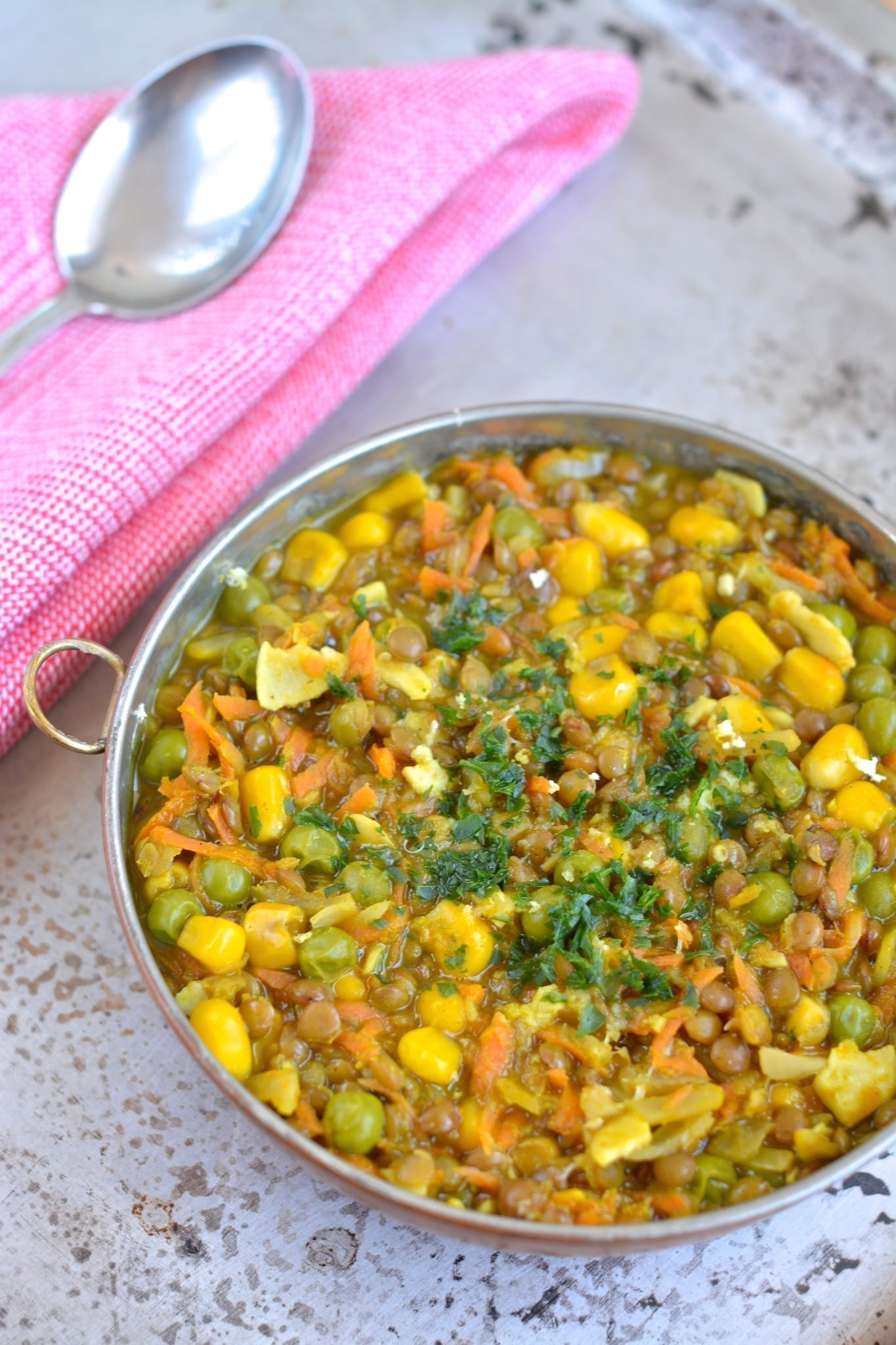 Brown Lentil-Corn-Green Pea Stew Recipe |2-3 servings|
Ingredients: Throw into pot straight away
2 tbsps. onion flakes
2 tbsps. garlic flakes or 1 tsp. garlic powder
1 tsp. broth powder
1 tsp. of your favourite curry powder
200g (7oz) brown lentils, soaked
½ cup corn, canned or frozen
1 cup frozen green peas
Ingredients: Add later
a few splashes (about 35g, 1.2oz) of coconut milk
2 carrots, coarsely grated
2 tsps. (not heaped) turmeric
black pepper to taste
Directions
Soak lentils for 6-8 hours. Then drain and rinse.
Throw onion and garlic flakes, broth powder, curry powder, frozen peas and corn, and rinsed lentils into a pot. If you use canned corn, rinse it first.
Add enough water to cover the ingredients and mix well. Bring to boil and simmer for 15-20 minutes. It's ready when the lentils are done.
While the stew is cooking, grate 2 carrots and put aside.
When the stew is done, add coconut milk and grated carrot and mix well.
Let the stew cool a bit and then add the turmeric and black pepper.
Tips:
To shorten the cooling process, divide the stew between plates and add turmeric and black pepper to individual portions.
Garnish with coriander, parsley, thyme or sage.
Add nutritional yeast for extra protein and vitamin B boost.
Should you want the stew more liquid, add more coconut milk, or some boiled water or plant-based milk.