Ginger-lentil soup is a perfect natural remedy for cold season. Also, read about how to boost turmeric absorption to get the best out of it.
The cold season is here, whether you want it or not. Usually I'm not ill that often, but this autumn I've been accompanying my kid to kindergarten in Barcelona and as the viruses here differ a bit from those back home we pick up almost every single one of them. The doctor said that we'd be fine in a year. Well, not very comforting!
Being a skilled sick person I developed a soup that includes as much natural remedies as possible – onion, garlic, ginger, turmeric, cayenne and black pepper and hot liquid.
In addition I make "the hot shots":
a few slices of fresh ginger root, chopped
1 tsp. turmeric powder (can use fresh turmeric root as well)

1 tsp. cinnamon

1 tsp. honey

juice of half of a thick slice of lemon

a few almonds or a bit of coconut milk

a few blueberries (dried, fresh or frozen)

a dash of black pepper
I just mix it all together and get chewing. It leaves you with a nice burning feeling going down the throat.

Another natural remedy I use a lot is lemon-ginger-honey tea – chop coarsely a few slices of fresh ginger root and pour hot water over the pieces. Let it sit until it has cooled down to 45 C (113 F) not to kill the healing qualities of honey and the vitamin C in lemon and only then add a teaspoon of honey and juice from a thick slice of lemon. I sip it at least three times a day.
Besides I top my lunches and dinners with black and cayenne pepper, which helps a lot with running nose. If my nose is really bad I add the peppers and turmeric also to my tea.
If I'm not sick I try to skip the chopping of onions and garlic whenever possible to save time and use dried onions and garlic powder or flakes instead. However, when sick, I can't afford to be lazy and take my time to prepare the soup with fresh ingredients.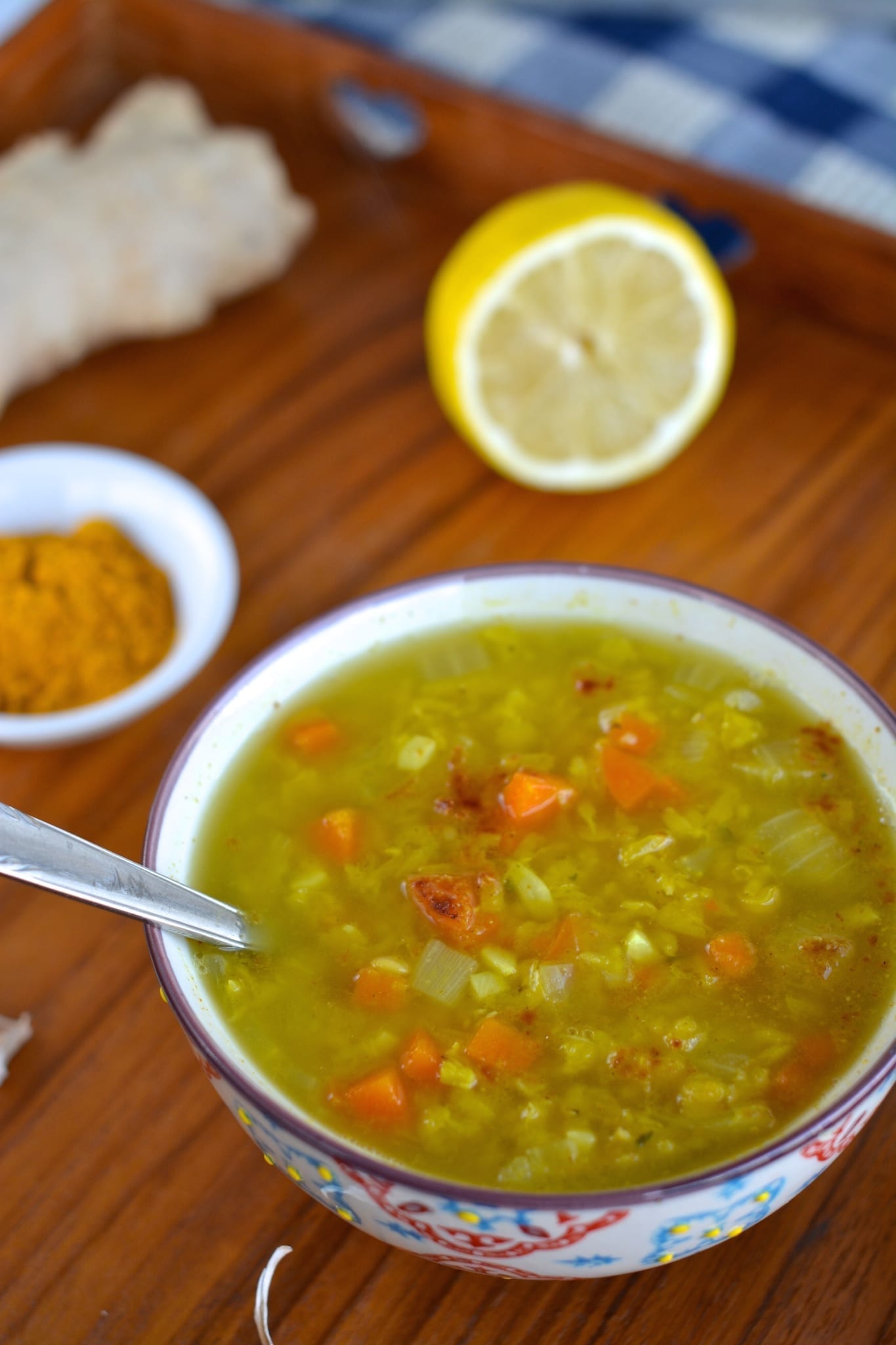 How to enhance curcumin absorption
As the curcumin in turmeric is fat-soluble, i.e. it needs some fat to get absorbed; I also add coconut milk to the recipe. To maximize the absorption, consume it with black pepper and as turmeric is heat-sensitive, only add it when the soup is ready and has cooled down a bit. Should you want to enhance the absorption even further, mix it with foods that contain quercetin, a flavonoid that inhibits a certain enzyme that deactivates curcumin. Such foods include fruits and berries with a dark red or blue color, e.g. red grapes (also red wine), blueberries, cranberries and black plums. *
Please let me know in the comments below if you have any questions about ginger-lentil soup. Please tag me in social media whenever you try one of my recipes! I'd love to see your creations, especially your own ginger-lentil soup! Instagram @thenutriplanet and Facebook @nutriplanet.health.hub
Print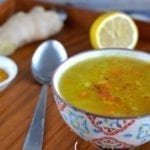 Ginger-Lentil Soup for Cold Season
---
Author:

Nele Liivlaid

Total Time:

25 minutes

Yield:

3

servings

1

x
Description
Ginger-lentil soup is a perfect natural remedy for cold season. Also, read about how to boost turmeric absorption to get the best out of it.
---
1

big onion, chopped

5

garlic cloves, minced

2

-cm thick ginger root, peeled and minced

1

celery stalk, chopped

3

carrots, chopped

1

heaped tsp. turmeric

2

tsps. broth powder

200g

(

7oz

) red lentils, rinsed

100

ml coconut milk
Water
Black pepper and cayenne pepper to taste
---
Instructions
Sauté chopped onion, celery, carrots and minced garlic and ginger in water for 5 minutes.
Add broth powder, rinsed lentils and enough water (at least twice as much compared to the dry ingredients in the pot). Remember you can always add some more boiled water when the soup is ready to adjust the consistency to your liking.
Bring the soup to boil and simmer it on low heat for 13-15 minutes. Add coconut milk and mix well.
Let the soup cool down a bit and then add turmeric and mix well. If you are in a hurry, divide the soup between plates where it cools down a lot faster and add the turmeric to each portion separately.
Add the peppers to the plate so everyone can choose just how much they want. Sprinkle some lemon juice on top of cooled soup for vitamin C and some nutritional yeast for cheesy flavour and B vitamins.
Prep Time:

5 minutes

Cook Time:

20 minutes

Method:

Boiling
Keywords: ginger-lentil soup
Enjoy when sick or feeling well!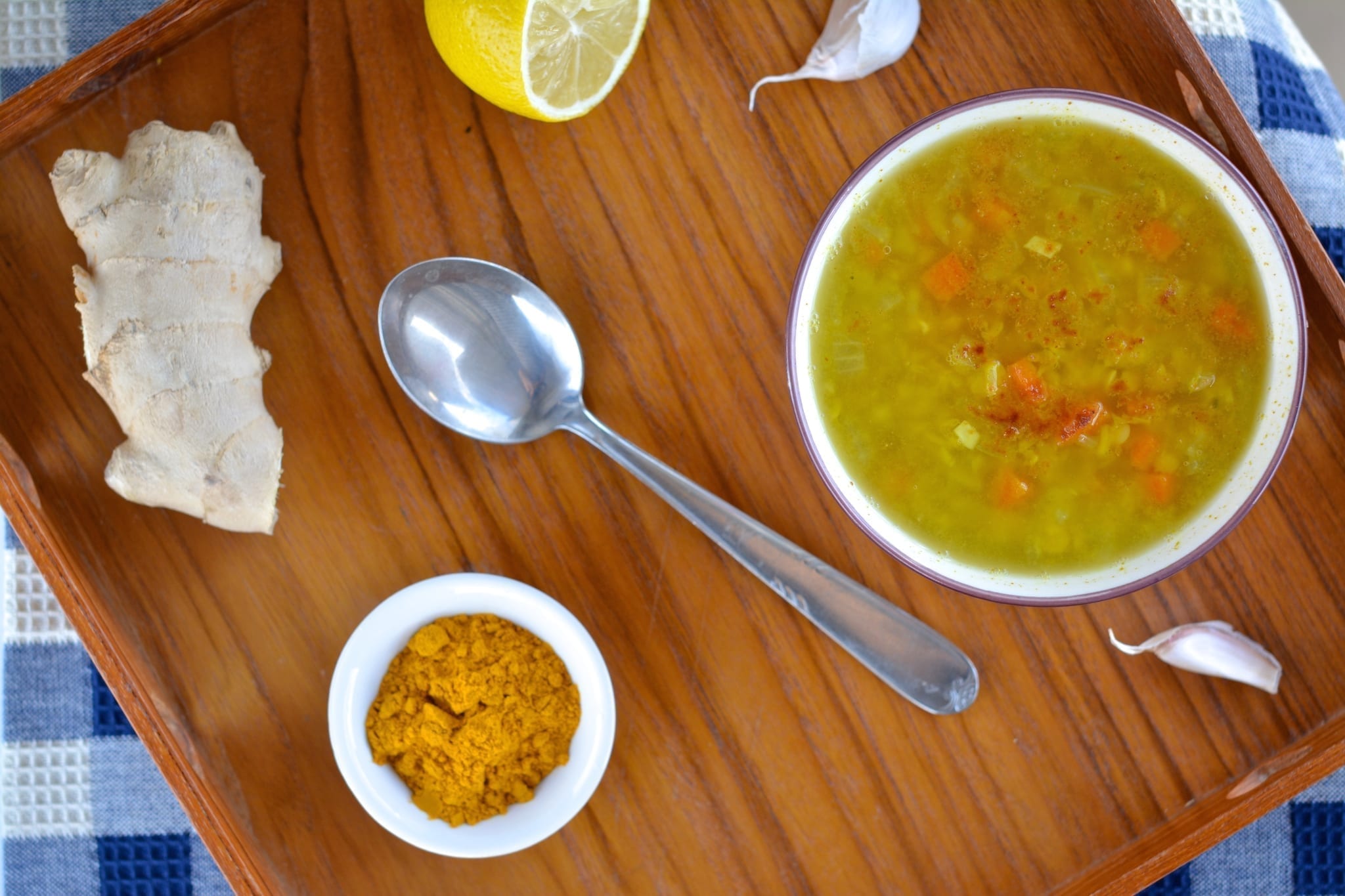 Reference:
http://www.healthyandnaturalworld.com/turmeric-smoothie-recipes-to-boost-bioavailability/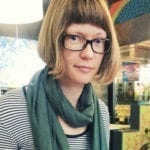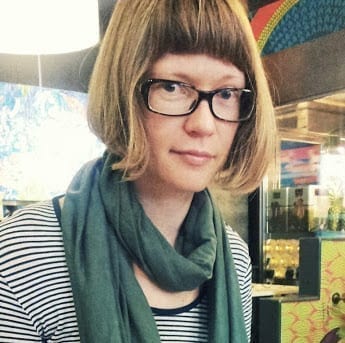 Nele Liivlaid: founder of Nutriplanet.org She has been into healthy eating for many years, but developed a more profound interest in nutrition and related diseases when she started reading The China Study and other special books on nutrition. After being in real estate and hospitality business for more than 10 years she decided to totally change her path to spread the word about healthy and sustainable nutrition and lifestyle.