I remember from my childhood a strawberry mousse made of whipped cream. As I do not consume whipped cream any more, I created this healthy version of my childhood dream, and it tastes the same! Your children will love it!
This recipe is sugar-free, vegan, oil-free, gluten-free.

Ingredients:
|serves 2-3|
3 tbsp sunflower seeds
3 tbsp pumpkin seeds
50 ml coconut milk
2 bananas
1 avocado
300-350 g fresh strawberries
1 basil stalk with leaves
Preparation:
Throw all ingredients into a blender and blend until smooth. Serve immediately.
Tips:
*Add a bit of lemon juice if you do not consume it immediately as avocado will turn brownish pretty quickly.
*You can also discard the seeds – I like to use them to add more nutritional value to the cream.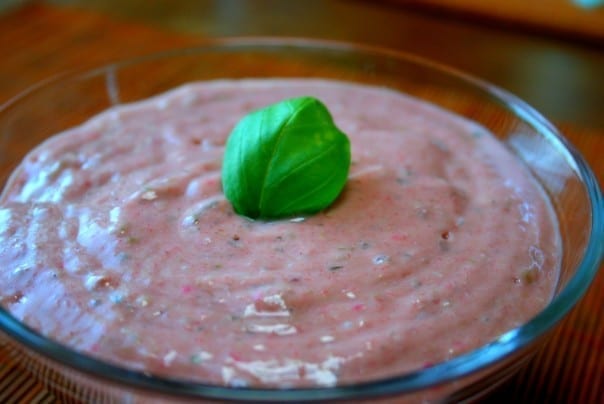 Nutritional value per serving (if serves 3): 296 kcal, 29.2g carbohydrates, 17.8g fats, 4.65g protein, 4.96g fiber.
Author: Nele Liivlaid (Nutriplanet)