Muffins are definitely one of my favourite comfort foods. When I think of muffins I imagine a nice quite afternoon with freshly baked muffin and a bit of high quality speciality coffee I buy from Gourmet Coffee.
Usually I make totally oil-free muffins, but this recipe is a bit more festive and uses coconut oil which goes so well with cacao and carob.

Ingredients:
Wet:
15 dates, pitted and chopped
250ml water
1 big banana
90g (about 5 tbsp, 3.17oz) coconut oil
200ml apple sauce
Dry:
155g (5.47oz)oat flour
120g (4.23oz) raw buckwheat flour
2 tsp baking powder
2 heaped tbsp (about 21g, 0.74oz) carob powder
2 heaped tbsp (about 21g, 0.74oz) raw cacao powder
400 ml berries, frozen or fresh (if frozen, do not thaw)
Preparation:
In a small bowl, cover the chopped dates with 250ml water and let soak for at least 15 minutes.
In a big bowl, mix together the flours, baking powder, carob powder, and cacao powder.
Place the dates with the soak water, banana, and melted coconut oil into a blender and blend until smooth. Add apple sauce and blend again.
Add this date mixture to the bowl of dry ingredients, and mix until all the dry ingredients have disappeared.
Gently fold in the berries. Spoon the batter into a silicone muffin pan or parchment muffin papers in a metal pan. This recipe makes 12 big muffins.
Heat oven to 350 F (175 C). Bake for 30-35 minutes. The muffins will be done when cracks appear, and when a toothpick inserted comes out clean. Let cool in the pan for at least 15 to 20 minutes before removing.
Tips:
– make your own apple sauce – peal 4 small or 2 big apples and boil in a bit of water for 5 minutes. Let cool.
– If you use tartrate baking powder (like I did), add 10 g to the dry ingredients.
– If you do not have oat flour, you can just measure 155 g of oats and grind them into flour.
– store the leftover muffins in freezer. Heat up in oven whenever needed.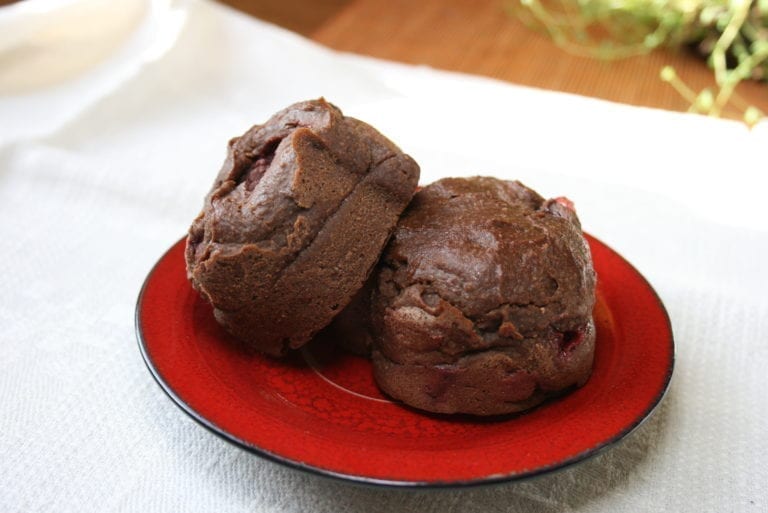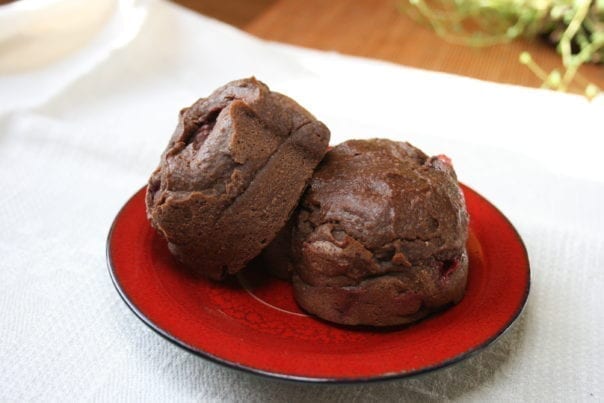 Nutritional info (1 big muffin): 218 kcal, 29.7g carbohydrates, 9.15g fats, 4.11g protein, 4.87g fiber