The other evening I wanted to prepare the traditional Indian red lentil dal for dinner – just to discover that mysteriously my red lentils had run out 🙂
OK, then I had a look around in my cupboard and saw beluga lentils – very well, I'll just make the dal with these I thought. But then I noticed the millet jar and thought – why not try to mix the lentils and the millet together in a stew. I knew the lentils would colour the millet somewhat bluish, but that did not discourage me a bit – think about cuttlefish paellas 🙂
The outcome was a very satisfying hearty dish which I served with oven-baked vegetables and fresh salad. My husband and my 4-year-old loved it too!
Finally, please let me know in the comments below if you have any questions about my lentil stew. Please tag me in social media whenever you try one of my recipes! I'd love to see your creations! Instagram @thenutriplanet and Facebook @nutriplanet.health.hub
Print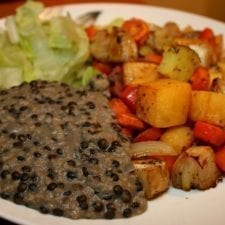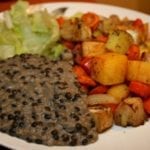 Hearty Millet-Beluga Lentil Stew
---
Description
The other evening I wanted to prepare the traditional Indian red lentil dal for dinner – just to discover that mysteriously my red lentils had run out 🙂
---
Scale
Ingredients
150

g (5 ounces) beluga lentils

100

g (3.5 ounces) millet

1

onion (chopped)

½ tsp

curry powder

½ tsp

mustard seeds

1 tsp

sesame seeds

½ tsp

cumin

3 tsp

organic broth powder

½ cup

(

125

ml) coconut milk
Water – as much as needed for required consistency/thickness

3 tbsp

nutritional yeast (optional)
---
Instructions
Rinse the millet and lentils very well. It would be ideal to soak them first for 5-7 hours which then of course shortens the cooking time and makes them more easily digestible.
Crush the spices.
In a medium saucepan on high heat, add 1 tablespoon of water. When the water begins to sputter, add the chopped onion, and cook stirring for about 3 minutes, adding water just as needed to prevent sticking (one tbsp at a time). Add crushed spices, curry and broth powder, and cook stirring for an additional minute.
Add millet, lentils and water. Stir well. Bring to a boil. Reduce heat to low, cover, and cook for 25-30 minutes (unsoaked) until the lentils and millet are soft. Add water whenever necessary. I like my stew quite soft. Towards the end add coconut milk.
Stir in nutritional yeast.
---
Enjoy with raw and cooked vegetables or as a separate dish!
Recipe, text and photo by Nele Liivlaid (Nutriplanet)