Christmas is only two weeks away, but I haven't really gone into Christmas cooking yet. I know I should have already a few weeks back because now there just won't be enough time to share all the ideas I have before the actual holiday arrives. However, I do my best to try to speed up with my recipe creating/shooting/writing and maybe manage to publish several posts a week. Uhh, I so hope so!
My first gingerbread-like cookies this year are a bit unconventional – they contain butternut squash and carob in addition to the traditional spices, i.e. cinnamon, cloves, cardamom, black pepper and ginger. Also, they are full of oats – oat bran and rolled oats to be more precise.
Lately I tend to sub grains with oat bran whenever I can as it just makes the bakes so much more blood sugar friendly – oat bran has much lower glycemic load than rolled oats, buckwheat, millet or quinoa (not to speak of the remaining grains such as spelt, wheat, rye and barley).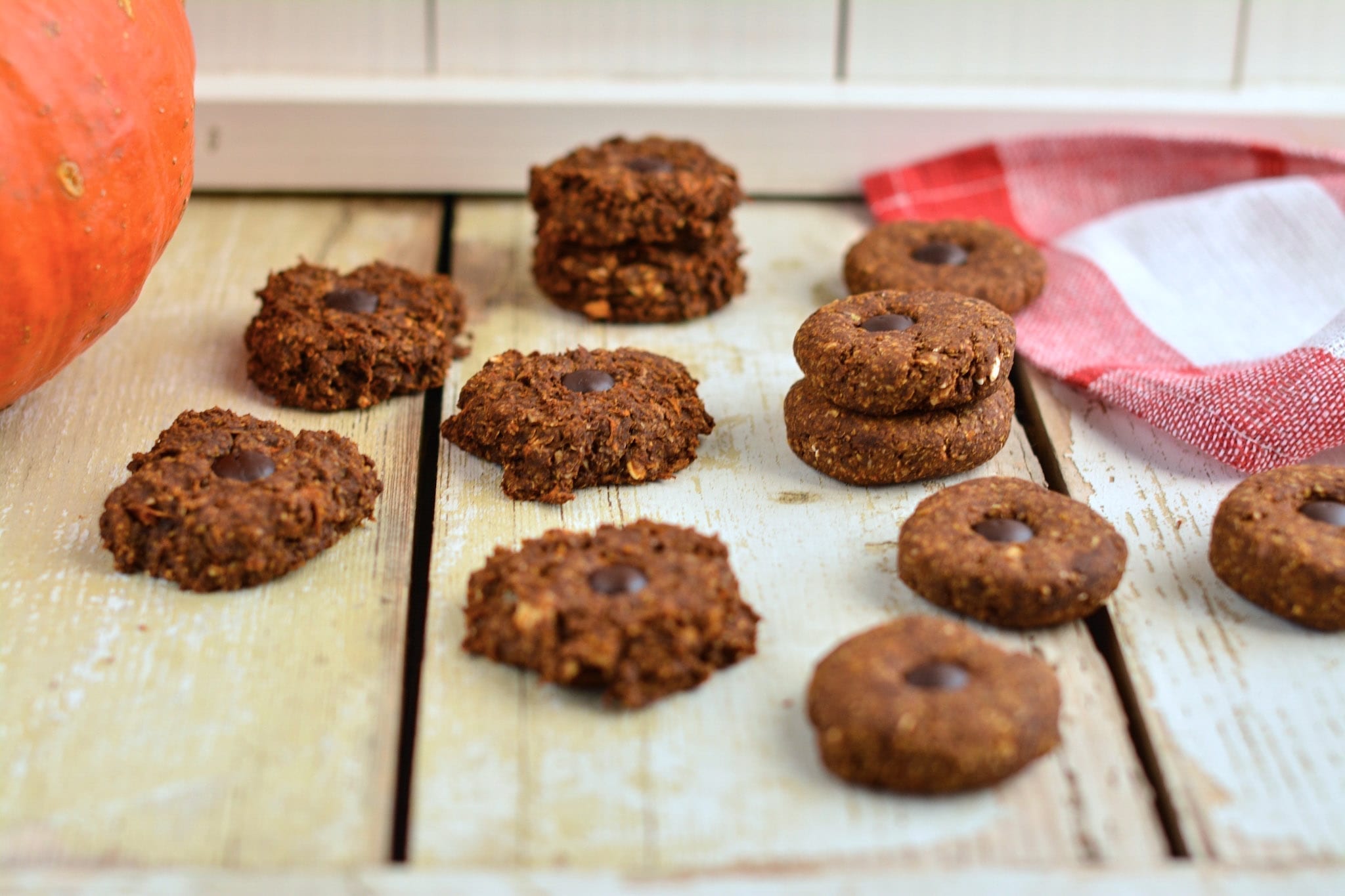 So, here I am with my oat bran trying to figure out what to use instead of bananas and dates to make the gingerbread cookie batter sweet and moist. The solution is right here – oven-baked butternut squash that is so dense and sweet making an awesome substitution for bananas.
I added a bit of xytliol for sweetness though. As awesome as the butternut squash is, it still can't compete to bananas and dates when it comes to sweet taste.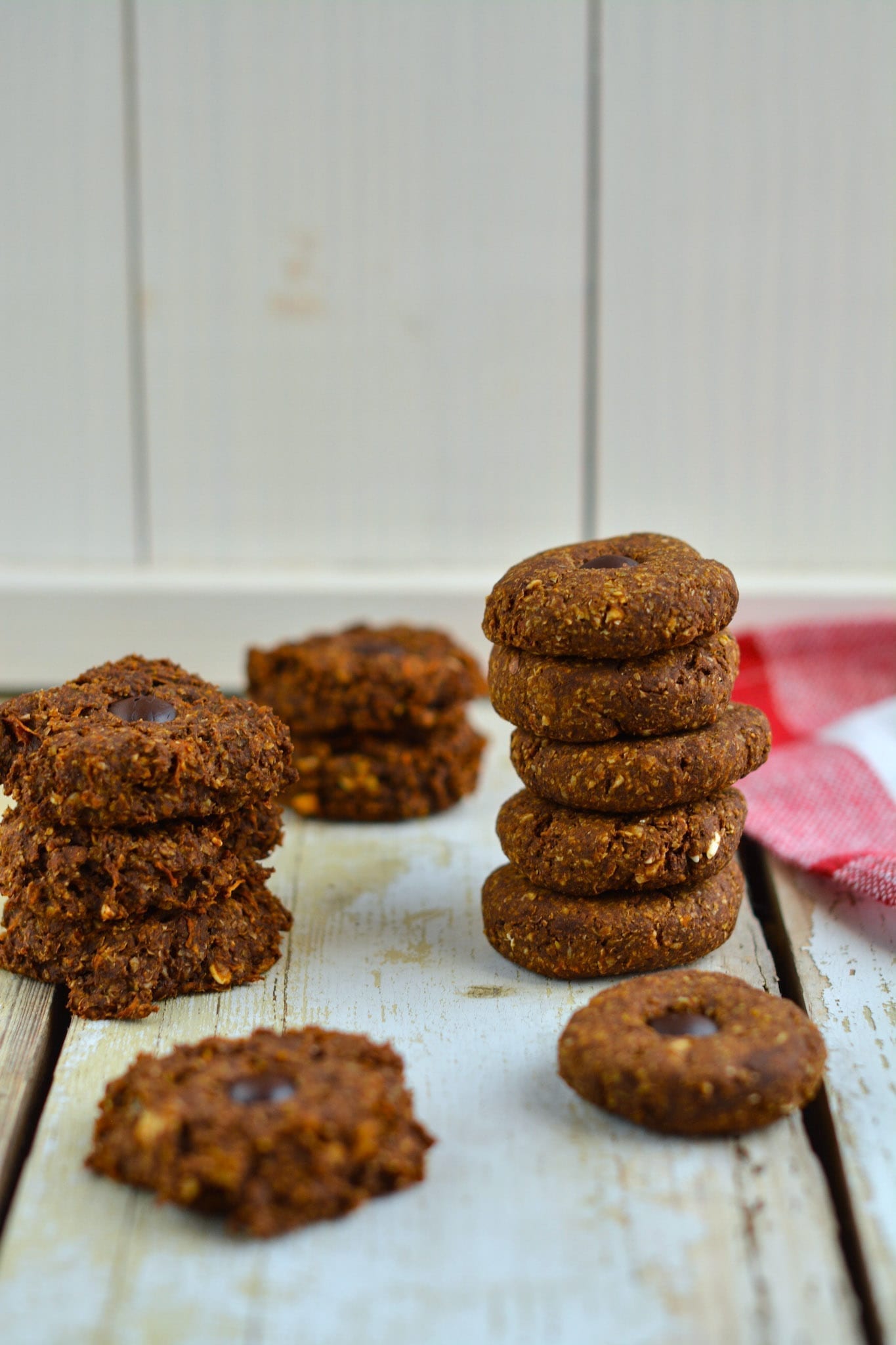 Even though I decided to add some tahini and sunflower seed paste to the batter, the cookies still remain quite lean – only 20% of calories come from fat as opposed to conventional gingerbread's 40% (if you're lucky).
I actually split the batter in half and mixed ½ cup raw grated butternut squash into one part resulting in softer and moister cookies whereas the other half was more cookie-like, i.e. harder and crunchier. On the above picture – the cookies on the left are with extra grated butternut squash and the ones on the right are plain. So, whichever you prefer.
The smell that came out of the oven was just incredible – like there was gingerbread baking. I'd also call them lazy-gingerbread as you can totally skip the cooling the batter and rolling it out part + there's a lot less mess afterwards, i.e. less cleaning up to do!
My gingerbread cookies with butternut squash and carob are of course vegan, plant-based, refined sugar free, oil-free, low-fat, Candida diet friendly and also gluten-free (if you can tolerate the avenin in oats).
There are two other gingerbread recipes on my blog – Whole Food Plant-Based Gingerbread (oil-free, sugar-free, gluten-free) that I created last year and Sugar-Free Plant-Based Gingerbread Cookies (gluten-free and sugar-free, but contains coconut oil, which can be easily replaced with plant milk) from 2 years back.
Gingerbread Cookies with Carob & Butternut Squash |12 cookies|
Ingredients:Dry
½ cup oat bran
½ cup gluten-free rolled oats or jumbo oats
2 tbsps. carob powder
1 tsp. cinnamon
1 tsp. ginger powder
⅛ tsp. ground cloves
⅛ tsp. cardamom
A dash of black pepper
Ingredients:Wet
½ cup butternut squash puree
1 tsp. tahini
1 tsp. sunflower seed butter
1 tsp. xylitol
A bit of Himalayan salt
Directions
Heat oven to 175°C (350°F).
Combine all dry ingredients in a bowl.
Blend the wet ingredients with immerse blender or process in a blender.
Pour the wet mixture onto dry ingredients and mix well until homogeneous batter forms.
Line a baking sheet with parchment paper. Shape small cookies (around 15 grams each) and place them onto the sheet. I also pressed one xylitol-sweetened chocolate button in the middle of each cookie.
Bake for 16 minutes and let cool.
Tips:
If you are not on Candida diet, feel free to use some juicy dates to blend into wet mixture instead of xylitol.
Mix about a cup of raw finely grated butternut squash into batter for softer and moister result.
Use cacao powder instead of carob, but remember that carob has a sweet taste whereas cacao's is bitter. So, you might need to add a bit more sweetener (xylitol or dates).
You can use any nut or seed butter you like.