This time we drove all the way from Tallinn, Estonia to Barcelona, Spain. The journey lasted 6 days and we chose to stay at Kaunas, Lithuania; Poznan, Poland; Nürnberg, Germany; Zürich, Switzerland; and Orange, France.
As last time, I packed a lot of food to go – a few bottles of ready-to-go smoothies from our local supermarket in Tallinn, rice cakes, canned beans, chickpeas and corn, carrots, lettuce, cucumber, nuts, ground flax seeds, bananas, apples, pears, dark chocolate, nori sheets, spicy cherry muffins, millet-buckwheat muffins, rye bread, buckwheat bread, soy milk, oat milk and speciality coffee. To prepare no-cook salads I also bought capers, olives, sundried tomatoes, tahini, and mustard.
I already knew from last time that the next decent organic shop would wait for us in Nürnberg, so I bore that in mind when deciding on the quantities.
For the first three mornings we had the smoothies I had bought from Tallinn and the last three we enjoyed whole fruits such as grapefruit, kiwis and bananas.
Our mid-morning snacks always (even on the road) consist of whole grain bread, muffins and specialty coffee with soymilk (just oat milk for the kid).
For lunches we had canned beans or chickpeas with corn, which I had washed and placed in a lunch container in the hotel room the same morning; accompanied by raw carrots, lettuce and rice cakes.
In the afternoons we snacked on nuts (Brazil nuts and walnuts), fruits and rice cakes.
Dinners, coffees and shopping on the road
In Kaunas we went for veggie sushi at Sushi Way, as the last time we were there. You need to specify to omit the cheese though, as they have very few completely vegan options in the menu.
In Poznan we rented a very nice apartment through E-Apartamenty at Wodna Street and I already knew I'd prepare a salad for us – lettuce, diced carrots, chickpeas, corn, capers, olives, sundried tomatoes and mustard-tahini sauce. It turned out very well and it was very nice to dine in a more homely environment.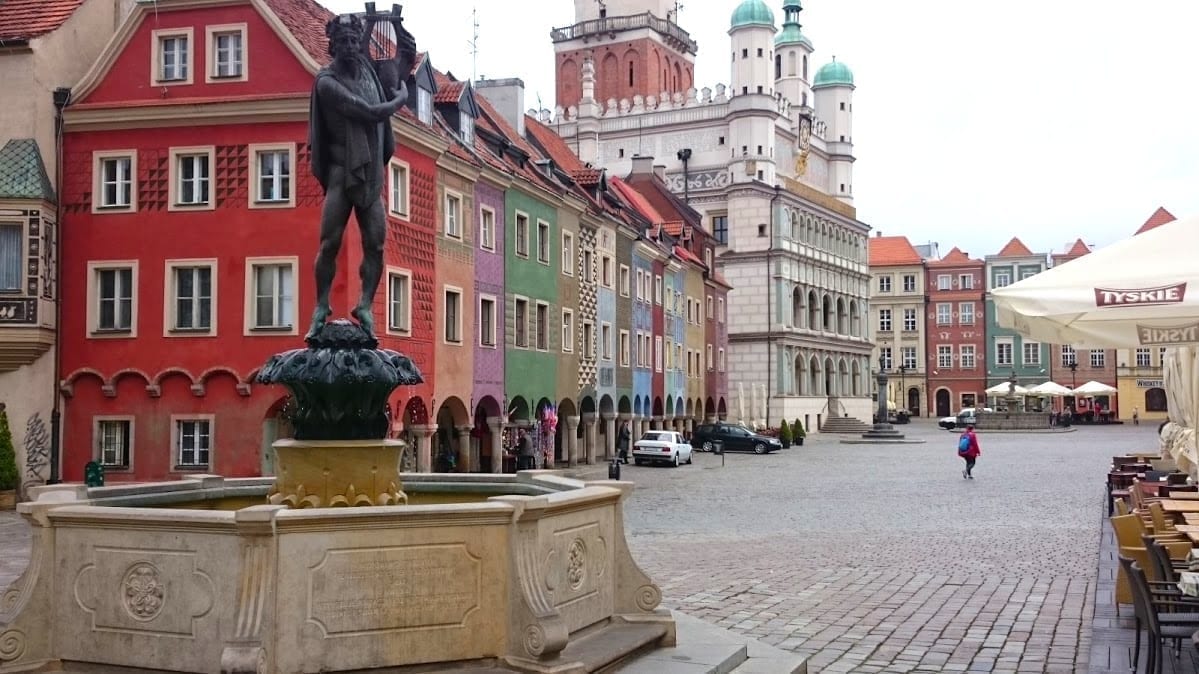 In the morning we had a walk in the Old Town and had our coffees and breads/muffins at artisan coffee house Stragan Kawiarnia, again as last time.
In Nürnberg we dined on eggplant curry, okra curry, mushroom curry, lentil dhal, and whole-wheat flat bread at Mount Lavinia again – an ayurvedic place in the Old Town. This time the dishes were accompanied by red rice, which was a really nice surprise. The owner is a very friendly guy who actually remembered us from June and made us feel really welcome.
In the morning we headed towards coffee house Machhörndl Kaffee we discovered already in June. Their coffee was as good as we remembered and the lady behind the counter was super friendly. She was even kind enough to let us eat our own bread in the café. They have good soy milk and our 5-year-old got his own "coffee" made of soy milk and cacao in a real coffee cup. You can only imagine how happy it made him.
I was already waiting to stock up at Basic Organic Market in the Old Town. The first time I entered this supermarket in June I was amazed to see that organic foods can have so favourable prices and such variety and choice. It was a paradise for us. Unfortunately we did not have too much time to wander about, as we needed to head towards Zürich.
In Zürich we stayed at friend's house, which was a very nice change for hotels. Knowing our food preferences he took us to a vegan/vegetarian buffet place called Tibits near the Opera House. It was excellent with a great variety of dishes to choose from. Everything looked so delicious that inevitably I piled the plate up a bit too much.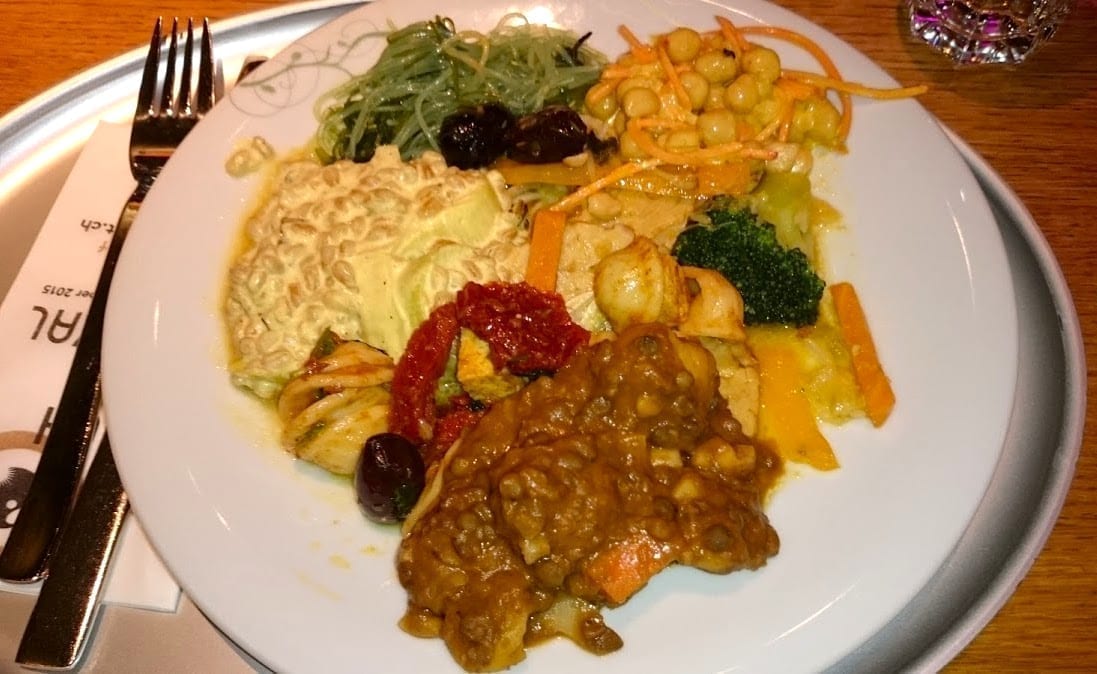 Our last stop before arriving to Barcelona was Orange in France. It is a small place with ever so lovely Old Town.
There are no vegan or vegetarian restaurants in Orange, so we went for African kitchen hoping to get a veggie option. The owner of Le Petite Resto De Paul made a very friendly welcome and offered to prepare a plant-based meal for us although everything in the menu contained animal products. As he did not speak very good English and our French is non-existent we had no idea what to expect. I must say it was a blind date with food gone well! We were served rice (white though), plantains, yucca, carrots, veggie stew, lettuce and a hot sauce. I was afraid it was going to be very oily, but fortunately I was wrong and we enjoyed our dinner a lot.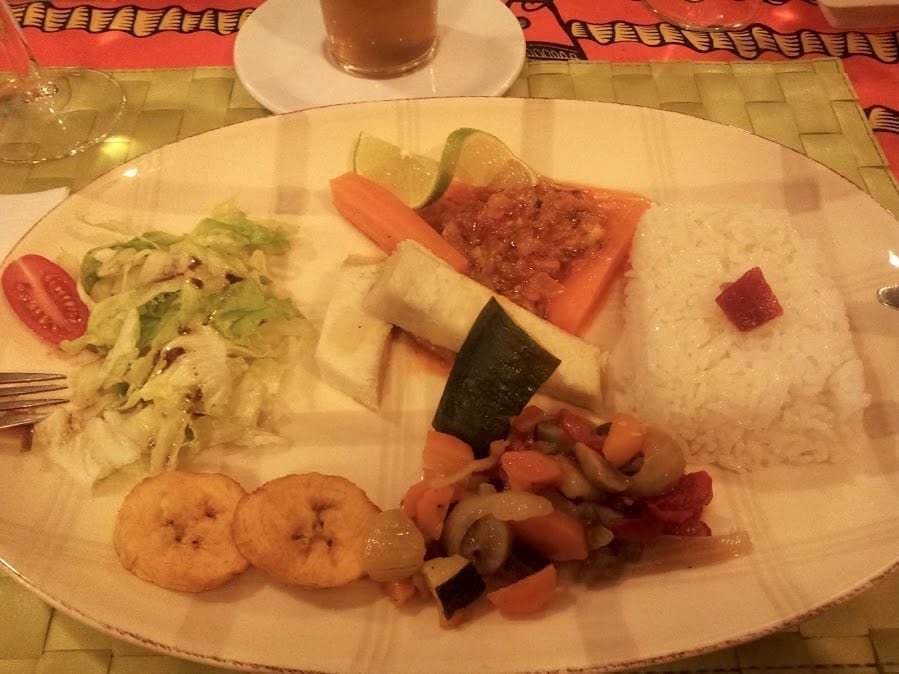 After searching HappyCow we discovered an organic supermarket just outside Orange, so we made a quick shopping trip by car before heading to Barcelona. Naturel et Bio was a great discovery – a huge shop with even more favourable prices and larger variety of articles than in Nürnberg. I really liked their choice of canned and jarred foods – different vegetables and vegetable mixes as well as legumes with or without sauces. We got a big jar of ratatouille, which we enjoyed for lunch later.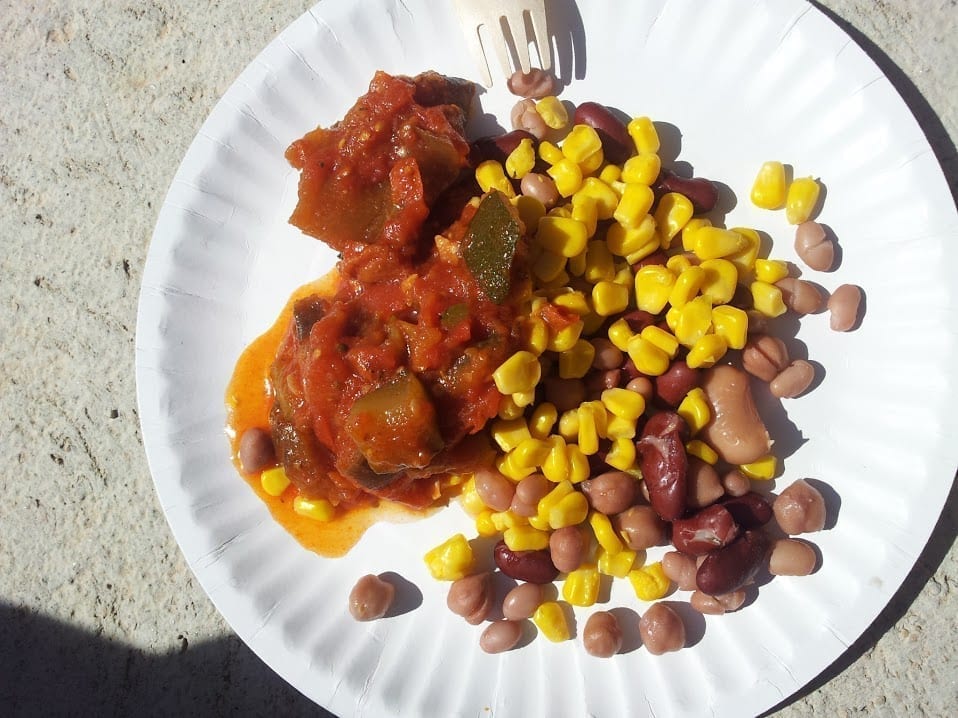 Exercising on the road

Moving yourself enough can become a great challenge on a long road trip causing digestion problems and finally leading to frustration.
I knew that if I didn't get enough exercise I'd get really grumpy, so I had to work out a plan.
First, I followed right food combining and meal times very strictly to avoid any digestion problems. I also drank plenty of water.
We always had walks every evening and the following morning after arriving to a new place. Usually it was about 30-minute walk in the evening and the same in the morning.
We stopped at gas stations in every two hours on the average. We tried to find a calm parking place with not too many people around and I sprinted up and down the sidewalk. If you worry about looking ridiculous, then a 5-year-old is a great cover you can do anything with. No one looks at you strangely when you run with a child.
Another thing I did was stepping up and down the kerb – if you do this with good tempo 100 times at a stretch (up and down counting as one time) changing the leading foot in the middle you'll really feel like you have exercised and can continue driving for the next two hours.
I also continued to do sun salutation every morning (only in Orange there was not enough space in the hotel room), which really helped with the back pain caused by sitting most of the day.
Following the routine worked out very well and I survived the 6-day road trip without any major complaints, except the lack of sleep of course.
Also read about my last plant-based road trip Barcelona-Tallinn.
Nele Liivlaid: founder of Nutriplanet.org She has been into healthy eating for many years, but developed a more profound interest in nutrition and related diseases when she started reading The China Study and other special books on nutrition. After being in real estate and hospitality business for more than 10 years she decided to totally change her path to spread the word about healthy and sustainable nutrition and lifestyle.