When I decided to take on a yellow-orange puree soup made of carrots and sweet potato, I was sure it wouldn't come out perfect the first time and that I'd need to play with the quantities for at least a couple of times before sharing the recipe. I was wrong! It came out so perfect that I wouldn't change a thing! My mom was visiting and enjoyed the soup a lot – and of course all the other meals I prepared as well!
This Carrot-Sweet Potato Puree Soup is plant-based, oil-free and gluten-free.
I've done a series of puree soups of different colours: green (Broccoli-Spinach Puree Soup), red (Beetroot Soup) and white (Cauliflower Puree Soup).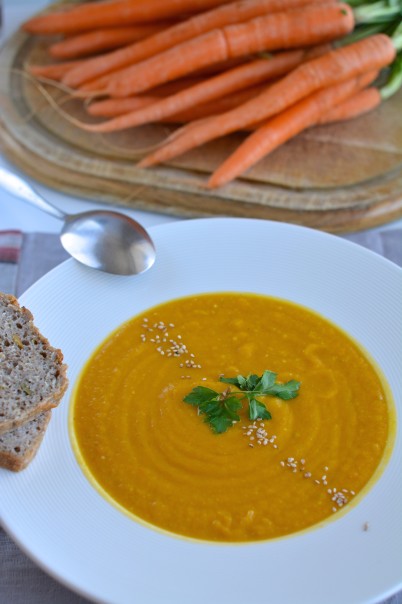 Ingredients |3-4 servings|
1 big onion, chopped
2 garlic cloves, minced
2cm piece of ginger, peeled and chopped
2 heaped tbsp. broth powder
½tsp turmeric
700g carrots, cut into smaller pieces
1 medium sweet potato, cut into cubes
Water
Handful of cashews
Preparation:
In a thick-bottomed soup pot, heat 2tbsp of water. Once it starts to sizzle, add chopped onions. Sautee until the onions become translucent adding water one tablespoon at a time to prevent sticking. Throw in the garlic and ginger and sauté for another minute.
Add sweet potato, carrots, vegetable broth and enough boiling water to cover the veggies and a bit more. Stir well with a spoon. Bring to boil and let it simmer until the veggies are soft enough for pureeing – about 10-13 minutes.
Let the soup cool down a bit, then add the cashews (you may soak them first) and puree with immerse blender or regular blender. Add some boiled water if the soup is too thick.
Garnish with parsley and enjoy!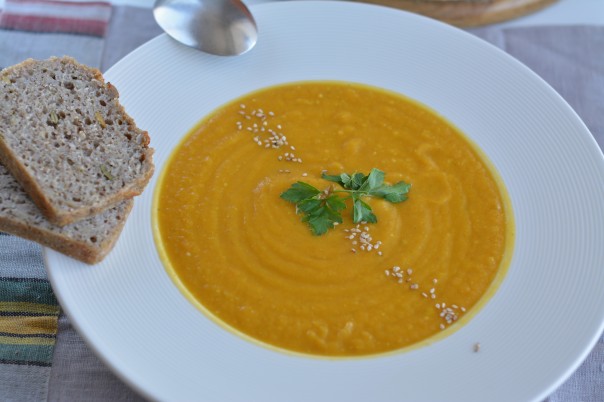 Tips:
Add some boiled red lentils, chickpeas or other beans to the plate to have a balanced meal.
Top the soup with a tablespoon of nutritional yeast for cheesy flavour.
Have a slice of whole grain bread with the soup.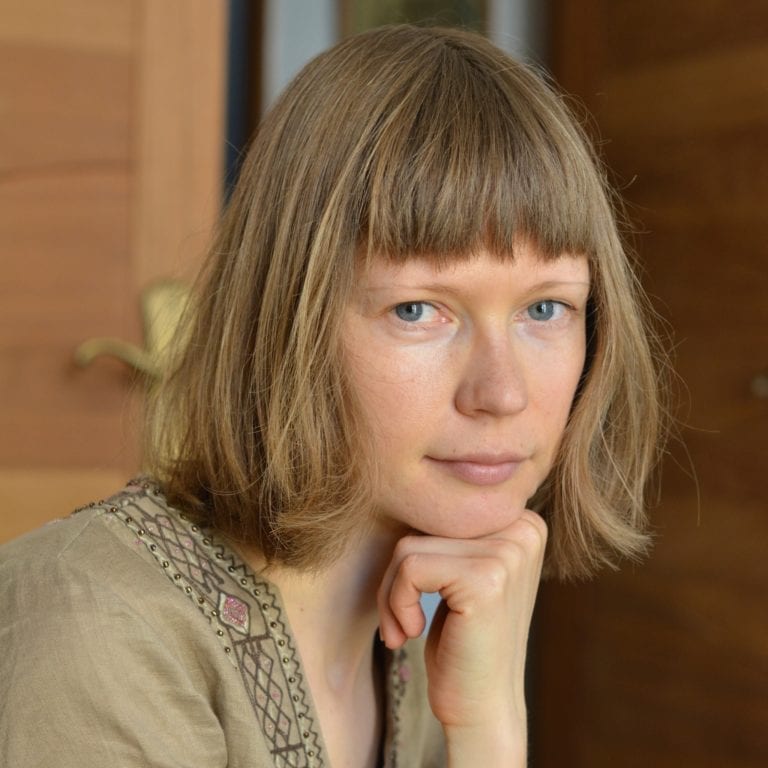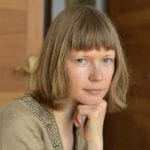 Nele Liivlaid: founder of Nutriplanet.org She has been into healthy eating for many years, but developed a more profound interest in nutrition and related diseases when she started reading The China Study and other special books on nutrition. After being in real estate and hospitality business for more than 10 years she decided to totally change her path to spread the word about healthy and sustainable nutrition and lifestyle.