I love to have a muffin every day, but I have always used dates as the main sweetener. However, my blood sugar is quite a moody character and dates are known to have very high glycemic load – an indicator of how much a serving of food is likely to increase your blood-sugar levels.
So, I was really forced to create a muffin recipe that is date-free and sugar-free. I experimented with several combinations and find that bananas with mango do a fine job. Persimmons would be perfect, but unfortunately the season is over for now.
Besides being plant-based, date-free and sugar-free, these muffins also use no oil and can be made without gluten, if you buy gluten-free oats or oat flour.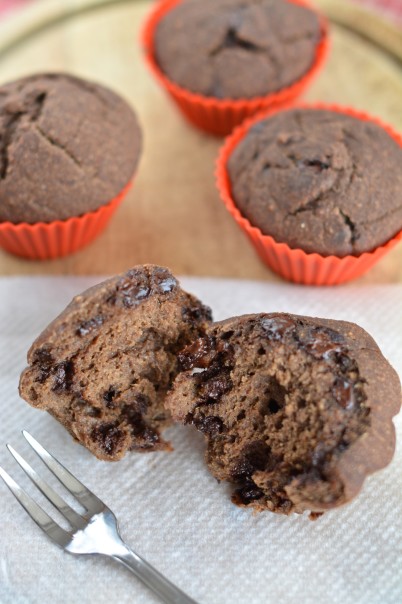 Ingredients |15 big muffins|:
Wet:
5 ripe bananas
1 mango
2tbsp peanut butter
A dash of sea salt
Dry:
120g (4.23oz) raw buckwheat flour
155g (5.47oz) oat flour
2tsp baking powder (I use tartare baking powder)
2tbsp cacao powder
2tbsp carob powder
Chopped cacao paste or dark chocolate (at least 72%, as much as you want)
Preparation:
In a big bowl, mix together the flours, and powders.
Place bananas, peanut butter, sea salt, and pealed and chopped mango into a blender and blend until smooth. Put mango first to ease blending.
Add this wet mixture to the bowl of dry ingredients, and mix until all the dry ingredients have disappeared. Mix in chopped cacao paste or dark chocolate buttons.
Spoon the batter into a silicone muffin pan or parchment muffin papers in a metal pan. This recipe makes 15 big muffins.
Heat oven to 350 F (175 C). Bake for 30-35 minutes. The muffins will be done when cracks appear. Let cool in the pan for about 15 minutes before removing.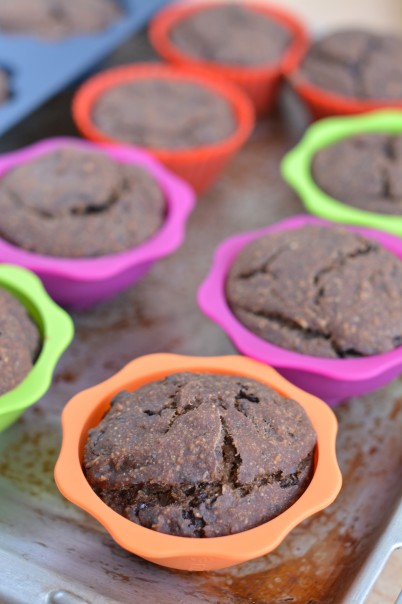 Tips:
Make leaner muffins by ditching the cacao paste or chocolate pieces and/or peanut butter.

You can use any nut butter that you have in hand.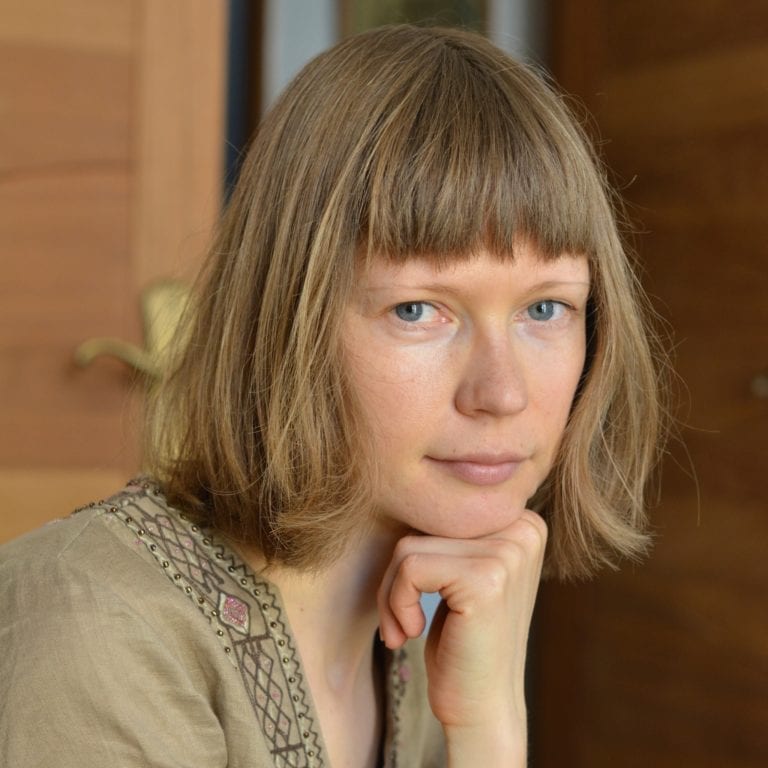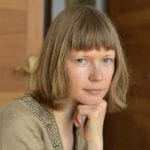 Nele Liivlaid: founder of Nutriplanet.org She has been into healthy eating for many years, but developed a more profound interest in nutrition and related diseases when she started reading The China Study and other special books on nutrition. After being in real estate and hospitality business for more than 10 years she decided to totally change her path to spread the word about healthy and sustainable nutrition and lifestyle.