Usually when we eat lunch at home, I prefer to prepare something very quick, like steamed broccoli, boiled or oven-baked beetroot and some canned beans or red lentils. This Sunday when we got home, I discovered we had run out of the quick fixes and, as here in Barcelona all the decent shops are closed on Sundays I had to create something with what I had – whole grain tortillas, brown rice, brown lentils and some veggies that needed to be prepared asap. I got the idea to form tortillas into bowls from vegan restaurant V in Tallinn.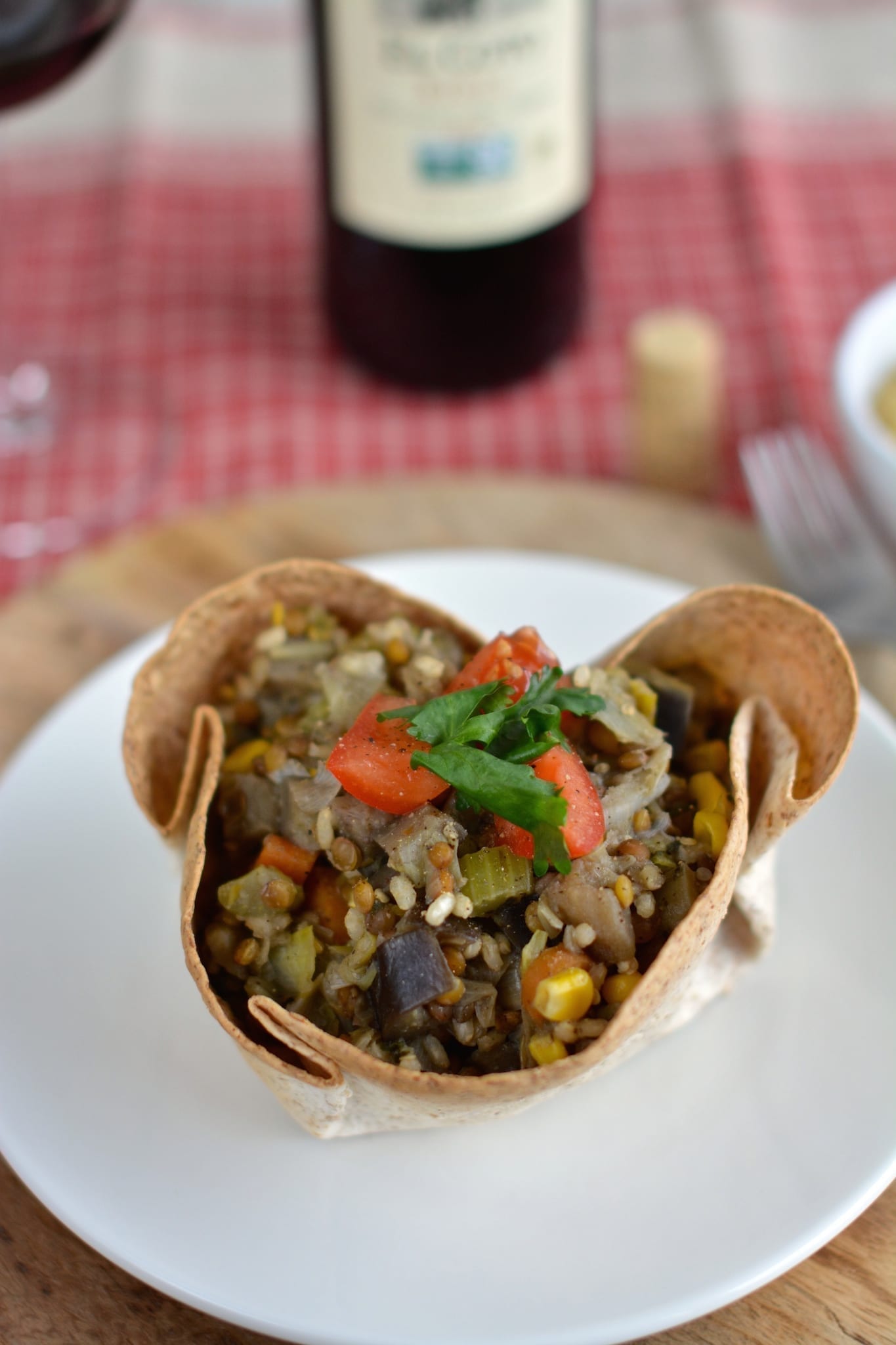 Finally, please let me know in the comments below whether you're a fan of tortillas. Please tag me in social media whenever you try one of my recipes! I'd love to see your creations! Instagram @thenutriplanet and Facebook @nutriplanet.health.hub
Print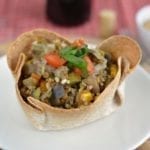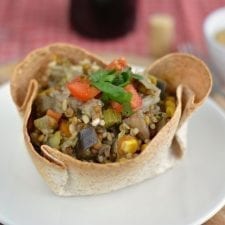 Tortilla Bowls Filled with Rice-Lentil-Veggie Stew
---
Description
These are not just ordinary tortillas, but bowls filled with hearty stew made of brown rice, lentils, and veggies. 
---
1

onion, chopped

2

garlic cloves, minced

1

celery stalk, sliced

2tsp

broth powder

3

carrots, chopped

1

smaller eggplant, chopped

50g

(

1.8oz

) brown rice

100g

(

3.5oz

) brown lentils

140g

(

5oz

) canned corn (2 small cans, without added sugar)
water
black pepper

3

whole grain tortillas
---
Instructions
Boil about a litre of water.
Rinse and drain rice and lentils. Put aside.
Heat a skillet. Add 2tbsp water. When it starts to sizzle, add onions, garlic, carrots, celery, and eggplant and sauté stirring on low heat for 5 minutes adding water 1tbsp at a time if necessary (to prevent sticking). Add broth powder and stir well. Pour in the rice and lentils. Stir well.
Add enough hot water to cover the vegetables, rice and lentils. Simmer for as long as it takes to cook the rice and lentils. Stir occasionally and add water if necessary.
At the end, stir in rinsed corn and mix well.
While the stew is cooking, prepare your tortilla bowls. Heat oven to 200 C (390 F). Put a small bowl in the middle of tortilla. Fold the sides up following the shape of the bowl, and fix tightly with a thread. It is easier, if you have someone to help you. Remove the bowl. Place the bowl-shaped tortillas in the oven (ventilation mode) and bake until they are crisp and hold their shape. Remove from oven and put on a plate. Remove the threads and let cool.
To finish the dish, just fill your tortilla bowls with the stew and garnish with herbs, black pepper and tomato slices.
It's a delight with nutritional yeast or with "Parmesan" made of cashews, sea salt and nutritional yeast!
Serve with lots of green salad or steamed kale, chard or spinach.
Nutrition
Serving Size:

1 serving (tortilla + stew)

Calories:

448 kcal

Fat:

5.55g

Carbohydrates:

83.1g

Fiber:

12.5g

Protein:

16.4g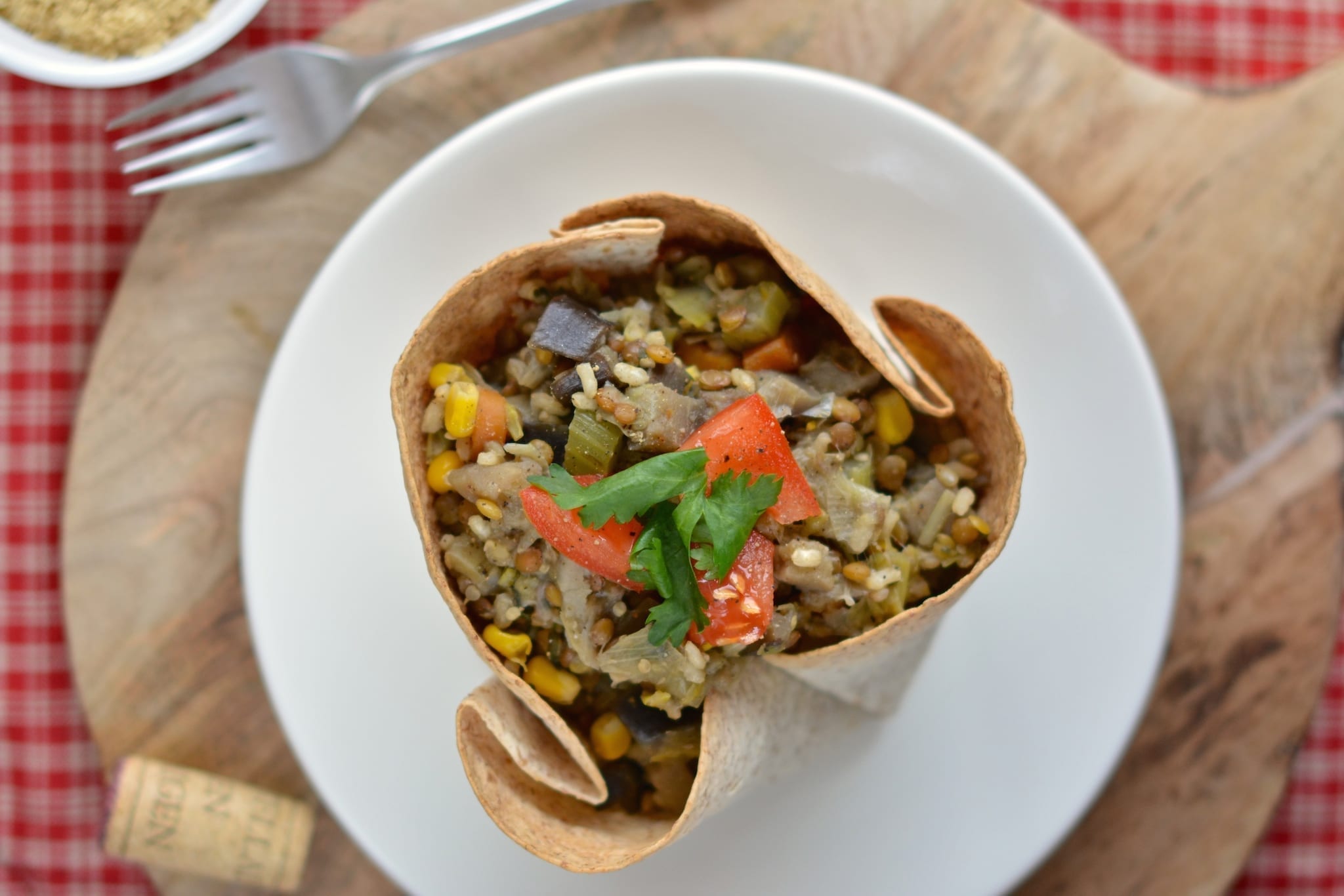 Tips on my tortillas filling veggies stew:
Should you be in a hurry or just lazy, use dried onion and garlic instead – it'll save you the peeling and chopping time/hassle.
If you don't have time to mess around with the tortilla bowl, just heat your tortillas in the oven, place some stew in the middle and roll it up. Simple.
Should your corn cans be of a different size, use the whole can(s) – no need for leftovers.
Choose the rice and lentils with more or less the same cooking time. It is ok to over-cook the lentils just a bit, but if you do that with the rice, it's not going to be very pretty.
Should you want to make it creamier, add some coconut milk.
Nutritional info per serving (tortilla + stew): 448 kcal, 83.1g carbohydrates, 5.55g fats, 16.4g proteins, and 12.5g fibres.
Enjoy!