Learn how to grow broccoli sprouts in a jar at home. In addition, read up on broccoli sprouts benefits, how to store, and how to use sprouted broccoli.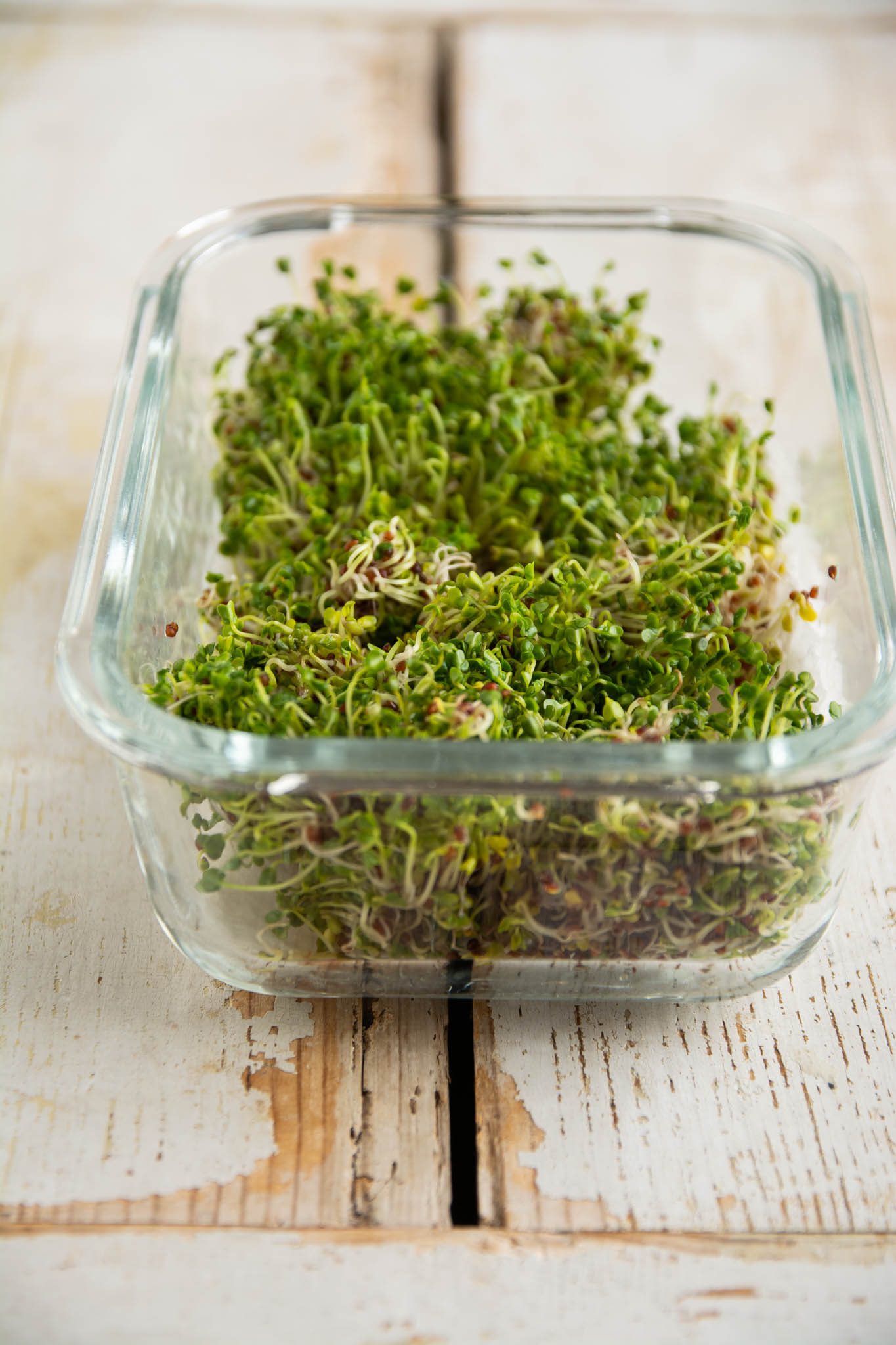 Broccoli Sprouts Benefits
Sprouts are germinated seeds. So, broccoli sprouts are 3-5-day-old broccoli plants. They have a tangy taste, like radish sprouts.
Thus, sprouts are in essence a microcosm of the larger plants which they will grow up to become, but they are fresh, extremely inexpensive, and incredibly fast to grow. [1]
Broccoli sprouts are a low-calorie food packed with micronutrients.
Simply put, sprouts in general are an excellent source of protein, vitamins, minerals, fibre, and especially phytochemicals. The latter are present in plants at very low levels compared to the proteins, carbohydrates, fats, and fibre that make up the bulk of most living organisms. Plants make phytochemicals for their own protection or to give them an advantage in the environment in which they live. [1]
Sulforaphane is a compound broccoli sprouts are most famous for.
What is Sulforaphane?
Sulforaphane is a cancer-preventing phytochemical that is converted from glucoraphanin (present in broccoli sprouts). For that we need a plant enzyme myrosinase which is converted upon cutting or chewing i.e., wounding the plant. This is a potent defensive system for the plant, against attack by pathogens such as fungi and insects. We humans have co-opted the plants' system for our defence.
Moreover, sulforaphane is protective against diabetes, neurodegenerative disease, and other inflammatory processes.
It is noteworthy that sulforaphane's role in broccoli sprouts is not only limited to the prevention of environmental carcinogenesis. In fact, it has potential also for autism spectrum disorder (ASD), schizophrenia, bacterial and viral infections, prostate, lung, breast, skin, and head and neck cancers, osteoarthritis, type 2 diabetes, sickle cell disease, fatty liver, cardiovascular disease, and asthma. [1]
It's noteworthy that the seeds of broccoli have the highest concentrations of glucoraphanin (~100-fold higher than florets). Germination and the growth of the sprout merely dilutes the glucoraphanin, up to a certain point somewhere in the range of 10–14 days old.
Broccoli Sprouts vs Supplements
The bioavailability of sulforaphane is dramatically lower when we consume broccoli supplements compared to fresh broccoli sprouts. The peaks in plasma concentrations and urinary excretion were also delayed when subjects consumed the broccoli supplement. [2]
Furthermore, it is worth asking whether there is bioequivalence in clinical experiments using broccoli sprouts, extracts of broccoli sprouts or seeds, or commercial dietary supplements containing same and neat sulforaphane itself. Thus, the contributions of any of a very large range of additional phytochemicals (e.g., flavonoids, anthocyanins, carotenoids) found in sprouts cannot be ruled out completely and could prove beneficial. [1]
Caution with Broccoli Sprouts
It is extremely important to rinse the sprouting seeds at least twice a day with clean and cold water to prevent the contamination with harmful bacteria. In case it is very warm, three times would be even better.
Just to be on the safe side, rinse the sprouts also before eating.
Eating excessive amounts of broccoli sprouts has the potential to alter your thyroid function and increase the risk of hypothyroidism. [3]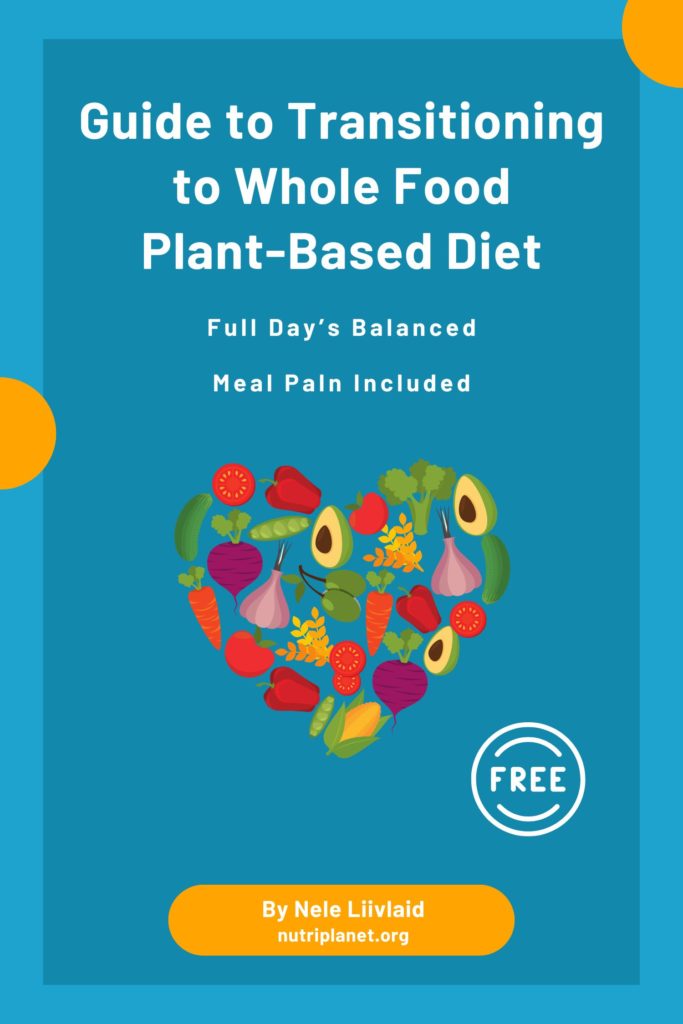 Download my FREE Guide to Plant-Based Diet
Including a full day's meal plan!
Learn the basics, prepare your kitchen and pantry, compile a balanced meal plan, handle challenges with family and friends, learn the tricks of dining out as well as travelling.
Learn the secrets of weight loss, better health and happiness!
In case you're a visual learner, watch the below video!
How to Grow Broccoli Sprouts in a Jar
Time needed: 4 days
In order to grow broccoli sprouts at home you'll need a sprouting kit or a glass jar, a breathable cloth to cover the mouth of the jar or a special perforated metal sprouting lid, and organic broccoli seeds.
Soak the broccoli seeds for 8-12 hours.

Throw two tablespoons of broccoli seeds into a clean mason jar, add half a jar of water, mix well, and let soak for 8-12 hours.

Rinse and drain twice daily.

Drain the soaking water and rinse twice with cold clean water. Then, drain the seeds well making sure there's no excess water in the jar. Place the jar on the sprouting frame or somewhere it can be tilted. Make sure the jar is not in the direct sunlight. Repeat the draining and rinsing in every 12 hours.

Eat or store.

The sprouts should be edible by the end of the second sprouting day. However, you can keep growing them for 3-5 days and then eat or store in the fridge for a few days.
Now, if you look at other sprouts, their antioxidant phytonutrients appear to peak around sprouting day five. However, the glucoraphanin content in broccoli sprouts appears to peak at around 48 hours. So, "2-day-old sprouts" may be the most potent. [4]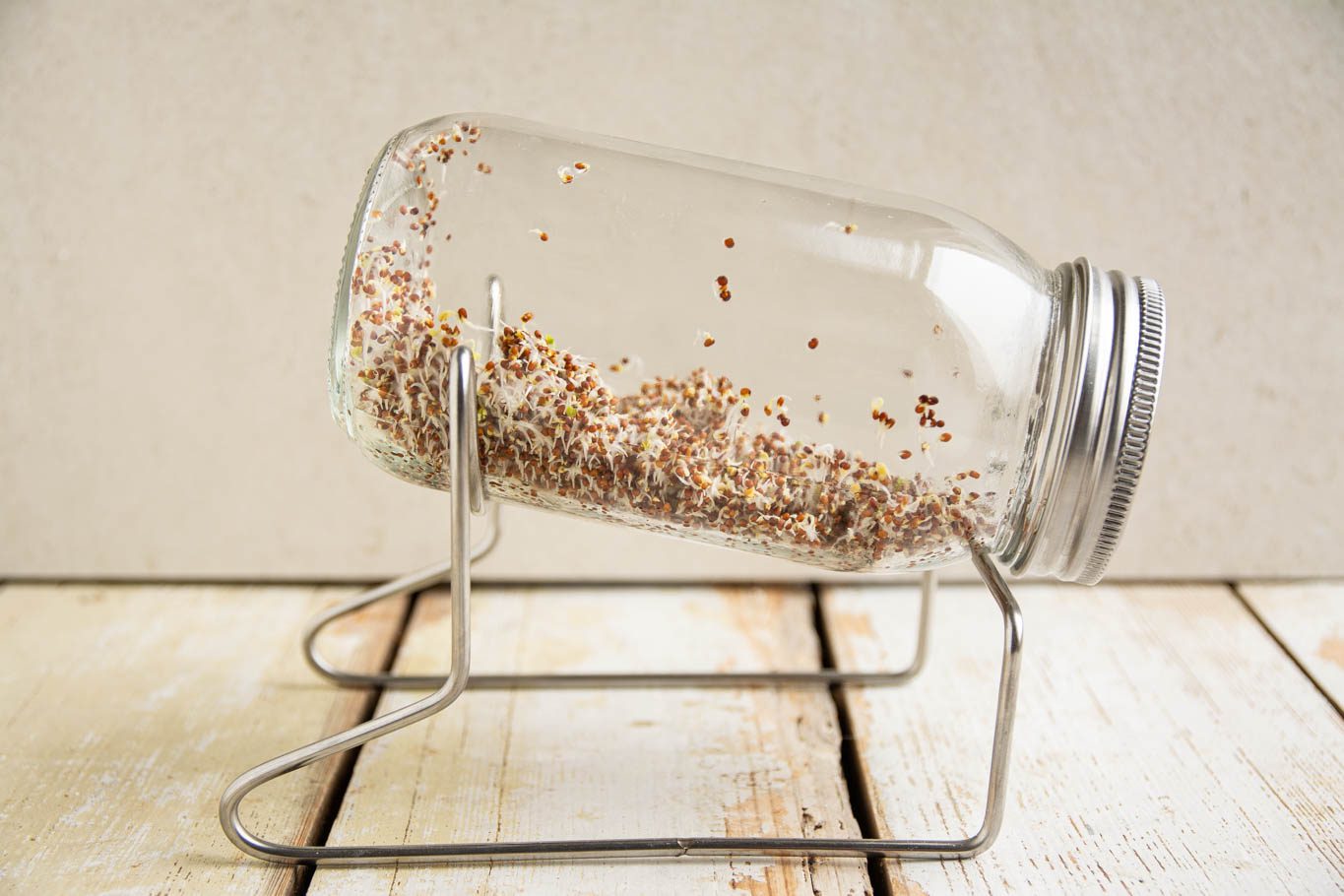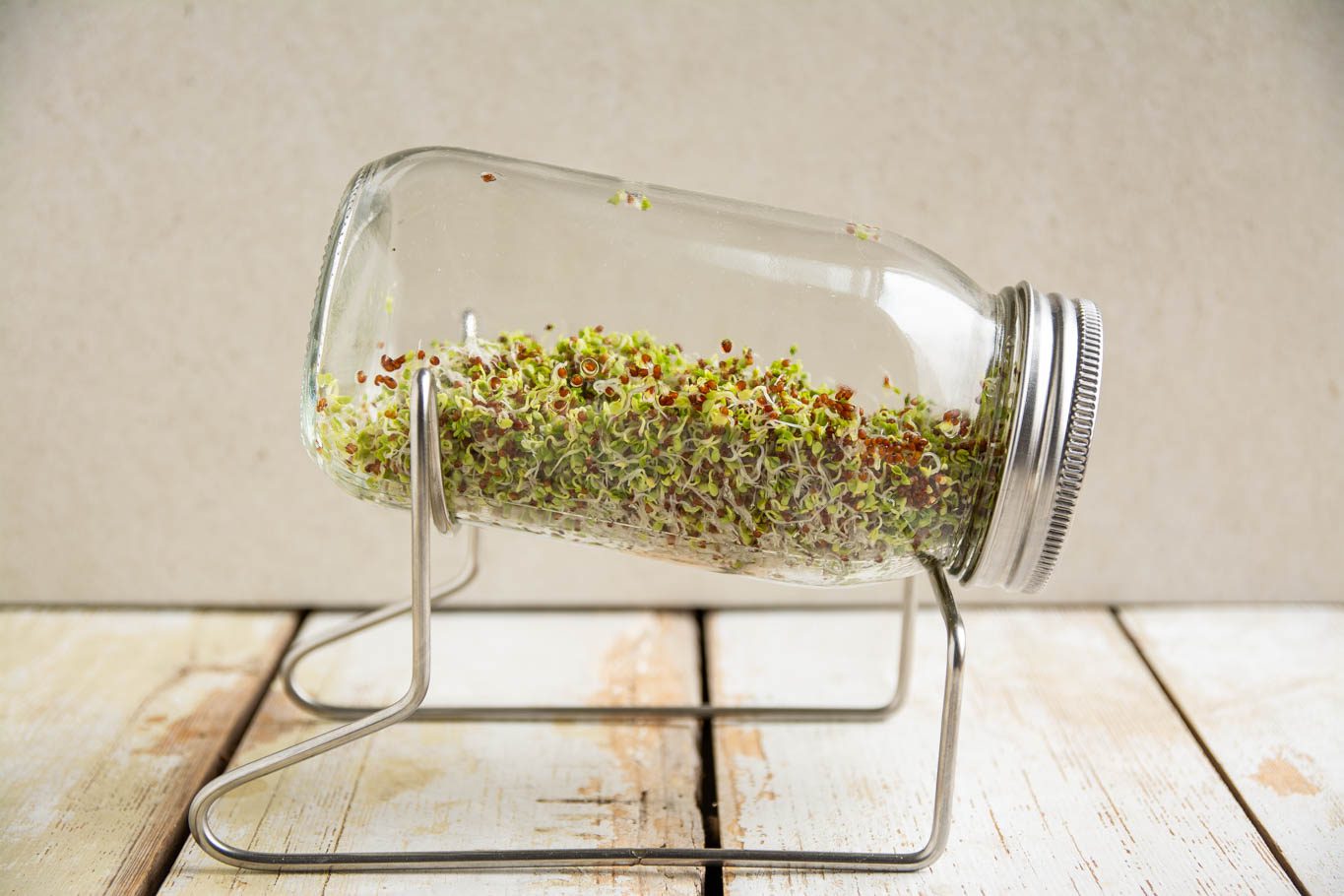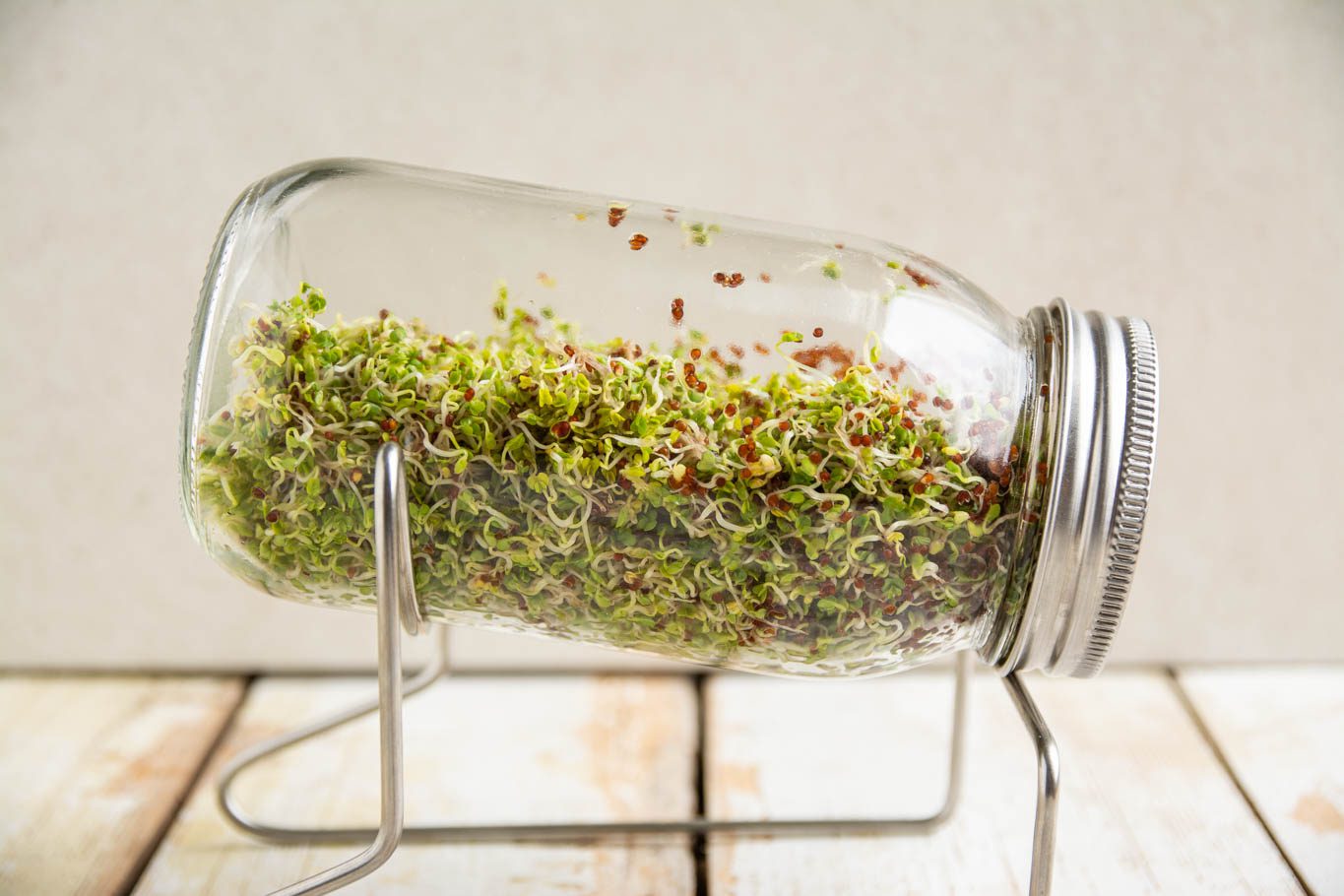 How to Use
Here are a few ideas how to use them: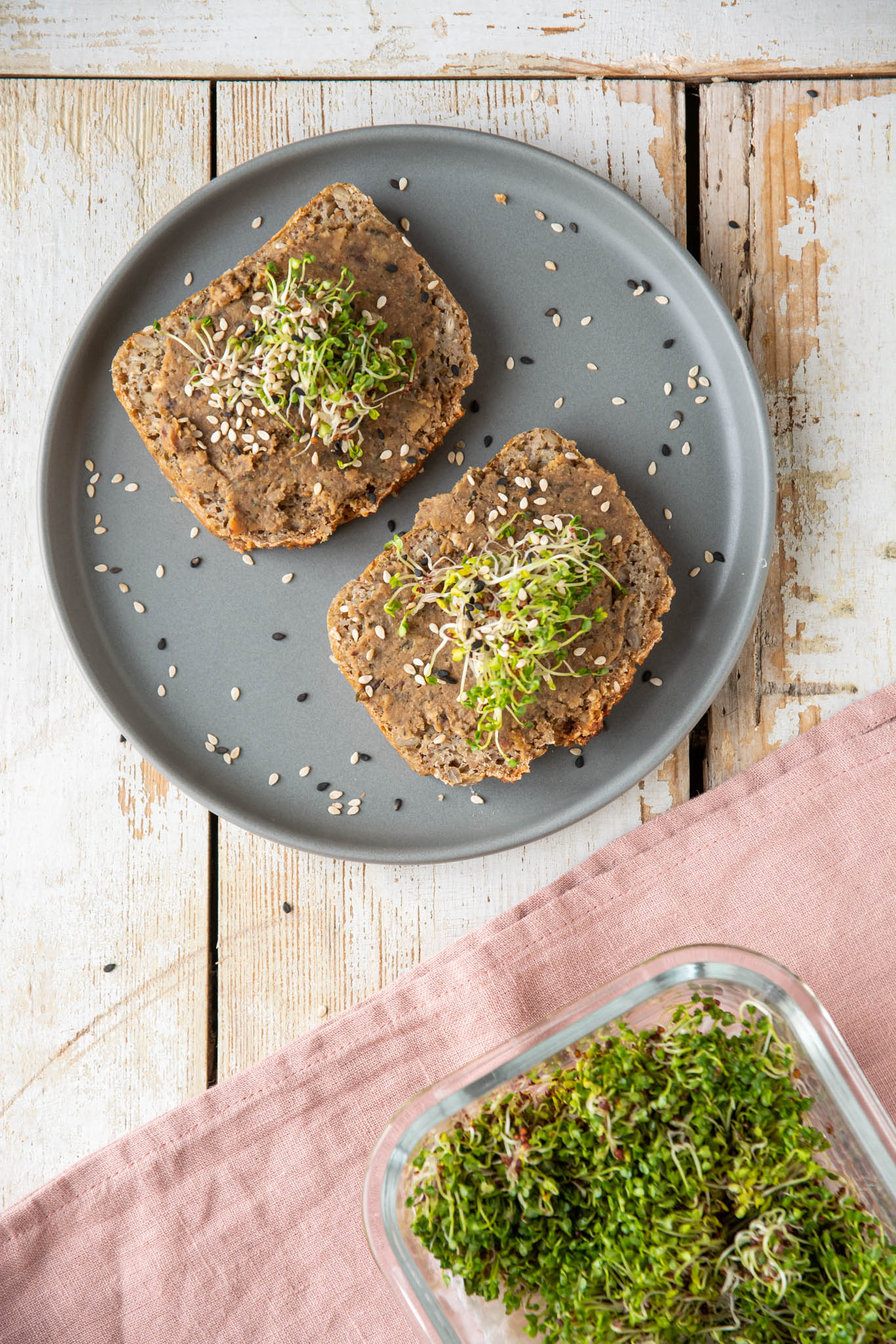 How to Store Sprouted Broccoli
To store the sprouts, rinse and drain extremely well. You may even use a salad spinner to get them as dry as possible. Alternatively, leave them into a regular sieve for a while to let them dry.
For any excess moisture, take a kitchen paper towel and fold it so that you have 4 layers of it. Cover the bottom of the container and lay your sprouts on it. The paper will absorb excess moisture.
Cover the container loosely with a lid and store in the fridge. If the sprouts are well dried, they can even keep for 5-7 days. Should they be damper, the best storage time is few days. You can also replace the paper with a dry one the next day or whenever it becomes damp.
More posts that include sprouting:
Disclosure: this post contains affiliate links. As an Amazon Associate I earn from qualifying purchases. For every purchase made from the links in this post, you'll be able to support my work. So you can look after your health, and contribute to my mission at the same time. Thank you!
Feel free to PIN the image below!