Since I made my Cheesy Veggie-Lentil-Tomato Casserole, it has become our family's favourite dish. I diversified the recipe a bit and instead of having legumes inside the pie I served soft hummus with the casserole.
This casserole dish requires some time and effort, but is totally worth it, if you crave for delicious comfort food.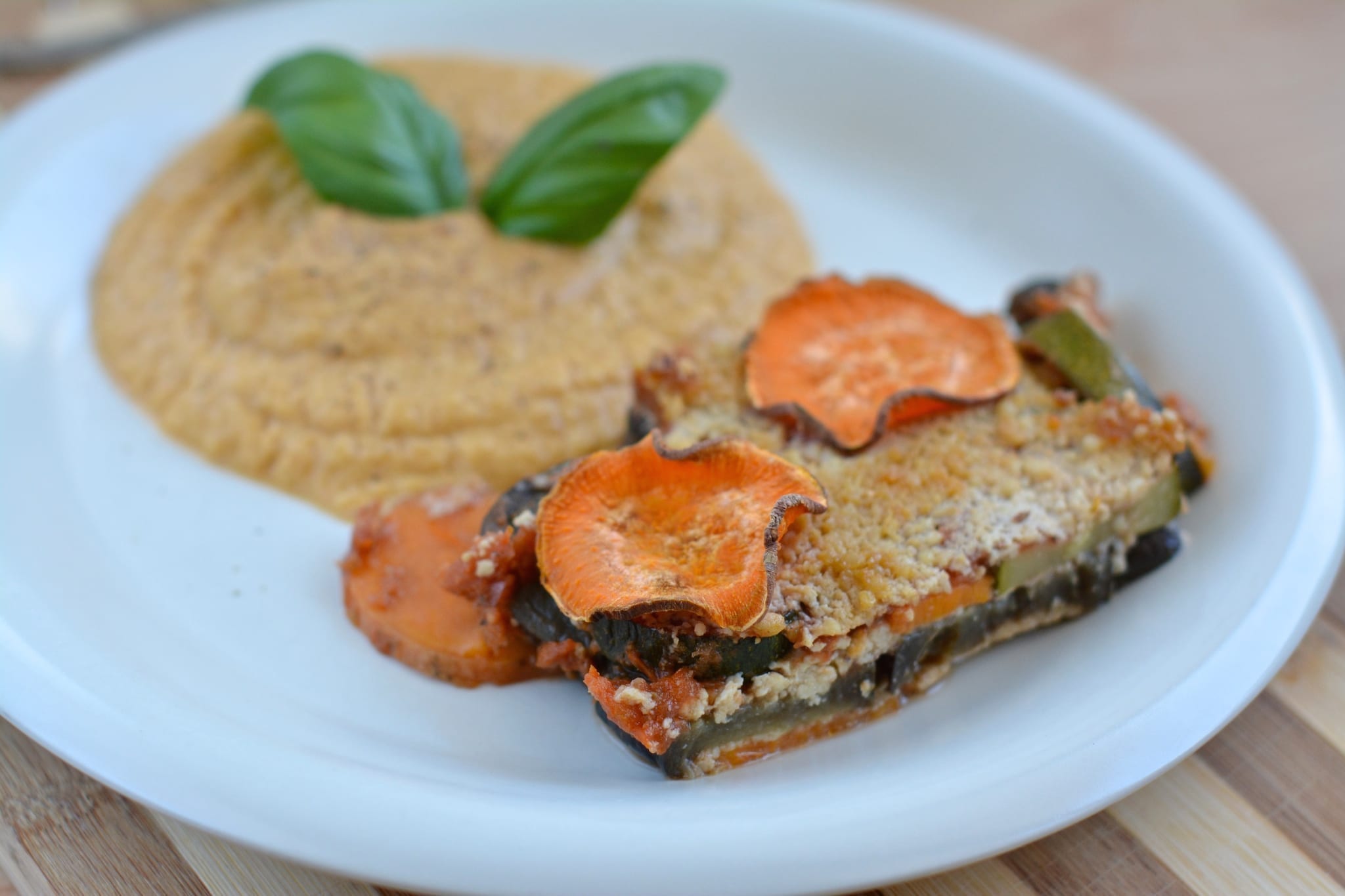 Cheesy Veggie-Sweet Potato-Tomato Casserole with Soft Hummus
Ingredients:Casserole |4 servings|
Tomato sauce
1 summer squash
1 eggplant
1 sweet potato
Himalayan salt to taste
Vegan parmesan (recipe below)
Directions
Prepare the tomato sauce (follow link for recipe). This casserole recipe will use 1/3 of the quantity. I advise you to make the whole batch and store in fridge for later use.
Cut the summer squash and eggplant into 1-cm thick slices. Take a bigger sieve and put one layer of the slices in the bottom. Sprinkle some salt on the top and do another layer, again sprinkle some salt and continue until the veggies are finished. Let it sit for at least an hour. The salt makes the veggies sweat.
Cut sweet potato into thin slices.
For Vegan Parmesan, take 3 handfuls of cashew nuts, 4 tbsps nutritional yeast and sea salt to taste. Process in a grinder or blender and it's ready.
Dry the veggie slices with kitchen paper and roast on a pan on both sides. Put the roasted slices on a separate plate.
And now the fun begins – start compiling the casserole:

1st layer: about 5tbsp of tomato sauce on the bottom of casserole dish. Spread it evenly.
2nd layer: sweet potato slices
3rd layer: a thin layer of tomato sauce
4th layer: sprinkle vegan Parmesan
5th layer: roasted veggie slices
6th layer: ½ of the remaining tomato sauce
7th layer: vegan Parmesan
8th layer: the remaining veggie slices on the sides and sweet potato slices in the middle. Put two layers of potatoes with some tomato sauce in between.
9th layer: the remaining tomato sauce
10th layer: the remaining vegan Parmesan
11th layer: the remaining sweet potato slices

Bake in 190 C (375 F) oven for 45 minutes. Let cool for at least half an hour (an hour is better) before you try to slice it. The casserole is especially good on next day.
Ingredients: Soft Hummus |4 servings|
2 cans unsalted chickpeas, rinsed
20 green olives
4 tbsps nutritional yeast
1 tbsp tahini
Juice of a lemon
Sea salt to taste
Water for required consistency (I made it pourable)
Process all ingredients in a blender.
Serve a piece of casserole and soft hummus on same plate. You may garnish with fresh basil or parsley.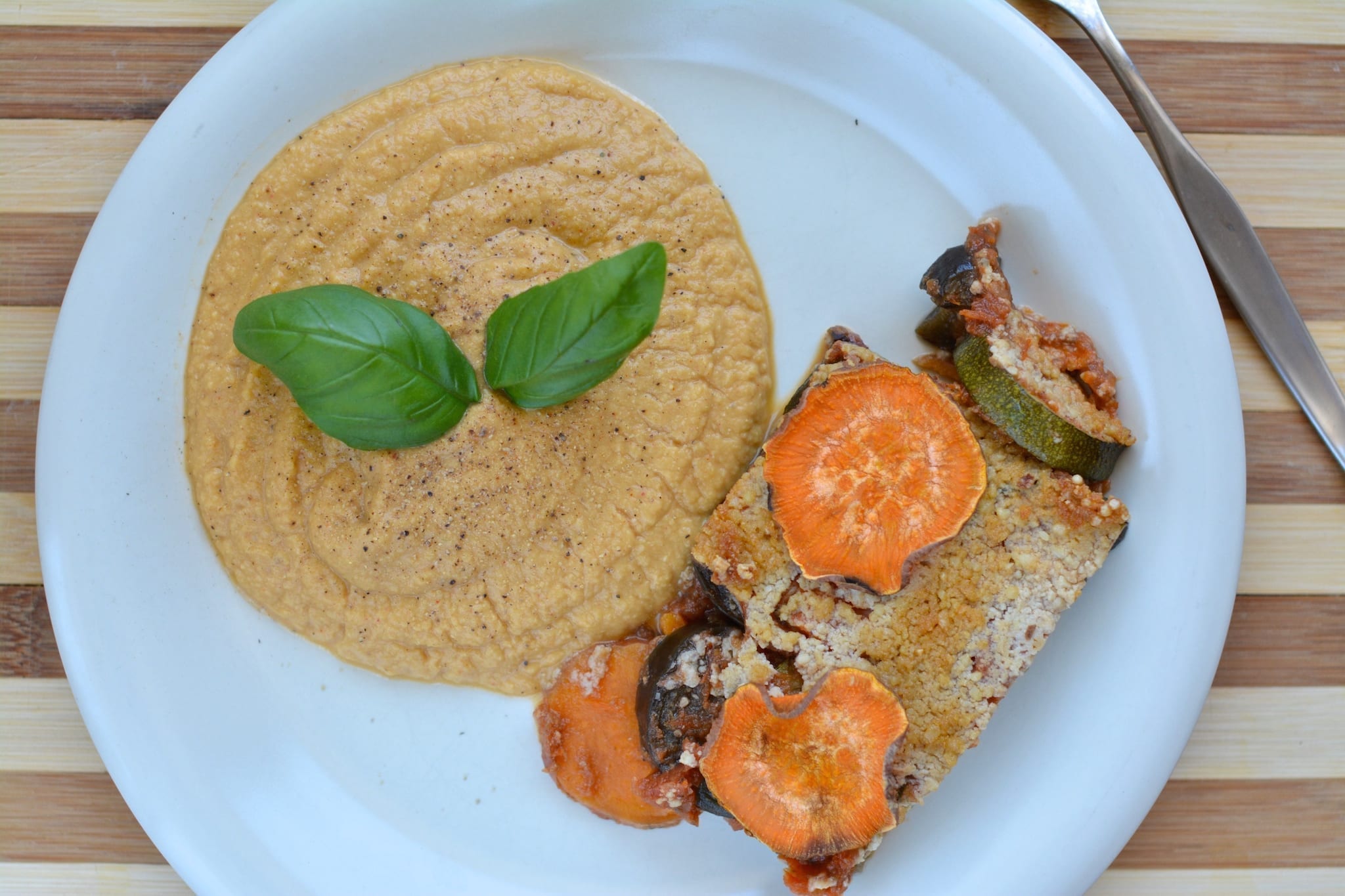 Bon appetite!